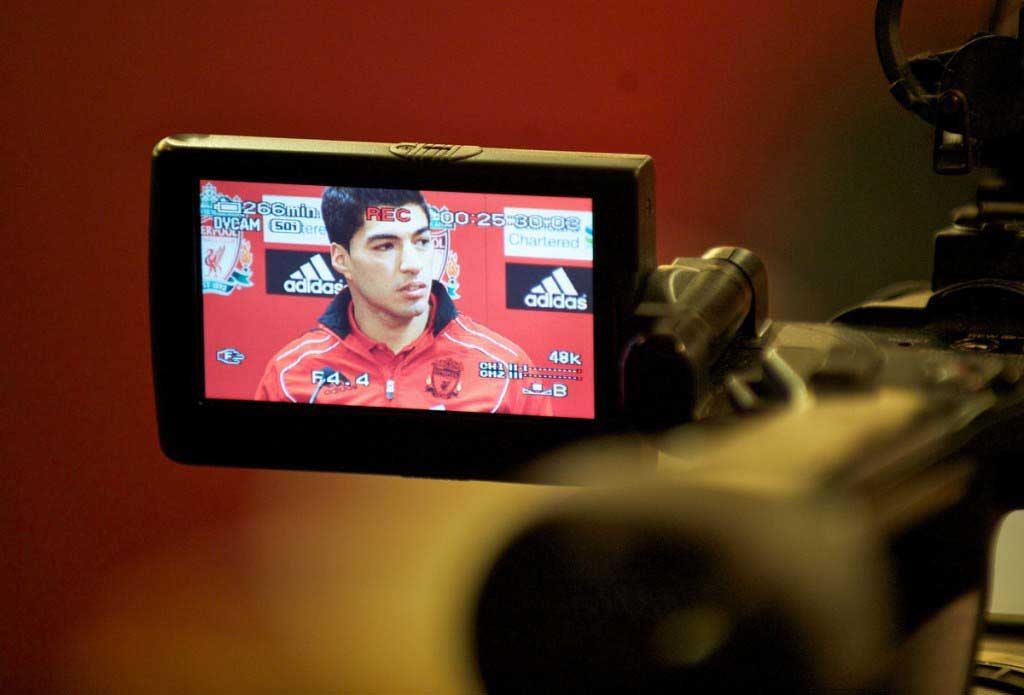 AND so, at last, he's gone.
So too are the biting scandals, the racism debacle, the laborious diving debates and everything else that came with him. The Luis Suarez circus has moved on to Catalonia and he is now officially FC Barcelona's 'problem'. So what are we left with after three-and-a-half years of peaks and troughs on the Suarez rollercoaster?
One trophy, an FA Cup final defeat and a genuine title challenge that ended in a proud but heartbreaking manner. In terms of tangible success it isn't much. When you throw in all the negative press he brought onto the club, it's entirely understandable that some Liverpool fans will have breathed a weary sigh of relief upon confirmation of his departure. Some had finally just had enough of him. Others were certainly left wanting more. Repeated self-inflicted controversies will split people like that, I guess. That said, when you take Suarez at his base level as a footballer and ignore all the other stuff for just a moment, what he leaves behind for Reds, above all else, is a whole host of memories of a truly incredible and unique player.
I could very easily get into a long discussion with myself right now about whether or not Liverpool should have sold their star man for 'just' £75million. There are valid grounds on both sides of the argument and it does make for an interesting debate but, frankly, I can't be bothered. After three-and-a-half years, I'm finally Suarez'd out. Lord knows I've done enough debating and arguing as a result of his actions since he pitched up in L4. The bottom line is that he's gone so what's the use in wasting time by assessing the rights and wrongs of this transfer? I'd much rather do something that too few people seem able (or willing) to bring themselves to do at the moment and just type a few words about the football he treated us to and how watching him play made me feel as a Liverpool supporter. I can happily leave the shirt burning, the crying, the moralising, the faux sanctimony and the condemnation of the club or player to others.
Why the willingness to simply reminisce about Suarez the player rather than delve into the complex and controversial aspects of his Liverpool career or the implications of his exit? Because I'm not fortunate enough to have seen Kenny Dalglish play. Because I only caught the tail end of John Barnes' career after his legs had gone. Because Steven Gerrard is the best Liverpool player that my eyes have ever taken in. Or rather, he was. Until January 2011, when we signed a Uruguayan fella from Ajax with elf-like ears, buck teeth and an apparent penchant for nibbling people's shoulders. I'm aware that this may be a little controversial given the proximity of his departure and the numerous unsavoury aspects of his time on these shores, but I have to say it because it's how I feel:
Luis Suarez is far and away the single best footballer I've ever seen pull on a red shirt.
From the moment he smashed in a shot from an preposterous angle away at Sunderland I knew he was something a little bit special. When he twisted and turned through what seemed like Manchester United's entire team a few weeks later at Anfield it was obvious that we had an incredible talent on our hands. "You've got yourselves a mini Messi there in that lad" was a remark I can still recall from a non-Liverpool supporting family member back on that particular day. From almost minute one, Suarez illuminated the club and replenished the previously low levels of hope and expectation that were diminished during the horrific Hicks/Gillett/Hodgson era. He even managed to completely erase the pain of previous fan favourite Fernando Torres' defection to Chelsea in just a few short months. Over the past two seasons, he soared to heights I've never witnessed a Liverpool player hit before. And most pertinently, he helped put the fun back into watching the Reds.
The continuous stream of goals, the exquisite assists, the audacious pieces of skill, that continually expanding list of humiliated opponents who suffered nutmeg after nutmeg at his hands. The uncontrolled gesticulating, the shouting, the screaming, the bollockings, the joy, the despair, the passion, the will to win. He was the total package – a genuine entertainer who was worth the price of admission or subscription all on his own – a precocious artist with a workrate and desire that would have left even the great Bill Shankly's jaw on the floor. To see a genuine world-class footballer work as hard Suarez did for Liverpool is an incredibly rare sight these days. His ridiculous talent aside, it was that attitude that made him so beloved by so many Kopites despite his many mistakes.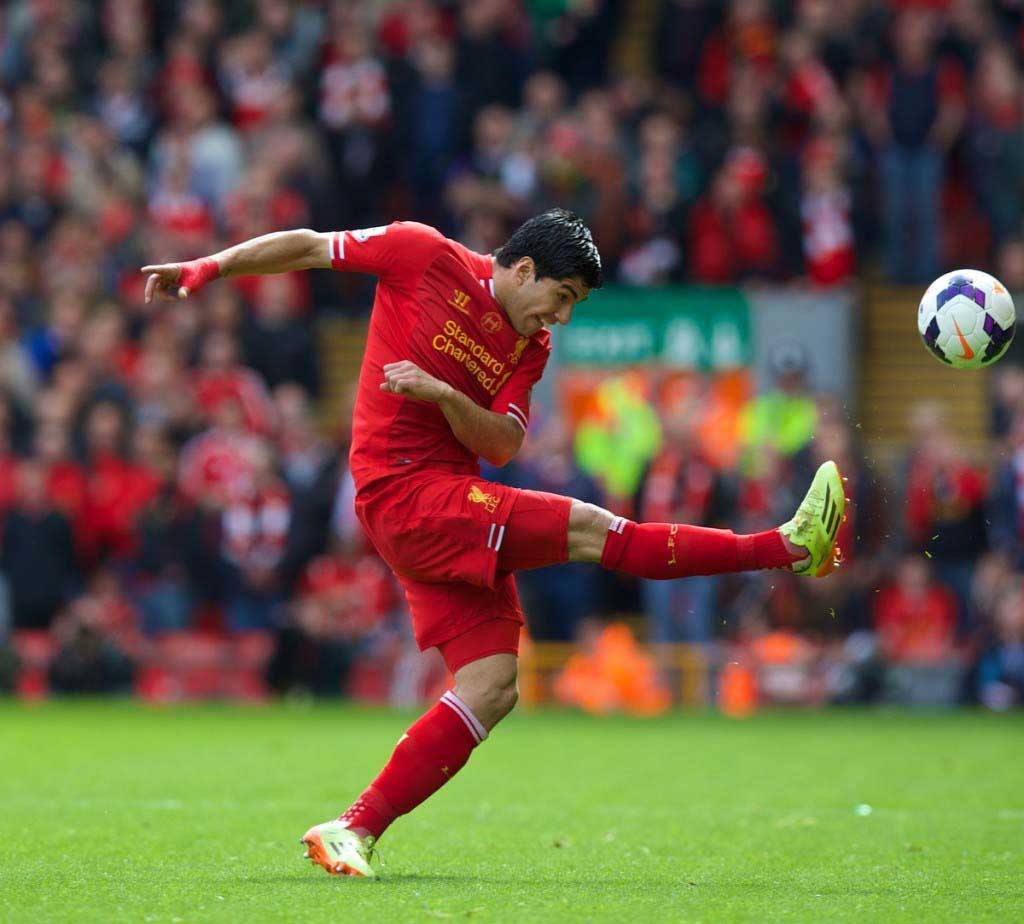 Most great players demand your applause and appreciation. Take Steven Gerrard or Andrea Pirlo as two examples. One of their swooping passes or curled free kicks can leave you speechless or simply clapping like a performing seal. Luis Suarez isn't really one of those players in my mind. He's a bit different. His ability could provoke those same types of reaction of course, but truth be told, he usually made me laugh more than anything else. In fact, from what I could tell, he seemed to make a lot of people laugh. My grumpy father for one, who has watched football compulsively for 60 years and who rarely raises a smile at it these days would regularly chuckle at the 'crazy bastard' wearing that famous number seven shirt. Even my girlfriend who has never watched football compulsively for even 60 minutes and certainly doesn't smile at it very often would regularly giggle at replays of Suarez when he was on the television screen. Hell, against Norwich City last season he was so good that he even made himself openly guffaw.
I've often tried to think of players that compare to him stylistically over the years but it's proven a rather difficult task. The best I've ever been able to come up with is Carlos Tevez. Great player though he is, Tevez is a long way short of Suarez in terms of ability, but his attitude is what led me to draw the comparison. Tevez is widely known as a footballing mercenary who crossed the Manchester divide without hesitation and has even been on strike in the past. And yet, despite his image problems and his poor conduct, fans of whatever club the Argentine played for almost universally adored him because, like Suarez, his commitment and sheer force of will that he took on to the field every week made people willingly look past his indisputable flaws and emotionally invest in him. Hard work on a football pitch allows most misdemeanours to be overlooked by supporters, especially when it is combined with obvious brilliance. Suarez's attitude on the pitch has probably indirectly led to some of the negative reactions that he is receiving from some Liverpool fans now. The way he played likely led many to believe in a devotion to the club that never really existed – hence the outrage at him moving on.
He never 'loved' Liverpool the way it's supporters do. How could he? He was a kid from half the world away with no ties to the club prior to his arrival. But the beauty of him was that you would never have known this by watching him play. He allowed you to suspend that disbelief every time he put his boots on. When he wore red he was every bit as Scouse as Steven Gerrard. He played for the club with every bit of the enthusiasm and passion that Jamie Carragher or Robbie Fowler did.
A misplaced pass was a dagger to his heart. Every squandered scoring opportunity represented a personal catastrophe. Every defeat was a tragedy. When the title was all but lost at Selhurst Park last season it was Suarez who it seemed to hit hardest. He openly wept on the field, not because he cared as much as the fans did about the club, but because at his core he is a winner. Nothing else matters to him but victory and he'll take any route necessary to reach that particular destination. He can't handle defeat well. Even the prospect of it regularly sees him lose his head.
While many condemned him for this attitude, I find it refreshing. Whether or not you think it's a stain on the game to push the boundaries of its laws to gain a victory, that street smart, win at all costs mentality is a trait all too lacking in most modern footballers who appear happy enough to settle for second best and pick up their wages. Give me a Suarez with all his faults over Dimitar Berbatov or Jermaine Pennant any day. Suarez is wired completely differently to most players. He cares about attaining perfection more than any other footballer that I can recall watching. Take the last Anfield derby as an example:
Liverpool are 4-0 up and Daniel Sturridge is on a hat trick. He moves into the box with the ball and displays a bit of his greed by delaying a pass to Suarez before eventually making a mess of the attack. Most players would have shrugged or laughed it off, aware that a famous victory is already in the bag and Sturridge was understandably just desperate to complete his hat trick. Not Suarez. He turned to Sturridge and, with disgust etched on his face, proceeded to berate his strike partner for his greed while swinging his arms around like a frantic orchestral conductor. The scowl stayed on his face for a good while afterwards, too. Again, I couldn't help but admire the passion and laugh.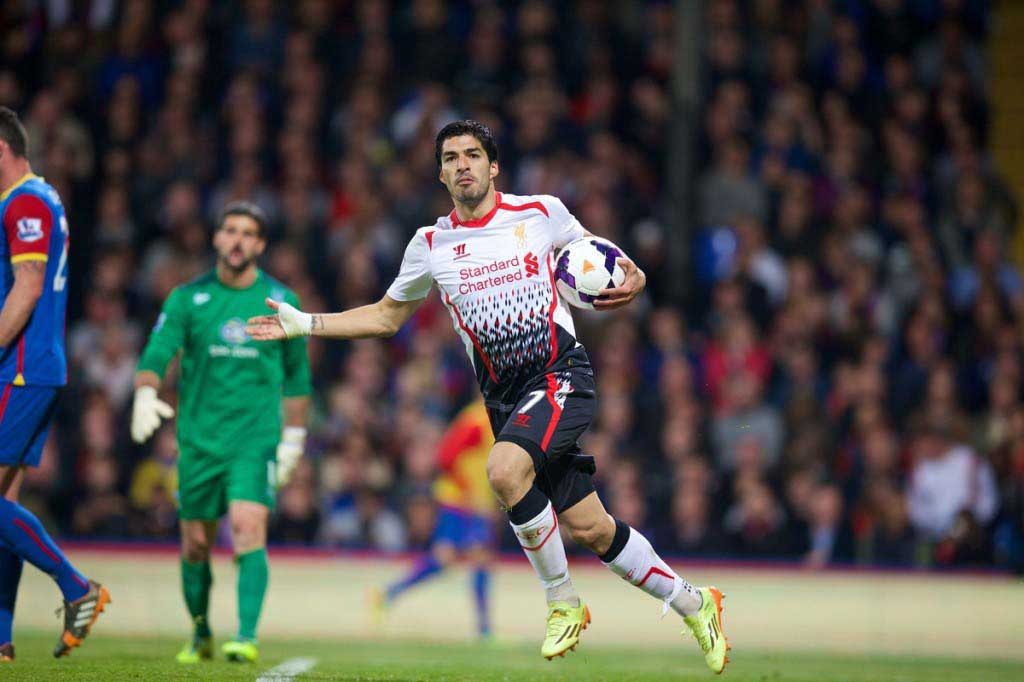 That search for perfection, the crippling fear of defeat and his ability to enthral the masses mark Suarez out in my mind as a bonafide footballing genius. He doesn't have the natural technique of Lionel Messi. He doesn't possess the freakish physical attributes of Cristiano Ronaldo. And yet, regardless of what anyone else says, he's right up there with them these days. That elite duopoly that existed for so long is now undoubtedly a triumvirate. Barcelona had Messi, Neymar, Pedro and Alexis Sanchez on their books last season and yet they marked Suarez out as the one player in the world who could improve that already obscenely talented forward line. Now they have him.
And so here we are. News has recently come through confirming the transfer that we all knew was coming and life at Anfield goes on without Luis Suarez. Who knows? Maybe the Reds will improve in his absence. Not every sale of a talisman leads to a post-Bale Spurs style capitulation. The future certainly looks brighter than it has for a long time at Liverpool and there is no doubt that Brendan Rodgers will improve his squad further over the next couple of months. But, whatever happens to the club going forward, one thing is for sure:
It will be a long time before we cast our eyes on an individual as magical as Luis Suarez again.
Perhaps when time has left everyone far enough removed from the media storms and dulled the memory of his protracted departure, people will be able to look back and focus more specifically on Suarez the footballer and the many positives he brought to Liverpool and the Premier League.
An ultimate lack of trophies and a relatively short stay on Merseyside mean that Luis Suarez will never be held in the same high regard as the likes of Gerrard or Dalglish. Those club icons, quite rightly, will remain a level above him in the Anfield pecking order. He will never be recognised as the greatest Liverpool player of all time, but I reckon he has a fair argument for being the most watchable and entertaining footballer that the Reds have ever had. He was certainly the most most amusing.
Thanks for the laughs, Luis.
Pics: David Rawcliffe/Propaganda