FORMBY, an affluent suburb on the outskirts of Merseyside, has been home to enough Premier League footballers to put together a star-studded mixed age representative team. Steven Gerrard, Leighton Baines, Jordan Henderson, Alan Shearer, Neil Ruddock, Glen Johnson, Tony Hibbert, Alan Stubbs, Joe Allen, Mamadou Sakho, Duncan Ferguson, Michael Ball, Ray Clemence, Joe Cole and David Fairclough – to name but 15 – have all lived there at one time or another.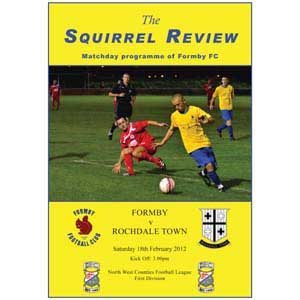 The team could even have its pick of managers with Howard Kendall, the most successful in Everton's history and Brendan Rodgers, Liverpool's increasingly impressive incumbent, having their family homes in this small town with a population of just 25,000. It is the kind of place that attracts football tourists, who visit in the hope of catching sight of a superstar as they go about their business or, at the very least, walk along Victoria Road, the millionaires' row of jaw-dropping properties where many of their heroes live.
It is also home – although recent events threaten to put this into the past tense – to Formby FC, a proud local football team of great history which is currently in the first division of the North West Counties League. In 1972, Formby enjoyed the most memorable seasons in their 94-year history when they reached the first round of the FA Cup only to be defeated by Oldham Athletic. Six years later, they became the first non-league team to lift the Liverpool Senior Cup, a competition in which both Everton and Liverpool participate, albeit with reserve teams taking part on their behalf.
Those halcyon days, though, now feel further away than ever. On Monday night, club officials released a statement on their Twitter feed confirming that Formby FC will soon be no more. Confirming that the "largesse of people outside the club is not a sustainable basis for a business plan," the hammer blow that looks set to condemn them to becoming a footnote in English football history was contained in the nine brutal words that followed. "The funding is simply not there for another season," they admitted.
With that, a club that has been a valuable community asset since 1919 and which has provided a team for thousands of players from the Merseyside area now appears doomed. The reasons for their demise are myriad but can be traced back to 2002 when they were forced to move from Brows Lane – their traditional rented home was sold off – to a site on Altcar Road. Detached from its core support, Formby has found it impossible to surivive.
"Our club suffered when it moved from the centre of town to its farthest edge 12 years ago," the statement acknowledged. "Organisationally, the club is amputated from its roots, far from its home town, attendances dwindle and the junior clubs become untenable. Two years ago we ran 10 teams. This season we had just the one."
If this loss of a club which offered local youngsters proper coaching, not to mention a healthy pastime, does not catch the attention of Greg Dyke and disturb the FA chairman to such an extent that he intervenes then his investigation into what is wrong with English football is as flawed as many of those involved in grassroots football believe it to be.
Formby's journey to the brink of extinction encapsulates all of the problems that non-league clubs face in this country on a daily basis. From their home ground being sold to make way for a swimming pool to attendances dwindling because of the pull of the Premier League, this is a sorry tale that shames everyone who idles while a community club goes to the wall.
The most depressing thing of all is that in recent seasons Formby have been successful on the pitch. "2012-13 was the best of the club's 93 seasons," the statement said. "The season that has just ended sustained that success. The first automatic promotion since 1933. League and cup honours in consecutive seasons for the first time since 1949, and only the second time ever. The longest ever unbeaten run of league games – 21, well over half the season."
All this was achieved with unpaid players who just wanted to play for Formby FC with the brand of stylish, attacking football they played an advert for the North West Counties League. Separated from the town in which it was founded, though, its decline has taken place simultaneously. Their Altcar Road ground was unable to win planning permission for anything other than Portakabins as it is on greenbelt land and a year ago it failed to meet stadium grading requirements. Despite being runaway champions Formby were denied promotion.
The problem? A boundary which league officials said was not conducive to crowd safety, an issue which was put into context by Dave Prentice, the Liverpool Echo's long serving and well regarded chief football writer who also lives in the Formby area. "In February 2013 they were advised by League officials that 11 issues needed attention, officials returned on April 6 and declared that 10 had been resolved – but offered verbal assurances that the remaining issue, a boundary, would not be a problem. Clearly it was," Prentice wrote.
Formby are currently on the tenth rung of football's supremely successful League pyramid system, "which is why ground grading is so necessary. It wouldn't be an exaggeration to claim that no other part of the country is as sensitive to football ground safety as this one. But an inspection of Formby's attendances this season should underline that an unsatisfactory boundary is clearly no danger to crowd safety.
"Actually the word 'crowds' is a little excessive. Formby's biggest gate this season is 135. That was a one-off. More often than not the attendances are in double figures. More visitors flock safely through the doors in 10 minutes at the nearby Tesco's than visit Formby FC.".
After being informed by the North West Counties League that the ground was unfit for the level they were playing at, Formby reluctantly accepted the kind offer of a ground share by Burscough FC. But even more detached from its lifeblood, this was just another step on the road to oblivion.
"Twenty years ago our esteemed neighbours Stantondale had consistently strong results and lifted the First Division Trophy that we won a month ago," Formby's statement continued. "But despite their might they foundered and, on losing their Orrell Lane ground, came and shared Brows Lane with us. They limped on for two years before folding. It breaks our hearts to follow that same route, winning on the pitch but losing in the paperwork and bank account, and removing another pillar from the great footballing region of Merseyside."
What does all this have to do with messrs Gerrard, Baines, Henderson etc? In some senses nothing but in others everything. They have no duty to their local club other than that of neighbours and all have shown their commitment to the wider community in various ways. Gerrard, for example, recently made a £500,000 donation to Alder Hey Children's Hospital and gave another £96,000 to the Hillsborough Family Support Group. Besides, footballers should not be seen as the safety net for football clubs regardless of their wealth as that is not the kind of sustainable, long-term model that they need.
But there is no getting away from the fact that the league that these players play in and from which they derive their personal wealth is having a profoundly detrimental effect on the grassroots game. With Premier League kick-off times spread out over entire weekends, attracting supporters – and players for that matter – to non-league and amateur games is becoming an increasing problem. It is here that the crisis in English football is at its most acute and in recent months the struggles of the nearby Crosby Junior League, Cammell Lairds FC and Vauxhall Motors have added further fuel to the theory that wealth is failing to trickle down from the Premier League despite it being richer than ever before.
Vauxhalls is arguably the most damning example of all. At the end of the season just ended, the Ellesmere Port based club, which knocked Queens Park Rangers out of the FA Cup little over a decade ago, announced its resignation from the Conference North as the drastic action was seen as the only way of guaranteeing its future. "This now unsustainable position has been going on for several years," Alan Bartlam, their chairman, said. "Vauxhall Motors, like many other clubs, are confronted with the reality of low gates and ever-increasing costs."
This is Vauxhall, originally set up as the works team of the car plant from which it takes its name. The very same car company, owned by Genral Motors, that pays millions of pounds for the privilege of being sponsors of the England national team and which recently filmed an advert calling on English football fans to "stand together." In their time of need, Vauxhall Motors FC discovered that the message did not apply to them – they stood alone. The distance between the haves and have nots has never been so great.
"Cammell Laird have resigned from the Evo Stik League, while Worksop Town – founded in 1861 and believed to be the fourth oldest football club in the world today – have dropped out of the Northern Premier League," Prentice wrote in today's Liverpool Echo. "At grassroots level the Crosby Sunday League and Zingari Alliance have been recent casualties, while other leagues are struggling badly for numbers. The success of the Premier League has not been reflected lower down the football pyramid."
And therein lies the rub. The Premier League may not like it but the reality is staring them in the face – grassroots football is in need of support like never before. They can point to their investment (although it remains considerably short of "the minimum 5% of its income" that it is supposed to contribute) and they can hide behind the shortcomings of local authorities and central government.
But if they do so they will be failing football because they will be refusing to acknowledge that their own success is one of the reasons why clubs like Formby FC are going out of existence.