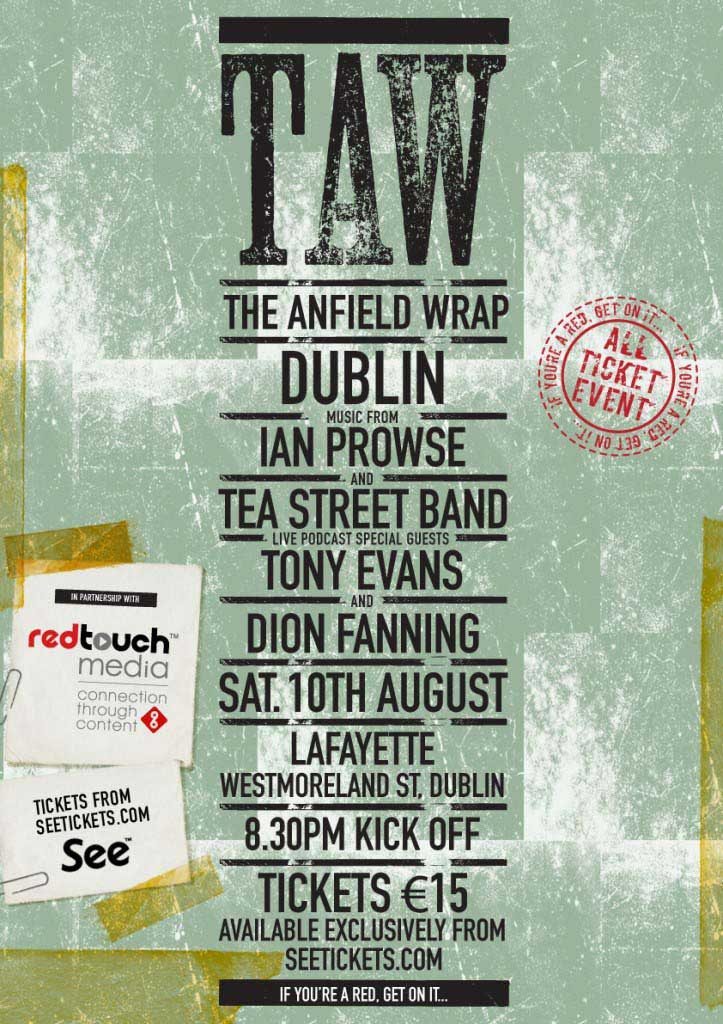 THE ANFIELD WRAP returns to Ireland in August for another night of footie chat, music and laughs.
After the sold-out show in Bray in February, the live version of the award-winning podcast is back – and this time in the heart of Dublin city.
Joining regulars from the podcast and radio show will be the Football Editor of The Times Tony Evans and the Irish Independent's Dion Fanning.
Music on the night will be provided by the fantastic Tea Street Band and, joining TAW for the very first time, the legendary Ian Prowse (Pele/Amsterdam).
The show – at Lafayette, Westmoreland Street, Dublin – will follow Liverpool's pre-season friendly with Celtic at the Aviva Stadium on Saturday, August 10.
The panel, headed by your host Neil Atkinson, will discuss all the comings and goings at Anfield, look back at Brendan Rodgers' first season in charge and discuss what we can expect to see in the new season.
As with the still-talked-about show in Bray earlier in the year, the night promises to be a great party that will go on into the small hours and is a fantastic way to get in the mood for the new season.
Tickets are priced €15 and are available NOW from See Tickets: www.seetickets.com
The show will follow hot on the heels of TAW Down Under – when the Anfield Wrap goes to Melbourne in association with Liverpool Sound City. For more information on that show on July 23, click here: TAW Down Under.
The Anfield Wrap was launched in August 2011 by a group of fans and has since gone on to become the most-popular Liverpool FC podcast, downloaded by over 30,000 supporters every week with total figures now fast closing in on three million.
It was crowned the Football Supporters' Federation Podcast of the Year and is also a weekly show on Liverpool-based radio station City Talk 105.9.
Co-founder Andy Heaton said: "We can't wait to get back over to Ireland, we had such a good time earlier in the year that we've been looking for an excuse and this time we're coming back with a bigger, better show, some brilliant guests and amazing music."
Ian Prowse said: "'This will be the night of the year, maybe the decade. The great gathering of the Celtic tribes from the three sister cities, Liverpool, Glasgow, and the fountain of our heritage, Dublin town. Beat that London."
Tony Evans added: "Liverpool and Dublin and Scousers and the Irish go back a long way and with Liverpool being in town that night to play Celtic it promises to be another great night."