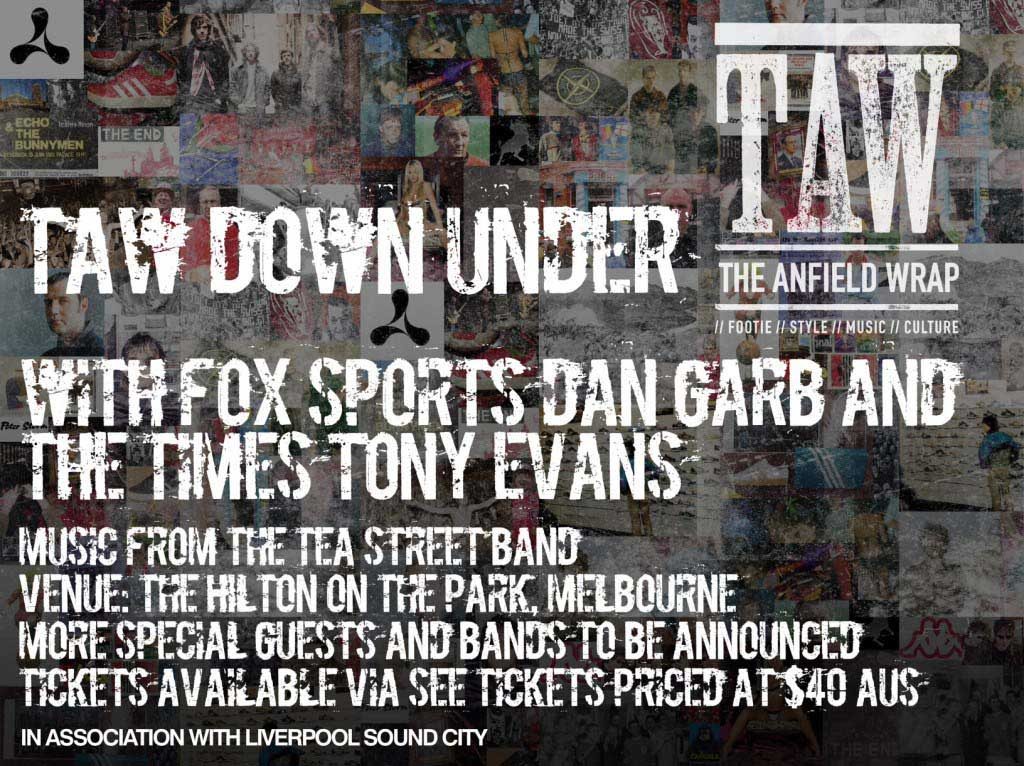 TAW DOWN UNDER with LIVERPOOL SOUND CITY
LIVERPOOL fans down under are invited to join Fox Sports' Dan Garb and The Times Football Editor Tony Evans as The Anfield Wrap brings its award-winning podcast and radio show to Melbourne in association with Liverpool Sound City.
Dan and Tony will join the TAW lads to talk football as Liverpool FC head to Australia as part of their 2013 pre-season tour. The Reds are playing at Melbourne Cricket Ground – The Anfield Wrap are playing across the road at The Hilton on The Park.
The night, on 23rd July 2013, will also see a set from Liverpool-based rock and roll dance combo The Tea Street Band with more special guests and bands to be announced.
Tickets, priced at $40 AUS, are available now and exclusively from See Tickets.
The Anfield Wrap was launched in August 2011 by a group of fans and has since gone on to become the most-popular Liverpool FC podcast, downloaded by around 30,000 supporters every week with total download figures now well past two million.
It was crowned the Football Supporters' Federation Podcast of the Year and is now also a weekly show on Liverpool-based radio station City Talk 105.9. Earlier this year The Anfield Wrap digital magazine was launched, an interactive publication designed specifically for handheld digital devices.
TAW Co-founder Jim Boardman said: "To be told by Reds around the world that our show is essential listening for them never stops being exciting; we love doing it and a big part of why we love it is because listeners use social networks to let us know what they think of each show. Actually getting out and meeting those listeners is obviously a thousand times better and we can't wait to meet fellow fans down under.
"It's easy to forget how lucky we are to live close enough to Anfield to get there to see the games on a regular basis but there's no better reminder than the reaction from Reds down under to the announcement Brendan Rodgers would be taking the players to Melbourne. We're even more excited that we're going to be there too. It's going to be boss."
TAW Host Neil Atkinson said: "What has astonished and delighted me in equal measure doing The Anfield Wrap is the reach. The Liverpool supporting diaspora is enormous and we're consistently overjoyed with the listeners we get from Australia. Taking the show down there to coincide with the Liverpool game excites the life out of me. The Anfield Wrap is about talking football with your mates and I'm convinced we're going to have loads more mates once we hit Melbourne.
"I've heard so many great things about Melbourne and I can't wait to explore. Having The Tea Street Band with us means we're going to have a party. It's going to be a fantastic few days and I just hope loads of Australian Liverpool supporters can join us to talk, laugh and dance."
Tickets: www.seetickets.com/Tour/THE-ANFIELD-WRAP-DOWN-UNDER