A Defence of the Realm – Part One
HARRY REDKNAPP's Spurs have won just one in their last nine and are fifth in the Premier League. Until about six weeks ago 'the greatest living Englishman's' season looked unimpeachable. Third in the table and mounting a challenge to the Manc duopoly, he appeared nailed on for the Manager of the Year thing. Now he faces a season potless and is pissing in the Champions League qualification wind.
He hasn't won an away match this year, and since Santa dropped his sack the campaign's become a right old balls up for Harold.
Still the press pack love him. Still Sky love him and, most significantly, the FA are so desperate to appoint an Englander that they'd have hired him for the big job and let him name his sides over the phone, direct from the jug, armed only with his last 20p. If only Her Majesty had had the pleasure.
King Kenny's Liverpool may finish seventh or eighth, with one trophy won, in the final of another, and a season of three Wembley appearances to reflect upon.
Unbelievably though, Dalglish will be planning his summer vacation while still unsure of his long-term employment prospects.
Against this backdrop there are some eternal truths that need dusting down and forcing again down throats. So, once more, for the benefit of the young, the old, the media, expertry of all denominations, and those who simply haven't been paying attention – this is Kenneth Mathieson Dalglish we're talking about here.
He's a man who doesn't fail lightly. When he does, it always makes him stronger. Failure is to Kenny as spinach is to Popeye. It rejuvenates and propels him back out there twice the man.
Failure must always punctuate success. It's necessary to define it. Without its humbling reference achievement seems shallow. If it's a prerequisite and crucial ingredient, it follows that it needs to be planned and prepared for every inch as much as for the glorious triumphs ultimately desired.
The greats know how to fail. To belly flop, roll and ride the punches. To take the pain but stand tall against the strain. To walk on through that bloody rain, Godammit.
Kenny Dalglish knows this drill. His legendary Boys' Own career is peppered with moments sent to test. His story is a cyclical and a neo-biblical one of rise- fall- redemption.
I was speaking to some (unjustifiably) smug Tottenham fans recently – they mocked that Dalglish was our 'Keegan or Hoddle' – the implication being that supporters were blinded to actual prowess by iconic status in club folklore. Kenny as vanity folly.
There's a difference though between Kenny Dalglish and other club's sacred cows.
In the last 100 years, only five human beings have as managers won the English Championship four times (or more). Only two have accomplished that feat with two different clubs.
Kenny Dalglish is one of those titans.
He is also the man to have most recently joined that elite of two. Of the big five (Chapman, Busby,Paisley, Ferguson and Dalglish) only Alex Ferguson has reached the precious four-title mark more recently than Dalglish.
Those needing to diminish the accomplishment will suggest that Dalglish inherited an all-conquering team.
It is true that Paisley and Fagan had been winning silverware for fun at Liverpool in the years that preceded Dalglish's stewardship. However, it is worth countering that Kenny took on the management job at LFC on the back of the club's first trophyless season in nearly a decade, with a team that had aged and was being dismantled.
Of the great defenders of the Paisley-Fagan era, Dalglish was to see minimal to no service from Phil Neal, Alan Kennedy, Mark Lawrenson or Phil Thompson. He did not inherit the team that enjoyed both himself and Graeme Souness as superstar fulcrums. Within 24 months of taking the manager's job only four of Kenny's main 14 players had been inherited from predecessors.
More significantly perhaps it is worth noting that Dalglish the coach was handed the baton at the managerially pubescent age of just 34 with no leadership experience whatsoever, and on the back of the club's (then) darkest hour following Heysel (85).
Some more context – Rafa Benitez is correctly revered by the majority of Liverpool fans. The Champions League win of 2005, the Cup win a year later and the second place finish with 86 points in 2009 were memories supporters of most clubs can but dream of.
But Rafa's six-year tenure was not strictly marked by a seamless ascent. Yes, of course, the European Cup was bagged against all odds at the end of his first season, but in win percentage terms he actually trails the Dalglish Mark II reign's first 68-game record.
No one with their senses intact would have shown Rafa the door at the end of his first 68 games (even if you don't factor in Istanbul), yet by the time Rafa had clocked up his first 68 he had a win percentage of 47 %.
Dalglish doesn't have a European Cup yet but he's won slightly more football matches – 49% of his 68 matches. Three visits to Wembley and possibly two trophies aren't shabby returns for a first 18 months' work either .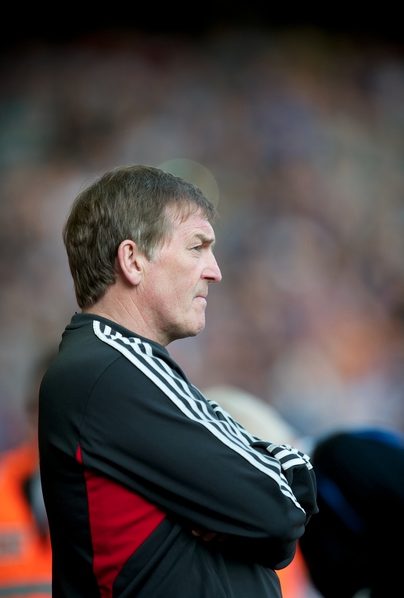 Let's also recall that the team Dalglish was bequeathed in January 2011 was one lying 13th and a handful of points points off a relegation place. Rafa may quietly be eternally grateful to his predecessor Gerrard Houllier that he did actually manage to scrape his lumbering latter day Liverpool side into fourth place and a Champions League qualifying position at the end of the 2003/04 season.
Both Dalglish and Benitez were given some funds in their early period and the net spends are quite comparable, unless we apply inflationary factors.
Although some may argue that Rafa in real terms had the greater net acquisition of players it is pertinent that Djibril Cisse was not a player he directly selected and that significant asset, Michael Owen, was not sold at the peak of his value.
Rafa's first 68 included some notable scalps at the very top of the European game – Juventus, Chelsea and AC Milan. Kenny's equivalent period is marked by no less a series of famous victories against teams of similar power – Man Utd (twice), Manchester City (twice) and Chelsea (twice).
Both Rafa and Kenny could boast victories over Arsenal in their early reigns, but Kenny can point to three straight derby wins (and a draw) to Rafa's one from two. Notwithstanding the incomparable winning of the European Cup by Benitez, all in all there's an even stevens feel to any comparison of the two manager's early machinations.
Despite this parity, Dalglish faces weekly questions about his team selections, his grasp of tactical fundamentals, criticism for a lack of goals, and is slaughtered for most of his recruitment of 2011.
Such is the breadth of scope of criticism you'd be hard pushed to keep in mind the respectable 49% win percentage and two cup final appearances. The club's time honoured mission statement – to win trophies – now apparently not an applicable benchmark. Silver is it seems a devalued commodity.
Even amid the euphoria of January 2011 when the grey clouds of the Hodgson era were replaced with the heaven-sent sun beam of Kenny's second coming, there were unspoken anxious mutterings that despite Dalglish's iconic status, he may, in the face of modern day football's harsh reality, actually be yesterday's man.
The 12 years since he'd been in top-flight management may have diminished his powers and antiquated his methodology to the point of near extinction.
Kenny's Napoleonic first 100-ish days dispelled most initial doubts. By May 2011 he'd taken Hodgson's 13th best team in the country and turned it into the Premier League's third best performing team (in points per games terms). Kenny was back. Kenny could play three at the back. Kenny could do 4231, 442, 451. Kenny's team was tactically flexible. Kenny's team could defend, score goals, keep the ball on the deck, and play some of the freest flowing stuff we'd seen at Anfield, since, well, Kenny.
All this without official best player Steven Gerrard (injured) and having lost Gerrard's other half, Fernando Torres. All this with a typical midfield of Maxi, Spearing, Lucas and Meireles. As far a cry (on paper) from 'Alonso, Gerrard, Mascherano and Sissoko' as one could pick from a list of great Liverpool midfielders of the past 20 years.
So, Kenny was back. Not withered by time. Sharp and savvy as ever. Suddenly those four league titles didn't seem so long ago. Despite a more mixed bag of results over the first six months of the subsequent season (the current one), by the beginning of February 2012 as Liverpool lay fifth and within a point of a Champions League place (and in a domestic cup final for the first time in six years), things still looked very much on course.
What has happened recently has not been pretty. There's no sugar coating that two wins in 11 league games represents the stuff of nightmares for a team and a manager with the loftiest of ambitions. Kenny has gone from canny to clueless in a matter of weeks – from peerless to pathetic in the eyes of many of the more gleeful press predators.
It matters little to many that this sorry league run has actually been punctuated by four crucial cup wins (including final and semi final wins), nor that Liverpool were desperately unfortunate to lose some of the league matches in that dreadful run (the recent travesty of a defeat at West Brom's hands emblematic of a truly perplexing season).
It has been posited since the league slump set in that 'relegation form' is de facto unacceptable and proof positive of a busted flush. The corollary is that no mitigation can be provided by silverware or its imminence. This view, like others that are precipitously rushing to abdicate the King, would do well to note the following selection of periods of unadulterated 'relegation form' served up by some greats of yesteryear :
1980/81 – 2 wins in 9 – Bob Paisley
1981/82 – 2 wins in 8 – Bob Paisley
1984/85 – 2 wins in 11 – Joe Fagan
2004/2005 – 3 wins in 11 – Rafa Benitez
The sacking of Damien Comolli in March suggests that even the club's top brass may be getting their heads turned by a horrible spring.
It undoubtedly grates that Kenny is now forced to justify his work with reference to the fact that despite the fall away in the league that the season has still born witness to the return of good ol' fashioned trophy-winning.
The apt witch hunt that drove Roy Hodgson from the Anfield kingdom after just six months as a Liverpool manager may have blinded too many to one of the club's most cherished of traditions – giving an appointment trust and time.
Even since the glory days became a distant a set of memories, modern day Liverpool custodians such as Gerard Houllier and Rafa Benitez proved worth the wait. Both good men with track records in the game, who, came, saw and left their marks on the club's history, and repaid allegiance with legendary campaigns and plenty more shiny metal vases.
Dalglish deserves to be cut more slack than Roy Hodgson. Much more. He deserves at least as much time and patience as Gerard Houllier was indulged. Rafa too. This would be so had his return seen only a modest improvement on Hodgson's record. Yet Kenny's more than fulfilled the initial stabilising brief.
He's written part of the club's story once again. If those that stand in judgement deem that he must leave soon, he goes with his reputation intact and his legacy unblemished. He's prevailed in his own glorious past, has succeeded since and, never doubt this, has the power to do so in the future. The fear must remain that if he goes now we will never see his like again.
That would be some shame.