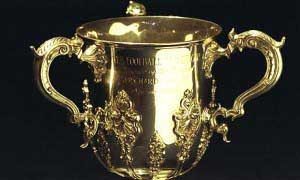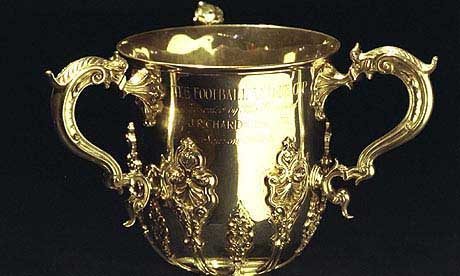 MILK, Littlewoods, Rumbelows, Coca-Cola, Worthington, Carling. Worthless, Mickey Mouse, moribund…the vocabulary of the League Cup, whether official or unofficial, is hardly inspiring. While occasionally undergoing a fleeting revival, it feels as if the trophy is destined to be for ever unloved, derided by fans (unless their team wins it) and undermined by managers fielding substandard teams.
At Anfield there has been a steady downgrading of the competition, with a dismal run since losing the 2005 final culminating in last season's farcical ejection by Northampton Town.
Lack of managerial enthusiasm, outstanding individual performances (Julio Baptista springs to mind) and the pressures of a cluttered fixture schedule have made for exits in the third and fourth rounds twice apiece and the fifth round once.
A quarter-final appearance in 2006/07 hardly adds much lustre to a poor record.
This season that could and should change. The League Cup is the only major domestic trophy to have eluded Kenny Dalglish, and 2011-12 might just be the time to put that minor but significant statistical quirk right.
I'll come out and admit it straight away – I love the League Cup. For all its faults it's always seemed like a livelier, more forward-looking alternative to the FA Cup. The White Horse final, Stanley Matthews and Merseypride are all well and good, but I've been as captivated down the years by Tranmere's unlikely run to the runner-up spot in 2000, Villa's 1994 demolition of Manchester United and Steve McManaman's thrilling display in the 1995 final.
The FA Cup has the history but the League Cup has always had one eye on the future. Played for the most part under floodlights and incorporating two-legged semi –finals offering an air of the exotic, the League Cup has made conscious efforts to be different. More fun, less self-conscious and with more chance of a decent giant-killing along the way, it's always had a special place in my heart.
It's not all about glitz, glamour and midweek trips to Gresty Road though. Romance aside, there are plenty of pragmatic reasons for Liverpool to embrace the Carling Cup this season. Here's four for starters…
Liverpool and the League Cup have history
The fact its most prestigious sponsor makes fizzy pop which can take the coating off a penny, and its least prestigious is an electricals chain which faded out of existence in the mid-90s is somehow fitting for a competition which hasn't had a lot of love in recent years.
That said, there is one rather more attractive brand inextricably linked to the League Cup: Liverpool Football Club.
Seven final wins, including a four-season unbroken spell in the early 80s, speak for themselves. Whereas the FA Cup so often slipped away from English football's dominant force, its younger brother was gobbled up greedily time after time.
If, as Shankly claimed, the League was our 'bread and butter', the League Cup was always a worthy appetiser.
Fans and managers of the top clubs have at times colluded in relegating what was once a vibrant and important facet of the season into a joyless trudge through meaningless youth team encounters.
That has begun to change, with last season's Manchester derby semi-final a high point for the tournament in recent years. The ascent of the likes of Manchester City and Spurs, making a determined bid to break up the big four, has had an impact.
Sheer weight of numbers mean at least one of the top six are likely to have a decent run, influencing the players and fans of the other five to take more of an interest.
By taking the competition seriously while in their pomp, Liverpool helped burnish its prestige. As a club once synonymous with success on this stage, we can be part of leading a long-delayed revival.
Squad management
Last season Liverpool played 53 games, despite losing in the third round of both domestic cup competitions. Were the same thing to happen again we would play just 40 times in 2011/12.
We might not these days be able to get away with the streamlined, slender squads of the 1970s and 80s but a massive squad is not a prerequisite for a season with a less-than-packed schedule.
Unfortunately a massive squad is exactly what we've got. We can expect quite a few players to move on before the end of the transfer window but are still likely to be one or two over the ideal number.
The League Cup offers the opportunity to give a chance to some of those whose faces don't quite fit, but who aren't what we might call Koncheskys.
A gateway drug
Towards the end of last season there was a heated debate among fans about the merits or otherwise of Europa League qualification. Many claimed it was important to secure some form of European football and the chance of a trophy, while others argued the truncated competition would be a distraction from the vital task of re-establishing Liverpool among the Premier League's elite.
Both sides had a point, but one overlooked argument was the role more minor competitions can play in encouraging new fans to visit the ground. There's a core of season ticket-wielding, home-and-away diehards who'd say this is no big loss, but in terms of revenue and profile it's important to us all that at least some matches at Anfield are accessible.
I'm not just talking about Johnny-come-lately gawpers or tourists, although the club should be happy to take their cash if it's offered. The Europa League/UEFA Cup has down the years been an important element in our season for those without the means or the finances to get to many league games.
As much as anything, it's generally been a lot easier and cheaper to get tickets for meetings with Mypa 47 than Manchester United.
Many young fans in particular have had their first taste of Anfield through the UEFA Cup, the competition acting alongside the League Cup as a kind of gateway drug to get plenty of them hooked on the hard stuff.
The Europa League argument was rendered academic by the abject performances against Braga, leaving home draws in the League Cup as the sole opportunity for a more diverse pool of fans to come in to the ground and develop the Anfield habit.
The youth of today
A key reason for many fans' optimism ahead of this new season is the crop of youngsters seemingly on the verge of significant first-team breakthroughs at the club. Kelly and Flanagan have begun to establish themselves, even if the latter might not be ready for the rigours of a full season yet. Jack Robinson isn't far behind, while Coady and Wisdom are brimming with promise.
It's essential at this stage of their development that these players are given opportunities, yet the pressure to get results in the Premier League might dissuade Dalglish from throwing too many of them in too soon.
Without the Europa League into which to pitch them, the League Cup must be the environment in which to give a couple of our almost-finished gems the chance to shine.
It's an alternative to loan moves which can be productive in some cases but in others can take young players away from the atmosphere of Melwood and put them in the hands of managers less versed in the finer points of the game than the coaching staff at Liverpool.
We need to discover whether we're unearthing Fowlers and Carraghers rather than Newbys and Otsemobors.
The League Cup will help us reach some conclusions.