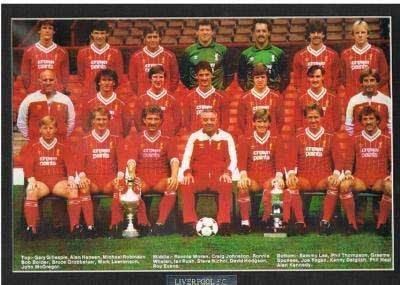 I WANT to talk about the early 1980s. When the 1983-84 season kicked off I was 10 years old, 11 when it ended. We had moved from Netherley to Wavertree and I wanted to support Liverpool.
Kids are like magpies. They're attracted to shiny things and in 1983 Liverpool Football Club was surrounded by shiny things.
Every time I saw their team photographs on free centre spreads in The Liverpool Echo, in hat and scarf stalls on Church Street, on MOT garage walls between Linda Lusardi and Samantha Fox or in Panini sticker books, there always seemed to be big shiny cups laid out on the grass.
Big shiny silver cups and gold ornate trophies. Not one, not two, but quite often three, even four shiny cups, all laid out at the feet that helped to win them.
I wanted to support Liverpool. After all that was where I came from, my mother's brother had been on their books in the 60s under the great Bill Shankly (and still works for the club to this day). Besides which…Everton had nothing that shone in 1983.

My father was a boxer, boxing was his sport, that and the horses. He liked football but he didn't LOVE it; and besides he came from Louisa Street in the shadow of Goodison Park, so even if he had a team, I suspect he'd favour blue.
No, in the year that saw the release of Return Of The Jedi, It was to be an old friend of the family that helped me see the light, turn to the Red and not the dark side of the 'Blue Evil Empire'.
'Danny The Taxi' we called him, on account of him driving a black hackney cab.
I'm not sure if he had a deal struck with my folks to get me out of their hair every other Saturday afternoon, but it was to be Danny and his then wife who would first take me to the 'Holy Mecca' – Anfield.
It was Saturday, October 29, 1983. Danny The Taxi was a season ticket holder on the Kemlyn Road.
It was the good old days before Sky when every game kicked off at 3pm. A time before the internet or satellite TV, when George, 'The Voice of Anfield', knew our rivals' scores before ANYBODY and delighted us on the full-time whistle.
I remember traveling to Anfield from our house near Penny Lane. Not in Danny's Taxi but in his friend's shit-brown Morris Ital (in retrospect a dreadful car, but at the time I loved the way its dashboard fascia favoured the driver's side making it look like the cockpit of a spaceship).
We casually parked the shit-coloured Ital near the supporters club, in the days before the mass of double yellows and walked up to the ground.
I was from south Liverpool so had never even driven past Anfield before, (the closest I'd got was the Sheil Road Ice Rink). But there she was…Anfield…in the days before the Centenary Stand and the new all seated Kop.
Anfield…a giant yet aging structure with a huge grandstand at one end that dwarfed the other three.
"Hat, cap, scarf or your badge" the stallholders bellowed.
This was amazing. Tribal. I was only 10 years old and yet I felt like a man…one of the lads.
I got my customary boiled beef burger with soggy onions and watered-down red sauce from the white tin carts that aligned the Anfield Road, bought my first-ever programme from the wooden stall, but more importantly than that…my first badge!
My First SHINY thing! It was a perfect little circle, barely the size of a new 5p, with a red reflector like enamel border and a golden European Cup at its centre.
The wording around the edge simply read "Liverpool, European Cup Winners". I pinned it to my coat and longed for the day when I could have 300 badges attached to my scarf like Danny The Taxi's wife.
I walked up the steps and out into that giant lake of lush green grass. It was late October, so the goalmouths were probably just mud, but to me it was perfect, like a giant subbutteo mat.
Our seats were only four or five rows from the pitch and very close to the Kop Grandstand. I watched as The Kop slowly filled and started to sway like a choppy sea of red.
The chorus of singing that echoed from the crowd was like nothing I had ever heard. How was I supposed to watch the game with such a magnificent sight to my left? I made a pledge there and then…I WILL stand on that Kop…I will!
I looked down the back of my programme:
1. Bruce Grobbelaar
2. Phil Neal
3. Alan Kennedy
4. Mark Lawrenson
5. Steve Nicol
6. Alan Hansen
7. Kenny Dalglish
8. Sammy Lee
9. Ian Rush
10. Michael Robinson
11. Graeme Souness (Capt)
Manager :Joe Fagan
It was the 11th game of season 83-84. After 10 games we were in 2nd place on 20 points having won six, drawn two and lost two. Luton Town were only one point behind on 19 having won the same amount of games, on paper it was no push over.
But we HAD to win this game, because sitting top of the table on 22 points… Manchester United.
It hadn't been a high scoring start to the season. Ten games in and we'd only managed 12 goals, as a result our goal difference was much inferior to those around us.
We'd notched up a five-niller against lowly BK Odense in the European Cup and an 8-1 aggregate win against Brentford in the Milk Cup, but against league opposition we had had a few one-nillers and had managed to score three goals only once, against West Ham the week before.
Luton Town were managed by David Pleat and had a hot-shot new striker up front wearing number nine that went by the name of Paul Walsh.
He was on fire and had helped Luton tally up 19 goals already that season. "Don't you worry" said Danny The Taxi… "Our number nine is the best number nine in the world."
I once again looked down the team sheet. Number 9…Ian Rush.
The game kicked off and like a kid on his first roller coaster ride, I was hooked. As Danny the taxi had predicted, we had the best number 9 in the world.
Within an hour and a half Rush scored one, Rush scored two, Rush scored three, Rush scored four and Rush Scored five!. The scorer of the other…Kenny Dalglish (Incidentally, Tony Woodcock also scored five that day for Arsenal).
We walked back to the supporters' club. Apart from the game itself, this was to turn out to be my favourite part of the day, probably because I got to have a sneaky bitter shandy behind my parents' back!
I had a drink with a head on it and a Liverpool scarf…I was now officially a man! This was the part of the day I most looked forward to, waiting for the Pink Echo.
The Pink Echo flummoxed me! How did they do that? In the days before the internet, email, digital cameras and mobile telephones, just how did they report on the game (and every other game that day), type it all up, develop photos in a lab, put it all into a press, print it and deliver it around the city before you'd even finished your second half of shandy?
In the following weeks to come, games against Birmingham City (1-0), Stoke City (2-0), Manchester United (1-1) and Tottenham Hotspur (3-1) followed, which saw a switch for me to The Paddock for the Spurs match. I had gone through my first five games without defeat.
All that was to remain was for me to visit Wembley.
It was the Charity Shield match against Everton. I'll never forget that drive down to London as season 84-85 kicked off. Danny The Taxi put his meter on (just as a matter of interest) and I sat in the back with a couple of friends and watched with fascination as it clocked away the coin. £50, £100, £150, £200…Thank God we didn't have to pay.
We parked somewhere near Royal Oak tube station and caught the train to Wembley. Despite it being a scolding hot day, I had my scarf tight around my neck, my hat, flag and by now a dozen badges! So THIS was Wembley Way. I'd made it to our second home.
I still don't know who my father supported that day, as he'd never admit either way…but needless to say we lost to a single Bruce Grobbelaar own goal.
My first-ever taste of defeat was to our bitter rivals. Everton now had something shiny…but it was far too late to sway me…I wanted to support Liverpool and the blood in my young veins ran Red!!
That following season (84-85) saw my introduction to European football. I watched us beat teams with funny names.
First up was Benfica, a 3-1 win in the European Cup second round, first leg. I then saw us demolish Panathinaikos 4-0 in The European Cup semi-final first leg.
I also saw my first seven–niller that season against York City in the Cup. But it would not be until the following season (85-86), under our brand new player-manager Kenny Dalglish, that I would see us take revenge over the Blues.
Revenge that season came in two parts, firstly in the form of the 3-2 thriller at Goodison Park (my first league away game) and secondly in the season finale at  Wembley. My first ever FA Cup final.
Once again I traveled down in a free taxi, this time taking in some pre-match hospitality at Fulham's Craven Cottage. It was another sunny day as we reached The Twin Towers and took our place behind the goal (THAT goal).
The game kicked off and it was an even affair. The best two teams in the country went toe to toe, end to end in what would become a classic battle.
It was a game that saw the best save I have ever witnessed (Brucie's Kanagroo leap to divert Hansen's back header). And some of the finest pin point passes I have ever seen or will see.
Peter Reid had picked out Everton's one-season wonder Gary Lineker with a most immaculate ball and the crisp salesman had put the Blues in front at half time. I turned to Danny the Taxi in near tears…
"Everton aren't going to beat us at Wembley again…surely?"
"Don't be daft lad," he said…
"We've got the best number nine in the world!"
The rest, as they say, is history!
Scot Williams is on Twitter @scotwilliams
Follow news of his forthcoming Film HARD BOILED SWEETS @HrdBoiledSweets
Follow news of his stage Musical A BARD DAYS NIGHT @ABardDaysNight