Supporters have been surprised by the sudden move for Wataru Endo, but have Liverpool just pulled off a masterstroke in this transfer market?
I SAID yesterday we'd discuss names.
Wataru Endo happens to be the first name in question, then. He looks likely to sign today. Likely. We have been here before. But let's push on.
He hasn't been first choice. We know who first choice actually was and that will be our reality for the rest of this campaign; arguably the reality until Liverpool have the centre midfielder who will drive them forward for three or four years.
That is unlikely to be Wataru Endo. He's 30 years old. He is Stuttgart's captain and their most loved player, but you struggle to envisage him being an extended lynchpin of Liverpool's first 11.
All of that's fine. More than fine, in fact. Things I like:
– It's a life-defining transfer for him, a chance at something that he may have thought he would never get.
– There can be no airs and graces, in that context. No preciousness. Who cares what choice he was? If he wants it, it is here now.
– Everyone who has watched him regularly or worked with him seems to rate him highly.
– Yesterday's alchemy chat.
– It frees Liverpool from the yoke of the idea they simply have to do someone.
They've done someone. In terms of volume, he profiles intriguingly on the stats and wins his battles and his headers. Possession adjusted it changes, but we can expect that. It's also worth noting, on the defensive activity map below, we would probably expect him to be 10 to 20 yards higher.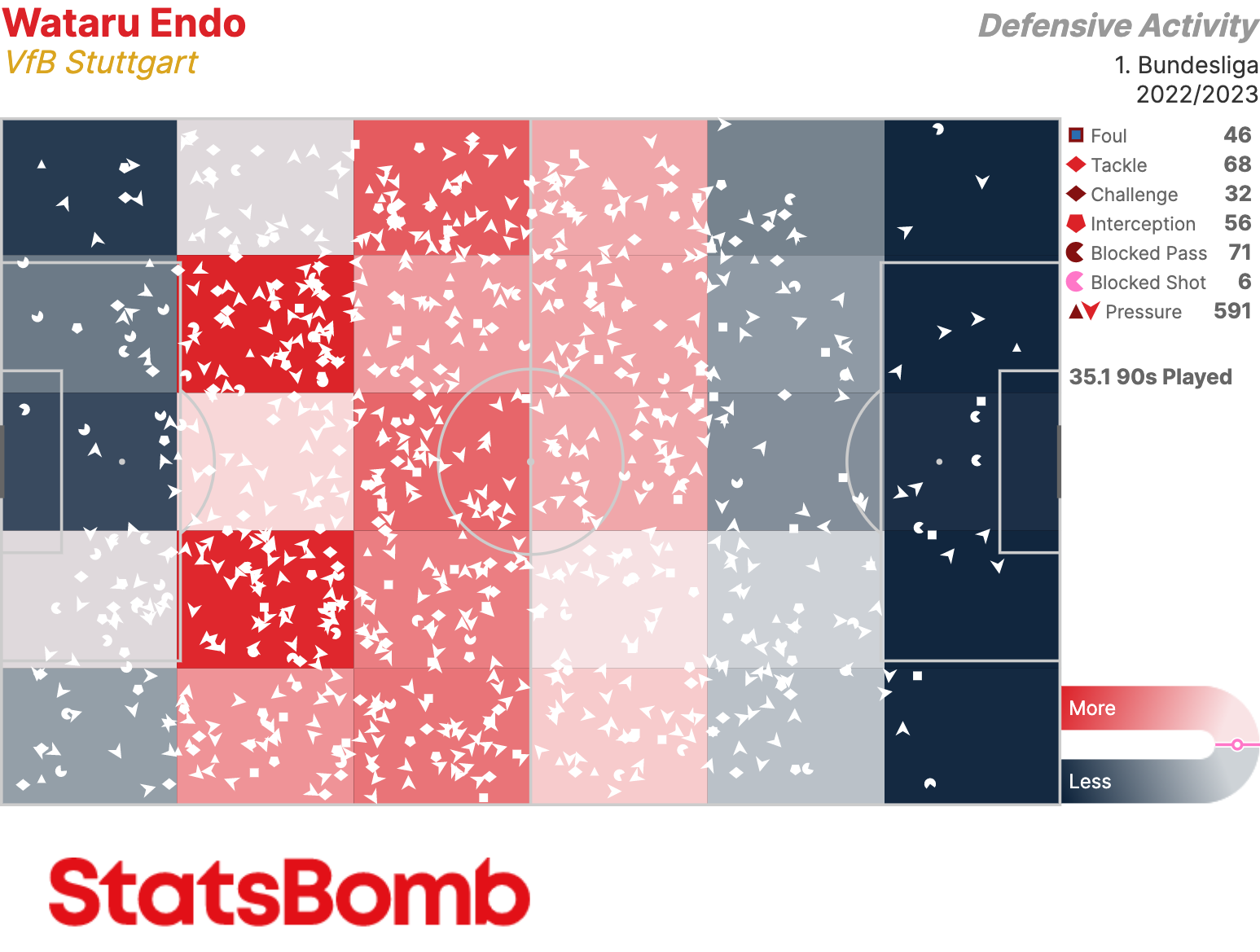 What this means is something that will only become clear over time. My instinct is he is coming in to play something that resembles holding midfield first and foremost, rotating in the role with Stefan Bajcetic and Thiago Alcantara.
But there is a chance that Endo plays centre back, or the role we have seen Robertson in at the very least, as well as centre midfield or perhaps even instead of and we haven't anticipated that.
There is a chance that Liverpool move quickly to secure another holding midfielder they do think they will move forward with as first choice and he will be a utility man and/or a sub to help close games out.
There is a chance we don't know what the shape is when he is used.
There is a chance they will play the field between now and the end of the window, look at who they can get knowing that, for instance, Andre Trindade has a release clause and that his Copa Libertadores adventure comes to an end and we swoop or it doesn't and we hang on until January.
(I hope Liverpool, if they are to sign Andre but his side do progress, are able to be patient. This is one of the reasons I wouldn't be suited to the cut-throat world of running a football club – I love everyone's adventure that bit too much.)
We don't know what the plan is and it is still possible Liverpool themselves don't. That feeling has been a concern – it is part of football, don't get me wrong, it happens to every team, but Liverpool have been the best version of themselves when they have felt planned to precision.
But you either embrace it or you don't. It's become a transfer window for so many clubs with so many moving parts. My repeated shock is at who hasn't moved that I was convinced actually had. It's unnatural for us, but let's lean in.
That said, in fundamentals, in terms of having an astonishing amount of brilliant players, Liverpool remain rock solid. They have so, so many. Gelling everything is the trick. Getting out of games with the points is the trick.
That's the point of this signing.
However, the precise nature of the where and the how and the frequency, we will see. How it has knock-on effects from here, we will see. My ideal is a couple of defenders, an exit or two and a Trindade in January, because I am both a romantic and a Bobby Clark enthusiast. But you may not like that and Jürgen Klopp may not like that either – we will see.
In the meantime, rest assured we will try and discover as much as possible.
We've all sorts of insightful conversations with people who have watched Wataru Endo play across the course of the day – we had Joel Sanderson-Murray last night and if you keep an eye on social/app you will see others drop over the course of the day. There will be a Gutter on audio and video as well. A Stats Show too on video.
As ever, if you want to support us we would love that. There is the app, the website and now the Patreon. Click whichever you fancy. They play Saturday too. Back at Anfield, back on the grass. Pre-match shows today along with transfer ones. You should be excited. I am.
More tomorrow. Back into the groove of these.
---
"He's a natural born leader. He was very shy, humble. Never the guy saying 'I'm the greatest one', but he was performing every match on the pitch and when it came to the special moments he was there."

🗣 @altobelli13 gives the Bundesliga perspective on Wataru Endo to #LFC… pic.twitter.com/lzhjRPYXd1

— The Anfield Wrap (@TheAnfieldWrap) August 17, 2023
Recent Posts: