Liverpool left themselves short in midfield last season and with three leaving this summer, they've more work to do still to make it right…
LAST week I was invited onto the Transfer Committee show with Joel Richards, Dan Morgan and Mike Bankole.
If you're not aware of the premise, it's a game where the four of us are tasked with virtually buying and selling players under the limitations of a strict budget. Contract extensions and wages also have to be considered and we can only buy from a list provided by Neil.
Much to my disappointment, Andre Ayew was not included once again and, though I fight reality hourly on this, I'm beginning to think that ship has sailed.
I won't tell you how we got on — that's what the show is for — but suffice to say it wasn't easy. Even with fake money and no negotiations, it was a slog. The real thing must be exhausting.
Jürgen Klopp has already hinted that this will be a busy summer for the club. I hope so. It has to be a lot better than last year which seemed to revolve around a philosophy of 1) buy Aurelien Tchouameni and 2) take rest of the summer off.
I know we brought Darwin Nunez in but it was the midfield that needed looking at. Now, a year on, that hasn't changed, particularly with three of their number leaving this month.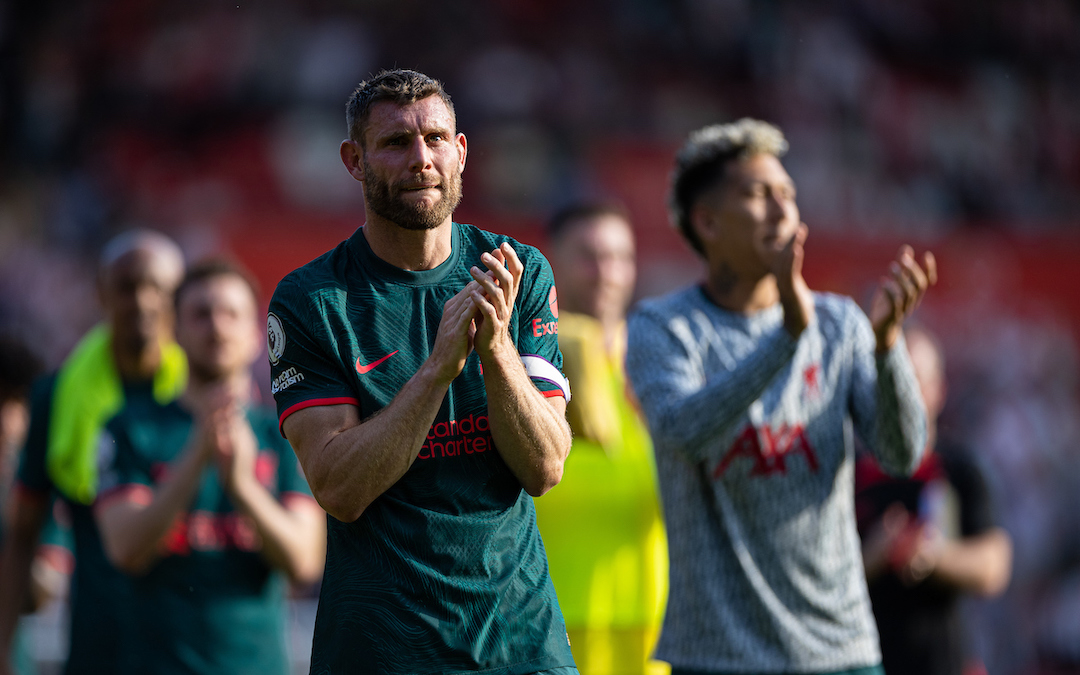 At the time of writing, the first signing appears to be Alexis Mac Allister — while the more reliable accounts mention Manu Kone and Khrephren Thuram as possibilities.
It's a decent list. Thuram has 114 appearances and eight goals for Nice along with one senior cap for France. He certainly has the pedigree, being named after an Egyptian pharaoh and, like Thiago Alcantara, having a World Cup-winning dad.
Meanwhile, Kone has been courting interest from Newcastle as well as The Reds. Reports from Germany state that he'll be moving to a Premier League club. Well, that clears that up. Thanks lads.
Personally, I like that he was born the day after the Alaves UEFA Cup final. A day I can remember only too well. I've seldom been more hungover.
With Jude Bellingham all but gone and Mason Mount now making eyes at United, it seems that these are the three players we're setting our sights on.
I'll admit, I'd have liked to have seen a bid for Declan Rice in there. He's got the lot, but I doubt FSG will sanction spending anything like the sort of money required on the 24-year-old. It looks like Arsenal and Bayern will have to duke it out between them.
A lot of this speculation also depends on the Trent Alexander-Arnold conundrum. Is he more likely to play in his usual position or is the midfield role just part of his development? It doesn't always work, but if Jürgen is happy to go with it, we'll need another right back to slot in. I think it's unlikely that we'll see Joe Gomez playing there full time.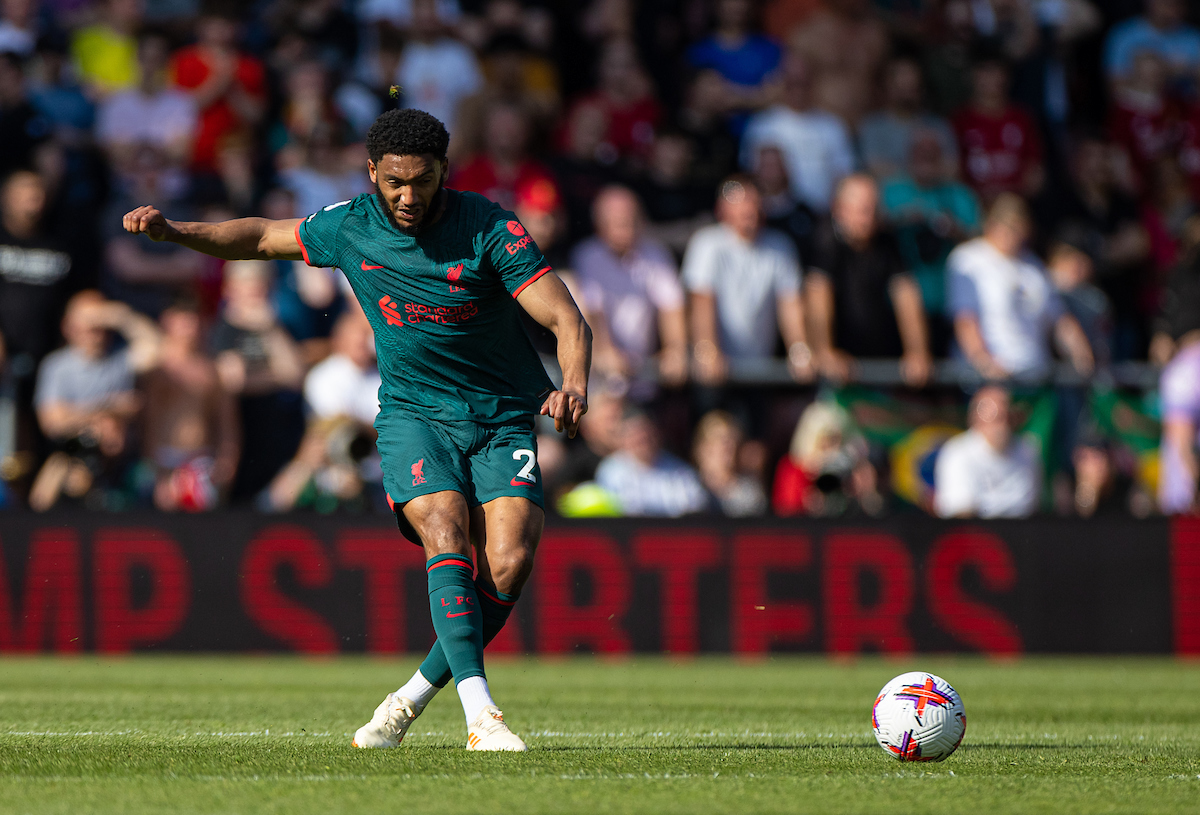 I like him at right back, incidentally, and don't think he's anywhere near as bad as his detractors claim. He can get up the pitch and he can cross. He's just not Trent. We need Trent to be Trent if we're expecting that sort of quality and no one else will do. God help our next full-time right back who'll have to replicate his ability.
It will also be interesting to see what becomes of Fabinho. The Brazilian has been imperious over the course of his Anfield career, but last year was his absolute nadir. He recovered a little at the end of the season, but without an extra man in there to help with his running (Curtis Jones much of the time) he couldn't turn or get around the pitch.
I've never seen such a drop off by a player in such a short space of time. Whether that was just exhaustion and nothing that a couple of months on a beach can't sort out, remains to be seen. I hope so. I don't like it when our heroes become fallible.
If Jürgen has one valid criticism levelled against him, his love of baseball caps aside, it's that he's not ruthless enough when it comes to his favourites. If Fabinho can't produce it anymore, or at least not as consistently as he has done, then he should be warming the bench. Another Jürgen criticism — his preference for a small squad — has made that impossible of late.
I hope he recovers, though. There's an argument that he was the best number six in Europe for a while and I'd hate to see his flame burn briefly.
And then there's Curtis and Stefan Bajcetic.
Jürgen played Curtis in every game come the end of the season and his improvement has been marked. Even those with a bias against him would have to admit that. When he's had enough of knocking around with his mate Dr Dre, he'll have a lot to do next year. Arguably more than Thiago.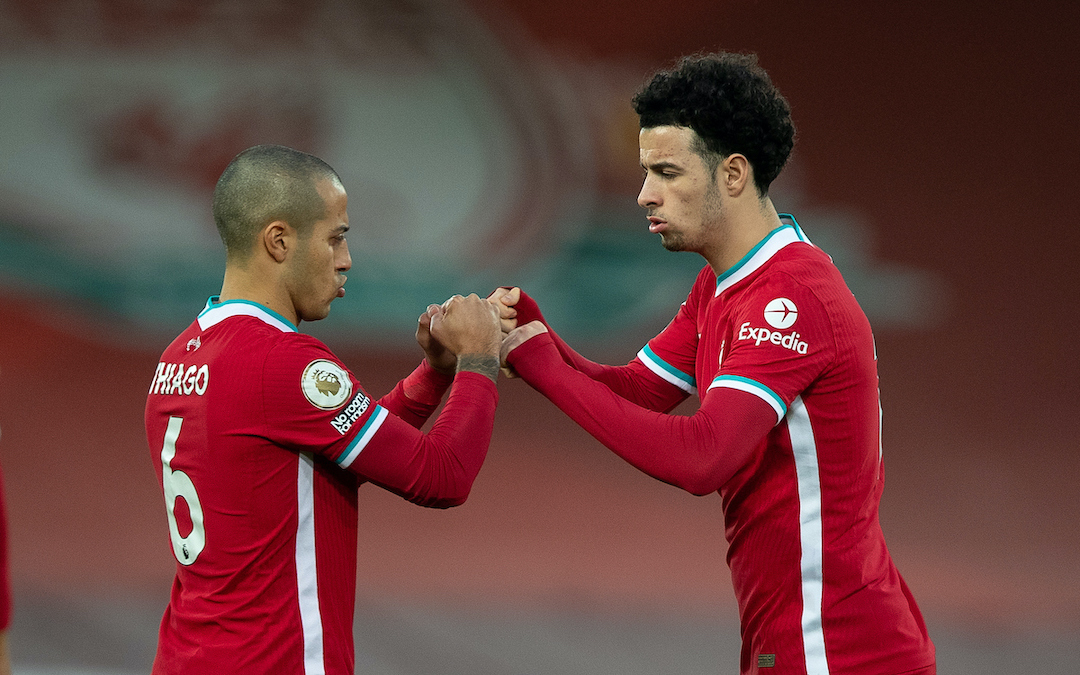 It was frustrating to lose Stefan after his great start, but the rest might do him some good. He'll certainly be getting game time next year.
Thiago (32) and the captain (33 in a fortnight) are the oldest midfielders now, so you'd think they'd play fewer games, but that might change with the Europa League.
A combined midfield of Henderson, Thiago, Fabinho, Elliott, Fabio Carvalho (though I doubt it), Jones, Mac Allister, Trent, Kone and Thuram should be enough to navigate us through a season. In my head that's our final midfield squad. Whether there are too many projects in there is still to be seen.
It's good Alexis is coming so soon. I want to see the club and its owners be decisive early on by fully backing the manager. I can see the sense of ducking out of the Jude drama but we need to see intent with a wallet.
Dan, Joel, Mike and I certainly did in our alternative reality version, though God knows what that would look like in real life. There were some wild takes in there.
Still no Andre Ayew, though.
---
Recent Posts: