Remembering Liverpool's 2013-14 season ahead of its 10-year anniversary; a campaign some supporters still remember fondly…
IT'S hard to believe it was 10 years ago. The unbelievable season of 2013-14.
June 2013 saw a brief glimpse of optimism for Liverpool. The previous season, Brendan Rodgers first, was never going to receive much in the way of plaudits, but there was the sense of improvement in the air. The Reds were unbeaten in the last eight games with January signings Daniel Sturridge and Philippe Coutinho slowly turning the tide. We might have something here.
No one saw what was to come.
The new season began with Luis Suarez banned for biting and ended with him banned again biting someone else. He was nothing but consistent. He wasn't to appear in the first-team squad until late September for a League Cup tie with Manchester United and then started against Sunderland four days later. Almost inevitably, he scored twice in the league game.
The 2013-14 season has been used as a stick to beat Steven Gerrard, but for anyone lucky enough to be around the match at that time it will always be about Suarez, Sturridge and, particularly in the run-in, Raheem Sterling.
Suarez was ridiculous. Absolutely ludicrous. In December, following a routine 3-1 win against Cardiff, I appeared on a TAW podcast to discuss two more Suarez goals and an assist. Rob Gutmann described his first, a volley from outside of the box, as his 'worst goal of the season'.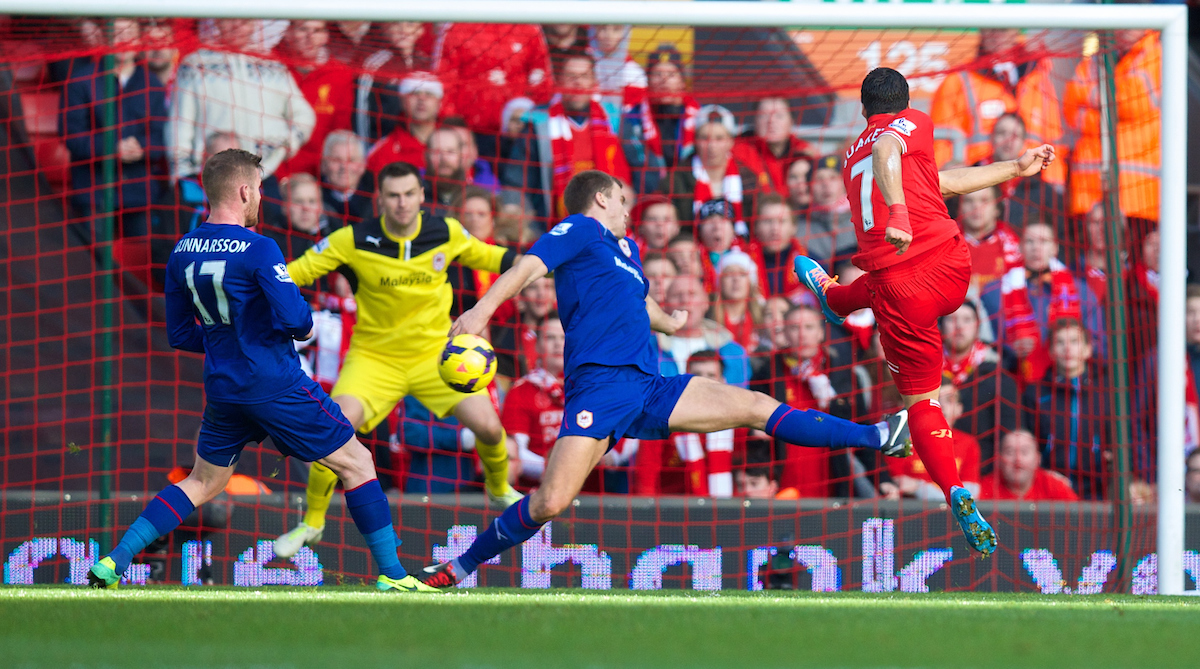 I knew what he meant. Every goal was a worldie. The running header at West Brom was my favourite, but there were so many contenders.
His four against Norwich will live long in the memory. That night was the first time since John Barnes where I thought that no one on the pitch could match him. Like everyone else I'd seen Gerrard perform miracle after miracle, but this was the first time since 1988 that I knew the other players, never mind us, had no idea how he could do those things.
If you watch one of his celebrations that night you can see that he had no idea either. He's running backwards from his team-mates with his hand over his mouth and shaking his head, as if to say "I don't know, I just don't know," but loving it all of the same. One man shouldn't beat an entire football team but he did it regularly.
And yet I was against signing him. The whole Uruguay-Ghana incident, the bites and the whole circus that followed him set my face against him, but all of that is nothing compared to the player he was. I've seen a player with so much ability. I didn't always celebrate his goals. I was too busy picking my jaw off the floor and wondering what had just happened.
Andy Heaton and I met him once and found him to be a very quiet man. You wouldn't think it given his history.
And Sturridge was the perfect foil for him. Happy to play second fiddle for probably the only time in his life, he was magnificent. His goal away at Stoke isn't talked about enough. The one where he kept the ball in on the byline with his chest before heading an assist to himself. Sturridge ended up with 24 goals that year.
It seems impossible to hear of Daniel without his injury record coming up, but I adored him. I loved that his last act as a Liverpool player was to run around the pitch with the European Cup.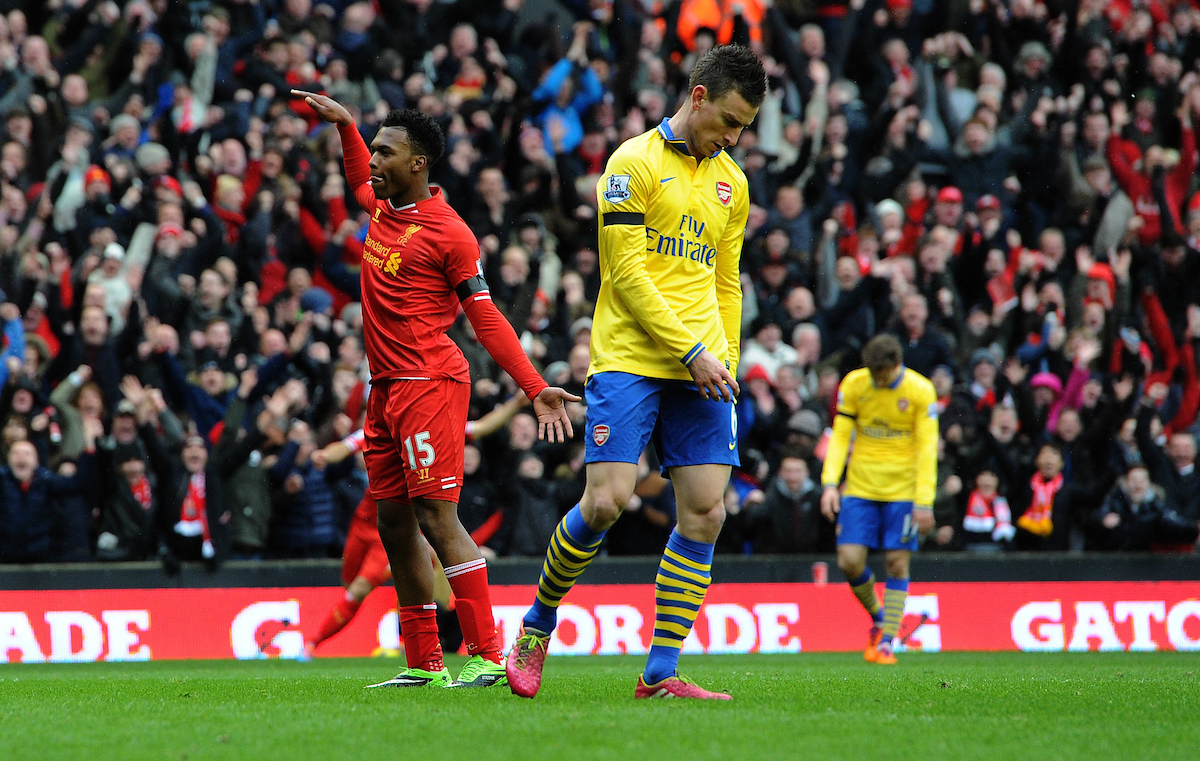 As for Raheem, I think he might have had one of the worst performances I've ever seen in a red shirt. He played a sort of wing back/right wing hybrid role against Palace early in the season and he stank the ground out. Only Jose Enrique was worse.
The next day I expressed the view that a loan spell in a Championship side might iron out some creases. Nice one, Karl.
Months later he was unstoppable. You can talk about his pace and goals but his performance in the 4-0 home win at Spurs was incredible. Kicked all over the park by their grocks, he took everything and gave it all back.
But the season will always be remembered for the slip. It made so many people happy across the land and is still remembered by thousands of edgy persiflage lads at Anfield every season.
My favourite was the Shrewsbury fans singing it in the cup game a few years ago. I've looked it up and the week before the Chelsea game, Shrewsbury were relegated from League One. Such happy memories for them.
Gerrard will never forgive himself for that slip. Everyone else has and I hope he'll stop beating himself up about it one day. He gave us the world at a time when no one else was even close to his level.
I can't believe people are still going on about it. After all, the slip was just the same as missing a last-minute penalty. He scored one of those at Craven Cottage in the February. He misses that and no one remembers it in the context of the league.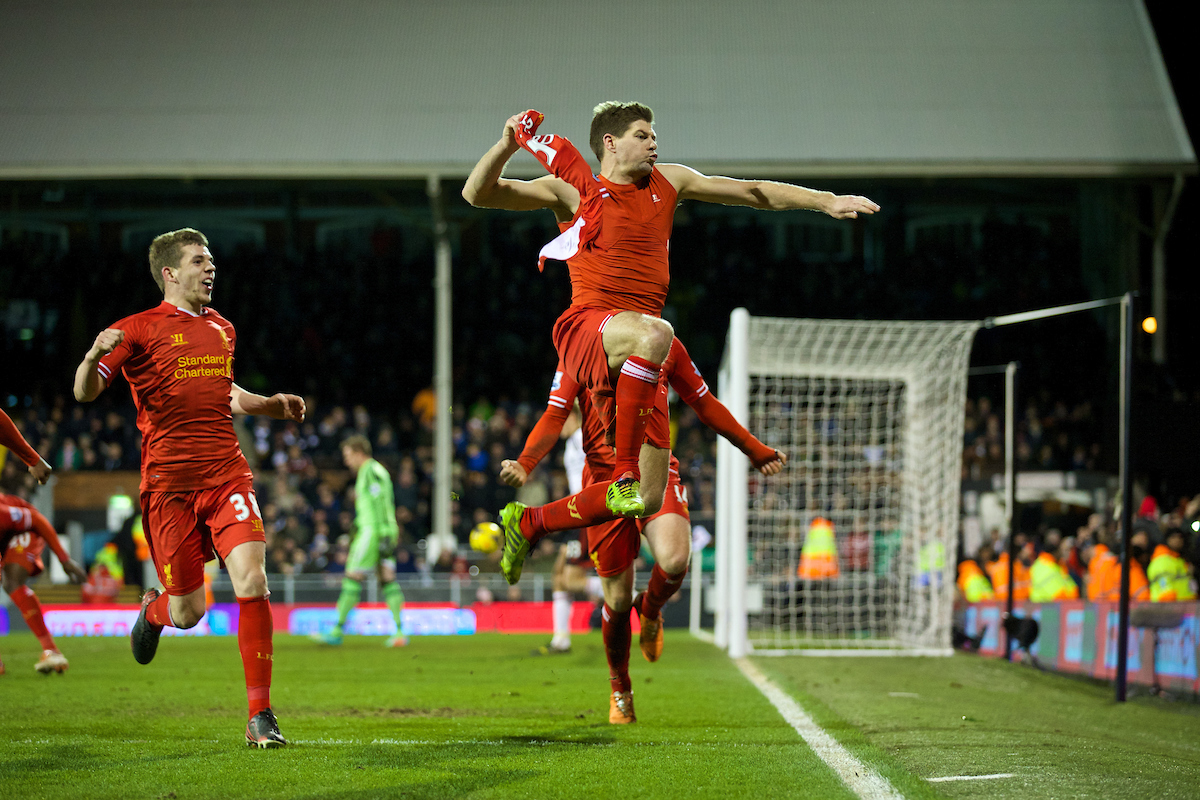 Given the season that followed (and what a great season to write a book about, eh Karl?) it's been argued that not getting over the line destroyed our confidence and we never recovered from it. Others say that 2013-14 was a perfect storm that could never be replicated, but it didn't feel like that at the time.
It made me believe that miracles could happen and, for a short while at least, the romance was back. The energy. Leaving Old Trafford that season, I just wanted to drive to Cardiff and wait six days for the next game.
But Liverpool turned to shite again not long after. Suarez ran off and we blew his money and threw the blame onto the 'transfer committee'. But, thinking back, I'd take that duff season for the sheer joy of the one before. Last season was 2015 all over again. I'll pay for the next great one with that one. Maybe that'll be 2023-24.
Since that season we've won everything there is to win, but 2013-14 was the stepping stone to that in the same way 2005 saw its roots in 2001.
The irony being that we could still win that 2014 title if the legal system was fair and money meant nothing. I can't see that happening. Football isn't about fairness.
Ten years on and it still makes me smile. You can sing about slips all you want.
---
Recent Posts: