Jürgen Klopp has cited an overly emotional response to Liverpool's last-minute winner against Spurs, which we can all relate to as fans…
THERE'S a concept in George Orwell's 'Nineteen Eighty-Four' called 'doublethink'.
Broadly speaking it's a mindset where you can hold two contradictory opinions in your head simultaneously and be happy with both.
I had a similar sensation as I crossed Stanley Park on Sunday night. On one hand, I loved them beyond reason. The win, the spirit of that final minute, the chutzpah of the opening 15, Jürgen Klopp living that Shankly adage that it's Liverpool's leg, not his, and everything that came with it. God, I love Liverpool.
But then there's the other part.
Losing 3-0 over the course of an hour to a side who were visibly wilting under the taunts from their own fans, then taking the foot off the gas despite Andy Robertson shouting "more" into the faces of his teammates when Mo Salah slotted the penalty, and whatever the shape was supposed to be come the end. We stopped creating. Again. God, Liverpool get on my nerves.
But we won and though it should only be the points that matter now, in this dead season, it was allowing Spurs back in that rankled on the way home. I know. Glass half full, but there we are. Just think of the points and the face on Ryan Mason — a man who thinks it's OK to almost sever a shinbone but not to go in for a high ball with a lad who's stooping to head a ball — at full time.
That's what they made the game about. Diogo Jota's challenge was deemed reckless rather than dangerous, hence the card colour, but Mason thought he shouldn't have been on the pitch to win the game. He forgot the bit where Oliver Skipp shouldn't have been on the pitch to get a kick in the head in the first place.
Of course, the Tottenham interim boss was frustrated that the chicken dancer didn't grab them a point so his press conference was full of misdirection.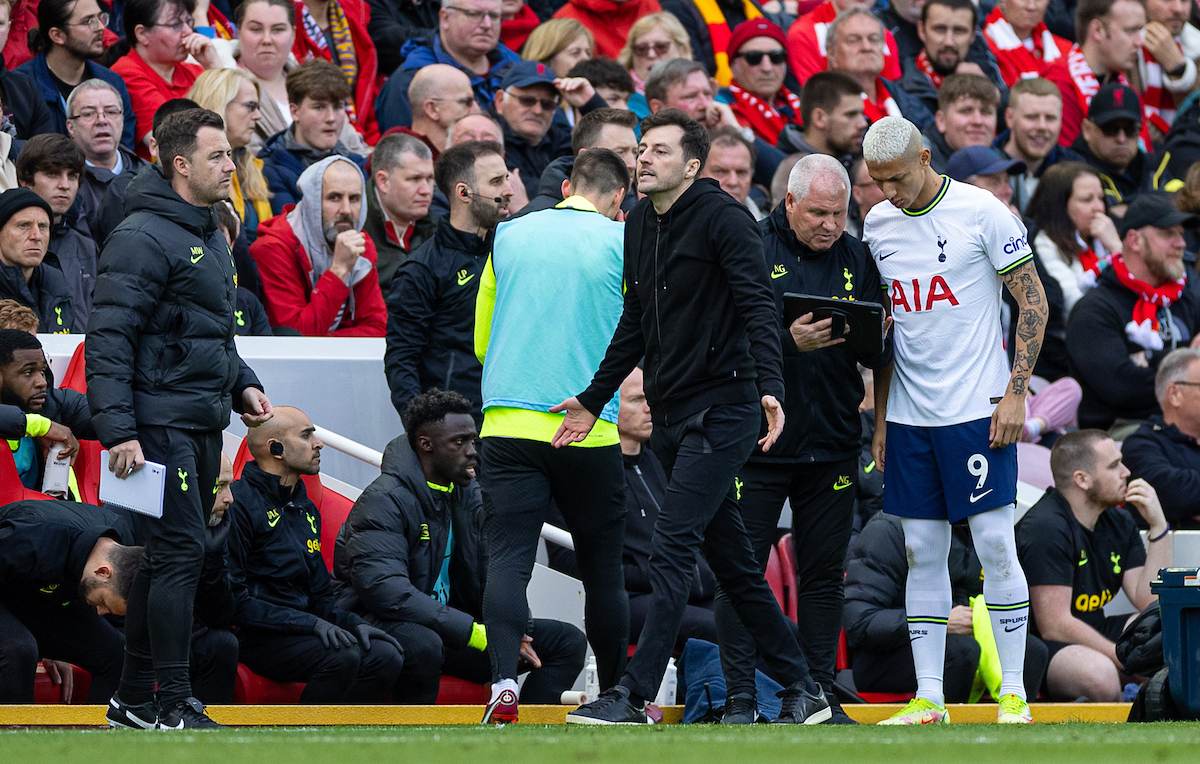 I'm fine with that. All managers do it. It takes the pressure off the team and deflects from the bigger issues. A nice big controversy always masks them conceding three goals in 15 minutes.
Ferguson was a master at it. I remember Manchester United having a poor result against Aston Villa once and the expectant press pack waited for Ferguson to wriggle in front of them. Instead, he bustled into the room, told them that they all knew nothing, that there should have been at least 11 minutes of injury time and then stormed out. Every journo wrote more about that than the game.
Naturally, Paul Tierney of Wigan and David Coote, he (allegedly) of the Old Trafford cover photo, were involved. Both lads involved in keeping everything fair at a Liverpool game.
The dislike between manager and referee is old news by now and it immediately gives every fan a standpoint. If you love Jürgen and The Reds, you'll be on the ref's back. If you're not an admirer, you can point to Jürgen's zealous celebrations and occasional fury and say that you can hardly blame the refs for giving him the skunk eye.
I'm not sure where I am with this. Give me an emotionally charged manager over a chair-moistening analyst any day of the week, but the thing with John Brooks, the fourth official, seemed a bit silly. I'm not sure it's a booking, but I don't really see what he's trying to achieve.
Jürgen later said: "I didn't say anything bad, I gave a look which is bad enough." That's when instant karma came into play in the shape of a twinged abductor.
What was frustrating about the aftermath. It was the usual climb on. The CEO of Ref Support, the charity supporting referees, called for a three-match ban while the usual suspects threw their oar in, citing 'previous.'
One of them, Alan Shearer, even has his own 'previous' when it comes to kicking players in the head. Meanwhile, his former striking partner Chris Sutton banged on about the effect on kids and young players who might think it's OK to shout at refs because that's going to happen now, isn't it?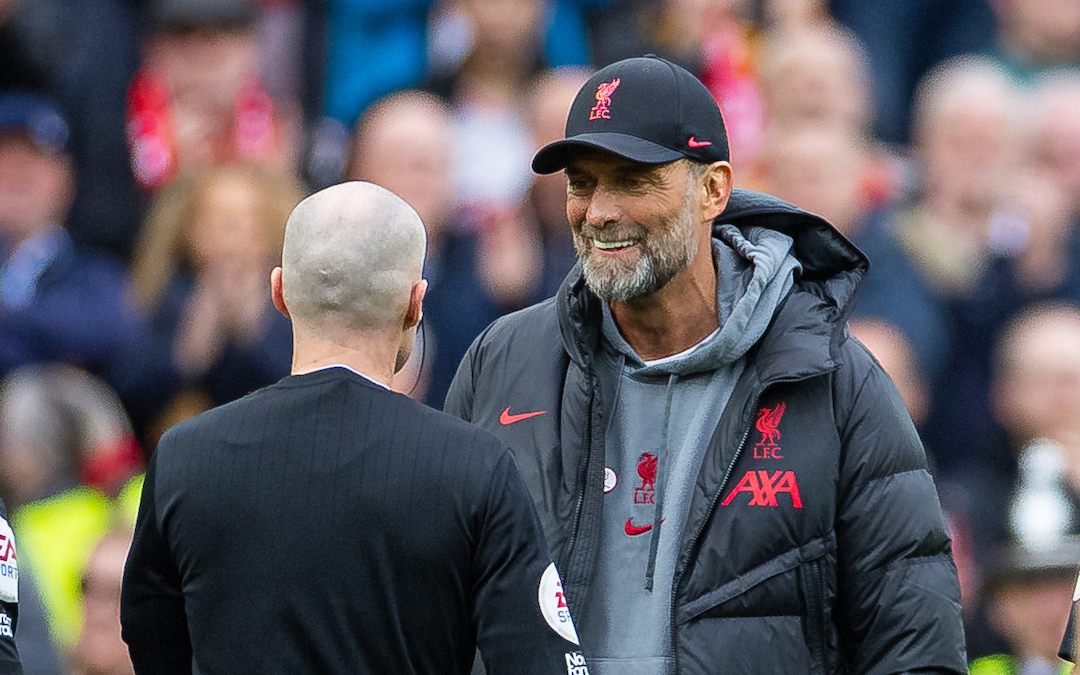 These were the same lads who leapt to the defence of the linesman who elbowed Robbo. Naturally, Paul Tierney booked Robbo as a result.
It's difficult to view this objectively. Every fan thinks their team are unfairly treated at the hands of the officials so it's tricky to assess this without bias. I would say, though, that Tierney is a bloody awful referee and is miles out of his depth. Many Spurs fans would say the same.
Does Jürgen go over the top? Undoubtedly. Does he get it wrong? Yes, at times. Sunday was a bit undignified but I suppose it's all in the heat of the moment.
I was feeling pretty het up at the time too. I was busy holding two contradictory opinions in my head simultaneously and was happy with both. I would probably have had a bad look at Richarlison too had I not been jumping on strangers around me.
But you can't be disappointed with a last-minute winner and, frankly, it's a bit weird when you're furious that it comes to that. I accept that.
Some of it was fantastic (Mo dispossessing Kane to the delight of the crowd), some of it was weird (the plane flying over a dozen times and being met with absolute indifference by those around me in the Main Stand – "Oh, they've done a plane" was the only comment I heard… Sorry, lads) and some of it was awful (about an hour of it), but it's three points all the same.
Four straight wins with 15 goals, then. Fulham next then Brentford. Just keep winning, lads. Maybe try defending too.
God, they annoy me. God, I love them.
---
Recent Posts: