Analysing how the presence of Curtis Jones and Luis Diaz has allowed Liverpool to control and manage games better during the season's run-in…
THERE is a very strong argument to say that had Curtis Jones and Luis Diaz been fit for most of this season, The Reds would have top four secured by this point.
Aston Villa away last season was the last time that the two players started together since Diaz returned from his injury. Jones' only start before Chelsea was against Nottingham Forest, 300 years ago.
It's not that the two linkup brilliantly together, and that's what's made a huge difference; it's that they both have unique skillsets which offer an antidote to some of the major issues The Reds have suffered this season; mainly, they help greatly in controlling the game.
It's no coincidence that Liverpool are starting to control games; to play without jitters and panic (Spurs was an exception, of course, but that was an exceptional game in many ways and it was Diaz's first start since October), to drop into first and second gear without constantly giving the ball and chances away — see Newcastle away, where Liverpool struggled with an extra man.
It's no coincidence because Diaz and Jones are excellent at retaining the ball. How often are they trapped, yet somehow find a way out? Darwin Nunez offers some great qualities, for example, but tidy play and ball retention are not the chaos monster's specialities.  The same goes for Harvey Elliott, who is understandably also lightweight at his age. Before Villa, Liverpool had three (deserved) clean sheets in a row, and the key was control. The key to that control has been the presence of Diaz and Jones.
Diaz often comes short and wants the ball to feet, whereas Nunez is constantly getting on his bike. Against teams like Villa, who play a high line, Nunez would be perfect, but at times, The Reds could do with using that outball to the left-hand side a bit more often.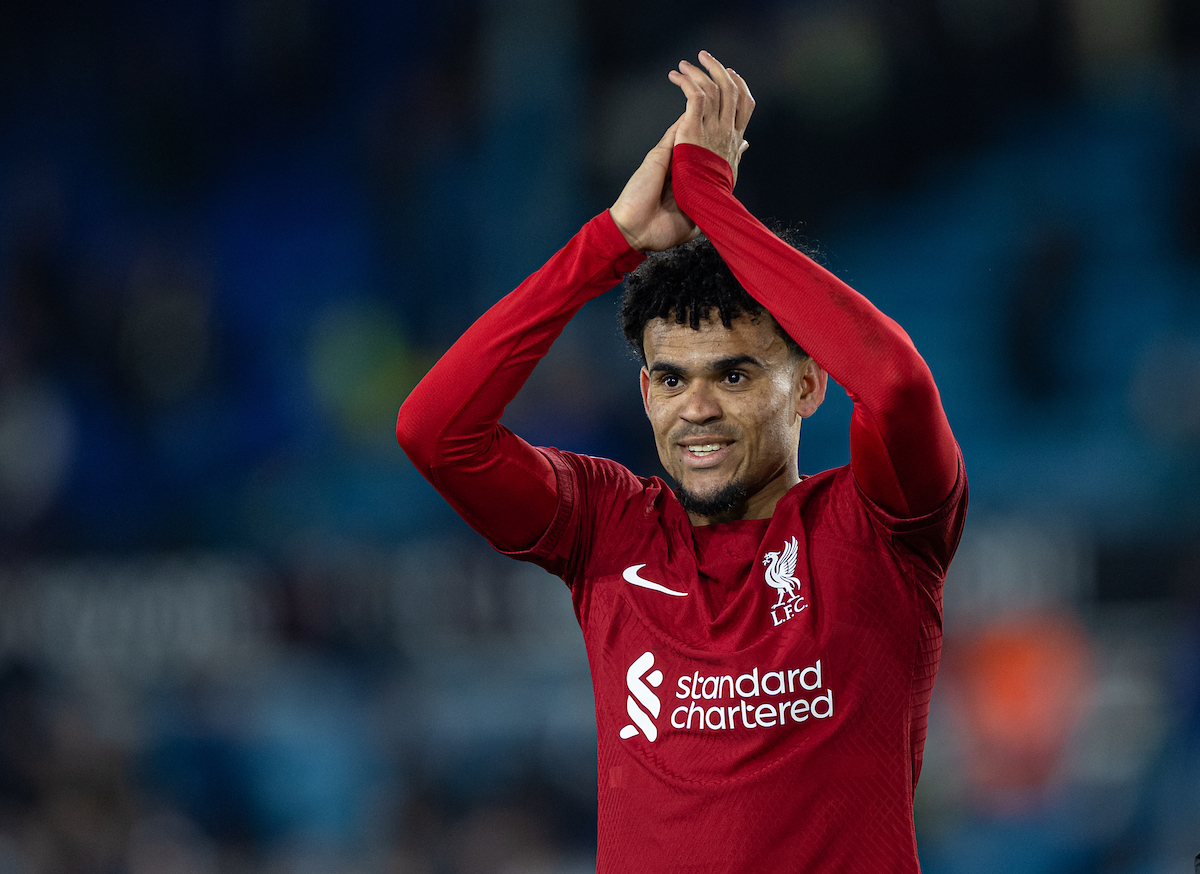 Diaz and Jones contribute in other ways too; they are tenacious pressers and fantastic at not only keeping the ball, but also winning it. Again, Nunez and Elliott are brilliant and packed with potential in their own ways, but this is something they also need to work on.
The press was well and truly in full force against Leicester City and crucial to The Reds asserting their dominance. The Foxes' main tactic is to play fast players in behind, but that comes very difficult if you can't beat the press.
The stats do reflect the argument: this season, Diaz has completed 80 per cent of his passes, and Jones is on 90 per cent — which is the highest in the whole squad. Diaz wins 50 per cent of his tackles while Jones has a percentage of 60. Once again, that's up there with the highest in the squad, with only Kostas Tsimikas ahead of him on 64 per cent.
Jones is up there with the highest in the league with his pressing figures; he is in the 99th percentile for possession adjusted pressures, and better than 98 per cent of other players in the league when it comes to counter pressures.
It's also worth noting that Cody Gakpo's pressing stats are hugely impressive, which demonstrates The Red's uptick in intensity since Gakpo started to find his feet.
Curtis Jones is also in the 98th percentile for passes successfully completed under pressure, while Diaz is on a respectable 70 per cent (Mo Salah is the only Liverpool forward with a higher figure for this stat), which further underlines the point that these boys have been crucial to resisting pressure put on from opponents and allowing Liverpool to control games of football.
None of this even includes the offensive contributions or the threat these players pose, which have also been crucial. I mean, it's much easier to control a game when Curtis Jones puts you 2-0 up with two superb finishes.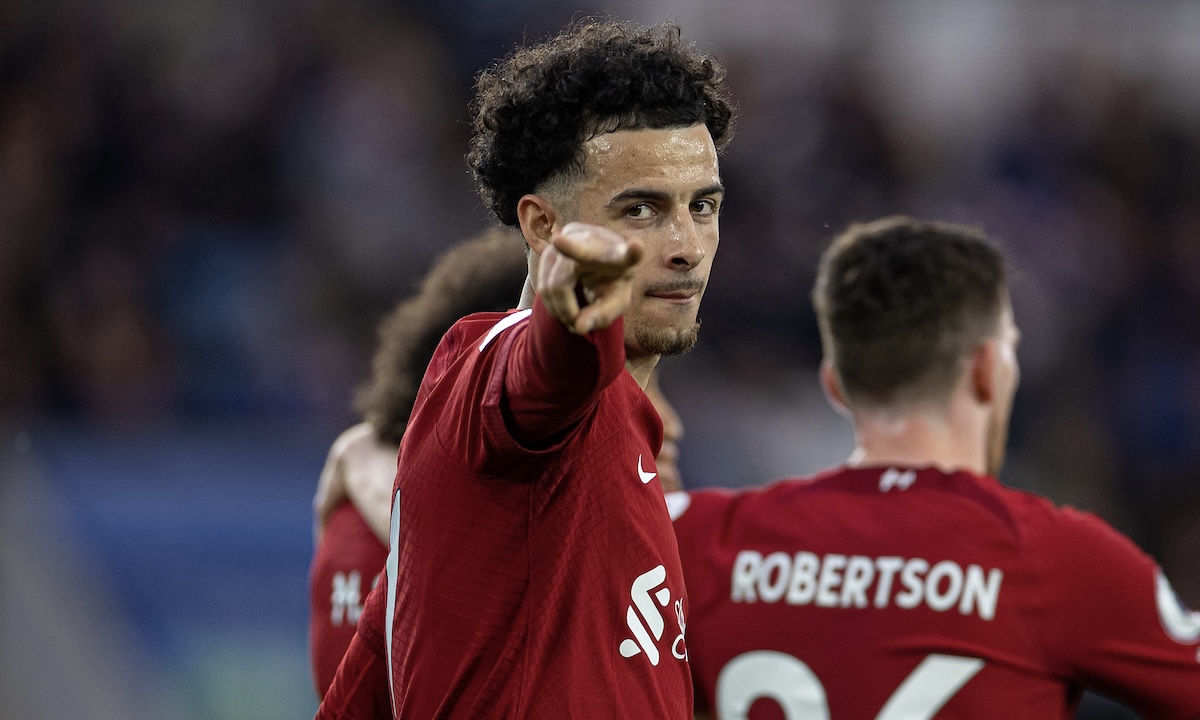 I think back to Fulham on the first day. Brighton at home. Arsenal away. Diaz did play in these games, but I also think back to Brentford, Brighton (again, and again), Wolves, and Bournemouth.
Countless games this season Liverpool have just had to find some control; to enter a period of time where nothing happens. Against Leicester, in the second half, not much happened. And when you're trying to preserve a lead, that's exactly what you want.
Jones and Diaz help make things happen, but crucially, they also help to make nothing happen. And it is understated how important an attribute that can be.
Of course, there are other factors at play. Pivoting Trent Alexander-Arnold into midfield has been a huge help, with his insane passing accuracy and impressive reading of the game to win the ball back. There's also been a general uptick in confidence around the squad, which has naturally helped The Reds some degree of dominance over their opposition.
Jones and Diaz aren't perfect, and didn't have their best games against Villa — especially the Colombian, who seems to be at the same stage that Diogo Jota was a few weeks ago; struggling for full sharpness. But it's no coincidence that The Reds didn't control the game as well with those players not performing to their usual standards.
Players still need to be brought in, of course, but it's fair to say it's no coincidence that Diaz and Jones coming in has led to greater control in games.
---
"As the coach on the side, you think, 'who's representing me on that football pitch?'"

"I used to always feel a connection with Curtis that he was playing for me as well."

TAW Special: Steven Gerrard On Curtis Jones

⏰ 12 pic.twitter.com/5DIT3Mm471

— The Anfield Wrap (@TheAnfieldWrap) May 24, 2023
Recent Posts: