As Curtis Jones continues his resurgence, fans have made comparisons between his role and Gini Wijnaldum's, but do the stats back that up?
AT times in the past, Curtis Jones has been at the mercy of the full-time scoreline.
Tidy, industrious and composed when Liverpool win, but slow, ineffective and ponderous when Liverpool lose.
In essence, the ends justified the Jones.
Victimised by the ebb and flow of results and unsustainable levels of expectation following a wonder strike on his Merseyside derby debut, Jones was an enigma.
Yeah, but what does he actually do though?
His contribution across this most recent stretch of starts has been undeniable.
He still gets most fans' Man of the Match even if – heaven forbid – Diogo Jota pulls his 94th-minute would-be winner wide against Tottenham.
Don't get me wrong, it certainly helps that Liverpool's longest winning run this season has coincided with Jones' longest spell in the side.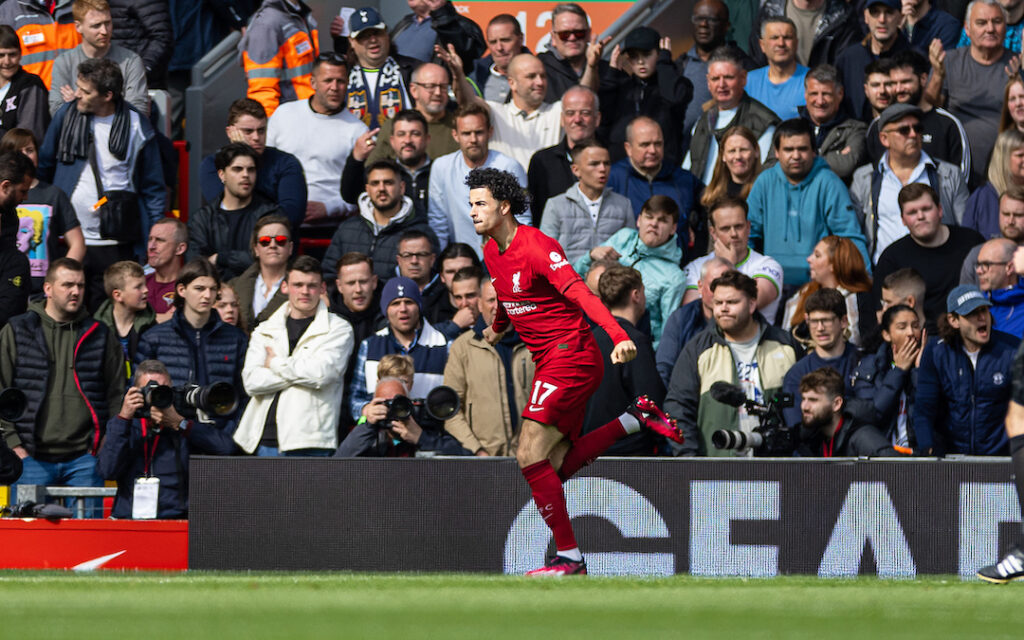 Similar what-does-he-actually-do-though criticisms were levelled at Gini Wijnaldum by some sections of Liverpool support. What shielded him from more scrutinous examinations was the fact that when Gini was in the team, Liverpool won, and Gini was always in the team.
Only Roberto Firmino played more minutes in the five years the Dutchman was at the club. As a consequence, and firmly as a consequence, Liverpool won a lot of football matches and a couple of trophies along the way.
This won't be the first, and certainly won't be the last, comparison between Wijnaldum and Jones, and for very good reason.
Looking at the numbers, Wijnaldum's value at Liverpool didn't immediately stand out in many obvious metrics. The midfielder's creative stats were below par, goalscoring record patchy and ball progression average at best.
So, what did he actually do though?
Taking the 2020-21 as an example, Wijnaldum's major strengths lay in his pass completion, and especially when under pressure – placing him in the 99th percentile for both. In effect, you could give Gini the ball, no matter the situation, with a near-certain guarantee he'd look after it. Combined with an above average volume of passing – 78th percentile – Wijnaldum was a metronome and a pressure reliever rolled into one.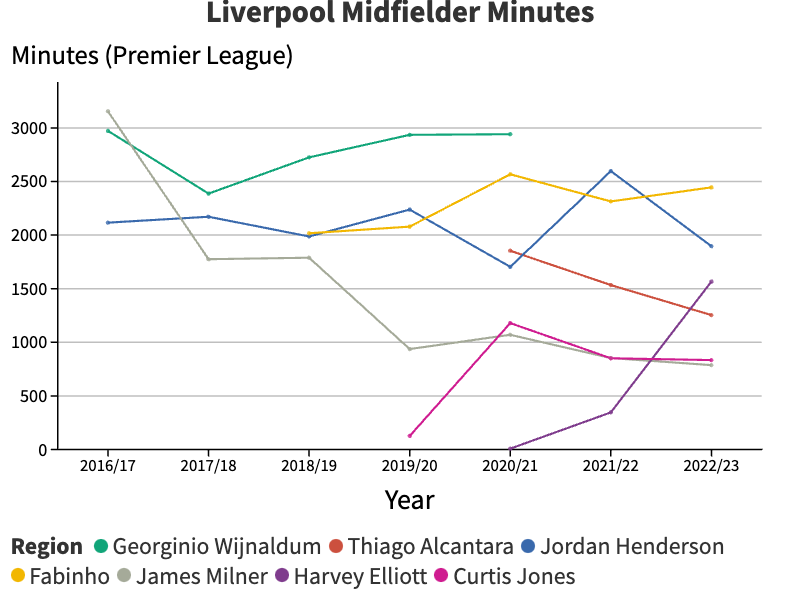 Interestingly, these are the exact same qualities his replacement, Thiago Alcantara, offered in spades. But in contrast to Wijnaldum, the Spaniard has proved an unreliable option for Jürgen Klopp in the past three seasons, and at 32 that's unlikely to change. His latest injury concern will see him go under the knife to resolve a long-standing hip operation.
Thiago's minutes per season have been steadily dwindling, and at risk of stating the obvious, Liverpool need a new left-sided centre mid. Doubtless the market will be raided. James Milner is already on his way out and his 27 appearances in 2022-23 need replacing.
It was as recent as March this year that Jones was being mentioned as another who could be moved on in the summer. A tibia injury post-Community Shield victory put the brakes on his campaign, and by April, Jones had only started one league match – the 1-0 defeat at Nottingham Forest. He'd become the forgotten man.
"I'm a whole different lad," Jones told Liverpool's Walk On eMagazine in February when asked about his development since his debut. "I'm older, I'm way more experienced and I've been on an up and down run in those four years.
"You've got to learn the defensive part of the game, which was difficult for me as I like to be so attacking. I'm at the point where I've been finding a balance of putting my game together."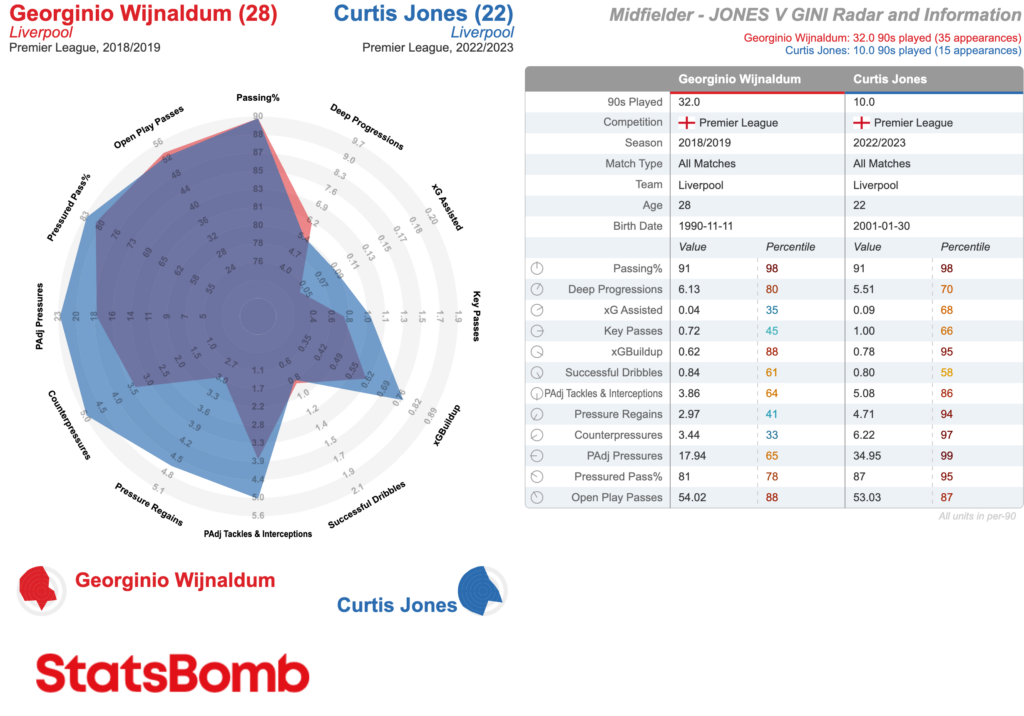 Jones seems to have found that balance, and this is remarkably borne out in the numbers. What's most fascinating is they back up precisely what some fans have been theorising: Jones is Wijnaldum 2.0.
The sample size is small, but the likeness unquestionable. The pair excel in exactly the same areas, and in some cases the youngster eclipses his predecessor.
Jones' passing numbers are almost identical to the Dutchman's in his pomp, his creative numbers – to the right on the radar – are slightly improved, while defensively – bottom left – he's far stronger.
And the similarities don't end there. Both get through most of their off-the-ball work in roughly the same positions.

But forget stats, forget graphs and radars. After all, football isn't played on spreadsheets.
Wijnaldum carved out an intangible, unquantifiable niche that few could replicate. He shut down passing lanes and quashed attacks by his mere presence. You won't find that on StatsBomb. He served a purpose so seamlessly that it largely went unnoticed, even by some of his own supporters.
So no wonder it has proved a near impossible task to replace his guile, graft and game intelligence. How do you teach the indescribable?
But what is clear from the numbers is that Jones is closer to solving the Wijnaldum conundrum than ever before.
Statistics source: FBRef and StatsBomb
---
"I love the fact that he's still showing bits of his flair which he's always had and is a part of his game I don't want curbed."

"His pressing has been great to see. Obviously Trent has got all the headlines but Jones has been a big part of this renaissance."

🎙 The Overview pic.twitter.com/RYH7O7B7CU

— The Anfield Wrap (@TheAnfieldWrap) May 11, 2023
Recent Posts: