How Anfield said goodbye to some Liverpool legends, including Roberto Firmino, James Milner, Alex Oxlade-Chamberlain and Naby Keita…
I ENDED last week's column by suggesting that Brighton might be the best team in the world.
I've since gone right off Brighton. Cheers for none of the favours, there.
But we have only ourselves to blame. Seven straight wins and a draw fired some memories and gave a reminder of what the lads can do, but the damage was done months ago. The defeats against Leeds, Forest, Brighton, Wolves and Bournemouth will long stick in the craw. Fifteen points that might have propelled us into the Top Four™, but even that wouldn't have deposed Manchester City.
City are a different prospect altogether.
I've got my views on them as I'm sure you have, but I'm trying not to sound churlish. I've got mates from the other end of the M62 who know what and where Maine Road was. They seem happy so I'll take that. Obviously, there are 115 reasons why they shouldn't be there but, sadly, that'll blow over. Their riches run too high to be tested by Premier League lawyers. The game has finally eaten itself.
In any case, they're a brilliant side and, regardless of how it was put together and how keen I am to see the authorities grow some stugots and do something about it, I'm fine with acknowledging that. The football side of City are remarkable. The other side, however…
Still, that's not our concern just now. Thanks to Saturday's draw it looks like we're back in the Europa League again.
I like Jürgen Klopp's reaction to it — "we will make it our competition" — no sulking or shouting, just another tournament to try to win. Actually, it's the only thing he hasn't won, unless you count the Fair Play league if that's still a thing. Have we ever won that?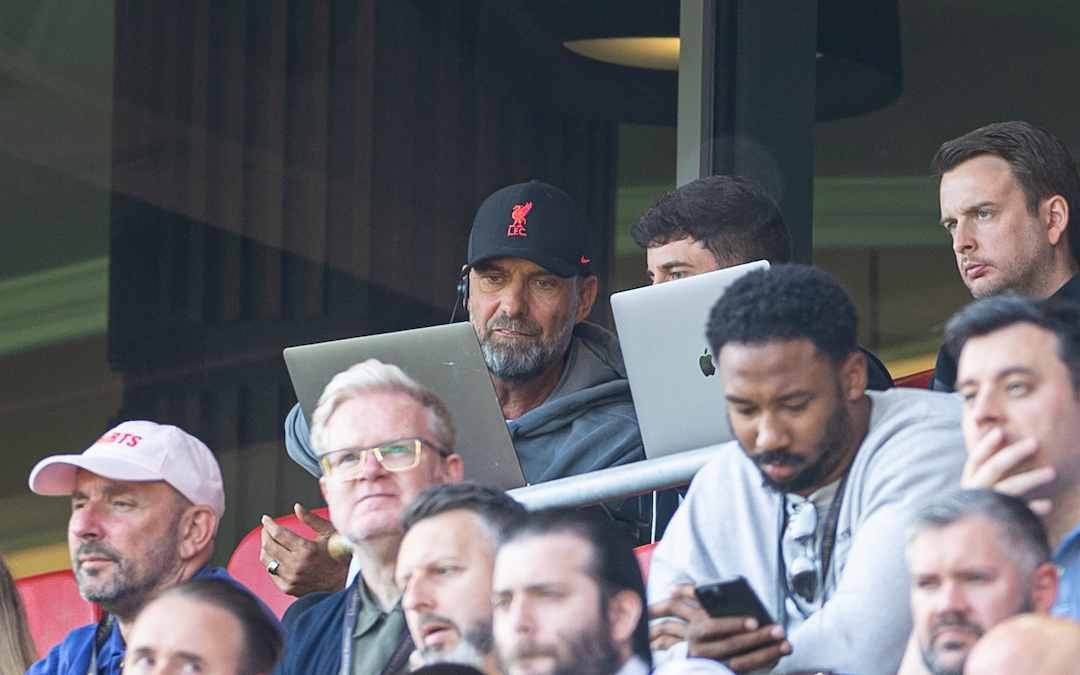 Of course, Jürgen came in when we were in the Europa League and we're back here again. At least we can't play Sevilla again this time.
Roberto Firmino and James Milner played in that game, the 2016 Europa League final so it's fitting that they should get off before we have another crack at it.
There's been plenty written about their departure and careers. They're men with very different reputations — Bobby the maverick, Milly the steady professional — though they're probably more similar than you'd suppose. In any case, both have given so much to this club and will rightly be considered legends.
There could be no Klopp golden era if it wasn't for Firmino. He was the glue of the front three and though his mates scored more goals, they always looked a bit lost without him.
Not really a number nine in the traditional sense, neither a number 10, a split striker or a very high midfielder, he was just a one-off. He was everywhere, but there were so many games when you barely noticed him at all. Then you really noticed when he wasn't playing.
I was on The Review show once with Neil Atkinson and Sean Rogers. We'd just walloped Swansea City and we discussed how you replace a Firmino or, more accurately, how you build a player to play the same role once he'd gone. Suffice to say, Dominic Solanke, who we were discussing at the time, couldn't do it. No one can.
And I think that's why we've seen two types of striker this season. The battering ram of Darwin Nunez and the nuanced guile of Cody Gakpo. Jürgen's still deciding which one works best.
Bobby was all about subtlety but, at the same time he was arguably the best header of a ball at the club. That Tottenham goal during the pandemic? I'm surprised the ball manufacturer's name isn't reverse tattooed on his forehead.
Naby Keita and Alex Oxlade-Chamberlain will also be handing back their ID badges at the front desk come the end of the month. Things could have been different for both of them, but that happens.
They both scored important goals in the League title campaign and that should never be forgotten. I'm certain Chamberlain's European Cup goal against City made Kyiv seem possible. It's one of my favourite ever goals.
As for Naby, I've tried to divorce his frankly weird obsessives from the man himself. I've never seen such support for a man who promised so much and delivered so little. The level of zealotry has been astonishing, but I suppose this has become an age of celebrating a player over a club.
None of that is Naby's fault, obviously, so I've left any frowning to his lack of availability rather than the cult that surrounded him. He scored a lovely goal in Madrid and was then dreadful in the same game. That sums him up for me.
My favourite moment came before he'd even tried on the shirt. Him injuring a player during training at Leipzig to such an extent that they cancelled the rest of the session. That must have been a hell of a tackle. I wish I'd seen that.
That's at least four shirts that need to be filled, though it should be more. I still think Trent Alexander-Arnold will be the Mystery Midfielder we've all been looking for next season. For a short time at least.
So that's pretty much it for the season. We came, we saw, we were quite shit/exhausted for a while and then we came good again but not enough. To quote Julius Caesar.
Next year (and it always IS next year) will be different, according to Virgil. It's a new Liverpool age now. The last one started with the Europa League and that went pretty well.
Keep singing.
---
Recent Posts: