As links to Alexis Mac Allister continue to build, some Liverpool supporters (this writer included) may need to just trust the process again…
LIVERPOOL is alive. Dancing the dance of Eurovision.
It's a city brimming with excitement and trepidation. A reminder that we do it better than most. Work commutes continue. Daily chores don't stop. The end of an emotionally fraught football season draws ever closer.
But Liverpool is fun. Right now supporting Liverpool is fun. Jürgen Klopp described managing Liverpool as currently being fun earlier today.
As ever, this week's Gutter was fun. It's why it remains award winning, after all.
It's an Anfield Wrap favourite because it has everything we centre social interaction around: economics, child-like nostalgia and a good old gossip.
It is also the show in which I find myself looking at a burning barn — a feeling matched only by the thought of Everton staying up and somehow prospering.
Rob Gutmann, Neil Atkinson and Phil Blundell discussed a Neil Jones line which apparently suggested Liverpool were to prioritise targeting Premier League players, with Brighton's Alexis Mac Allister top of their list.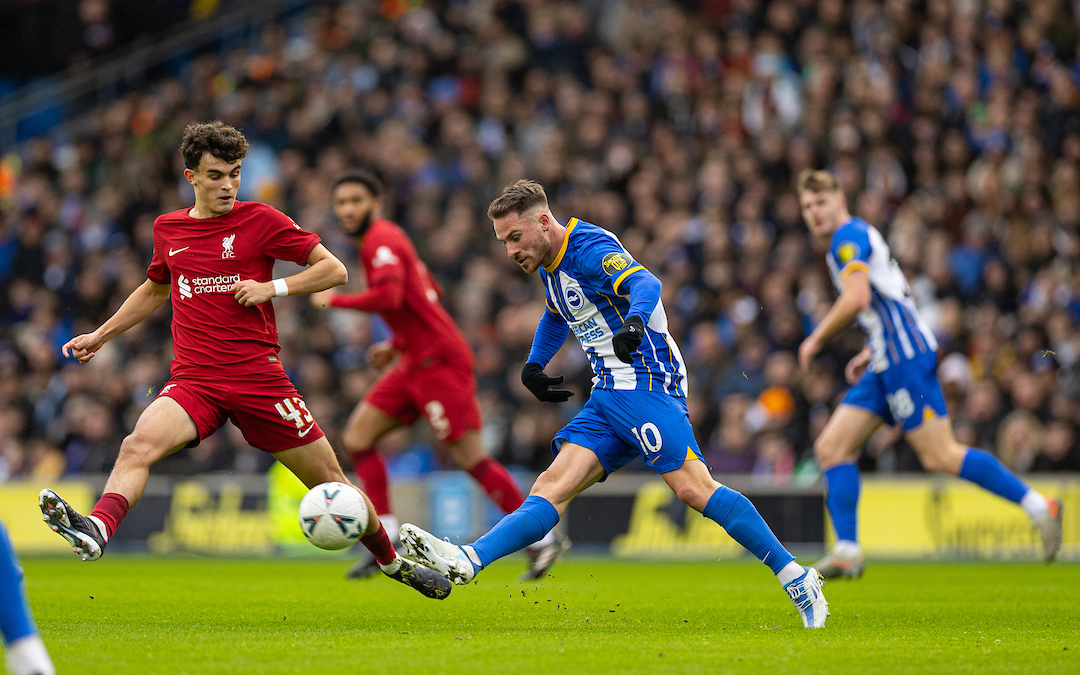 Others include Mason Mount, Moises Caicedo, Declan Rice, Matheus Nunes and both Ruben Neves and Youri Tielemans if you wish to go back further.
This is an approach we've seen before. We signed three players from Southampton in the summer of 2014 under Michael Edwards' stewardship.
When we signed Gini Wijnaldum and Sadio Mane in 2016 there were more questions than answers for many. That quickly changed when Mane was parachuting around the Emirates on his manager's back that August.
Liverpool, there. Dancing the dance of journey.
It's been difficult to see the plan before. But then I'm talking to myself here. I'm trying to convince nobody other than the person writing that there's no Schrödinger element to proceedings.
I don't like the Mac Allister signing, personally. On the surface he ticks every box. He's industrious, creative and proven at the level. But I have worries about his physicality, pace and defensive impact.
He is under the StatsBomb league average for possession adjusted interceptions, pressures and turnovers this season.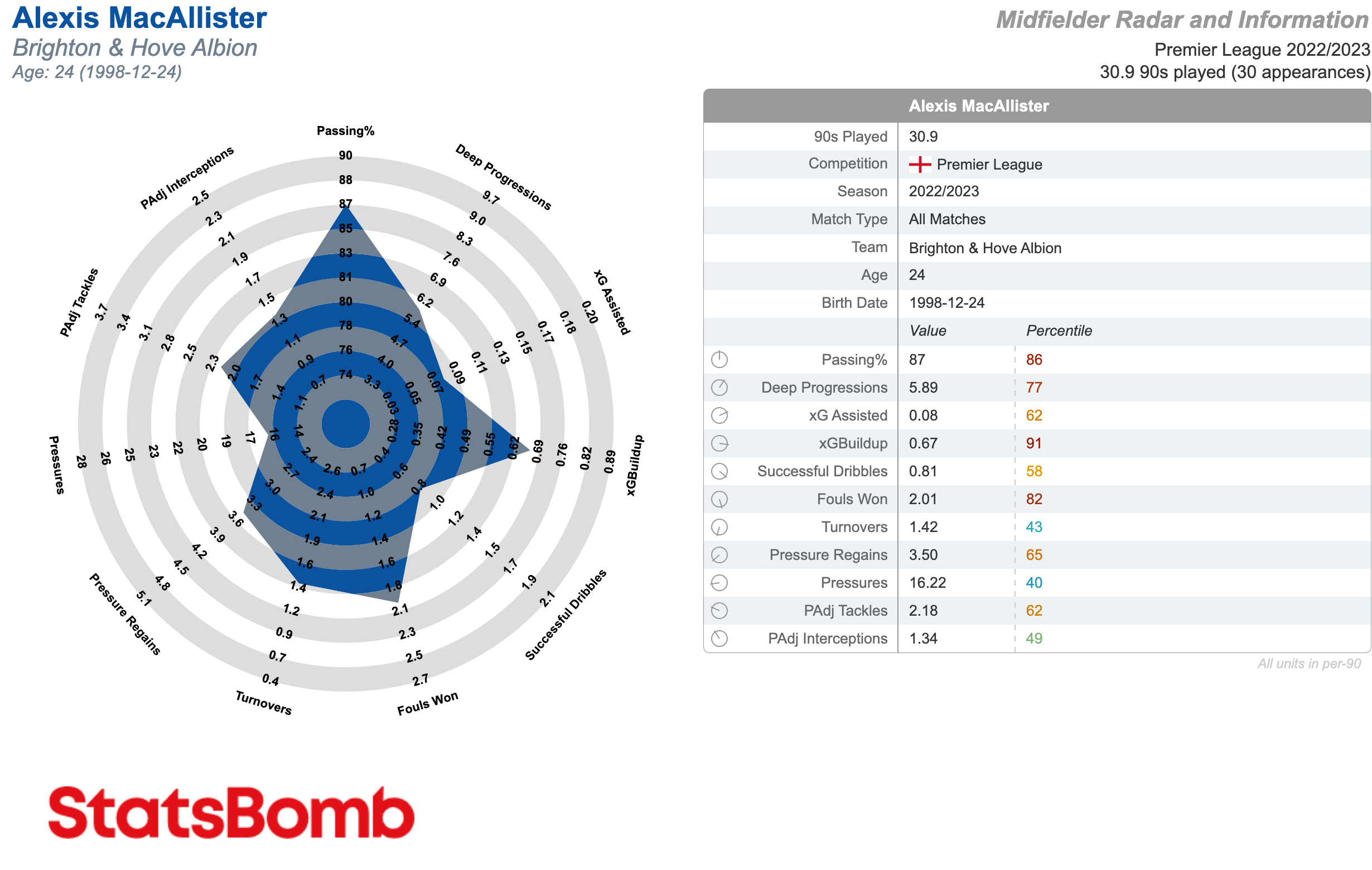 Liverpool have been inferior in these areas this season, in certain fixtures it becomes game defining.
You can see why a deal for Mount makes sense. The others less so for a whole host of reasons.
Rice and Mac Allister may demand the type of fee that walking away from a Jude Bellingham deal seem nonsensical.
For the likes of Nunes, Tielemans and Neves there are questions about miles on the clock and overall quality.
It's fair to ponder why an approach like this makes sense on every level. If we work on the thesis of not wanting anymore projects — is Mac Allister really a safer bet than someone like Ryan Gravenberch?
It's been difficult to see the plan before. And I can dance the dance of pessimism better than most.
The reason why Klopp's inaugural years were such a sweet-spot was down to belief. We might have held reservations over the likes of Wijnaldum and Mane, but faith in the project allowed us to dance the dance of freedom and reward.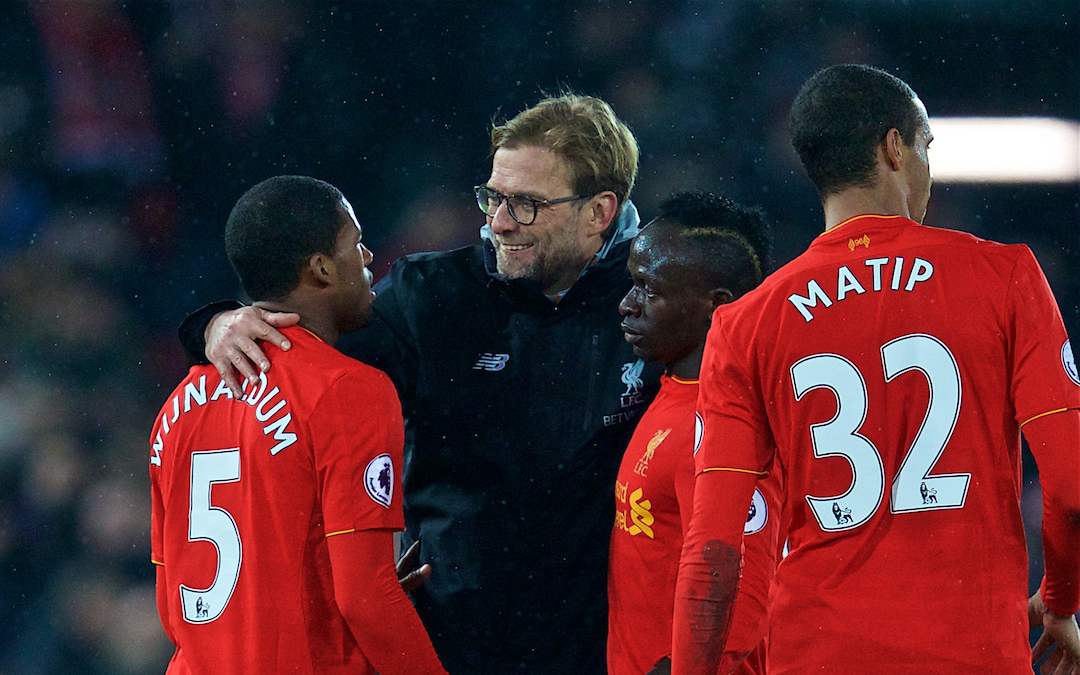 Liverpool no longer has the likes of Edwards and soon Julian Ward. They may not be operating with the same certainty internally. But if they plump for someone like Mac Allister they can still prove fools like me wrong.
By still having the manager, they have their greatest trump card. They need to once again surround him with competence. The seemingly impending arrival of Jörg Schmadtke as sporting director will hopefully restart that process.
It's only fair that football can elicit such thoughts and at times such worries. Liverpool are now in a better place than the entirety of this campaign and back in Champions League conversation.
The sun is out and all of Europe's eyes are focused on our wonderful city in a true celebration of diversity.
I shouldn't be worried about midfielders from Brighton and Everton's next three opponents but, alas, I dance the dance of the sugar-plum failure.
---
"I think Brighton want to say to everybody, internally and externally, 'if you treat us right, we will sort you out'."

"For Mac Allister, he's been proper, everyone adores him, he seems likes a culturally important figure and a smart fella."

🎥 The Gutter Transfer Show pic.twitter.com/jRs48KwfgD

— The Anfield Wrap (@TheAnfieldWrap) May 10, 2023
Recent Posts: