The Anfield Wrap's match preview before West Ham United v Liverpool in the 2022-2023 Premier League at the London Stadium…
"WHEN was the last time, does anybody know?"
The manager there presuming Liverpool hadn't won two in a row since last year.
In reality it was only last month, but the up and down nature of the season has skewed everyone's perspective — apparently including Jürgen Klopp's.
When things go really well, you sit and wait for them to go really wrong. When things click, there are whispers of 'well it wasn't against in-form opposition,' and so you never feel any sense of clarity for the future.
And clarity for the future is something we're all desperately searching for when it comes to Liverpool at the moment. What budget is available in summer, which links to players are viable, who will be on their way out the door, can we still dream of top four?
We've had to get comfortable with the unknown, but it hasn't stopped us from presuming and trying our best to work things out. Rob Gutmann, Damian Kavanagh, Adam Smith and I recorded an Overview show last week and spent much of it theorising.
We considered all the permutations it would take for us to catch Manchester United and Newcastle United, and we spoke at length about whether Trent Alexander-Arnold is still a full back or should just be considered a midfielder now.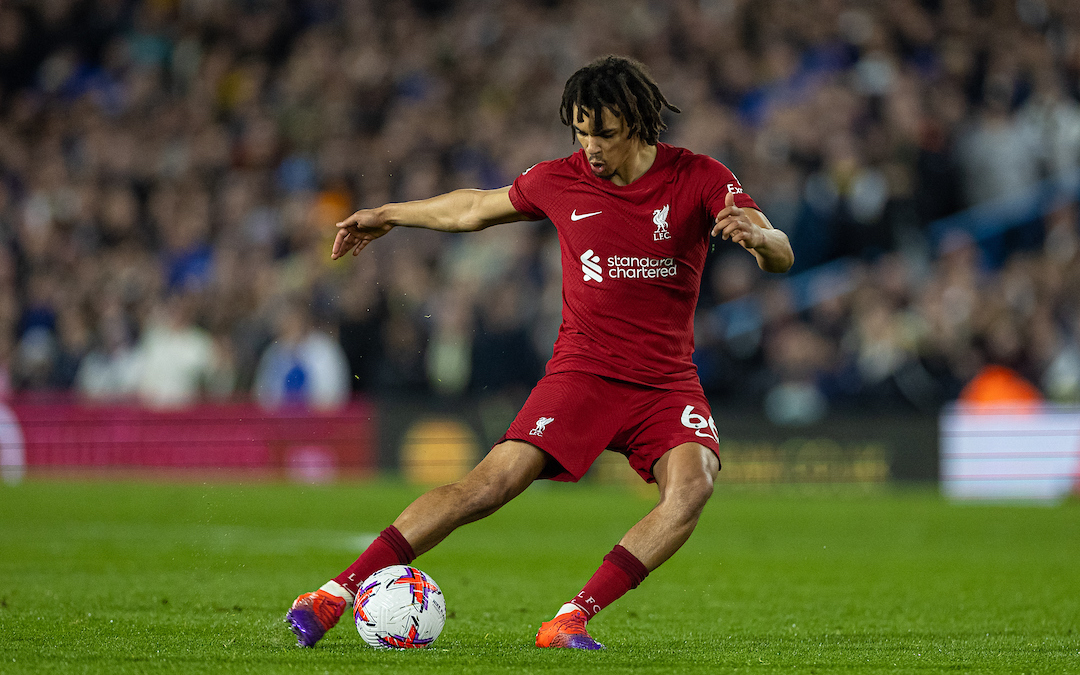 I, for one, am delighted these debates and conversations are taking place again. It makes me feel like there is a sense of purpose, that we are all moving forward in the right direction, and that, to quote the manager, we are taking steps in the right direction.
The weekend's win to Nottingham Forest felt like another step, albeit a shaky one with a few wrong turns along the way. Defensive errors have become ingrained in Liverpool's style of play again, but the response to setbacks was better than it has been this season. A distinctly imperfect performance, but we take the three points and move forward.
On to the next, then. West Ham away on Wednesday night. A team that has been pulled into an unlikely scrap at the bottom of the table, buoyed by a 4-0 win at the weekend and advancement in the Europa Conference League, and with David Moyes still at the helm against all odds.
Having picked an unchanged team in three games for the first time since 2020, I don't expect Klopp to make any drastic changes to deal with the challenges that they will bring. With the manager hopeful about Ibrahima Konate's fitness, he will start in an unchanged backline alongside Virgil Van Dijk, Andy Robertson and Trent Alexander-Arnold.
I suspect this might be a game for Trent to revert slightly to form in the full-back role, and with the opposition having strength in midfield, this is where the battles will need to be won. I expect one of Jordan Henderson and Fabinho to be given a rest, with Harvey Elliott returning on the right of midfield and Thiago Alcantara on the left.
Elliott can operate as the fourth attacker and link up with Mo Salah, with Diogo Jota retaining his place after scoring two in four and Cody Gakpo completing the lineup. A surprise start for Luis Diaz wouldn't go amiss, though…
Six to go and hopefully plenty of steps in the right direction. When clarity for the future is hazy, try and enjoy the present.
Predicted 11: Alisson; Trent, Konate, VVD, Robbo; Elliott, Hendo, Thiago; Salah, Gakpo, Jota
---
Recent Posts: