Roberto Firmino's Arsenal goal showed he can still provide magic for his fans, but Liverpool have to find ways to start their next chapter…
EMOTION is the very reason why football is the most loved and hated sport in the world, it gets under your skin. 
It then doesn't leave you, as much as you attempt to not care, there is always something which pulls you back in. Over the years it has quite often been a certain mad man who has made following Liverpool even more joyful.
Brazilian footballers epitomise the love for the game in the most glorious way possible, by putting a massive smile on our faces with their way of playing. They, in many ways, put the 'beautiful' into beautiful game.
There is a long and distinguished history of Brazilians who will never be forgotten due to the art that they produce with a ball at their feet, but Liverpool haven't had too many down the years.
In a few weeks' time, though, they will be saying one of their saddest goodbyes to one who has well and truly captured their hearts.
Roberto Firmino, the man who was the face of the Jürgen Klopp revolution, will be leaving Liverpool at the end of the campaign.
That's something we all know, but at the moment are pretending not to.
It was a year ago this week he marked his half century of Champions League appearances with two goals, the strikes that no one knew would be his last knockout goals for Liverpool in the elite competition.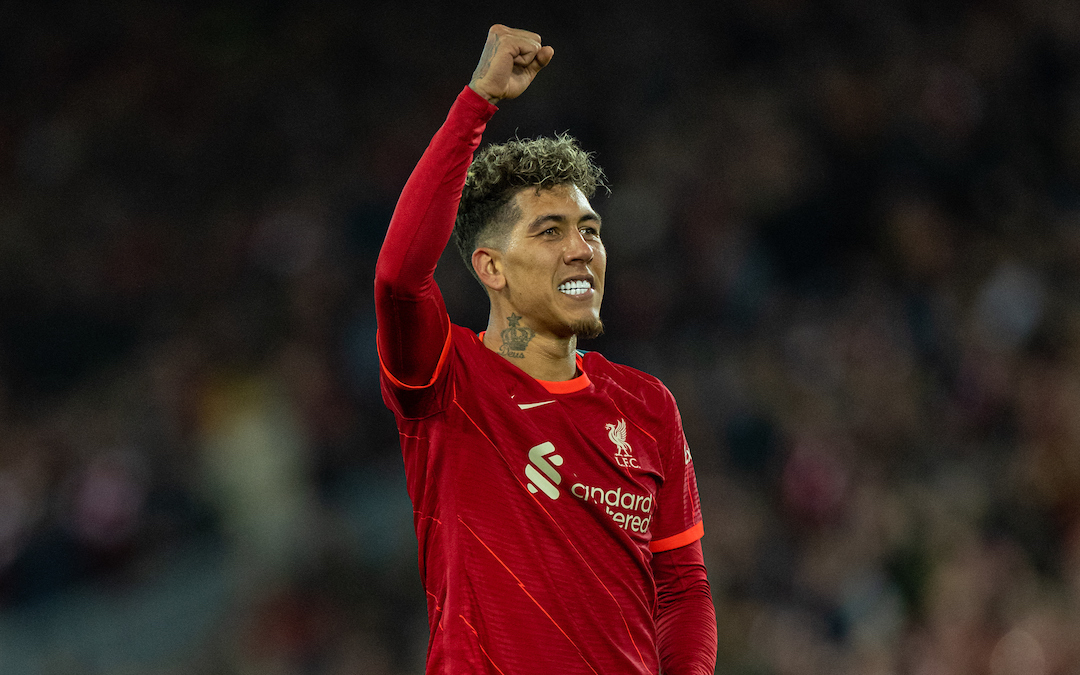 As well as that, he of course came on and got his goal against Arsenal, strolling on with an inevitability that he'd go and torment them for one last time for Liverpool.
It was with that goal the emotions started to change again as we all remembered that may just be his last one.
Then the mind starts to wander — should he really go?
I always thought out of the famous front three who brought us so much that he would be the one to spend his final days as a player at the club.
Brendan Rodgers signed him without really knowing what to do with him, but then he turned into the heartbeat of the side because of how much Klopp loved him.
He was the main reason why everyone else played so well, the false nine position at its very best was made for Roberto Firmino and he was made for it.
Sadio Mane and Mo Salah simply aren't as good as they were for Liverpool without their Brazilian partner in crime, yet some people had the audacity to say Firmino didn't score enough, without appreciating the importance of the 109 goals he did score.
The silky feet and the karate-kick celebrations which nearly took his teammates heads off their shoulders to show the pure joy he has when he scores a goal, the pure joy which we all felt when he was making Liverpool tick.
It is safe to say, though, that over the last couple of years, his role has changed slightly, whether due to his age or injuries. While that same player who lit up the pitch is still there, age catches up with everyone.
Emotion has us all in a chokehold, especially considering so many of these players delivered the greatest of days following this side, yet common sense is also needed. So maybe, just maybe, it is the right time to part ways — though it won't feel like that, as the Arsenal goal reminded us.
A moment of such elation but after reflection it kicks you in the teeth, because while Si Senor echoes around the stadium it's another game closer to the last.
The fact that after eight long years Klopp was still wanting to give him a new deal says everything you need to know.
After all, he is the second highest goal-scoring substitute in Liverpool's history, there was definitely a role for him after this campaign.
That unbridled joy he has for simply kicking a ball comes first, though.
He was the start, the middle but unfortunately not the end of the Klopp era.
Fortunately, though, it signals the start of a new one.
Nine more games for him to leave another lasting touch on his legacy. A legacy which will certainly bring smiles to faces every time we remember.
---
"Firmino is the difference maker, I think he unlocks them."

"But it shouldn't come to being 2-0 down and absolutely undressed at home before we have to play angry."

1️⃣Download our app
2️⃣Get FREE tokens
3️⃣Access Arsenal Reaction

📱👉https://t.co/eNpQIJSgGi👈📱 pic.twitter.com/uwWYaU9swg

— The Anfield Wrap (@TheAnfieldWrap) April 10, 2023
Recent Posts: