As Liverpool's season continues to ebb away and fans try to take more perspective, is it time the players started to try and do the same?
"THERE'S an old joke – um…
"Two elderly women are at a Catskill Mountain resort, and one of them says, 'Boy, the food at this place is really terrible.' The other one says, 'Yeah, I know; and such small portions'."
That's from the opening monologue of Annie Hall.
I'm looking forward to Arsenal. Despite all this terrible food and small portions, I'm still looking forward to Arsenal.
I looked forward to Chelsea too. I applauded Jürgen Klopp's mad lineup, as it sent messages out all over the place. When we're terrible, players can be dropped regardless of reputation. I like that. That's how things should be. When players are phoning it in or are mentally weak when things don't go their way, there's always a place on the bench for them.
Not that that always works. There's an overwhelming sense that we've just rearranged the chairs on the Titanic and that the new blood is just as poor as the old. These lads are shot, the manager out of ideas. You can shove players where you will, but if there's nothing left in the tank…
Look at Alex Oxlade-Chamberlain against Manchester City. He's been out for a while so is at least rested. Full of beans, you'd think. He's on the pitch for five minutes and he's walking back to the box when they break. I'm still angry about that now.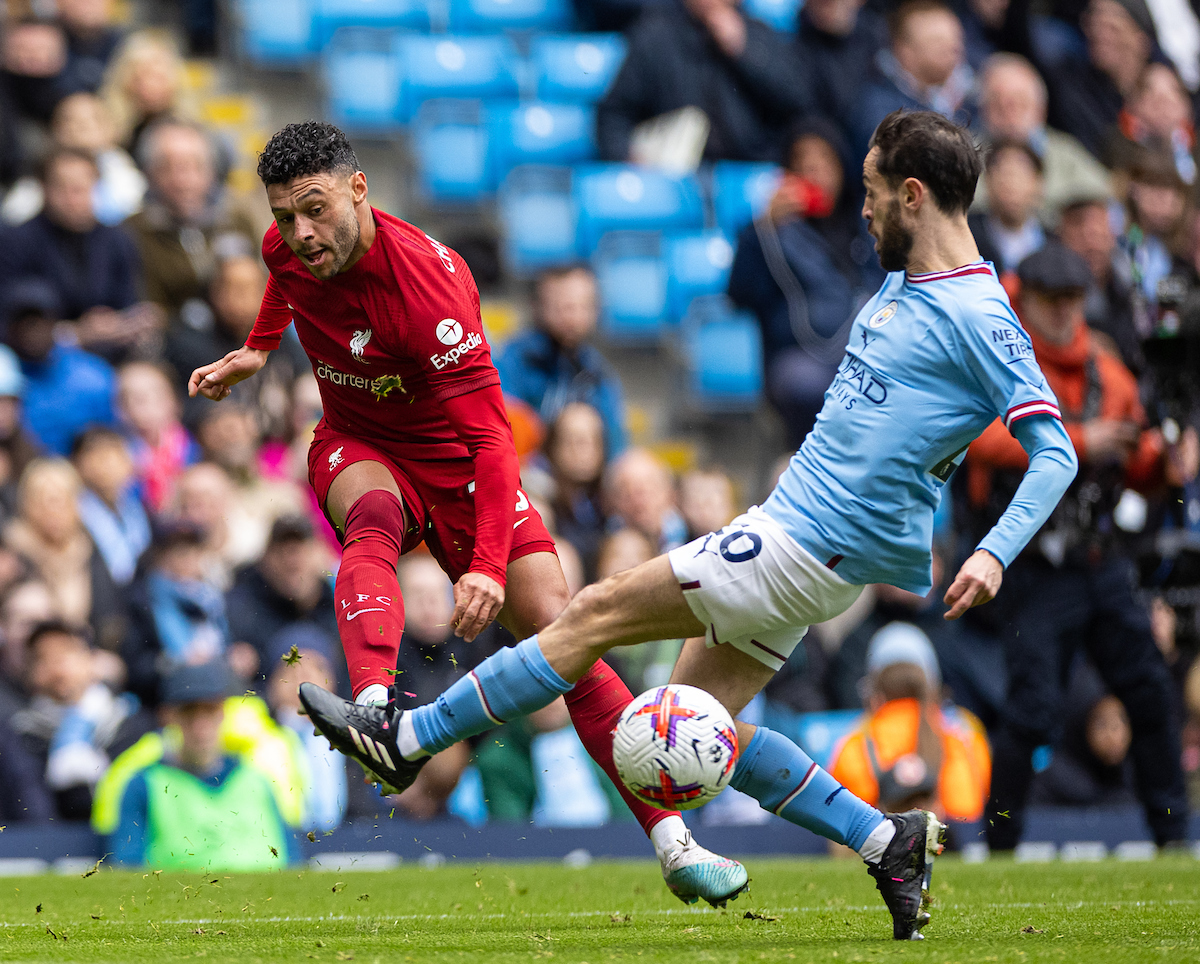 Part of me expected this. It may be new ground to younger Reds, but being inexplicably shit is eerily familiar to many of us. We've been far worse than this. That won't come as much of a comfort, admittedly, but there we are. You can't have the rainbow without the rain and all that.
But this is also an age where any statement of 'these things happen' come with accusations of accepting mediocrity. Accepting mediocrity? Some of us had to applaud when Paul Konchesky was introduced to an ungrateful Kop at his first home game. This is nothing compared to that.
It isn't good, though. Confidence is so low that even a win against the Champions Elect (work with me here) would mean little. Only a few weeks ago we were putting seven past Manchester United.
Since then, we've picked up one point from nine and we sort of got away with that one. Chelsea were kind enough to be equally dire last night. Even Anthony Taylor took pity on us. I can think of no lower moment than that.
I suppose it must be easier to keep a good run going rather than arrest a bad one. Jürgen still faces the same squad this week that he did last. There's nothing new for him to bring in. Just the same old knackered faces. Only the opposition changes. Our lads will still be hurting or, worse, scared.
How do you draw a line under all this and start again?
I don't see how you can unless you have new players and that isn't happening any time at all. We're like one of those old '60s bands who tour even though half of their original lineup have long gone and been replaced by a teenager. Except none of our lads have been replaced. The songs are tired now, the performances lacking spark.
Speaking of old bands, I saw Echo and The Bunnymen last year here in Norwich. No tired showing there, by the way. They were great. A few songs in, a chirpy Ian McCulloch told us that my adopted city has a special place in the band's heart as they had an absolute dream night here years back. To this day they still hope that the next gig will 'be a Norwich'.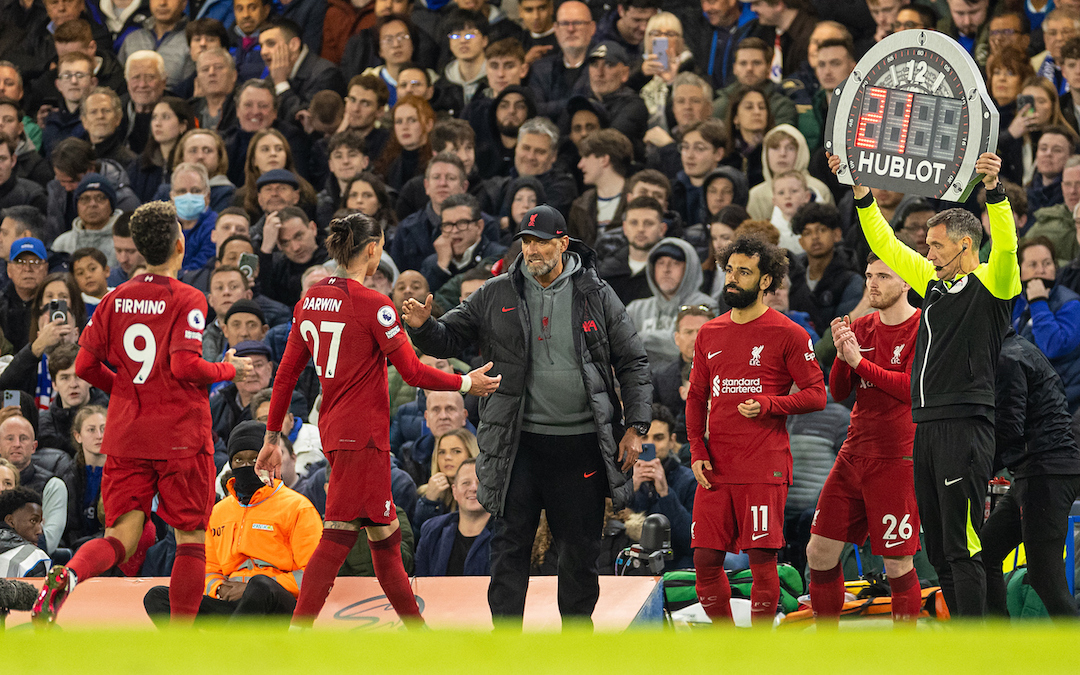 Jürgen must know how they feel. Maybe Arsenal on Sunday will be a Barcelona 2019 or United from last month. Please God.
And, of course, this is down to a lack of investment. No one here is pretending otherwise. I just don't see the benefit of flying a plane over the ground when the money men are hardly here in the first place. There's not much we can do about this when there are still games to be played with the same lads.
No, it's not much fun at the moment. The only twig I can cling to is that the next win will be a shock one and it might be the start of something, maybe even Jürgen's Second Great Side™. Luckily for us, football never ends. There's always the chance to wipe off the stench of the last few games. A win against Arsenal would be a start. Jesus, even a goal would be a start.
I've done the lot this week. Fury at the City game to confused frowns at Chelsea. Thank God for Everton.
But we keep coming back. We have to. I don't care, I'm looking forward to Arsenal. I always will. The food at this place may be terrible just now and the portions are small, but it's a place we keep coming back to, always hoping things will improve.
And if they don't there'll always be Leeds United and Nottingham Forest — sides who have already beaten us, but you can't think like that.
The rainbow and the rain. It'll be sunny one day. I hope it's soon.
---
"It's one of the few times this season where we hadn't been punished for our mistakes."

"I'm disappointed because they looked like they were there for the taking… we just don't have enough about us to do it."

🎥 Post Match Pint pic.twitter.com/YhtvoSpbju

— The Anfield Wrap (@TheAnfieldWrap) April 5, 2023
Recent Posts: