With reports that Liverpool have pulled out of a move for Jude Bellingham, the club are threatening to repeat last summer's transfer mistake…
LIVERPOOL reportedly ended their interest in Jude Bellingham and I think the reaction was warranted, to be honest.
Disappointment in the owners, Fenway Sports Group, and even Jürgen Klopp is fair and reasonable at this stage. After all, Liverpool missed out on their top target last summer and they seem to have repeated the trick ahead of this one.
John Henry and company seem to have once again failed to back their superstar manager with the requisite resources for the rebuild that was needed this summer, and suddenly they will find that they've left their transfer team with much more to do.
FSG have got so much wrong as Liverpool owners, but their biggest crime in the eyes of many is their lack of investment into the playing squad, which will no doubt be the biggest legacy they leave behind whenever they finally decide to sell up.
It may well prove that their biggest legacy is that they wasted the best years of this manager and his star players, which looks increasingly more likely with every low ebb season that sits between the years of success.
Trophy-laden dynasties were never built on success being limited to every other season, and it is for that reason that suddenly this era isn't looking quite so dynastic from the outside looking in. That doesn't mean it was any less fun, though.
Because the problem is that there is no perfect solution to any of this. Manchester City through the same period may well be viewed as a dynasty, but only in a domestic sense. They hired Pep Guardiola to win the Champions League and he hasn't yet done so. Klopp beat him to the trick within his first four years and the Spaniard is currently in his seventh.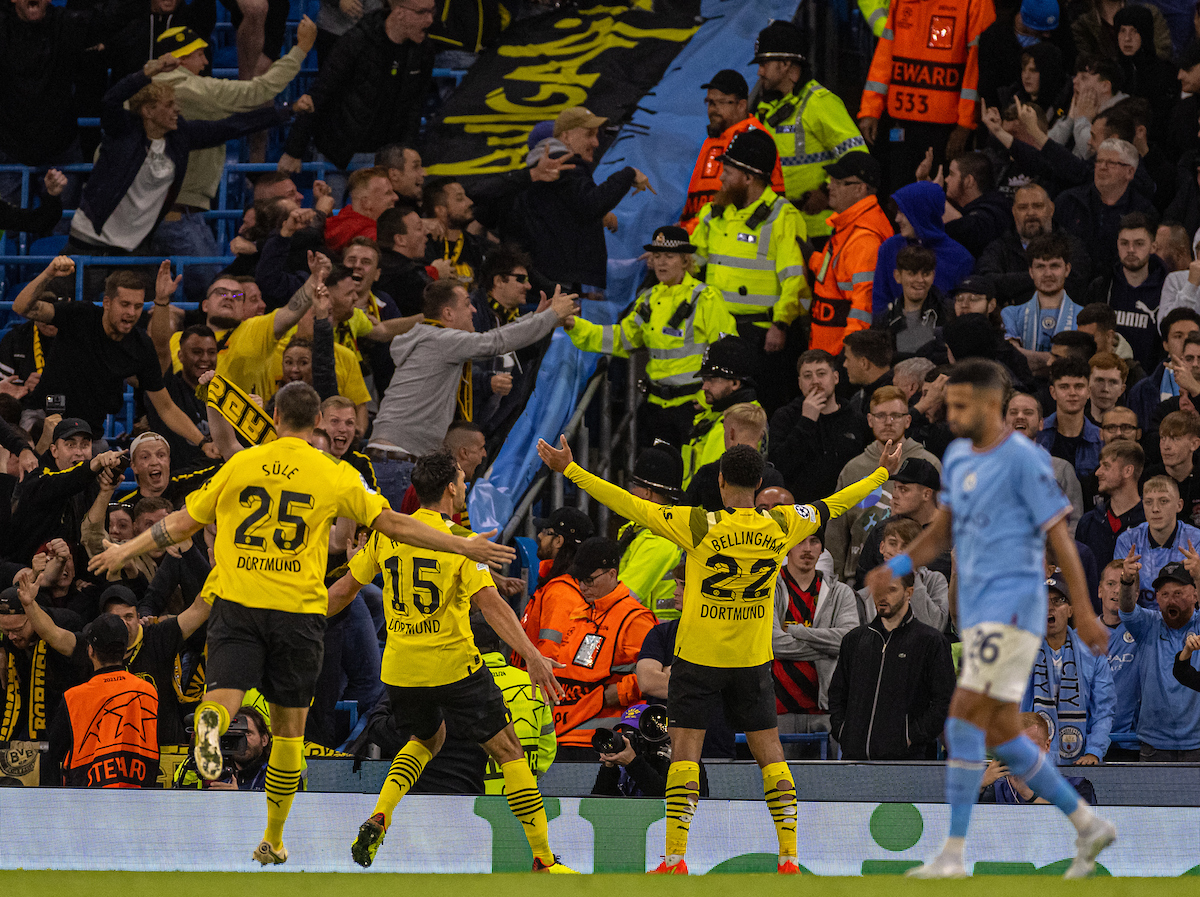 Paris Saint-Germain only have Ligue 1 titles and domestic trophies to show for their years of financial dominance. Real Madrid and Barcelona have always invested heavily, but operate within a league that is heavily weighted in their favour in terms of resource allocation and governance.
Liverpool should have won more league titles by this point in Klopp's reign, I'm sure he himself would agree with that sentiment. There's a strong chance they would have if they invested as City have, but there are no guarantees of anything, and our Champions League win — and two other finals appearances, double that of City — is proof of that.
There are no guarantees in this Bellingham situation either. One thing you can guarantee is that he wants to go wherever he feels he has the best chance of winning the biggest prize in European football. Based on the last decade, that list is a short one and it contains zero state-owned clubs.
That's not to say he won't sign for a state-owned club. The only evidence we have so far to suggest he won't is that he said the following on Borussia Dortmund's BVB-Podcast back in July 2022…
"You can have all the money you want from playing football, you can buy whatever you want. But being appreciated like that for creating so many memories for so many people — winning the league, winning however many cups, winning the Champions League — that lives longer than any car you could buy or any house you could buy. That's the thing that motivates me."
People may argue that doesn't completely close off a move to a City, for example. After all, they have won the league and however many cups. There's at least an indication that he's not exactly in this industry to make the perceived money-spinning move, though.
If he wanted the most surefire route to winning the Champions League, Real Madrid would seem his best bet, given the vice grip they have over the competition. They're well stocked for young, up and coming midfielders — including last season's top Liverpool target Aurelien Tchouameni, but that may prove more of a draw than a dealbreaker.
(As a side note, if Bellingham does choose Madrid, can we *please* go for Federico Valverde? We'll still need a belter and I'm not having that signing about six lads and seeing what sticks is truly the way to go, we have enough evidence in recent and our own past to prove that.)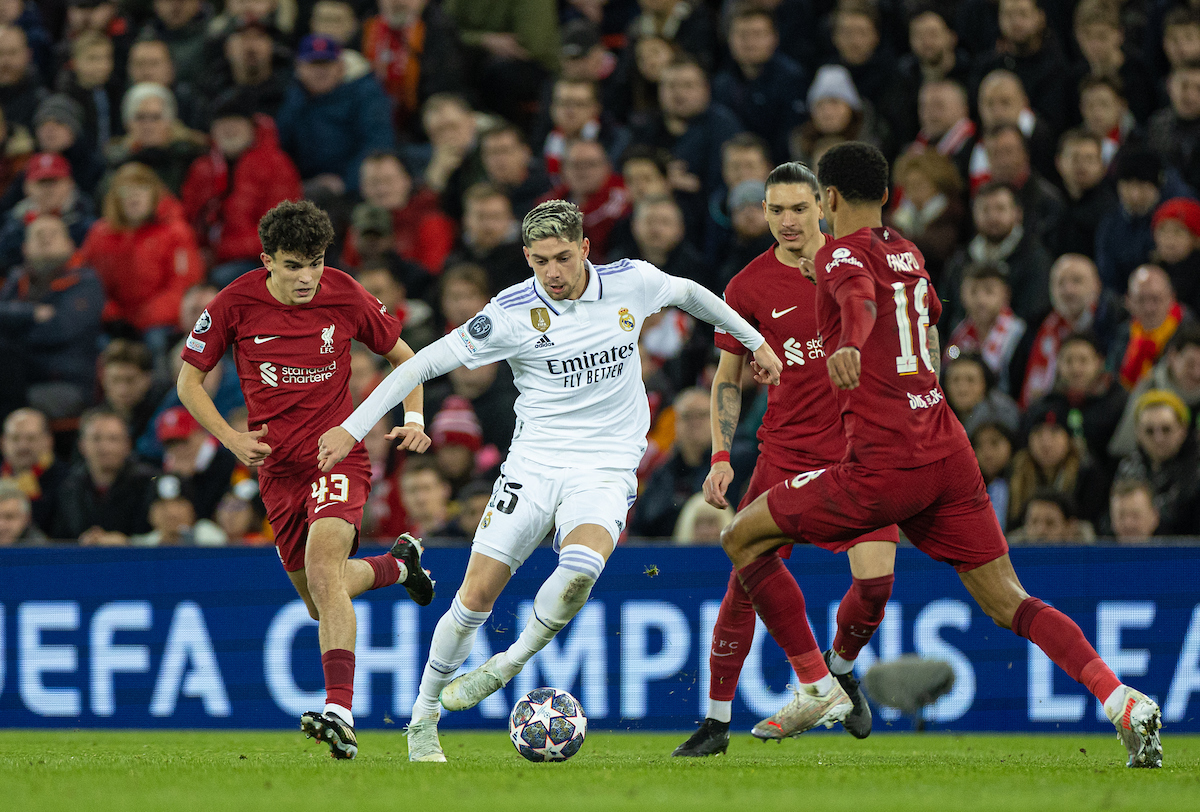 Nothing is guaranteed, so Jude's family may yet decide that the best thing for his career would be another season in Dortmund. Wait and see just how much the clubs scrapping in summer aren't purely posturing and trying to deny another club getting his services, as much as thinking about what he could bring to their own ranks.
That's the biggest concern for Liverpool now. If they are truly done pursuing and he's clear to move to a rival in the summer, he could end up really boosting that team's odds of success — and if it's City then that would feel another huge obstacle to being able to challenge for the league.
The club can't afford to allow next season to fall so below expectations as this one has. They'll need to ensure that whatever they do in the summer propels them straight back into title contention. To my mind at least, that means still going out and securing at least one world-class signature. The kind that makes fans of other clubs fume.
Right now it's ours that will be fuming. The club have to deal with the fact that their briefings (or their strategy as a whole, assuming this isn't just a negotiation tactic) have caused this level of fume. It should make us no less supportive of the lads on the pitch between now and game 38, though.
Because this manager is still our man. Seeing the tide turning against him is just fickle modern-day, merry-go-round bullshit and we shouldn't be having it. We can't accept mediocrity, but mediocre this man is not.
He's made the past few years the best ride of any manager in most of our lifetimes, arguably of any manager in Liverpool's history. We celebrate him, whatever you think of the owners. We never have and never will celebrate owners, a la City and Chelsea. There are no John Henry songs. There are several about Klopp. The cult of the manager is our thing.
Get behind him. Get behind them. That's as much a message to FSG as the fans, but we can't forget who and what led us to the dance here either.
---
Recent Posts: