With Jürgen Klopp's Liverpool contract set to run until 2026 and the club's future feeling uncertain, are we ignoring the elephant in the room?
THE elephant in the room, then.
Jürgen Klopp might leave Liverpool. He definitely will at some point, but don't for one second think that is nailed on to be summer 2026.
Klopp has never dealt well in security and certainty, he's too modest. His inner Mainz 05 chimp tells him constantly that this game dishes out serious body blows when you least expect it.
Most importantly, he values the institution and his own wellbeing too much. If it isn't working, pack up and go. There's a slope to ski, a sea to plunge and a beer to pour.
It's with that same affirmation and outlook which allowed us to learn from him.
He syphoned every sinew of this city's energy along with that of his team and ran with it. They ran until their legs stopped working. Their legs might have stopped working.
Life lessons in block 104. A man with vigour and fight doing more than the sum of his parts, and going way beyond the job description and person specification.
He might be tired, just like they are. He might be thinking of beers in the sun. "Kloppo," as his natives call him, always up for the party, might want his bed for a bit.
The concept of the elephant in the room is, of course, alluding to what's being ignored. The discussion we're all skirting around. Apparently nobody stood in a room with an elephant wants to talk about it.
The reality is we'd dine out for years on such a tale: "Eh, remember that elephant in the room we was in? Mad that, wasn't it?"
Let's address it; he isn't performing well as Liverpool manager this season. He feels he's keeping better company with the dozen or so sacked than those who remain.
There are three notable differences to his situation. The first is he remains an elite manager wedded to a perfect club, the second is he's safer than any elite manager in Europe, and the third is his ability to overcome adversity.
For us, that should be enough. Close your eyes and wait for it to pass. There'll be parties and pyro and rambunctious football once again.
Because this man gave me everything. He showed me that football can represent a city. He taught me about togetherness, community, inclusivity and modesty better than the bulk of adult role models across my life.
He makes me proud every single day of that place and that time. He made the Mersey sparkle, the sunsets eternal and the atmosphere feral. He'll tell us all we did that, but the reality is he awakened us.
He needs to know we believe that we can do it again.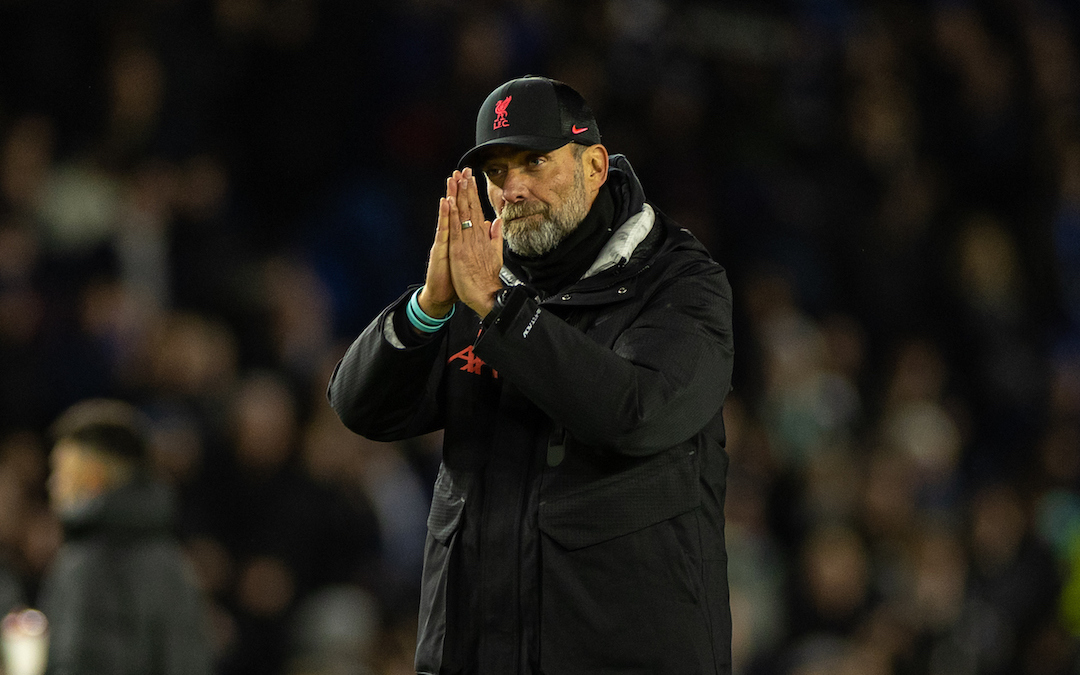 There's a poem about elephants in rooms by Terry Kettering. The elephant in his prose represents death. He ponders whether: "For if we talk about his/her death, perhaps we talk about his/her life. Can I say to you and not have you look away? For if I cannot, you are leaving me alone… In a room… With an elephant."
Nobody envisaged this season's catastrophic downturn, not least Klopp himself. He now faces the stark reality we all do that his transition isn't as smooth as we maybe imagined.
But there's something about this club and that man which provides a belief that nothing is dead. That the hypothetical elephant in this particular room is full of shit.
He needs help and he will get it. He needs to win football matches and he will win them. He needs, above all else, to be the spark which ignites all around him once again.
The nature of this particularly complex beast means that there's simply no other way.
Liverpool stands up to narratives better than anywhere I know. We fight on the basis that we're not related to the Chelsea or even the Leicester City managerial arc. That our fella doesn't behave the way Manchester City's does.
They've got a fight on their hands like never before. If Jürgen Klopp is up for it, the only question left is whether you are.
---
"Anyone who was at Shevchenko Park will be speaking about it for decades to come."

"That was such a romantic journey and it would've been my favourite season ever had we won."

📺 JÜRGEN | Part Three
🎥 Watch for FREE: https://t.co/MeeVe1E2Cq pic.twitter.com/rCHYBDgh31

— The Anfield Wrap (@TheAnfieldWrap) April 6, 2023
Recent Posts: