Diogo Jota had gone so long without a goal that his minutes could've been questioned, but he's displayed the difference a week can make since…
I'VE started playing footy on Friday nights.
At the tender age of 54, I've strapped on my boots for the first time in decades and now play with and against men of a similar body shape to mine.
I've loved it, too. I've met some good lads and burned off a bit of weight in the process. What's more, I think I'm getting a bit better. Passes are reaching their intended target far more regularly and sprints, such as they are, are becoming easier. I even scored a few weeks ago.
Last Friday, though. The first half last Friday.
It was one of those games. Every pass went over my boot, every second touch became a tackle. I made Dejan Lovren's Wembley performance against Spurs look faultless and assured.
It happens to my fellow elite footballers too. Diogo Jota had a similar half at Elland Road on Monday.
At first, it looked like he just couldn't get into the game. Then it looked like that might not be such a bad thing. He stunk the ground out.
I always feel bad for shouting at the lads. Sometimes form can be an issue and I'd rather be a supporter than a hater, but I wanted to see Luis Diaz much, much earlier on Monday night. After about 10 minutes, to be honest.
There are times when you often wonder how that can happen. I am, have been and will always be shite at football, but the professionals have a base level developed over decades. They might make the odd error, but not entire games where nothing goes right? They can't be that bad, can they?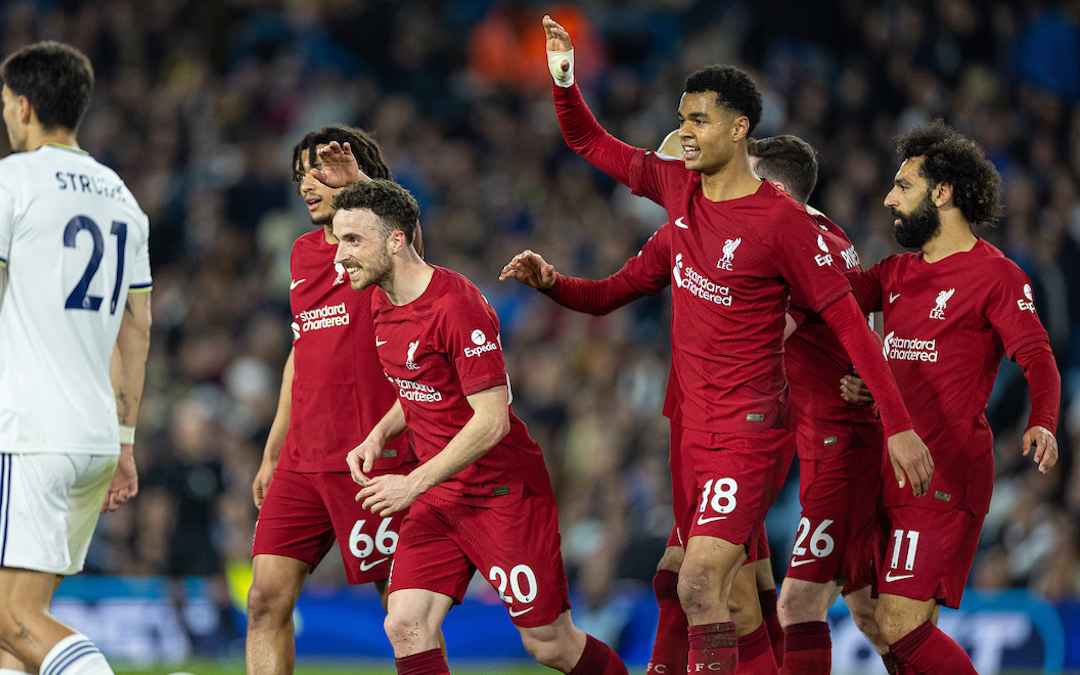 Well, no. Since that first half, he's scored four times including two glorious finishes. All confidence restored, the Diogo Jota we know safely returned.
It made me wonder what players do when their form leaves them. Each of them has had an issue over the past year or so, with even Alisson throwing the odd one in. Fabinho has improved a little of late, but I've never seen anyone fall off a cliff so much in such a short space of time as he did at the start of the season. It looked like he'd changed places with a mannequin at times.
I suppose all they can do is keep training and work on the basics until the balance of the universe is restored. Confidence must play a part in that too. The footballing version of golf's yips.
That second goal on Saturday, though. That's not the action of a man who doesn't trust himself.
Maybe Diogo has been knocking them in for fun in training, but couldn't hit a barn door come matchday. Luckily, his manager has kept faith and hopefully that barren spell is behind him.
If poor form is inexplicable, then surely the same can be said of a purple patch. Those times when they can't miss.
What it does do is give Jürgen Klopp another option. It must have been tempting to give Jota the rest of the season off to get himself together and let Diaz have some minutes. You can't really drop a scoring striker, so he's back in play.
There's a deeper discussion to have about the entire front three. Come the new season, we'll have no Roberto and will somehow have to cram in Lucho, Diogo, Darwin Nunez, Cody Gakpo and Mo Salah into the formation. If only we had a similar embarrassment of riches in midfield.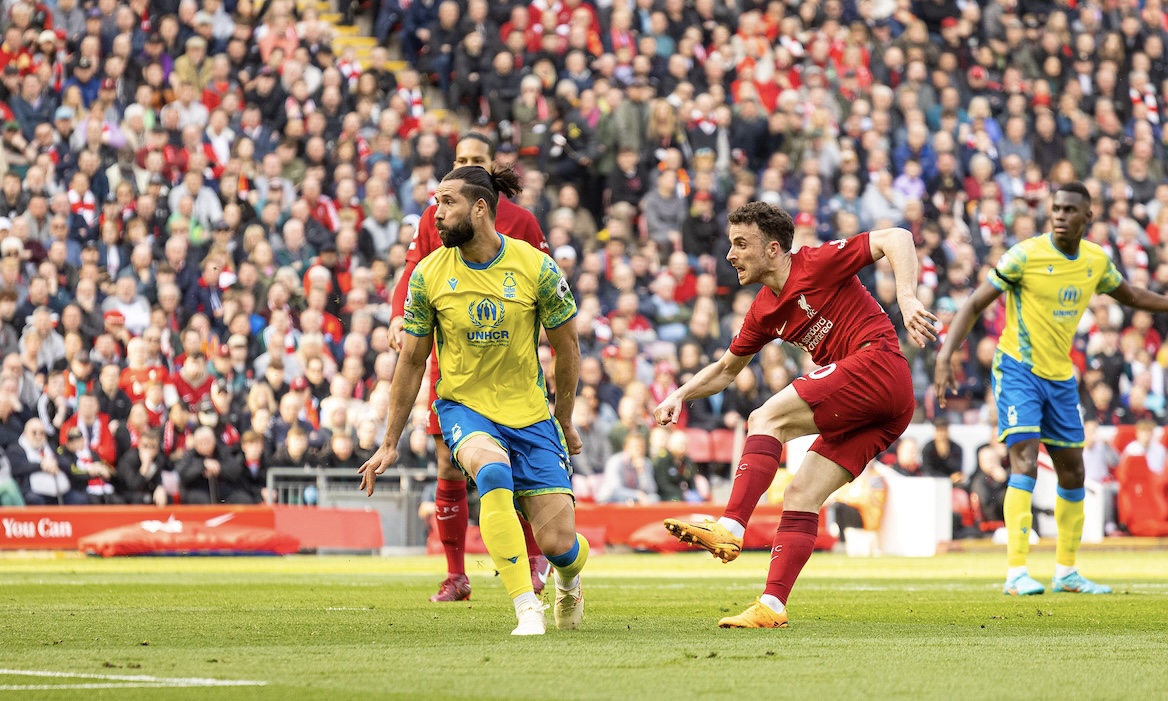 The replacing of the Sadio Mane-Roberto Firmino-Mo axis, a forward line which will rival Ian Rush-Kenny Dalglish as our best ever, can't have been easy but Jürgen has slowly managed it. I'm not sure what he knows what to do with the ingredients he has on offer just yet, but we're hardly lacking in that department now.
It looks like we'll need Jota more now given what Jürgen's said about Nunez this week. I hope so. Mo aside he's probably our best finisher at the club right now. I trust him more in one v one than the others.
And yet it's strange that he's gone so long without scoring. I'll never understand how that can happen. Obviously, the injury didn't help but for a striker of his calibre to struggle so much?
This is a really strange time for The Reds. We're fighting a battle we didn't want and though there's still European football to play for, I can't help but feel that August is when things start to become fun again.
I just want everyone fit for the first game and hopefully some new recruits with a decent pre-season behind them. No 11th-hour signings please, lads. Get them in early, get them trained and get them ready to put this bloody awful season behind us.
Don't get me wrong. It'd be nice to win the Europa League next year, but it all seems like a backward step and I'd rather not think about this time again. A bit like our title defence year. That was just nonsense.
But Diogo's back and that's good to see. There'll never be a time for an old-timer like me where I won't enjoy a win against Nottingham Forest, but Diogo's return to form was the main story for me. If he needs any advice from a fellow goalscorer (one in 28 games here), then I'm always here for him.
It'll soon be August. Please let August come soon.
---
"Since Jota has been back, he's never played at centre forward and that doesn't bring out his greatest asset – he's a poacher. He's done his damage in the central areas."

"In the centre forward position, he's always likely to bag."

The Post Match Pint 🎥 pic.twitter.com/RKigtyBNk3

— The Anfield Wrap (@TheAnfieldWrap) April 23, 2023
Recent Posts: