The Anfield Wrap's match preview before Chelsea v Liverpool in the 2022-2023 Premier League at Stamford Bridge…
QUIET weekend in the football world, wasn't it?
First fell Brendan Rodgers, and then hours later Graham Potter's departure was confirmed, becoming the 12th managerial change in the Premier League this season.
Neither of these things were particularly shocking, but they do help to bring the brutal and cyclical nature of being a football manager into view — and nothing confirms the cyclical nature of it more than 75-year-old Roy Hodgson returning to Crystal Palace.
It felt strange hearing Jürgen Klopp admit that he isn't untouchable and knows that he is still in his position due to credit in the bank.
"I am aware of the fact that I'm sitting here because of the past, not because of what we did this season," he said in his pre-match press conference. "There is no need to be afraid. I'm here to deliver."
It doesn't sit well that his departure is even on the lists of things to consider when it comes to working out a way forward for Liverpool this season and beyond. Of course, that doesn't make him above criticism for decisions that he does or doesn't make, but having him as a voice of stability has made the madness feel easier.
Looking back to this time last year, Liverpool were about to embark on a quite frankly ridiculous month of results. Beating Benfica in the Champions League, winning against Manchester United and Everton, grinding out results and approaching every game with a serious sense of inevitability.
The fact that fortunes can change so quickly gives me hope that with the right investment and reinvention, this time next year we can be enjoying the best of times again.
I say the right investment because our opponents tonight are evidence of what happens when you adopt a scattergun approach to the transfer window. Bringing in a load of players and hoping something sticks might not be the best way to go about business, after all.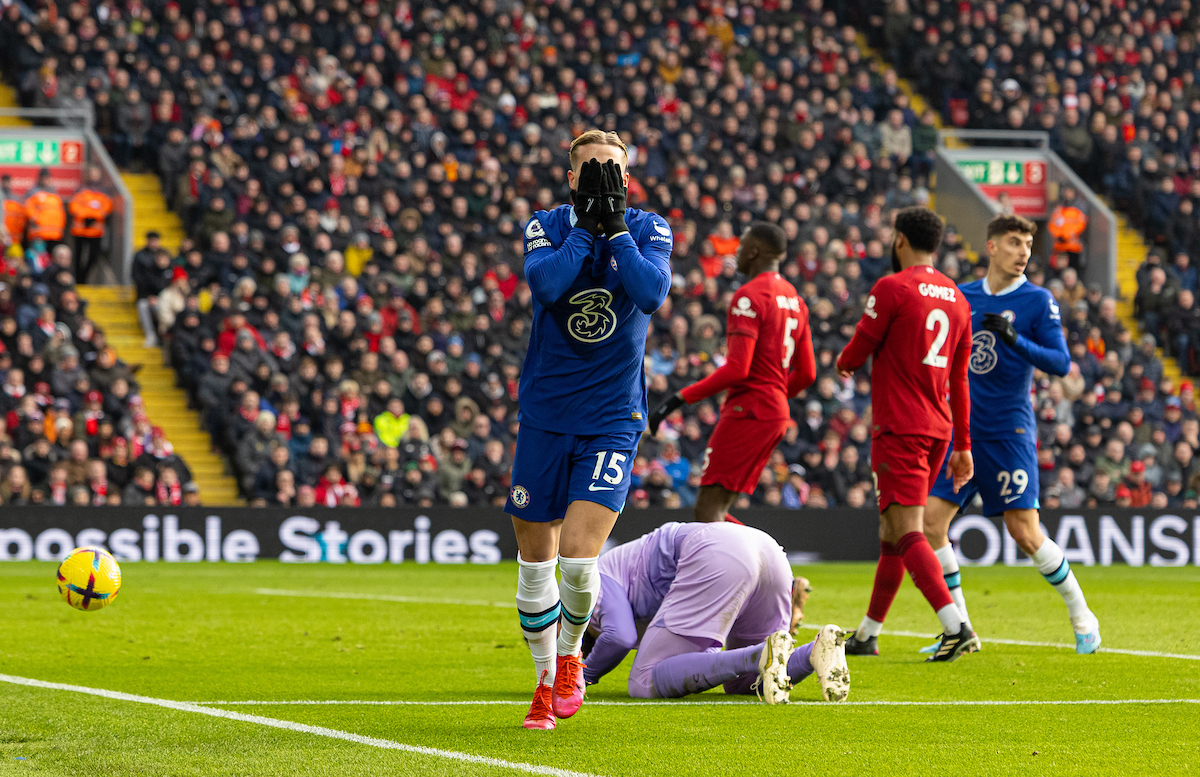 Clearly, working players who have won everything into the ground season after season isn't the best way to go about business, either. The long-term necessities of what Liverpool need to do are clear, but with 11 games of the season, short-term solutions are also necessary.
I imagine one short-term solution when it comes to facing Chelsea tonight will be rotation. Where exactly changes are made, though, is a more difficult question.
Andy Robertson was taken off early at the weekend, likely in an effort to preserve his legs before playing again tonight. With James Milner's services likely required in midfield, the rest of the back three would remain unchanged.
In midfield, things are likely to be different. I suspect Milner will come in for the captain, with Fabinho and Harvey Elliott alongside him. Alex Oxlade-Chamberlain does get minutes at the weekend, though, so I wouldn't be surprised to see him on the right.
Facing a team low on confidence and in a difficult spell calls for the return of the chaos king Darwin Nunez on the left, with Cody Gakpo and Mo Salah completing the lineup.
I won't lie to you, that was hard work and I don't envy Klopp at all. I have absolutely no idea what he was going to do. I have no idea what I'd do.
All I know is that I would absolutely love to get three points away from home tonight. I would love for Champions League football next season to remain a possibility for as long as possible. I would love for everyone to enjoy themselves watching Liverpool again.
Let's hope we enjoyed it come 10pm.
Predicted 11: Alisson; Trent, Konate, Van Dijk, Robertson; Elliott, Fabinho, Milner; Salah, Gakpo, Nunez
---
🎥Chelsea v Liverpool | The Team Talk | #TAWVideo | #LFC

TAW's reaction to Jürgen Klopp's press conference ahead of Chelsea v Liverpool. @jsexton24 is joined by @HarrietEPrior and @The_Mighty_Mojo…

1️⃣Download our app
2️⃣ Get FREE tokens
3️⃣ Watch

👉📱https://t.co/eNpQIJSgGi pic.twitter.com/MRpIGOnQhH

— The Anfield Wrap (@TheAnfieldWrap) April 4, 2023
Recent Posts: