The feelings of Liverpool fans in the aftermath of The Reds putting seven goals past Manchester United in the Premier League at Anfield…
SEVEN though.
I thought I'd seen it all. I've been attending Liverpool-Manchester United games since the 1980s and thought there was nothing new to witness.
I've seen us go down to sickening last minute goals, I've seen us walk away from 0-0 draws so dour that, strictly speaking, they couldn't be called 'football' and I've seen us batter and be battered.
But I've never stood on a terrace and demanded an eighth goal. An eighth goal against Manchester United.
It was incredible in the ground. It was proper Anfield. Everyone bouncing, no quiet phases, nothing to distract us other than The Reds and the enemy.
Everyone around me was taking photos of the scoreboard. Then taking another one a few minutes later because it had changed. Then another.
Side-step. When I was a kid, I was a fan of the Roy of the Rovers comic. Each edition featured a serial called Tommy's Troubles about a teenager called Tommy Barnes, who ran his own football club. Somehow, he'd managed to source a free club house, a manicured pitch, a set of kits and enough mates to play regular games in a league.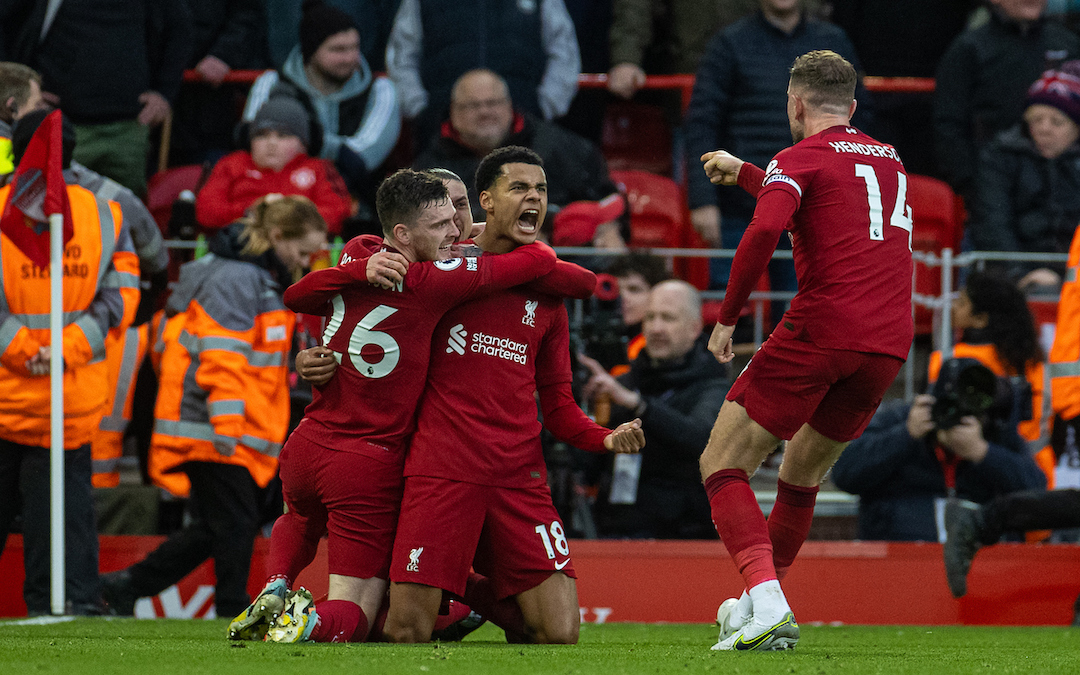 Luckily, I was young enough to not question the administrative side of Barnes United (no ego there), but I do remember his mate called Ginger who, if memory serves, wasn't even remotely ginger. In one story Ginger larruped one over the bar before turning to Tommy and moaning: "One day they're all going to go in."
That line's always stuck with me and appears when I see deflected shots go wide or we repeatedly hammer the woodwork. One day they're all going to go in.
Yesterday they all went in. They deserved to and all. United deserved nothing but that humiliating scoreline and subsequent recriminations.
And this wasn't a bad United side. That's what made it so glorious. This wasn't their Solskjaer nonsense. Their manager isn't the best in the world as one ex-player decreed last week, but I'm wary enough of him to wish he was otherwhere.
According to a media desperate to have them back at the top table, their League Cup win was their first of many, while we were supposedly on our way down. That might yet be the case, but you can't write Liverpool off and you definitely can't write us off when we're the supposed underdog. I love us being the underdog. Every slight success becomes a win.
Nil though.
That's equally important, though hardly anyone was thinking that last night. Another clean sheet and no league goals conceded since the lads crawled off the Molineux turf, desperate to get away. How long ago that seems now.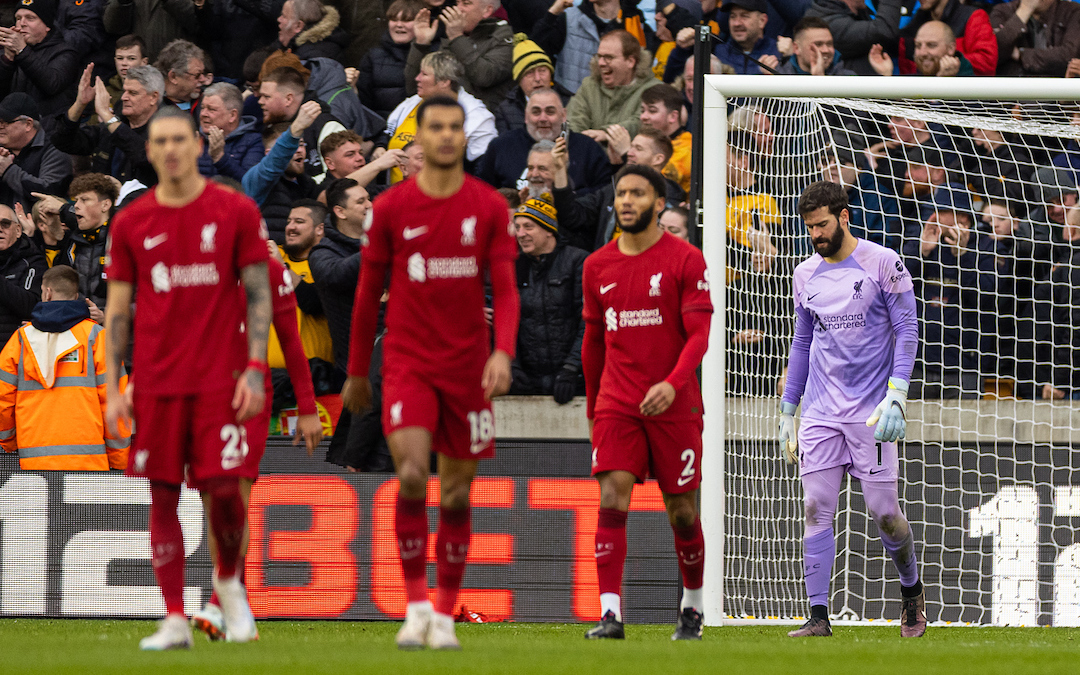 Ibrahima Konate was magnificent. They all were but he, Virgil van Dijk, Jordan Henderson and Fabinho played together in the same way that United's lads didn't. A team, a unit, against individuals.
The defence is back at the same time the new forwards are firing. Successful sides need both and it shouldn't be forgotten that we kept them out. We kept Rashford out and that's not nothing these days. He's a magnificent footballer and a problem for anyone he faces.
So is his captain, or at least his captain for the day. Bruno Fernandes has much to recommend him, but if United want to personify all of their issues into one man, then it's him — the Veruca Salt of Old Trafford.
The arrogance, the petulance and the sheer unprofessionalism shown by that tit was as good as an eighth goal. He wasn't so much as booked for his play acting, diving and shoves on officials.
Come to think of it, I think I really like him. He was the gild on the lily. I might get his name put on a T-shirt.
I also might save Carra's squeal at Roberto Firmino's goal as some sort of ringtone. I must have made a similar noise at the time, though I didn't have much of a voice left at that point.
I don't listen to phone-ins on the way home, but I loved them all last night. The lad who called it our 'cup final'. Another who asked what we'll win. Three points, mate. Plus seven goal difference.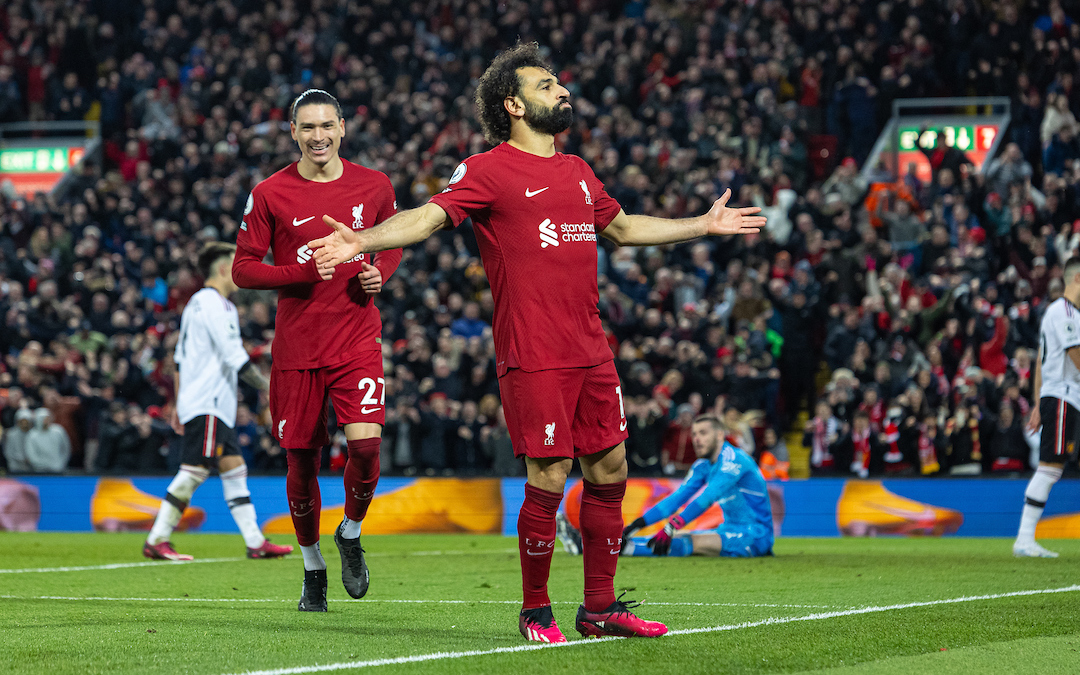 This must be hard for the players and staff. You have to be professional and think about nothing but Bournemouth, but how the hell do you coax that out of your blood? How do you stop yourself from reliving it, watching every single second of the game and analysis possible? It's not easy.
I was at the 9-0 v Palace in September 1989. Steve Coppell, Palace's manager and former United favourite, told the press that the result would haunt them forever. We tried to not let it distract us and later played out a 0-0 draw with Norwich four days later. Big wins can throw both teams. We can't allow that. Not in our position.
You look at this as a bad season. You can wonder if the first of Jürgen Klopp's great sides are now gone. You can doubt us, be scared of the future, allow your faith to shake, but they'll always surprise you. I thought we'd win yesterday. 1-0.
They'll always surprise you.
Liverpool 7 (SEVEN) Manchester United 0.
Liverpool though.
---
Recent Posts: