Critics have questioned what has happened to Trent Alexander-Arnold this season, but he was standing up to that even before form improved…
WILL the real Trent Alexander-Arnold please stand up?
I repeat, he already has. He already is.
The right-back doesn't seem to be in short supply of headlines with every oscillating Liverpool performance this season.
Victory can bathe in his sheer brilliance and monumental impact. Defeat can be the ringing bell of ridicule and incompetence. That, in a way, shows his true exclusivity as a footballer.
He can be the sole defining factor in Liverpool's defence and attack – providing truly magnificent attributes at either end. When a performance is combined with defeat his name is never far away from inquest.
After the 3-3 draw at Anfield with Brighton in October, Dominic King wrote for a piece for Mail Sport headlined: "Trent Alexander-Arnold's dire form reflects this current Liverpool team: lost and with little sign of respite coming soon."
A recent look at his form in The Athletic described his performance at Crystal Palace a "microcosm" of the player himself – defined apparently by a thwarted goal-bound freekick and near-fatal defensive lapses.
This has become the price of admission. Alexander-Arnold has set himself astronomical standards in terms of quality and consistency.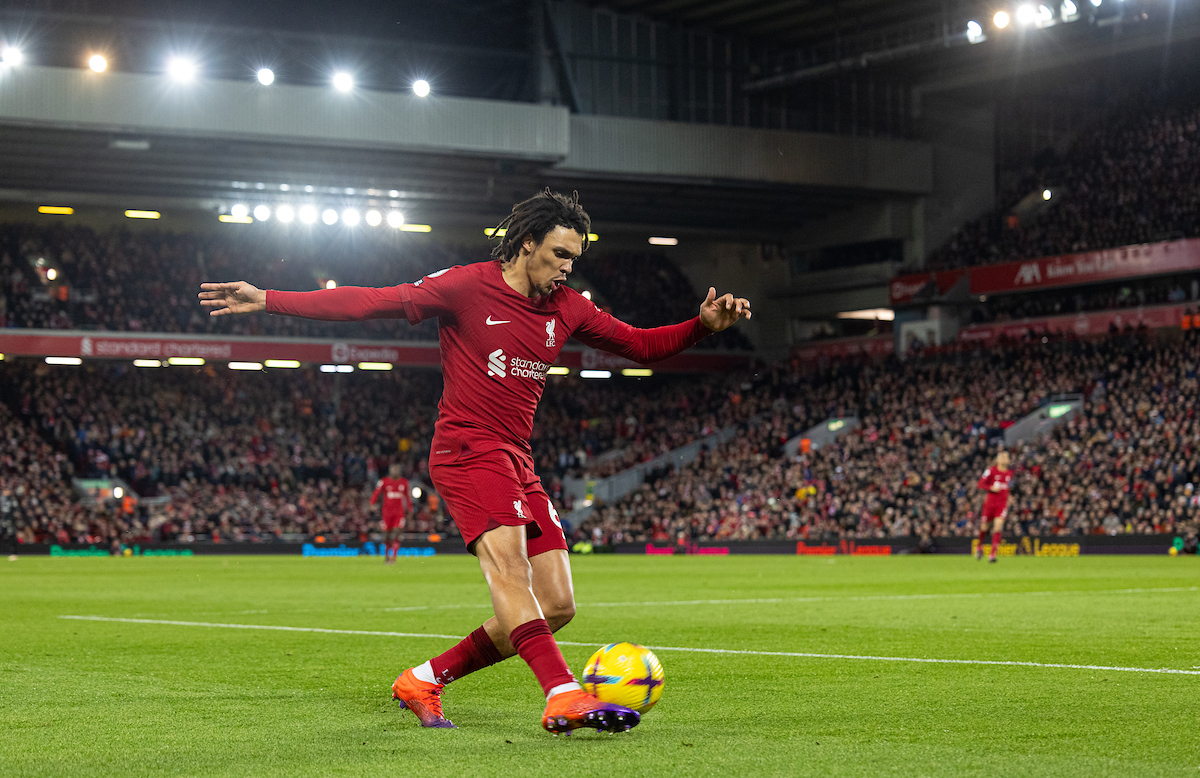 He has started all but three of Liverpool's Premier League games this season – racking up the third most number of minutes below Mohamed Salah and Alisson Becker.
His three assists are way down from previous seasons, having hit double figures in all but one campaign since 2018-19. Last season's tally of 18 is a frankly jaw-dropping reflection of his levels. It also tells us how he performs in a well-performing Liverpool team.
And herein lies it; Trent is a symbol of Liverpool performances, not the symptom.
His struggles this season are a result of a team lacking in confidence and tactical proficiency. Take the Palace game as an example; he had Joel Matip next to him and Naby Keita in front of him.
One feeding him hospital balls and the other preoccupied with a precarious yellow card.
The Athletic article rightly pointed out a lack of consistency around Trent this season. Joe Gomez has the most consecutive number of centre-back starts next to him with five.
The cameras again caught Trent in the death stare at Selhurst Park. It can often be a toss-up between this and telling Jordan Henderson to "fuck off". Unfortunate timing, I suppose.
Some have leapt to age-old mysticisms of getting too big for boots, which has never been fully explained by anyone who says it.
It's likely that neither he or anyone in a team and club full of winners enjoys getting beat. Maybe that should be the true definition of the phrase.
Liverpool wanted to do something different with Alexander-Arnold this season. It looked something akin to what Manchester City do with players like João Cancelo, and what Mikel Arteta now has with Oleksandr Zinchenko.
It remains to be seen whether Jürgen Klopp will return to this plan, but we've already seen glimpses of what it could look like from the positions Trent fed Darwin Nunez from deep for goals against Wolves and Newcastle.
All week I planned to write this piece about an argument for making a double six and moving him there. Then I pondered penning something about how we would tactically evolve with him as a future captain.
I'm simply left defending one of the most generational talents this club has ever produced from rogue headlines and the 'you're just a shit Reece James' brigade.
It's, therefore, with Liverpool that this player should find solace, safety and an understanding on every level that performances and results aren't defined by him alone.
Playing right-back in this team is a hell of a task. Trent Alexander-Arnold stood up to the challenge a long time before now.
---
"I'll tell you who their best game for a long time, that was Trent Alexander-Arnold."

"When you've got the fullbacks playing as they did, that's a little bit of the old Liverpool. For where we are at the minute, it's what we needed and it got the job done."

🗣 Post-Match Show pic.twitter.com/iH5hGiQy12

— The Anfield Wrap (@TheAnfieldWrap) March 2, 2023
Recent Posts: