As Real Madrid once again became the hope killers of a romantic Liverpool story, they proved that being a great footballing bastard wins…
THINKING about bastards quite a bit recently.
Maybe it's because I've engaged in post-Christmas television and decided to get into Happy Valley. It wouldn't be something I usually would get into, but its honest-to-frank depiction of a weather-beaten Police sergeant in Sarah Lancashire — who speaks and acts in a very authentic way to that world — is good.
It has a bastard, Tommy Lee Royce (played by James Norton), who by the end becomes sympathised with in some quarters despite doing some of the worst things possible to humankind. There was no moral conundrum over the show's main protagonist. There is no Walter White or Tony Soprano soul-searching. He's just bad.
Menial drama remains a staple of our current Liverpool viewing. A different type with an alternative plot and a whole other type of bastards.
Unlike sociopathic serial killers, football bastards can be something to aspire to. They are the thorn in everyone's crown who won't go away. They play the villain with such enjoyment because they know how good they are at it.
As we've witnessed in recent years, Real Madrid are the ultimate in this sense.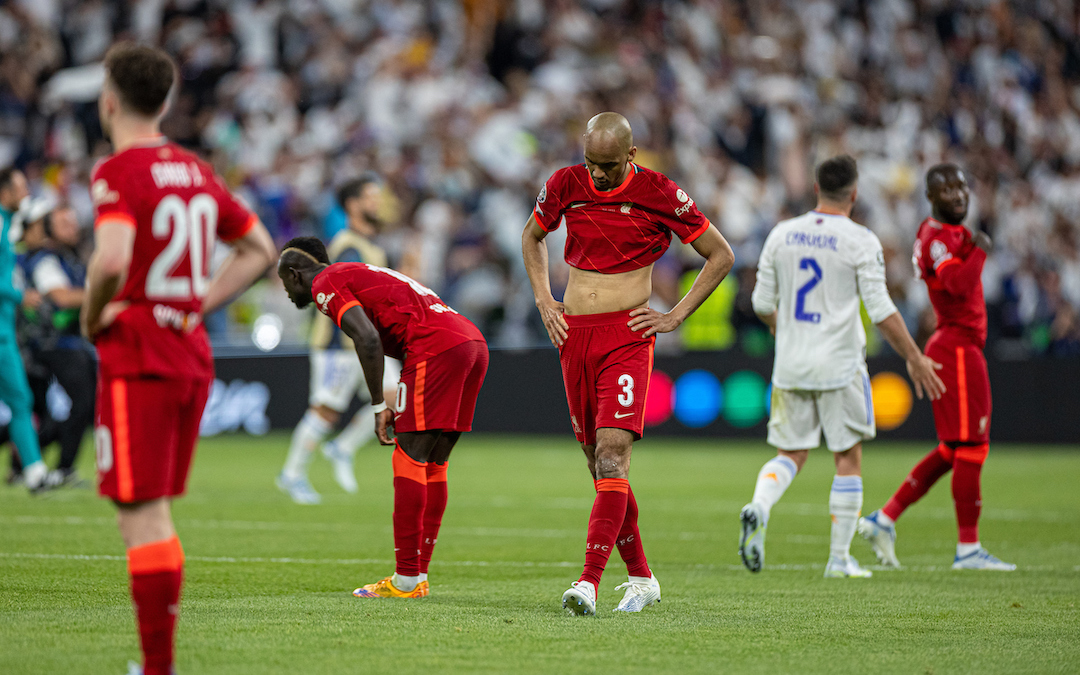 So much of Liverpool's journey under Jürgen Klopp involves Madrid. While romance and poetic justice is never far away from our arc, Real have constantly found a way to kill the plot to ensure the baddy wins.
Kyiv, Mohamed Salah and Sergio Ramos, and Paris. Madrid aren't interested in revenge stories. They disregard the law of averages and tasting their own medicine. They are a perennial example of the bad guy winning.
For those thinking I'm bemoaning Wednesday's result, far from it. It's quietly something to applaud and aspire. Manchester United in the 1990s had no interest in context or game state. They just played into your inner most dark insecurities about hope and disappointment while winning.
The face of such villains over the years has changed due to the ownership fates of Chelsea and Manchester City. There are now more sinister plots attached to those inevitable opposition triumphs which haunt you at night.
Whether Liverpool has ever been that bastardisation of success is open to debate. The club relies so heavily on emotion that it seems impossible to exist without it.
It's a club constantly sucked into the vacuum of seasonal, possibly era defining moments on almost a weekly basis.
Even when they showed a ruthless streak unseen before and amassed 79 points from 27 games in 2019-20, the small matter of a global pandemic turned up to ensure the story would have an additional, gut-wrenching finale.
This is what happens when soul-stirring passion meets stern restraint. Madrid not only beat Liverpool over two legs, but they did so with incredible cool. They showed us the way to go home and made us a packed lunch for our travels.
Perhaps that's why they remain as an institution and, after so many years of wilderness, United hold the same gravitas as their former iteration of 30 years ago. It's undeniably a factor in why City and Liverpool were so morally opposed when challenging each other.
Liverpool must therefore play with what they have. Klopp feeds on such energy to build something up from the ground. He's done it once, he can do so again.
Wednesday was painful. It was an unremorseful killing by the same villain. Kismet fate played no part. Perhaps against this particular bastard it never will.
Liverpool can climb that mountain again. They can write the type of stories which only they seemingly can. In their own way, they can be that immovable object which refuses to play an assigned role.
Whatever happens, at least we'll always be that bastard to Everton…
---
Recent Posts: