The Anfield Wrap's match preview before Manchester City v Liverpool in the Premier League at the Etihad Stadium…
WHEN Manchester United beat Arsenal 8-2 in August 2011, the scale of the result barely registered on the football Richter scale.
This was the defining football rivalry of the previous decade. It was snapshots of sumptuous dinks over goalkeepers in sinister all black by John O'Shea at Highbury. Thierry Henry's swivel, volley and celebration. It was Sylvain Wiltord at Old Trafford winning titles in resplendent Sega-splashed gold.
Roy Keane and Patrick Vieira in narrow archways. Gary Neville peering more than when in the Have I Got News for You presenter chair somewhere nearby. All of these men were, well, a bit silly if we're all being honest.
Yet when United trounced Arsene Wenger's side in 2011 – something felt mournful. The likes of Andrei Arshavin and Tomas Rosicky were still kicking around a team which had clearly lost its way. United, while scintillating on the day, were playing Anderson and Tom Cleverly in centre midfield.
This was the year of Manchester City's inaugural title win on the final day against Queens Park Rangers. United would regain the title a year later after recruiting Robin van Persie – but this was to be City's decade domestically.
The question of who could challenge them has loomed large for at least half of that time. They hit 100 points the season Liverpool had to rely on another final day win to ensure Champions League qualification.
Every game between them since has been finger-shredding tension matched with mind-blowing intensity and at times beautiful football. These Reds stepped up when nobody else could.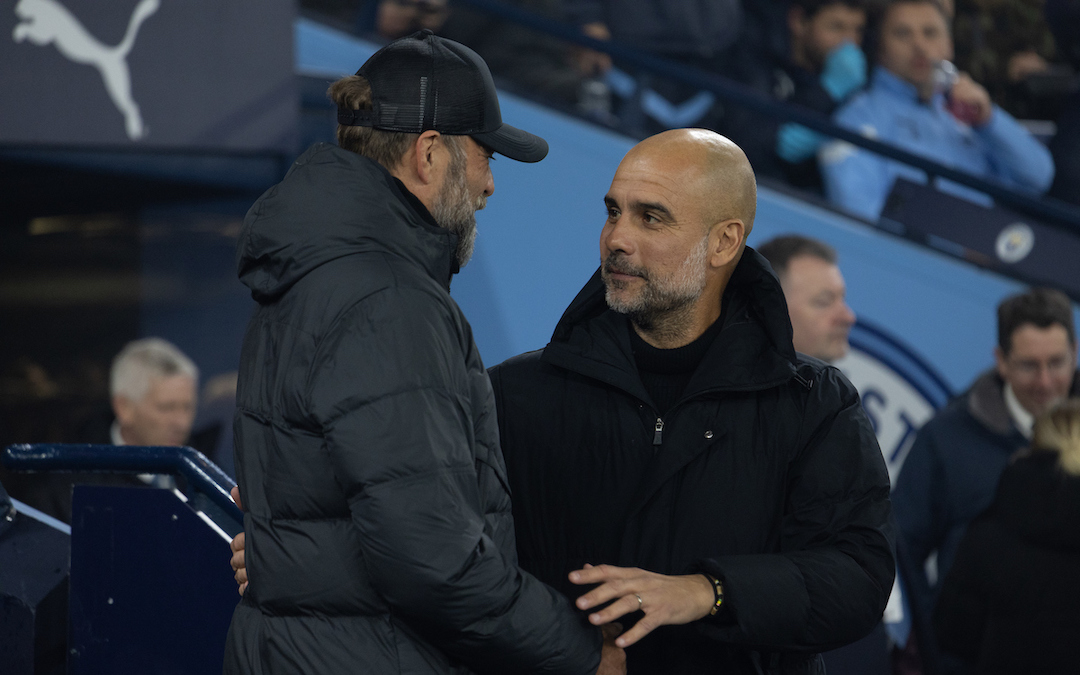 We've loved and despised it. The notion of one stray pass defining nine months' work in these games has felt incredibly unfair and unjust to the concept of human error. These people should be more flawed. These margins should be a lot wider.
FiveThirtyEight's Premier League predictor table argues that City has a 44 per cent chance of winning the title, while Liverpool have a 29 per cent chance of Champions League qualification. The point simulator has City finishing on 85 points (second) and Liverpool 64 (fifth).
Let's not argue with simulators – plenty of time for that in future. What isn't up for debate is this isn't a battle to centurion points totals which will go down to the final 15 minutes of a season.
Jürgen Klopp's men have faded into an inconsistent abyss of sorts. They've spent the season trying to fix a springboard which breaks after each use. They spectacularly managed this in a manner that's still difficult to shake off following the United trouncing.
But then City have their own problems. They've been inconsistent, lacking in desire and at times tactically ragged. Phil Foden is missing but we still expect that Erling Haaland plays, despite talk of him missing training, and is fully on one.
They will have the last three fixtures particularly on their mind where Liverpool beat them in an FA Cup semi-final, Community Shield and at Anfield when their manager once again lost his shit.
This is our big week. In that sense, the fixture will foster similar feelings of having everything to lose. But then the race for fourth isn't the same as the one for first.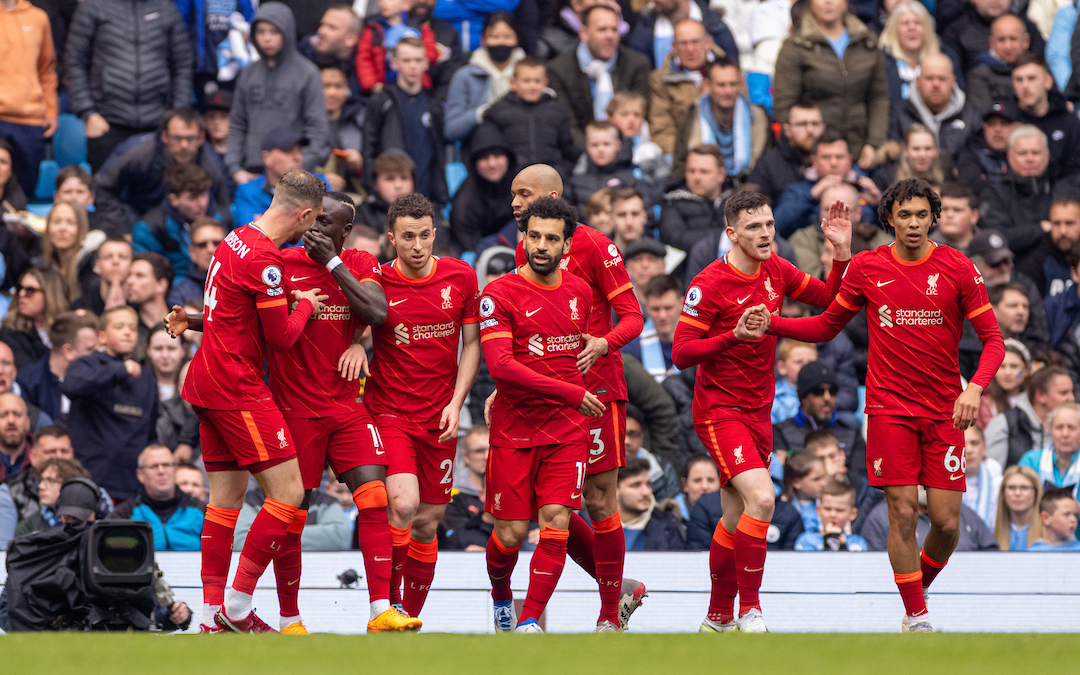 Non-eventful is fine, here. Being sensible is fine, here. A draw and positive performance are absolutely fine, here.
Liverpool can't be kamikaze and leave the door wide open. For all City's current ills, they will exploit without a second invitation. So will Chelsea and Arsenal.
Whatever transpires, there is a need for both to realign and do what both Arsenal and United managed on occasion, which was to come again as the Premier League's greatest title rivals.
You can argue the heights were so lofty they can't be reached again. You can say nature has taken its course and the lifespan has ended. You can look at the financial mismatch which has never gone away.
But does anyone really believe Klopp and Liverpool can't come again? City aren't going anywhere. The only team proven to thwart them is us. It's why they need this rivalry to persist just as much.
Liverpool has the greater responsibility in reviving it, arguably the greater task given their drop.
This weekend, the title is none of their business. In the longer term it absolutely is.
Predicted 11: Alisson; Alexander-Arnold, Van Dijk, Konate, Robertson; Henderson, Fabinho, Elliott; Salah, Gakpo, Nunez
---
🗣Manchester City v Liverpool: Pre-Match Warmup | #NEWPodcast | #LFC@Ian1892T hosts @DamianKav, @johngibbonsblog and @kevwalsh_ plus @DavidMooney from the @BlueMoonPodcast…

1️⃣ Download our app
2️⃣ Get FREE tokens
3️⃣ Listen

📱👉https://t.co/eNpQIJSgGi👈📱 pic.twitter.com/GAN5USEVfn

— The Anfield Wrap (@TheAnfieldWrap) March 31, 2023
Recent Posts: