Remembering Lucas Leiva's roller coaster Liverpool career, after he announced his premature retirement from football due to a heart condition…
I WAS in Block 106 of the Kop for much of the 2008-9 season, slightly to the right of the goal and about four rows back.
The sort of area where you can be hit in the face by a stray training ball if you're not on your guard and close enough to hear Pepe Reina swear at Daniel Agger.
In April, Arsenal came to Anfield to play out the 4-4 game which ultimately cost us the title. I got in early and went through my pre-match superstitions of not looking at the pitch until I was at my seat and not singing the first verse of You'll Never Walk Alone. Don't ask me. They wouldn't be superstitions if they weren't a bit weird.
George Sephton gave the team before they came out with his usual air of favourite uncle bonhomie and we duly cheered every name. When it came to the subs though, there was a voice of dissent from a couple to my left.
"21, Lucas Leiva…"
"Yay!"
"Booo!"
Boo? I wasn't having that. Firstly, he was a Liverpool player so you don't boo them and, stranger still, he wasn't even playing. They appeared to be booing the man simply for the crime of sitting on a bench and merely existing. He didn't even get on.
It's strange to think back to such times and remember that some players gifted with decent careers for us were far from popular. For example, a lot of people couldn't get on with John Wark. The same John Wark who scored 27 goals in 1984-85, more than Ian Rush, but his inclusion was often met with a surprising amount of rolled eyes.
Maybe it's my contrary nature but I really liked John Wark.
And I really liked Lucas. Like, in fact.
Last week the Brazilian announced his retirement due to a cardiac alteration. He played 640 games across an 18-year career and wore only the shirts of Gremio, Liverpool and Lazio. Remarkable, really.
If his first seasons were met with frowns, he certainly became more popular in his later Anfield career, possibly because he was no longer compared to Steven Gerrard, Xabi Alonso and Javier Mascherano.
When the latter two moved to Spain, he became the buttress to a Brendan Rodgers' defence in dire need of protection. Such was his importance then that due to his improvement or the paucity of that squad, his every injury was met with groans rather than shrugs. It was a pity as every good spell would inevitably end with a long lay-off.
The worst was probably at Stamford Bridge in the 2011-12 season where, following some impressive appearances, he was stretchered off. Liverpool's midfield folded as a result and we lost 11 of the next 19 games.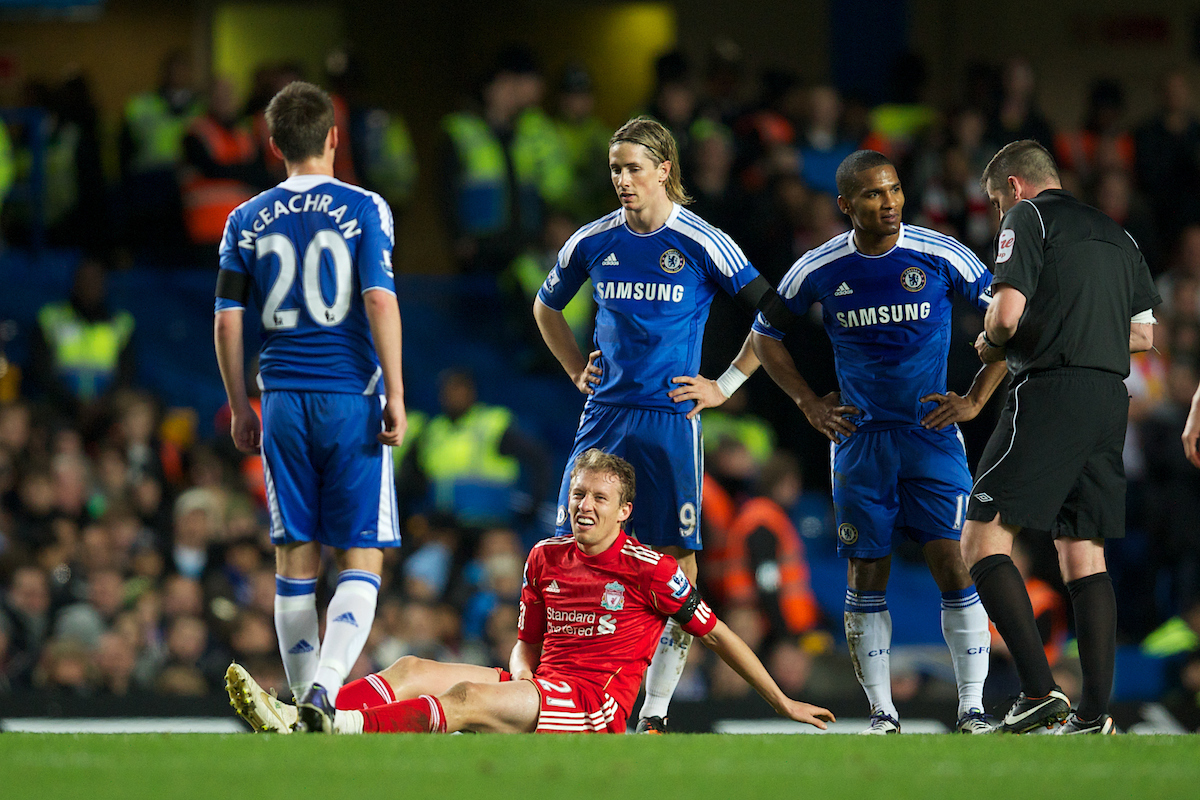 But that's just the playing side and there was more to him than that.
He was a good lad by every metric. A solid pint. Much is made of Jürgen Klopp's insistence that his team should be a 'Good Lad Only Zone'.
Josh Sexton told me that he was: "The first foreign player of my generation to really embrace being a scouser and back that attitude up on the pitch."
And he loved playing for us despite the knockbacks of early career. Even when he was being booed, he loved crossing that white line and wearing our shirt. You only had to look at his face when we scored. Everything mattered. That was the attitude that came across.
Never the quickest, prone to giving away dangerous freekicks, and hardly the player you'd look to provide goals, but always determined. There's a lot to be said for that, particularly when 'the best midfield in the world', as they were known, departed and he was given more opportunities.
Rose-tinted glasses? I don't think so. We've all loved a trier here. A player who always gave everything when they didn't have the natural talent of those around them. I always liked the endeavour of Craig Johnston as much as the natural genius of Jan Molby. That adage of needing lads to carry the piano as well as play it.
A deeper issue concerns the number of top-level players who are forced to retire or at least have been affected by heart conditions. Aguero, Kanu, Eriksen, Casillas and Thuram to name a few. Lucas's former team-mate Adam Lallana was diagnosed with an irregular heartbeat when he was just 18.
It may be hard to believe that such things are missed when there is so much medical attention on them every day, but such conditions can go undetected for years. The British Heart Foundation are funding research into just why athletes are so affected.
Without becoming too medical, one issue concerns a condition called HCM. This involves a thickening of the heart wall often found in athletes which can be benign but can also hide a more sinister issue. As Professor Sanjay Sharma of St George's Hospital explains…
"The problem is trying to differentiate between a heart muscle that has become thick because someone has exercised a lot and someone who has a heart problem… It's critical to get the right diagnosis."
In other words, a thickening of the heart can be physiological in athletes, i.e not associated with disease, but also pathological in HCMs. Differentiating between these states is crucial, and not always straightforward.
This is not to suggest that Lucas necessarily has HCM, but it does show why such conditions can be missed.
There'll be no rush to put up a statue outside the Main Stand nor will there be a mosaic in his honour, but we'll always have that goal celebration and the memories of a player who was eventually celebrated for always being there when we needed him.
A player who became more important than we'd ever imagined.
Happy retirement, mate.
---
Recent Posts: