The Anfield Wrap's match preview before Bournemouth v Liverpool in the Premier League at Dean Court, in a week of possibilities for The Reds…
THE Premier League season is nine months long. Sometimes that feels worth reiterating.
Because I think the way the mainstream media especially tries to make a singular result have some greater meaning has infiltrated all of us in some way.
It's why a draw feels so much like a loss for Liverpool these days, we're conditioned to believe that dropping two points will be terminal in the long run — partially framed by the omnipotence of Manchester City, but the media has certainly had a big impact too.
I'm as guilty of it as anybody, but I'm trying to fight against it. I was particularly confused by some of the reaction after Liverpool lost to Real Madrid, namely the attempts to make it reflective of some wider issue that hadn't already been exposed more by other results.
Then The Reds drew with Crystal Palace and I was determined to make it reflective of something wider, namely that we'd need to find a way to stop accumulating new injuries if we had any hope of turning this season around.
It wasn't exactly the hottest take around, but I was very down after that game. A few weeks on, I'm more inclined to see it as the middle clean sheet in a run of five straight unbeaten games in the league.
I found some perspective. Everything requires some perspective, otherwise we'd all be constantly bogged down by everything and never able to enjoy anything fully.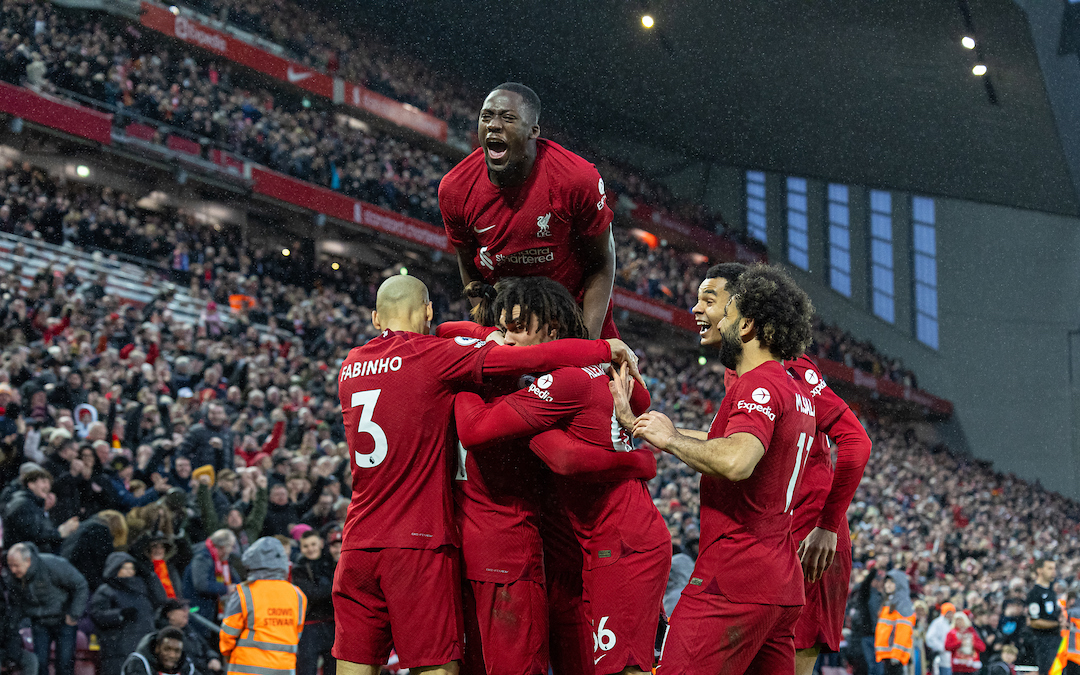 From here on out I'm determined to enjoy whatever is left of this season. I know my perspective now will be important to me in July when I've gone a month without seeing Jürgen Klopp's team play.
Getting excited about tomorrow, then. I'd be determined to go with the Manchester United-conquering back five for the next two games ahead of the international break. Any sign of a James Milner at right back or Kostas Tsimikas will be seen as the manager not taking either game as seriously as he needs to be seen to — both internally and externally.
Of the United-conquering midfield, I'd be tempted to save Harvey Elliott for Madrid and bring Stefan Bajcetic back into the fold. We'll need that Elliott impetus to attack Carlo Ancelotti's team with the same relentlessness that got us seven (SEVEN) at Anfield last weekend.
The Mancunian-conquering front three should be good to go for both games, ready to wreak havoc again. Diogo Jota may have something to say about that, though, and the Roberto Firmino farewell tour has already started with a bang. Luis Diaz's return being round the corner will add another dimension to an attack starting to pur.
It's a week in which anything now feels possible. Beat Bournemouth and see what happens next.
Don't be afraid of the moment, Liverpool. Because who is to truly say what it means in the wider context anyway?
Predicted 11: Alisson; Trent, Konate, Van Dijk, Robertson; Henderson, Fabinho, Bajcetic; Salah, Gakpo, Nunez
---
Recent Posts: