Four years ago against a Sean Dyche team questions were being asked of Mo Salah's role, but has it shifted throughout that time at Liverpool?
SEAN Dyche has been witness to two very significant moments in Mohamed Salah's career.
On 31 August 2019, Dyche was managing his identikit Burnley when Liverpool laid an early foundation to their incessant title charge with a 3-0 win.
The result was part of an evolution. Turf Moor was a place where Liverpool had learnt to win but hardship was never too far away.
The season before was a barnstorming 3-1 victory which swung on a 2-2 knife-edge only for Alisson Becker's resplendent heroics in slick-backed-all-pink.
The "how to" guide to win a league title was being penned in Liverpool red. One of its key rules was not just to win at places like Burnley, but learn how to win well.
Two first-half goals in quick succession from a Chris Wood OG and Sadio Mane was added to by a Roberto Firmino with 10 to go.
Salah wasn't on the scoresheet that day but was all over the headlines. Mane's disliking of his teammates choices in final third positions boiling over when subbed late on. Firmino's sheepish glance to a camera in the tunnel was a perfect epitome of how the whole thing should be viewed.
You'll have worse problems than this, lads. You've never had it so bloody good.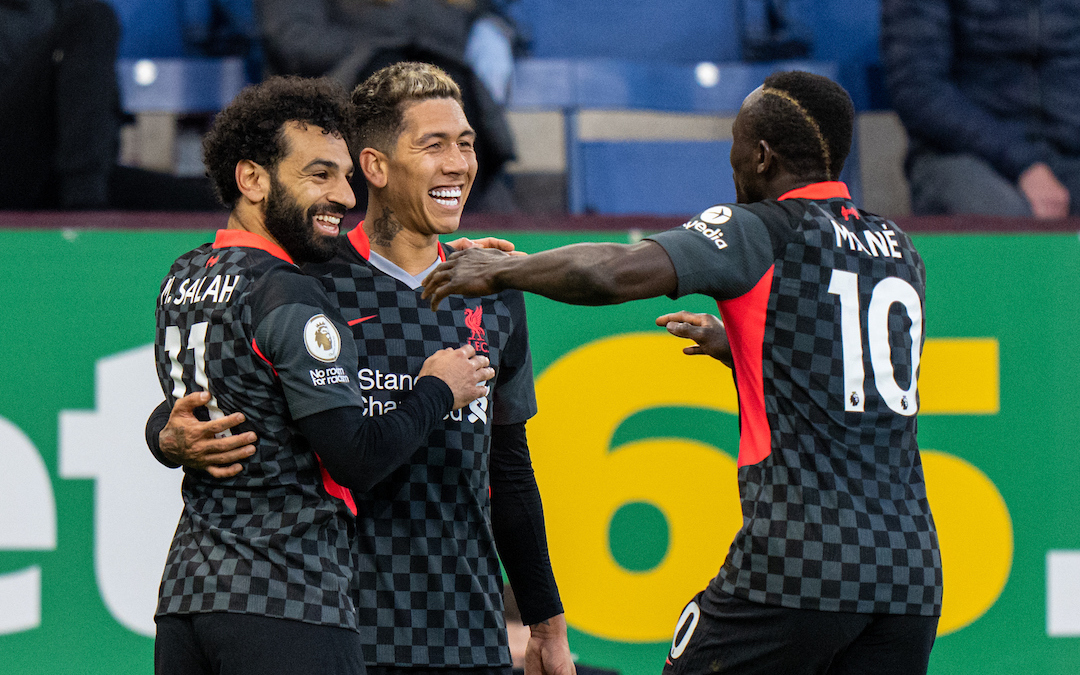 The incident corroborated a narrative for some tabloids. Some needed inquest into how a player can score 71 goals in two seasons. Plenty wanted to look for a fault, a perception of selfishness in front of goal from Salah was found in small circles.
Salah was always more rounded than some gave credit. In that game he had three shots to Mane's two and Firmino's five. He had two key passes to Mane's one. His xG assist (0.8 to 0.3) was higher.
In its most basic form, Salah's passes to Mane were three times higher than the reverse combination that day. He was never the problem some polemicists tried to make out.
Jürgen Klopp, Salah and Mane eventually laughed the whole thing off. The sense of McCarthyism around Salah the team player lingered throughout this and the following season.
Only last season, around the time of his Watford hat-trick, he was undisputedly the greatest player in the world. His ability to score every kind of goal was being matched by increasingly becoming more of a provider.
His open play xG assisted was 0.30 in 2021-22, up from 0.17 in 2020-21 and 0.20 in 2019-20.
This season, Salah has yielded a more fatherly look to him. At times he has been too unselfish and sacrificial in both output and positioning.
Goals don't define Salah as they perhaps once did, and Dyche on Monday witnessed a player seemingly more comfortable to take on a different mantle in this new-look Liverpool.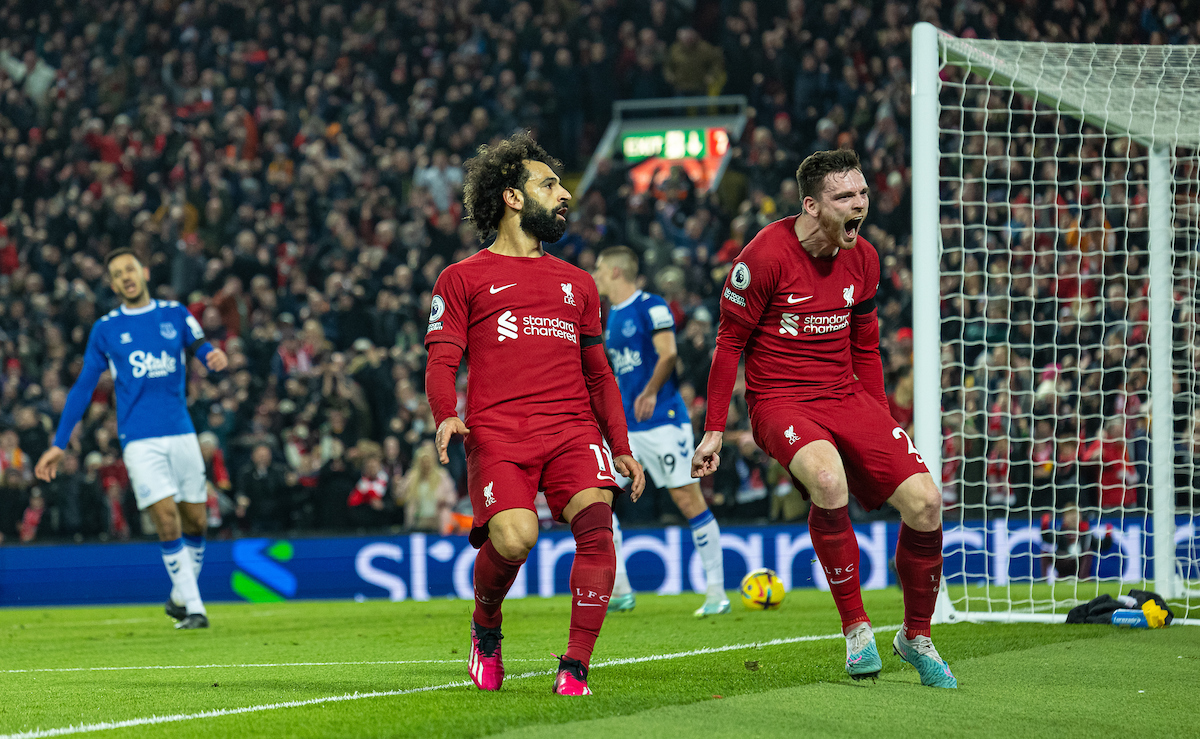 A big factor in this has been Darwin Nunez. Salah went out of his way to make a bold statement on Nunez in his post-match derby comments, claiming he was "sure this guy would score a lot of goals," he said, before reiterating: "Once he starts scoring them, he will score a lot of goals."
Salah also talked about the telepathy and stylistics between the two: "I train with Darwin, so I know his stride. I know how he likes to play. When we counter-attack, we just go."
A piece by Caoimhe O'Neill in The Athletic today points out that Nunez and Salah are combining more productively than any other Premier League pairing, creating a chance every 52 minutes.
The pair found each other seven times on Monday night, one sumptuously for Salah's counter-attacking opener.
Salah has shedded skin with Liverpool's own transition. He looks more senior. Oddly, given the team's woes, he at times cuts a more relaxed figure.
He's no longer the player or person he was four years ago, but was he ever that different?
Sean Dyche can probably be as good a judge as any.
---
"If I could have chosen someone to score in the derby, it would have been Gakpo, with second on the list being Mo Salah."

"It's really important we got Salah back amongst the goals. In general he was so much better, so much more involved."

🎥 The Anfield Wrap pic.twitter.com/BRLsD7uyNq

— The Anfield Wrap (@TheAnfieldWrap) February 15, 2023
Recent Posts: