The Anfield Wrap's match preview before Liverpool v Everton in the Premier League at Anfield, a Merseyside derby with a simple cause…
JUST beat them.
Ordinarily I'd bang on about the uniqueness of the fixture, of divided households (mine included) and how both league form and position don't mean a thing when it comes to this match, but the uppermost thing in my mind is just the absolute necessity of three points.
It's funny how these things go. A few weeks ago we'd beaten Aston Villa and Leicester — or rather, managed to get past them somehow — while The Blues were diving head first to the foot of the table led by their media darling manager. Our morale is still very shaky but it was streets ahead of what they were going through.
Then they win their first game under Dyche and we look like a sad apology of a team. Once again, the playing field is level.
A win for them tonight and they're talking about the new regime which will inevitably lead them to the Europa League places by April and put us in… No, I can't even entertain the idea.
Just beat them.
In some ways this is the perfect fixture for us. You don't want to be in a run like ours and then face Woking in the FA Cup sixth round. You don't want to tweak the nipples of fate. You want a game that you can win and make a statement to the world.
In this case, the reminder that we're still Jürgen Klopp's Liverpool and we've got the stomach to put all this nonsense behind us and turn everything around. The first in a 47 match-winning run and against the oldest of enemies. That sort of thing.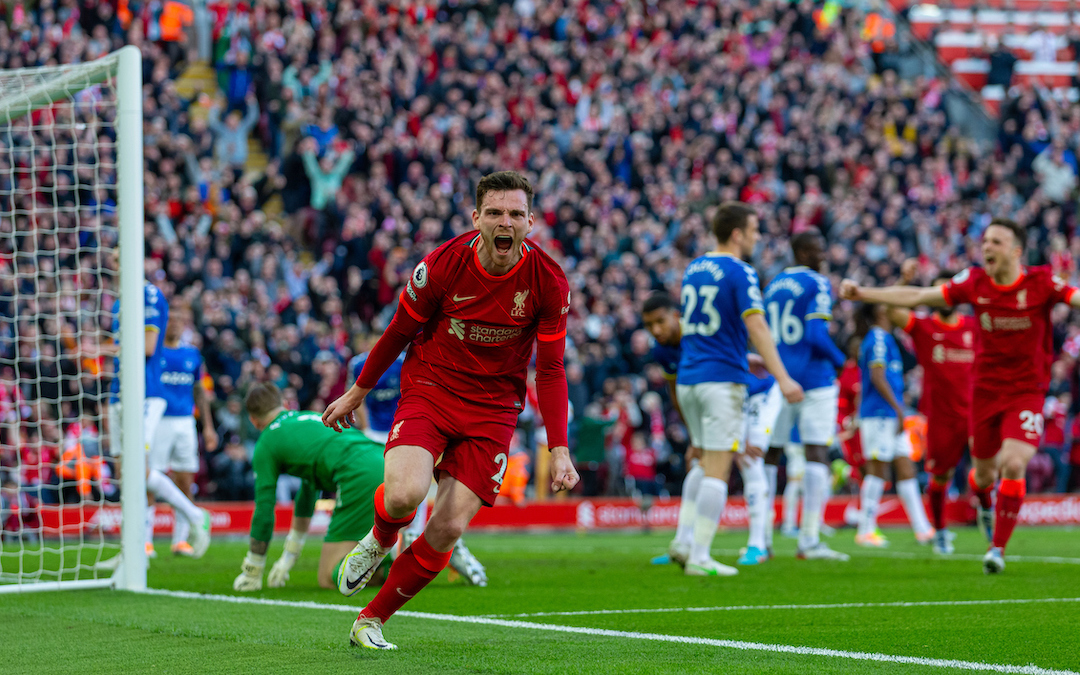 The team? God knows these days. It sounds like Diogo Jota is in contention for a place. I'd start him but I'd have started him when he was injured too, so there's little insight to be had there.
Elsewhere, there's talk of Nat Philips coming in to deal with their aerial threat but it could be either of Joel Matip or Joe Gomez to be dropped if it comes down to form. Both have struggled. Well, pretty much all of them have struggled, really.
If Diogo is fit it might see Harvey Elliott dropping back to midfield with Naby Keita missing out. That's not a judgement on his contract or anything. Just that Harvey has scored a couple of late and I'm clutching at any straw these days.
He'll probably go with Cody Gakpo, though. I can live with that (relief for us all there, I'm sure) if he plays him on the left with Darwin Nunez going through the middle. Nailed on yellow card, Darwin, by the way. Nailed on.
The problem with picking this side is that Jürgen likes to throw in a curveball for derbies just to keep everyone on their toes. I remember standing outside Anfield in December 2019 swearing blind that the inclusion of Divock Origi, Xherdan Shaqiri and Adam Lallana was the work of a madman.
Three hours later, my mate Si told me that the league was over and we'd won it. In December. It felt like he had a point. (Mind you, he's currently trying to get a song going for Cody based on Sinitta's song 'So Macho,' so there's that.)
Those days seem such a long time ago. This is a new, much different Liverpool with a very different target. Turn it around, Liverpool. Make a start. This is harder now. Much harder.
Just beat them. Just do that.
Predicted 11: Alisson; Alexander-Arnold, Phillips, Matip, Robertson; Henderson, Fabinho, Elliott; Jota, Nunez, Salah
---
Reminder we're calling a Flag Day on Monday. It would be good to see flags and scarves all over the ground. Stalls outside will be selling flags, and anyone on The Kop who doesn't have their own can wave one of ours.

Let's get behind them and make the ground the best it can be.

— Spion Kop 1906 (@SpionKop1906) February 11, 2023
Recent Posts: