Jürgen Klopp is the man who has to front up to all of Liverpool's problems at the moment, but he can't be left to walk alone by the club…
I DON'T know.
Where are you with all this?
Usually, my default position on Liverpool being dreadful is one of anger, but that doesn't seem right at the moment. Tonight (Saturday) I just feel doused in melancholia and exhausted with every 'hot take' as to why things have gone so, so wrong. I suspect the team feel the same.
There's a scene in Father Ted's remake of the film 'Speed' where the local priests try to save Father Dougal from being blown up in his milk float. Short of any practical ideas they perform a mass while driving alongside him. Obviously, it doesn't work but, when they're looking at other options, one of them meekly asks: "Is there anything to be said for saying another mass?"
Wolves felt like we've asked a similar question far too often. Rinse and repeat? You just get rinsed.
I try not to get too angry at the players or manager. They've given so much that it seems churlish to shout, but all the same. Is there a plan to any of this? Is there a fix-all as to why we've fallen off a cliff? The intensity has gone completely, the guile now non-existent.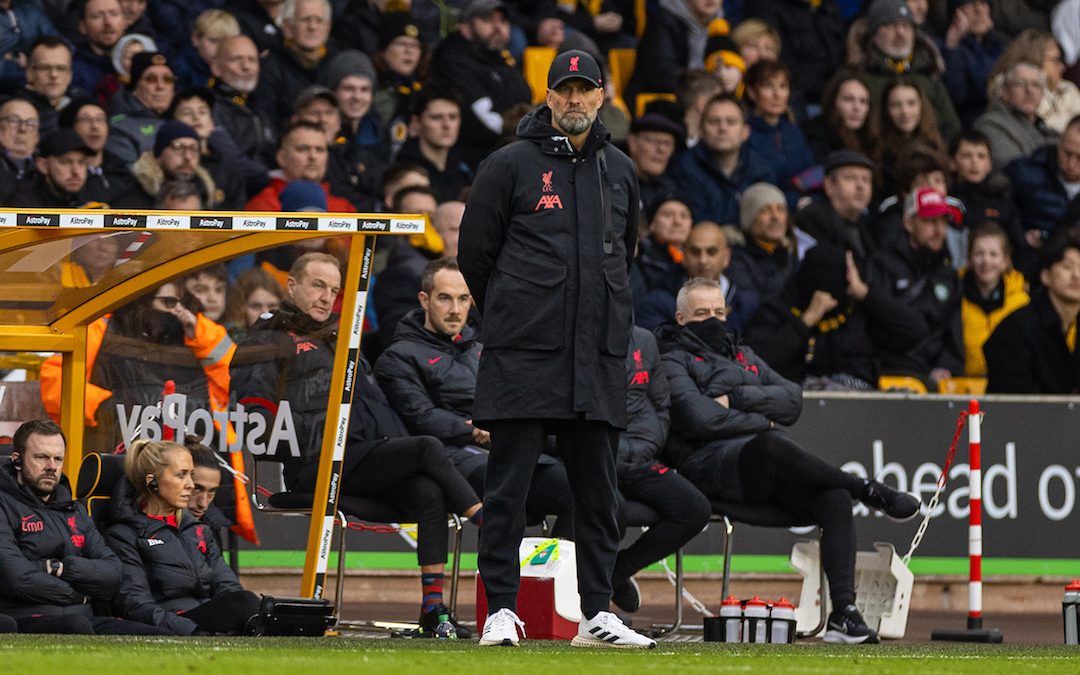 What's more, they look scared. Liverpool just look scared. Saturday was horrific. If you go a goal down in the first five minutes a good solution is to do all you can to get back into it. Liverpool have somehow forgotten how to do that and that shouldn't be. Everyone, support included, seems shellshocked.
I do try not to get angry but that's not always possible. I was hardly zen after Leeds and Nottingham Forest. Like Marsellus Wallace, I was pretty fucking far from OK, but Saturday just numbed the senses further.
And there's no obvious fix. We don't have a deus ex machina such as the return of a talisman, we don't have an owner capable of looking at an injury/age situation and bring in players in the way Manchester United did with Christian Eriksen's injury. We don't have much now that it's February. The manager can only work with what he's got and that's not much — hamstrung by an absentee landlord.
But what can he do? Ordinarily you'd look at the formation and try something new. Changes can give you a fillip, no matter how brief, before that too is found out.
In December 2014, Brendan Rodgers dropped his standard 4-3-3 and 4-4-2 diamond setup and took on an unfamiliar 3-4-3 after Basel had used that formation to beat us two months earlier. And, for a while, it worked. Liverpool lost just two games in the following 23. Then they lost four in the next seven. Other managers had worked the system out.
As mentioned on The Big Question show last week, Jürgen Klopp has slowly been weaning his Reds off the 4-3-3 diet and moving things around a bit. A higher Thiago here, two deeper holding midfielders there, but nothing has worked yet.
As highlighted in Mel Reddy's article, the problems seem to lie deeper. Key staff leaving without being replaced. The whole place seems in turmoil, particularly with the supposed buyout, be it complete or partial.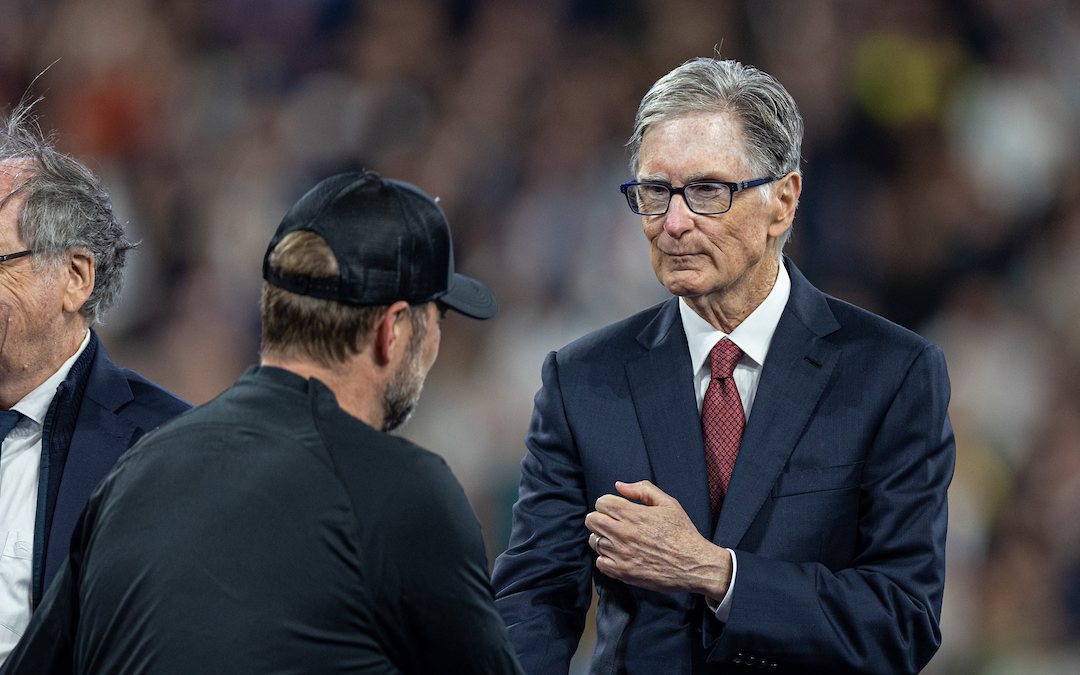 And it's the owners who should be coming out to explain this.
If you collaborate with a man who has brought your club every single honour (we'll win the Europa League next season), you don't leave him alone and hope he can do the same again without further help. Furthermore, they can't just write off a season just because it's got a bit hard now.
The quest for success should never end. We're greedy fans. We wanted a title and then we wanted a legacy and you can't build one of those by letting your squad age and hoping things just go your way.
The lack of transfer activity, Cody Gakpo aside, just spoke of giving up, of putting things to one side for a bit. You can't do that in this league and you can't do that with this support, not without significant collateral damage. You can't have a rest here.
I just wonder what they make of this in Boston. Do they have any concept of the sheer miracle that man and his squads have performed over the years? Do they think anyone can do that? I don't know.
Meanwhile, we're all in limbo. Sat around waiting for improvement.
My only worry is that Jürgen gets bored with all the back-biting, the diffuse fanbase, the criticism and the expectation and heads back to the beach.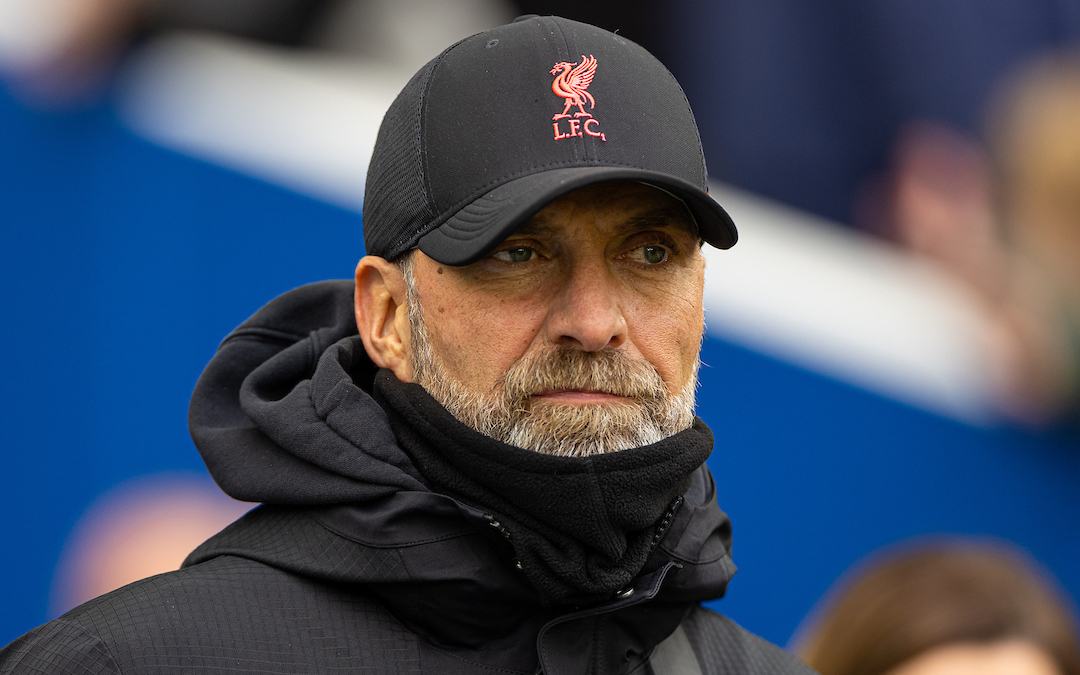 He's under fire at the moment as would every other Liverpool manager be in this position, but he deserves our unwavering support. You can still frown and sing his name. They're not mutually exclusive. Anyone who thinks there's a better option elsewhere needs their head testing.
Maybe it's a good thing that it's the derby next. Maybe it's good that they beat Arsenal as the New Manager Bounce (™) card has been played. A hard-fought 1-0 Liverpool win would make everything seem just a little bit better. I'd settle for that at the moment. Just something to build on. Just a clean sheet would be a start. Even just a first 10 minutes clean sheet is progress.
No, this has made me more sad than furious. I was angry with Ruddock, with Markovic, with Balotelli etc, because they were not good enough to wear the shirt. You can't level that against this squad as there are too many trophies and medals, too much credit in the bank. I've seen far worse than this and it's important not to be spoilt.
My biggest worry is this is more of an overhaul rather than fine tuning. That could take a while and it's harder when the people with the money seem to have giving up any interest. A nice new stand is one thing, but it needs a proper, refreshed and exciting team in front of it.
We go on. Despite it all we go on. Through a storm.
Sing.
---
Recent Posts: