Liverpool were there for the taking against Brighton and it's clear they're no longer feared, so what can they take away from the loss?
ONE of my favourite episodes of The Simpsons is the one where the new Radioactive Man movie is to be filmed in Springfield.
Bart auditions for the role of Radioactive Man's sidekick, Fallout Boy, but it's his best mate, Milhouse, who gets the role. The hero is played by the Schwarzenegger-esque Rainier Wolfcastle and in one scene he listens to the director explain that he's about to be tied up with a 40ft wall of acid heading his way. It's real acid so he wants everyone to put their goggles on.
'Real acid?'
Milhouse/Fallout Boy is supposed to save him, but the lad is having an existential crisis somewhere and misses his cue. Not to worry though as Wolfcastle fixes on his goggles and waits for them to do their work.
As the acid hits he shouts: "The goggles! They do nothing!"
It's one of my favourite lines in the whole series and the few frames of him looking unconcerned due to some cheap plastic never fails to have me roaring.
I've often felt the same way about The Reds when things aren't going well. We may have been abject against Leicester, battered by Brentford and got away with one in the cup, but I always have faith that things will right themselves.
After all, we are Liverpool and all that, and we have a history of overcoming the harshest of circumstances. We have a glorious manager and our lads have won everything. We have the goggles. The goggles will protect us.
It's been a long time since I've been angry at players. It's usually the owners, the manager or the referee which are the focus of my vented spleen, but Brighton brought back so many memories. Second to everything, no urge to right wrongs once we went one down, one corner and no sense of pride.
At 3-0 Brighton looked for a fourth. Our lads looked at the ref and hoped for mercy. All invincibility gone. Nothing.
I'd want to play Liverpool next.
I don't know what the answer is. I'm against us writing off the rest of the season, but it looks like that's been the strategy given the last few games.
And I hate slagging the players. Particularly those who have given us the world, but when I saw Trent Alexander-Arnold tweet about recognising that we're shite but things will improve, it made me madder. Don't tell me, show me!
But anger is the easy part. The pictures of Jürgen Klopp coming over and apologising with his hands clasped together in prayer took something out of me. He knows this is shite. He knows nothing is working. He knows that another formation didn't work.
I was on the Sunday Best show yesterday and the word 'rudderless' was used. It describes what's been going on on the pitch, but with the lack of resources and the frankly astonishing news that there'll likely be no additions this month, it can be used across the board. At time of writing, we don't even have a club doctor.
We're Liverpool but those goggles have a lot to do.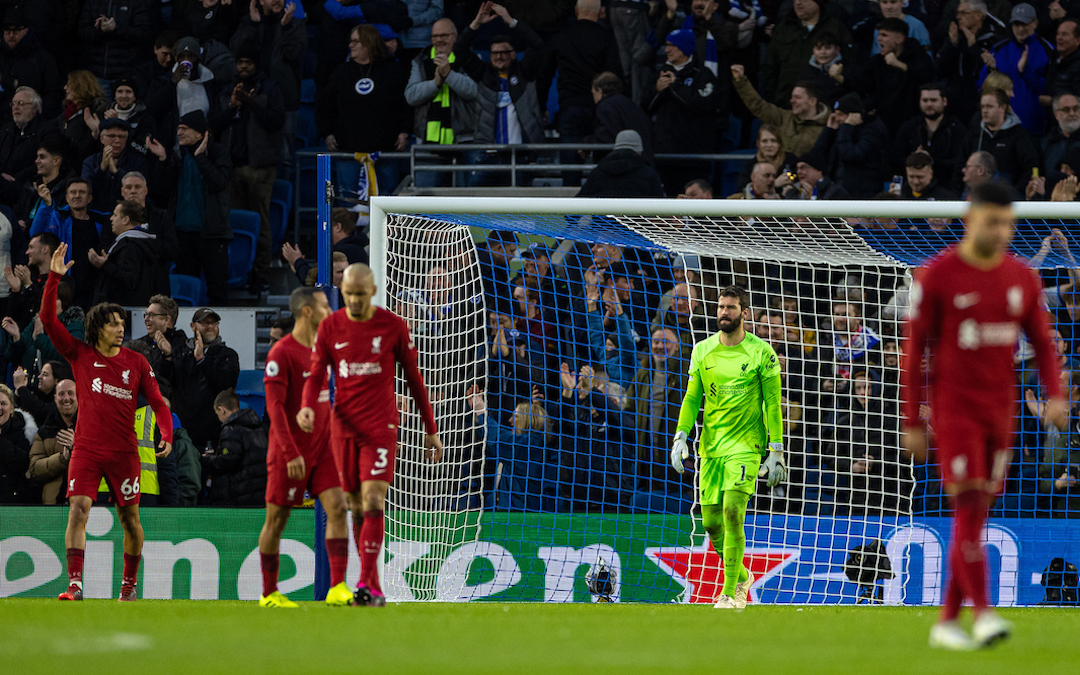 Surely, they know that this squad is exhausted and older. Surely, they know that injuries mean we can't play everyone. Surely, they know that Jürgen is going into 19 more gunfights armed with a butter knife.
'But we bought another forward.'
Great.
And, of course, money is an issue. In a post-pandemic world, I get that being risk averse or at least cautious is something we should all be, but you look at Brighton and their Caicedo/McAllister axis and wonder why we've not been looking at people like that.
Equally, I look at Chelsea and their half billion layout and wonder if I should get an agent.
But what is needed is a proper sit down and honest appraisal of what Saturday was about. Who's playing where? What was the plan? Why was there a lack of urgency? A forensic examination of Alex Oxlade-Chamberlain's header. That sort of thing.
The goggles. They do nothing. Reputations have stopped working. Our lines are too easily played through.
But we won the European Cup in 2005 with a side much, much worse than this and you start to wonder again. The Reds are truly abject and yet you still believe.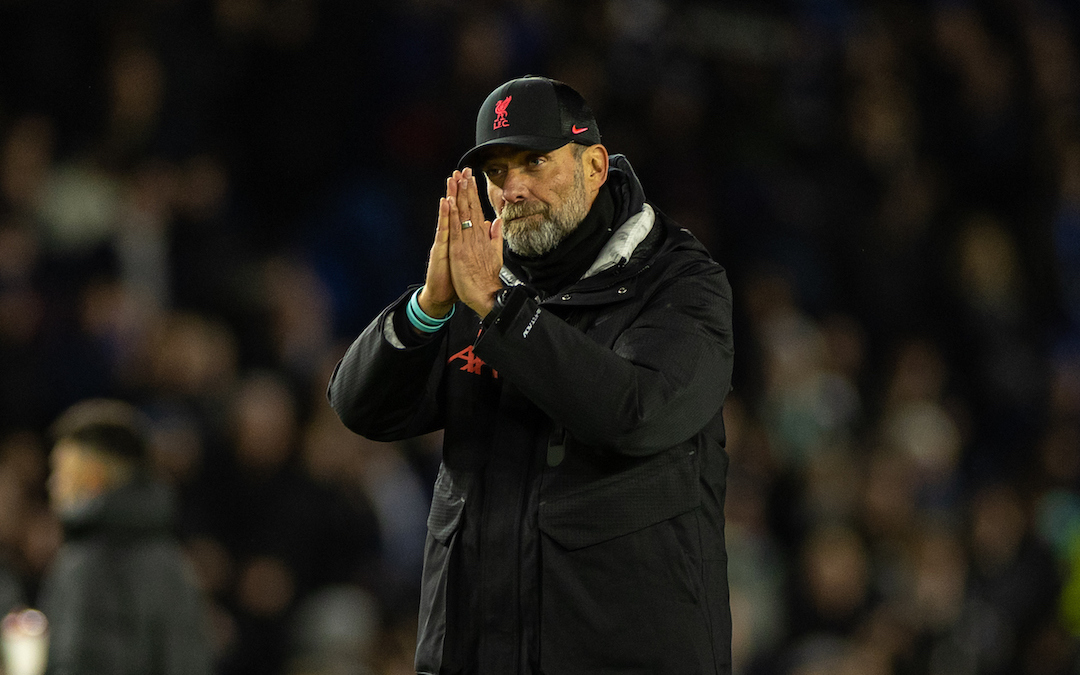 I don't even know what the first step would be. Signings are all well and good and though some would be nice, they can still take a while to settle in. I think I'd just like to see some urgency. Some care. A 0-0 with three Reds leaving the field with bloodied headbands may even be a start, just to show that we're digging in and fighting for each other rather than apologising.
But it's a start that's needed and if that's a quiet chat with everyone, or throwing boots at each other in an enclosed space, then fine. Feeling sorry for ourselves and making cow eyes to the bench when we're losing aren't going to help anyone.
Jürgen's right. The past is gone now. They did things differently there and we're playing in a new world which is no longer scared of us.
I hate the concept of Year Zero, but if we're going to write this season off there has to be a plan for next year. There has to be recruitment. There has to be promises made by the board. There has to be a strategy. There has to be a midfield. A new midfield.
And they need our backing. They're all hurting and in the cold light of day, when the shouting has been replaced with analysis or at least an attempt at one, one thing shines through. This is when we're needed. We all know that. You can't just stick around when we're throwing trophies into the sky. No runners and all that.
The goggles do nothing. The old formulas no longer work. If this is to be the starting point of Jürgen's Second Great Team then it'll somehow be worth it. The thing is, I said that after Napoli away.
Dig in, everyone. Dig in again.
---
Recent Posts: