There are many reasons why Liverpool haven't performed to their usual standard this season, but how much has last year played a part?
AT the 2012 Grand National, Sunnyhill Boy jumped an incredible clear round around the famous Aintree course.
His jockey Richie McLernon picked his way through the chaos of Beecher's Brook and Valentine's and the Chair, not once but twice. Sunnyhill Boy timed his run perfectly, hitting the front at The Elbow. By the time he hit the finishing post, the closest horse behind him was five lengths away.
There was only one problem. There was a horse in front of him. Barely in front of him. A nose in front of him actually. Sunnyhill Boy had been beaten out by Neptune Collonges in what was the closest run finish in the history of the Grand National.
Richie McLernon had ridden the perfect race, a Grand National winning ride in everything but name. Sunnyhill Boy had basically won the Grand National, except for the cloying, obvious, glaring problem that he hadn't.
How do you move on from coming closer to winning the Grand National than anyone in history who hadn't actually won the thing?
In Sunnyhill Boy's case, it wasn't necessarily distinguished. He muddled around, finishing fifth here, being pulled up there, before coming back for another crack at the National a year on. Only this time, a year after the race of his life, Sunnyhill Boy unceremoniously parted company with Richie McLernon at the last fence while a long way out of contention.
There would be one last good day, a win in December 2013 but, after more than a year off the track, Sunnyhill Boy retired with a 10th place finish in a handicap hurdle in Haydock. Far from the bright lights, far from the headlines, forever a nose away from immortality.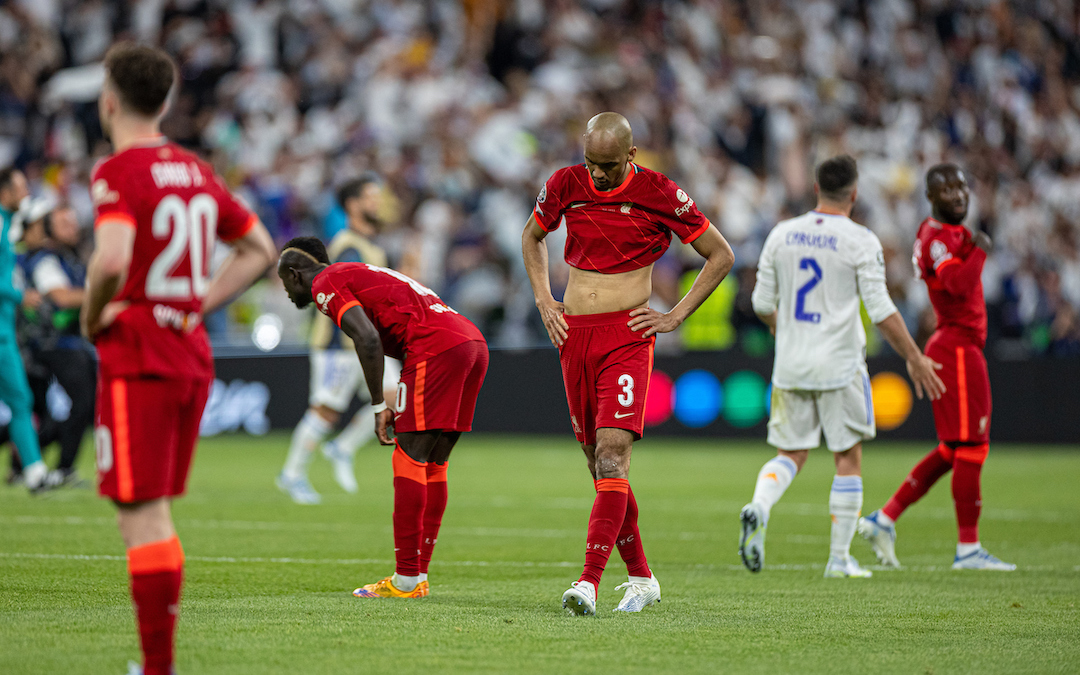 The 2021-22 season was Liverpool's 2012 Grand National. Closer than any team in history to a quadruple, they played literally every single minute of every game they possibly could have. And they missed out by a nose.
Maybe we underestimated the impact of that. Of having done the thing, done everything, completed football, only to be jolted awake from our dreams to realise that no, not actually, not quite. Just a nose away. And there's a growing sense that we're seeing the impact of that writ large across this season.
Not just that, obviously. There have been injuries. There has been a new system to bed in, and then another.
But it seems deeper than any of that. It seems more deep seated than disruptions caused by injury or teething problems of a team in transition.
There's been a depreciation in attitude, a drop in intensity, a deficit of calm heads and reasoned decision making. It appears, for the first time since he became Liverpool manager, to have impacted even Jürgen Klopp.
Over the course of the last few weeks, Klopp has mentioned for the first time the potential negative impact of last season, of trying to go again after such a near miss, Sissyphus back at the bottom of the mountain, the rock no closer to the top.
The manager has also raised the possibility that they got preseason wrong ahead of this season, and suggested if he could have the time back, he would.
Under a manager without a ludicrous amount of credit in the bank like Klopp, there have been four or five different displays this season which may have called into question the viability of the entire enterprise. The nadir of, say, Brendan Rodgers' reign was obviously lower than anything Klopp has experienced, but the endgame under Rodgers didn't feel or look any worse than what we've seen this season.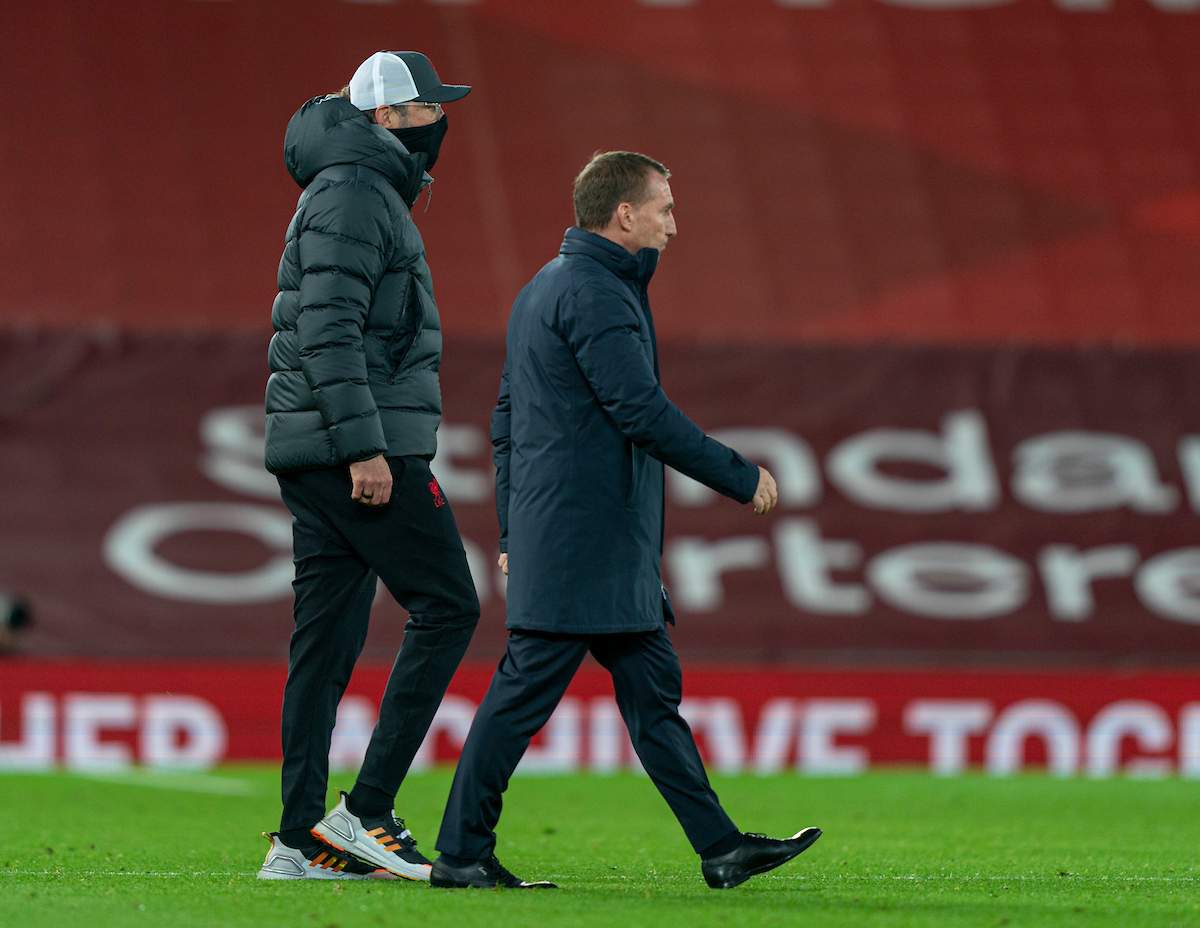 Again, let me be totally clear, I'm not saying any of that to suggest Klopp should be shown the door. But rather, to highlight the extent of the hole the entire club currently finds itself.
The familiar and entirely understandable retort from fans to this season's struggles has been to plead for midfield reinforcements. But Liverpool are in a position now where there is no silver bullet, no fix all panacea to their ills.
Jude Bellingham, Enzo Fernandez and Moises Caicedo could stride in the door of the AXA Centre next week and it would be like Troy Barnes in Community, returning to his apartment to find the place on fire and someone having been shot in the leg.
There are no short-term, quick fixes because a lot of the issues are now medium to long-term problems. What fundamentally must happen over what remains of this season and the summer that follows are for the people in charge to find medium to long-term solutions.
There needs to be vision and imagination now, no more Arthur Melos or Ben Davies or Ozan Kabaks. And that goes beyond the transfer dealings. The uncertainty over Julian Ward's replacement, the upheaval around the partial or full FSG sale, the transfer of power from Mike Gordon to Billy Hogan; all require satisfactory conclusions that give the club a long-term platform of certainty to work from.
Sunnyhill Boy ran a near-perfect Grand National once. Liverpool have done the equivalent three times under Klopp, and have won every trophy possible.
If they are to make another fist of it, if they're to push the rock up the mountain, what happens in the next six months will be vital.
---
Recent Posts: