As the search for an answer to Liverpool's poor run of form goes on, Jürgen Klopp continues to show a willingness to experiment with his team…
DEADLINE day, then.
Let's face it, there's been more exciting ones in the life of a Liverpool fan. Remember Fernando Torres out, Andy Carroll and Luis Suarez in? That was fun, wasn't it?
Alas, Jürgen Klopp swiftly shut the door on any potential last-minute moves for a midfielder, and it was confirmed that the search for answers will not be taken externally. So, once again we're left to look internally for solutions.
Looking internally has been the theme of the season, but it's not been an easy task considering the injury list that seems to get longer with every passing week.
As I write, it has been confirmed that Ibrahima Konate is out for a few weeks with a hamstring problem. The sighs in the office were palpable. That's the defence and attack both decimated by injuries, and a midfield of players out of form.
Whether it's the players and staff at the training ground, our contributors in the studio, or the millions of fans watching the games across the world, we're all desperately looking for answers. So, what next?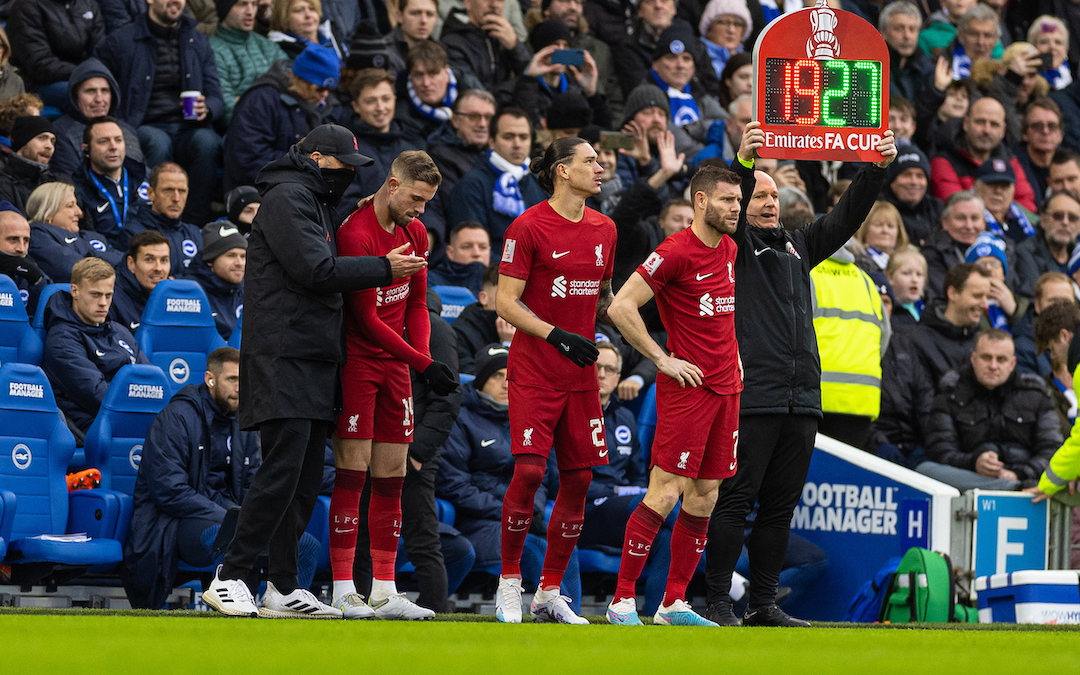 Flashbacks of the 2020-21 season are at the forefront of the mind, and lessons about dragging players out of position to fill a void were most definitely learnt. That kind of experimentation won't be relied upon this season, but instead tweaks in personnel and seeing what sticks seems to be the manager's way forward.
This is particularly true in the midfield, where the form of previously reliable players has taken a downturn.
The decision to start 18-year-old Stefan Bajcetic in favour of Fabinho in recent games is testament to that, and is a decision that has been vindicated. Being thrown into a team out of form and not able to pull together a result is difficult, but the aggression and fight that Bajcetic has shown has been a small shining light.
With the captain Jordan Henderson being dropped to the bench and Trent Alexander-Arnold being dragged off against Brighton on Sunday, it is clear the manager is trying to send a message that no one's position is safe or guaranteed. Naby Keita has been the midfielder of choice alongside Thiago Alcantara in an attempt to provide mental as much as physical freshness.
Alongside a shift in personnel in the middle of the park, experimentation with formation goes on. Sunday saw a 4-2-3-1 (image below), with Cody Gakpo leading the forward line, Keita dropping further back alongside Bajcetic and Thiago playing closer towards the forward line to feed the ball in.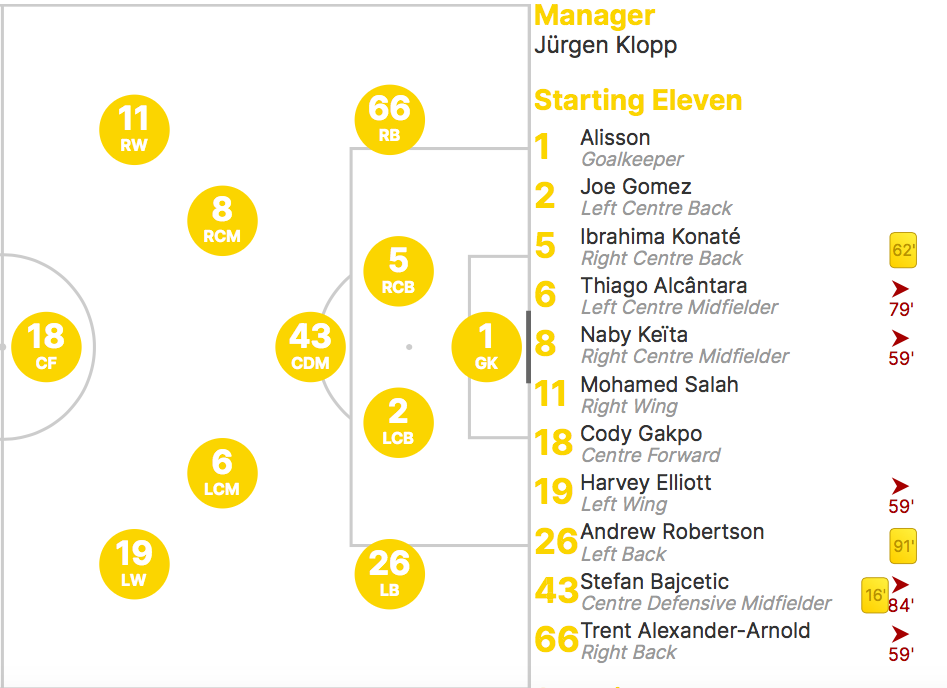 This was coupled with a change in tactical approach: the first line of the press sat off. If you think back to our 1-0 win against Manchester City in October, it was sitting off the press that allowed us to be quicker on the counter and less susceptible to the opposition's fast, possession style of football.
We went on to revert to trying to play a high press in subsequent games, with the image below showing the high intensity of the press in the opposition's half.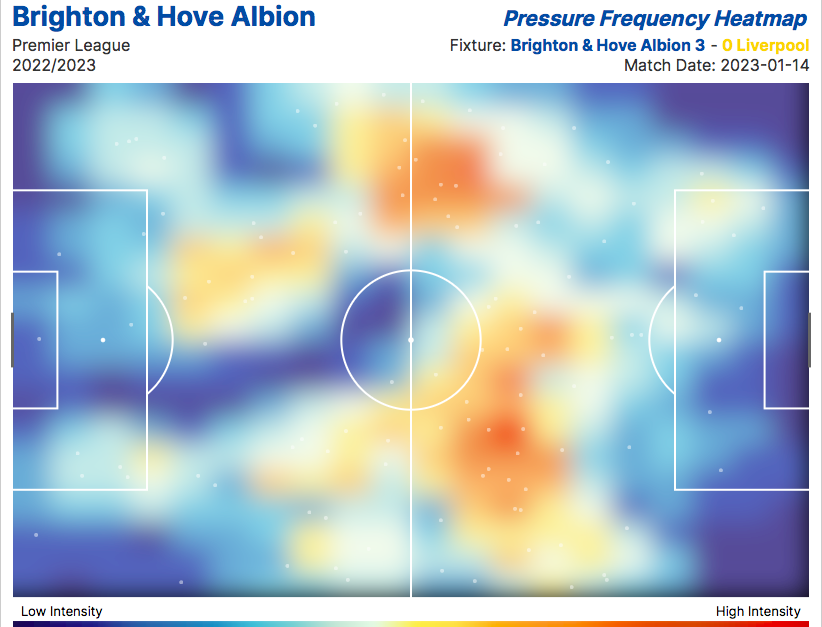 At the weekend, the wide players in particular were encouraged to be more selective and clever about when to go and when to hold back, resulting in less gaps to play through when Brighton tried to break quickly.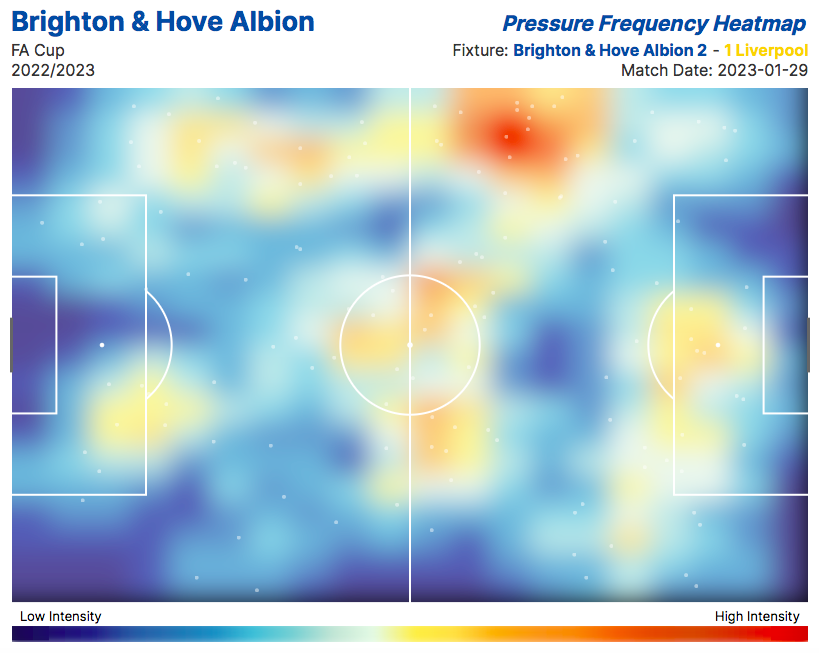 It's difficult to pick out positives when results are still poor, but this changed midfield and tweaked formation was more compact and difficult to play through, evidenced by the fact that they haven't conceded from open play in three games. Defending set pieces is still clearly an area that needs to be addressed, though.
In the forward line, it's been the decision to draw on the versatility of the players Klopp has available that has provided mixed results.
With many of the attacking players' best position being on the left, it's interesting that Harvey Elliott has been played on that side more than once. While the link-up play between Gakpo and Mo Salah has improved, playing Gakpo as a standalone striker doesn't seem to have unlocked his potential just yet.
Whether this comes down to the novelty of playing together or whether it's just not quite right will remain to be seen, but I'd like to see Darwin Nunez get his spot back for a few games with Gakpo on the left of him.
A lack of confidence, belief and perhaps even trust in each other is clearly having a tangible impact on performances, and there is a danger of too much experimentation and change becoming unsettling.
The best way to turn that around, though, is simply to start winning games again. And so the search for answers continues…
---
Recent Posts: