Though the 'expensive flop' narrative continues to follow Darwin Nunez at Liverpool, Reds won't worry about the Uruguayan just yet…
THINGS didn't start well for Ian Rush.
When the Welsh legend was initially approached by Liverpool in 1980, he was reluctant to make the move from Third Division Chester City. He was happy there and didn't see how such a huge club could be interested in giving him first team football when they already had David Johnson and Kenny Dalglish.
Bob Paisley persuaded him to join with the promise that he could always go back if it didn't work out.
Spoiler: It worked out.
He started off in the reserves and finally made his debut in a 1-1 draw against Ipswich Town. Rush didn't score in that game or in any of his next six.
On Friday night, Darwin Nunez hit the post in the closing minutes of the first half. We all know what happened next, but the Uruguayan's role was lost in the Wout Faes story. His chip over the onrushing Danny Ward pretty much made the goal. You'd think that that would be seen as a worthwhile and significant contribution. Liverpool won the game thanks to that chip.
Barely an hour after the Leicester City game, the BBC ran a headlining story about Darwin and whether his lack of goals and assists made him an £85m flop. The result itself was already old news. It was time to look at Darwin Nunez and make that the first headline on the website.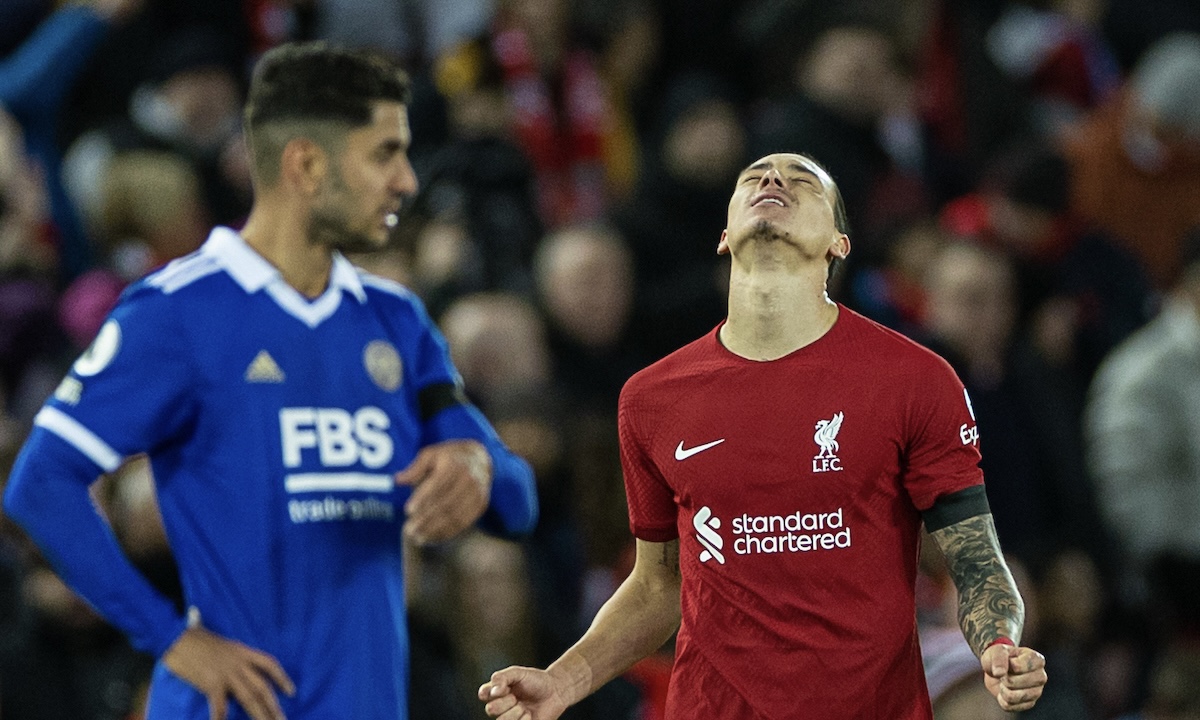 The stats then. He's appeared 21 times in all competitions and scored nine goals.
If that's the sort of start that interests the BBC, they would have loved the 1980 Ian Rush.
Obviously, no one is comparing the two players but it speaks volumes that so many are quick to judge and condemn a player who's only been here for four months. What makes it baffling is that the story on Friday night was clearly about the poor lad who had won us the game and that, as shocking as we were, The Reds have now won four on the bounce.
'Liverpool near Top Four'? Nah. Let's look at £64m plus add-ons.
To be fair, the writer was simply echoing what many were saying on social media. Darwin isn't Mo Salah, but he's not the Fernando Torres of Chelsea either.
No one is saying Darwin Nunez is perfect. I doubt even he is and he strikes me as a man who doesn't want for confidence. I've shouted at him as much as cheered him — the headbutt, the lack of square ball to Mo to box off the Manchester City game etc — but it's clear he has something and will have even more coming once he's been adequately Jürgen Klopp-ed.
This is an age where judgments are immediate, where appraisals are held at the end of every game.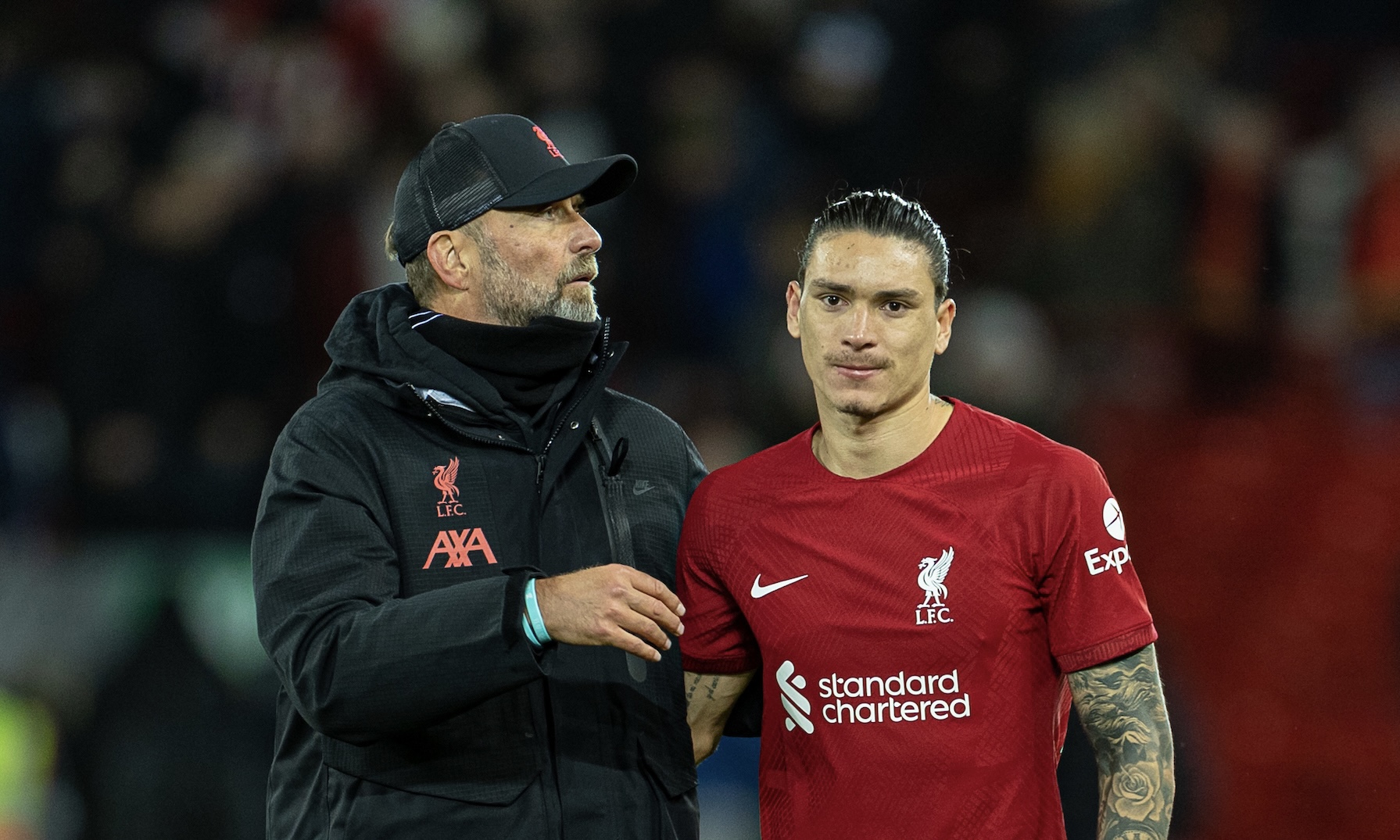 There was a TAW contributor a while ago who said that Jonjo Shelvey could be a great Liverpool player, but they didn't want him to make mistakes and learn from them in games where we're trying to win trophies. That's what the reserves and training matches are for.
I understand that argument, though it hints that Jonjo wouldn't improve enough to be worth the risk. I don't think anyone thinks that this is Darwin Nunez's ceiling. He's already lifting his head and passing more than he did in his early weeks.
If there's one issue it's his instinct. The goals he's scored have mostly been from a quick header or early shot. He's less successful when his options are increased. Not for him, the classic sprint and one-on-one finish like Salah. Darwin likes to hit early in the same way Robbie Fowler did.
That's not necessarily a criticism. Nine goals in 21 games is hardly a poor start and to have someone who can catch defences by surprise is always a bonus. That's where the chaos comes in. The 'has he really tried that?' moment. The absolute entertainment.
Great decision making doesn't always come with youth. That takes time and arrives with maturity. Until then we'll have to make do with him streaking past full backs and getting arses off seats as he does so.
With every game he's linking up with Mo more and more. He's also becoming more of a team player, tracking back a lot more now.
He's not the finished article, but it's rare that finished articles arrive and settle in straight away. He's playing in a different country, in a better league and against defenders who know how to wind him up. If he was still without a goal I could understand if there was the odd raised eyebrow. Nine before New Year isn't bad at all.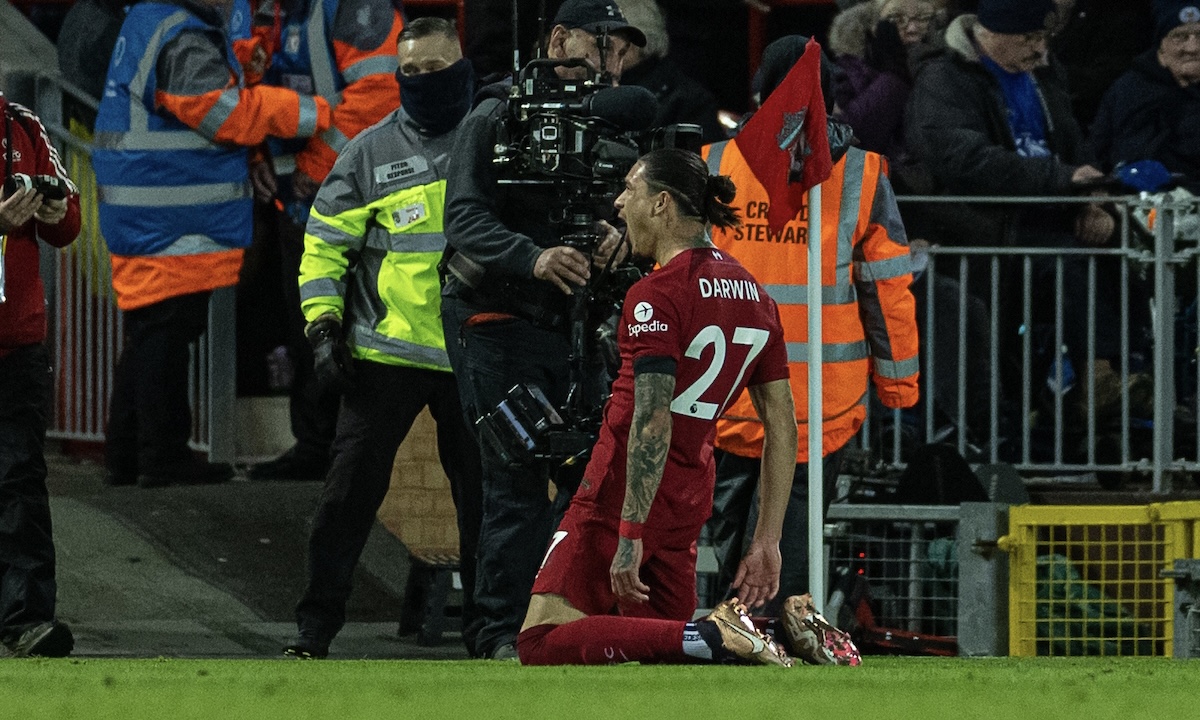 I wonder if this craving for criticism is part of the Erling Haaland factor. The same kneejerk journalism is already talking about Dixie Dean and scoring three figures by May. Daniel Storey in 'the i' newspaper quite reasonably notes that the Norwegian has 21 Premier League goals from 59 shots where Darwin has five from seven fewer. Darwin tends to shoot from further out, incidentally.
Daniel sees this going one of three ways — that he'll score loads once he's settled in, that Jürgen will get bored of his occasional haphazard finishing or that he'll be more selective when he's in a good position.
I don't think he'll do the latter. Not yet anyway. That instinct thing again. Nor do I think his manager will get sick of his wild shots and bench him. Only this week he's thanked the crowd for singing his name when things aren't going to plan.
You can't compare him to Erling Haaland. Erling Haaland is generationally gifted. You can't compare him to Jack Grealish either. He's a different type of player who just happens to cost an absolute bomb too.
And I'm not comparing him to Ian Rush, but it's worth remembering that coaching and time made him Liverpool's greatest goal scorer. Coaching and time will help him, but he's hardly, say, Jozy Altidore (two in 62) as things stand.
There's always room for improvement and he's in the best place for that.
---
"When you're in the ground and watch what Nunez does to defenders, he terrifies the life out of them. He's just a constant menace and has created 2 goals in the last 2 games."

🗣 The Anfield Wrap

🎧 Listen 👉 https://t.co/UNdnwfrLD7
📺 Watch 👉 https://t.co/SC5IzGzLNX pic.twitter.com/qLTlA1lhnm

— The Anfield Wrap (@TheAnfieldWrap) January 2, 2023
Recent Posts: