Cody Gakpo has suffered coming into a Liverpool side lacking in confidence, but what do the stats say about his start to life at Anfield?
A LITTLE over a month ago, Cody Gakpo was basking in sunshine.
He'd just returned from a successful yet bittersweet World Cup with the Netherlands, he was enjoying another milestone season captaining PSV Eindhoven and was on the verge of joining one of the world's biggest clubs.
He went from the desert heat of Qatar to walking through a Merseyside storm in a heartbeat, battling the various logistical hurdles people don't acknowledge when a player moves country for the first time.
But you're required to fall straight in with the rhythm and flow. To settle straightaway, because by God the Barclays waits for no supporter in the real or virtual sphere.
Indeed, if Gakpo wanted to relive the warmth of the Qatari winter sun, he could log on to the raging inferno that is currently LFC Twitter.
As it is, we're all left in a perpetual state of winter: craving what is gone. Washing away the taste.
He had already registered 13 goals and 17 assists for Eindhoven this season prior to his move to The Reds. An ideal situation would have seen him blood into a performing and fit squad with time to study the methods of a Jürgen Klopp team.
As it is, he has started all four of Liverpool's matches since arriving in England, one of which has now been crowned the club's worst ever performance under Klopp at Brighton earlier this month.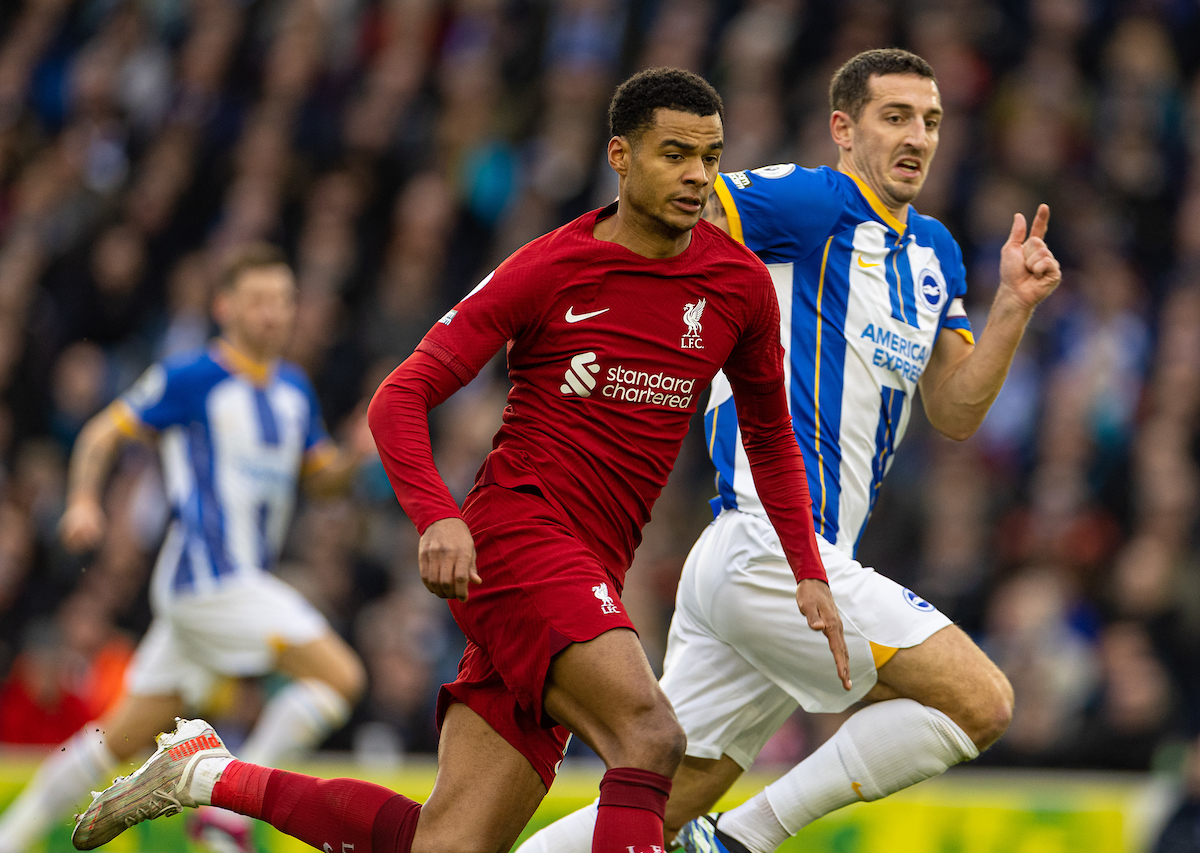 How much we're helping or hindering Gakpo right now is a debate being had across the board. The thing which is beyond any doubt is that Liverpool simply don't have any other choice but to play him.
The manager clearly wants to move away from Alex Oxlade-Chamberlain and is increasingly reluctant to turn to Fabio Carvalho and Harvey Elliott in forward positions if he can help it.
That currently leaves Gakpo, Darwin Nunez and Mohamed Salah. We know where one plays, but the best position of the other two is a conversation that perhaps in time will be a luxury.
I like Nunez left, personally, but only if a player like Roberto Firmino is on the pitch who can drop in and make the Uruguayan and Salah look like a front two operating wider than convention tells us they should.
We shouldn't expect Gakpo, or anyone for that matter, to resemble Firmino. He himself might not agree that's where he operates best.
There's also the question of what we do with Luiz Diaz and Diogo Jota when they return. Not to mention that Klopp has intimated more than once that he'd like Firmino to stay.
For now, it's learning by doing. He has been thrust into a chaotic setup which is firefighting its way through games.
Quietly, Gakpo has actually impressed and his numbers more so.
According to Statsbomb, he managed seven shots versus Chelsea last weekend in a match you can barely remember one. He also completed the most pressures for Liverpool with 26.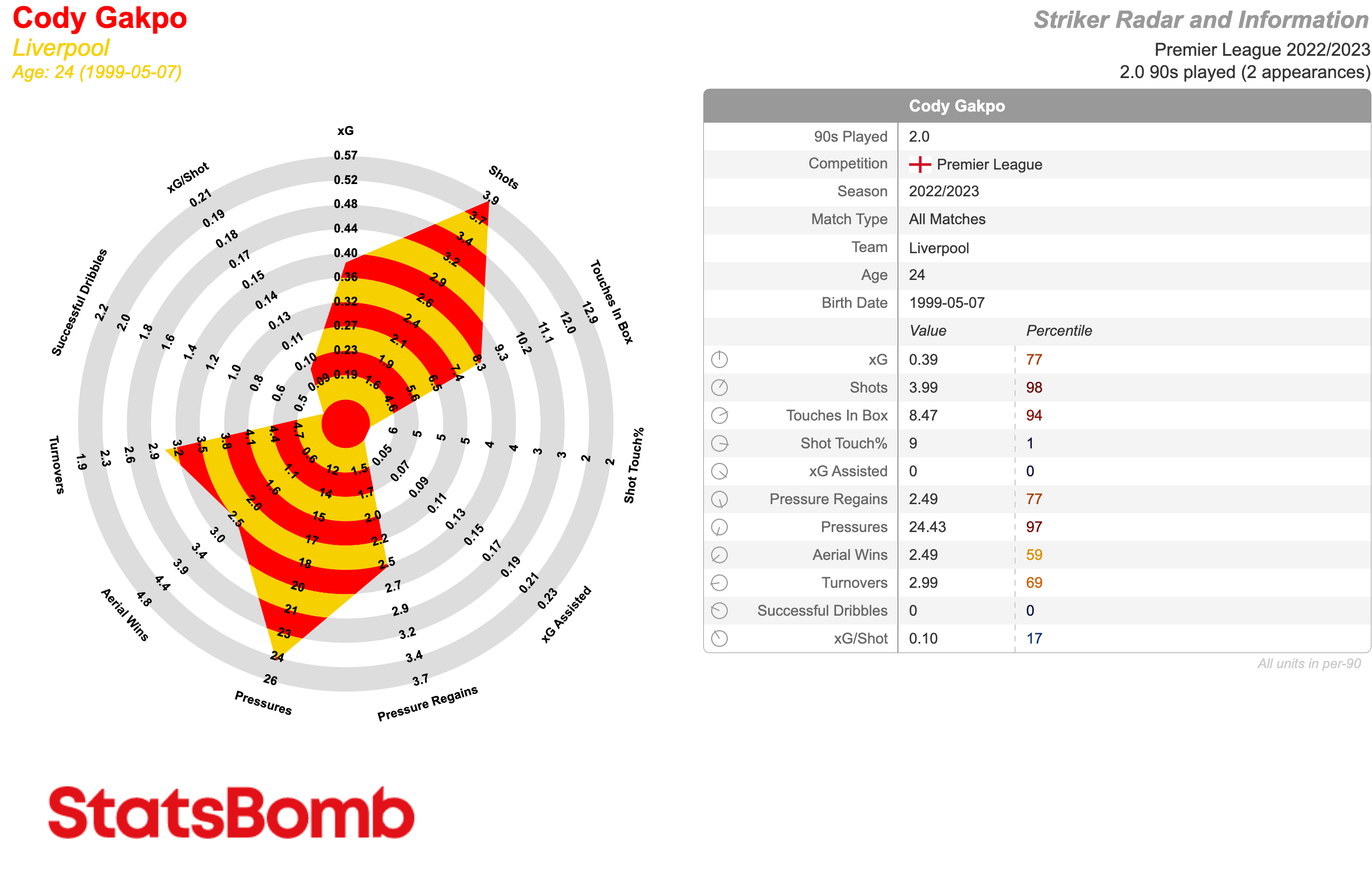 Against Wolves the match before, he had Liverpool's best On Ball Value for passes. He's also averaged 2.33 shots and 2.33 pressure regains per 90 on FA Cup data.
But this is probably the hardest situation a forward joined in January has entered since I can remember.
If you go all the way back to 2001, from Jari Litmanen and Nicolas Anelka to Diaz in the modern day, most have walked into teams with momentum and something to aim for.
The exceptions might be Luis Suarez, Daniel Sturridge and Philippe Coutinho. But they were all at the beginning of a Kenny Dalglish and Brendan Rodgers tenure which, while uncertain, was spiked with a sense of excitement and unpredictability.
You remember the 5-2 win over Fulham in May 2011, or the 6-0 demolition of Newcastle in April 2013 as days when you got to see what new players could bring, even in times of general relative struggle compared to Liverpool standards.
The stillwaters and green shoots could still be some way off for this campaign. Gakpo may need the summer to wake to know we've emerged from the depths of a lonely winter.
There's plenty of hope and light in a footballer currently battling the elements. It's cold and miserable right now, but seasons change, and I've tried hard just to soften you.
Liverpool always shows its beauty eventually.
---
"Cody Gakpo was a bit of an experiment in that central role. You can't totally judge of one game, but it was clear to me that you weren't getting the best out him."

🎥 The Second Look

1️⃣ Download our app
2️⃣ Enjoy FREE tokens
3️⃣ Access this video

📱👉https://t.co/eNpQIJSgGi👈📱 pic.twitter.com/tDpdXhh9Hg

— The Anfield Wrap (@TheAnfieldWrap) January 24, 2023
Recent Posts: