Liverpool have had their fair share of roller coaster centre halves on the books, but it was Ibrahima Konate's composure that they craved…
IMAGINE this…
You're a central defender and your new club only plays two of those. Actually, make that one as one of your new teammates happens to be the best in the world in that position.
The lads vying for the remaining place consist of an England international, a Champions League winner (he set up the winning goal there too) and a younger, mainly untested lad who got them into next year's group stages and deserves a bit of loyalty.
Then they all shake your hand when you turn up with your medical certificates, slides and washbag.
It must be daunting to show up at a new club for your first day. To pass through the doors of reception and give your name to the person behind the desk, before meeting your future.
"Hello. I cost an extraordinary amount of money and I'm bricking it as I'm about to be judged by everyone. Can you tell the manager I'm here?"
It must be worse if you're from another country. Even with a smattering of the language you'd think you can answer questions at a press conference with what you have, but there'll always be the worry that you've inadvertently offended half the planet with a misstep.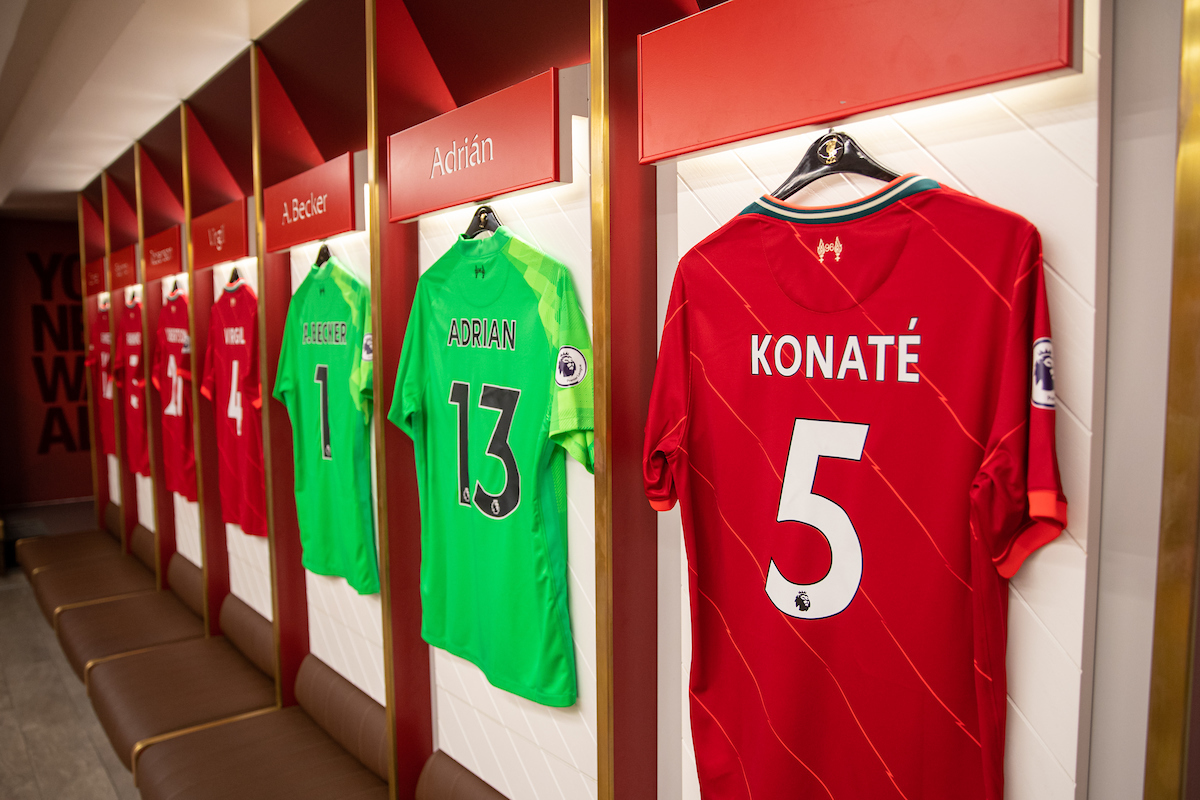 And that's just the easy part. Then you've got to play your way in. That first session with your new teammates must be harrowing.
In his autobiography, Jamie Carragher said that they knew El-Hadji Diouf was garbage 30 seconds into his first visit to Melwood. Jamie had a point.
It must be even harder still if you're joining the Club World Champions. For all the cameras, high fives and hugs it must be scary as hell.
And, in the same way, every player has been the best player at school, county and local level from about the age of six before they realise that they've lowered into par once they've reached Anfield, almost every player has had a first day like that.
Some arrive well, some overdo the confidence while others shrink altogether.
Let's look at Ibrahima Konate.
Ibou played 29 games for The Reds last year and knocked in three goals. His second ever game was the 5-0 win at Old Trafford which isn't the worst start to have. I'd say he settled in quite quickly. His first day must have been a breeze.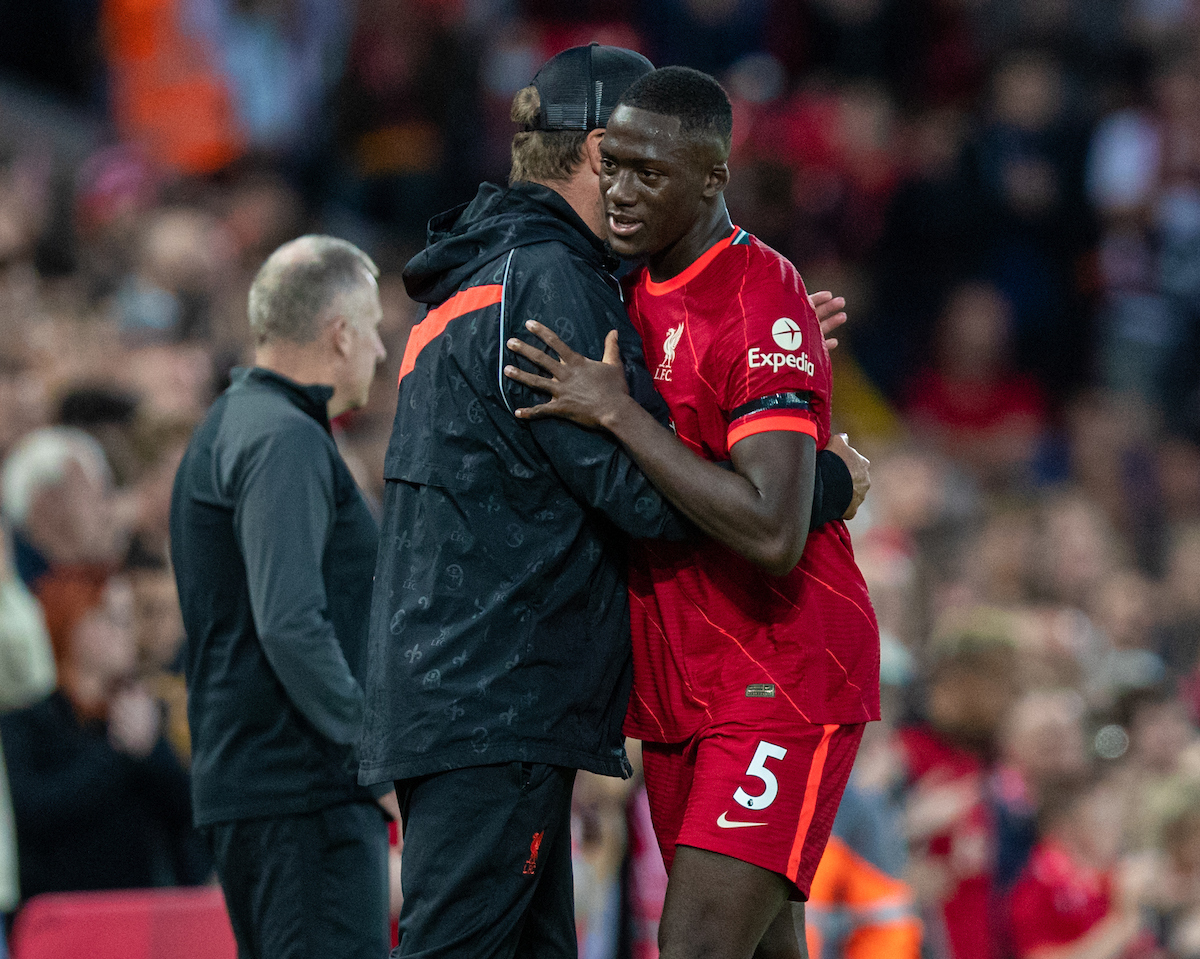 Scoring in an FA Cup semi-final didn't hurt either.
Garth Crooks, the breathless pundit who can only speak in three-word salvos of hyperbole, described him as 'no thrills or frills,' but that's why many of us like him. We all prefer centre halves who aren't going to give us kittens when the ball comes towards them. We want a defender who can defend.
He's only started three games for Liverpool this season, against Ajax, Rangers and Spurs. Injuries and a preference to Joe Gomez have hindered the Frenchman but, at time of writing, he is the only Liverpool player left at the World Cup.
And he's enjoying the tournament. He made more tackles than any other player in Group D and didn't commit a single foul.
That's hardly news to anyone who's seen him play regularly. He's the very model of a measured defender who reads the game brilliantly and, though at present the manager seems to prefer Joel and Joe as Virgil's partner, at 23 Ibou looks like he'll have a long career here.
He's already stated that he'd like to play here for the duration of his playing days. Though I suppose they all say that. Maybe even El-Hadji.
His manager told him that his life would change once he arrived here and though he was overwhelmed at two trophies and a Champions League final, it was the trophy parade which really made him believe he'd joined something special.
"At the end when we arrived in the city, I was really not ready for that. Oh my God. I will never forget this moment. (It was) one of the best days of my life because how you can do that; in my head I imagined if we'd won the Champions League!'
Some players would shrink at that level of energy — I always thought that Taki Minamino was a bit overawed at it — but Ibou seems to be as calm about it as he looks.
I hope he gets onto the pitch on Wednesday and though we all tend to favour the underdogs in these things, I'd like a Liverpool player to be a World Cup winner. That's got nothing to do with my having France at 7/1 before the tournament. Nothing at all. How dare you.
Of course, we've had World Cup winners and finalists here before, going back to the days of Sir Roger Hunt, but this current side deserves someone who's gone to the biggest stage. Thank God it can't be Dejan Lovren.
Virgil and Joel are 31 years old now and though it's easier for defenders to play into their mid-30s. Jürgen Klopp must see Konate as the future. He's already fit right in since he arrived from Leipzig and won trophies which is as good a start as any. The biggest one of all would give us all a lift.
With apologies to Moroccan, Argentinian and Croatian Reds, obviously.
Allez les Bleus.
---
Recent Posts: