Mo Salah is on the cusp of Kenny Dalglish's all-time Liverpool goalscoring record, and he can be as important to this generation of Reds…
I WAS eight years old when Liverpool signed Kenny Dalglish in the summer of 1977.
It was a fraught time for me. My family had just moved from Norris Green to Croxteth and I, never keen on change to this day, had left mates in one part of L11 to be greeted with none a mile or so to the north. I saw the 1977 and 1978 European Cup finals in different living rooms.
Furthermore, a hero had just left my club.
I adored Kevin Keegan. Everything from his 70s trefoil hairdo to his deep chin groove. He was small like me so he was the striker I wanted to be in the street when kicking a long since deflated ball at Colin Richardson's garden wall over the road. We had hedges so that was no good.
Now he too had gone and left me to a blond Glaswegian who was supposed to replace him. As if he could.
And, of course, he did. I loved Kev but I didn't realise that he was merely Rosalind, the girl Romeo knocked around with before Juliet showed up.
Then I saw his face. Now I'm a believer. All done by Christmas 1977.
Kenny Dalglish was the second Godfather film to the first one — something which shouldn't even be close to rivalling the glory that came before yet somehow managing to do it. Over time Kevin Keegan became England's striker rather than Liverpool's in my heart and Kenny, along with Ray Kennedy, was my man.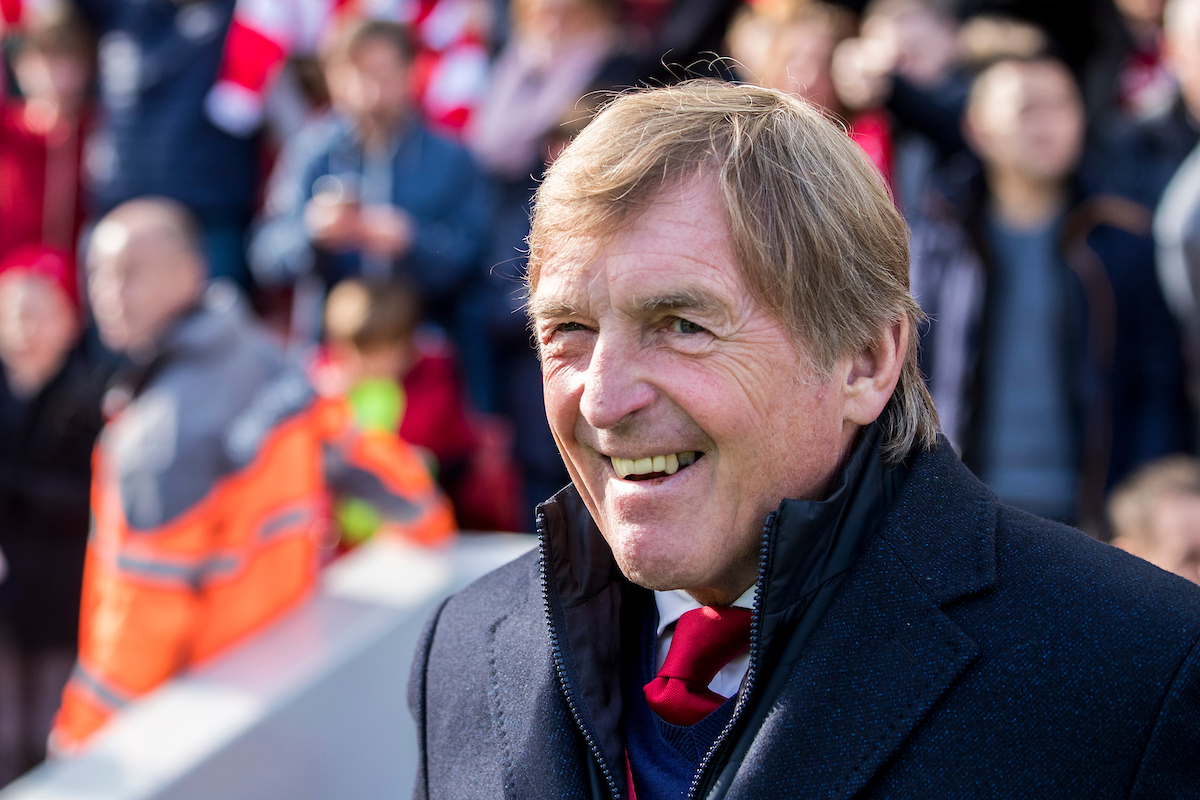 Kenny, along with Ronnie Moran, is still the bastion of what Liverpool is for me. Glorious and grumpy, humorous and humble, affable and argumentative, his genius lay in the casual acceptance of his abilities. That and the big smile whenever he's done something great. And he did something great a lot.
The 172 goals in 515 Liverpool appearances helped too, though they're just numbers. His influence on the club and his part in the transformation of Ian Rush alone are too huge for figures, but 172 goals here and 173 for Celtic tell a tale about his love of a goal.
But he's just my hero. Well, one of them. Liverpool fans deserve another one for this age.
Mo Salah currently sits on 170 goals. Mo Salah has played just 274 games. The Egyptian King is just two goals behind *the* King having played 241 fewer games. I mean, that's insane.
Mo is about to become Liverpool's seventh all-time goalscorer. By the time we can go to the match without a coat, he could go fifth, surpassing Steven Gerrard who knocked 186 goals. He already has four more league goals than Steven.
It's easy to overlook that achievement. You could say that he has a better team around him. You could say that he takes the penalties and you could say that we're set up to support him, but that isn't always the case.
For a start, he's no Shearer or Kane. He doesn't play as a classic number nine. He plays wide right and comes inside. He's also spent most of his Anfield career with two other lads who have a century each. Not everything goes through him.
And you think you'll never see your heroes surpassed. I never thought I'd see another Kenny. I didn't expect Gerrard, had no idea that Torres would capture our hearts to the extent he did. I always thought that Suarez's time here would be short-lived, but never dreamed for a second that the lad who was average at Chelsea would be staring down Billy Liddell's record at the top of the goalscoring charts.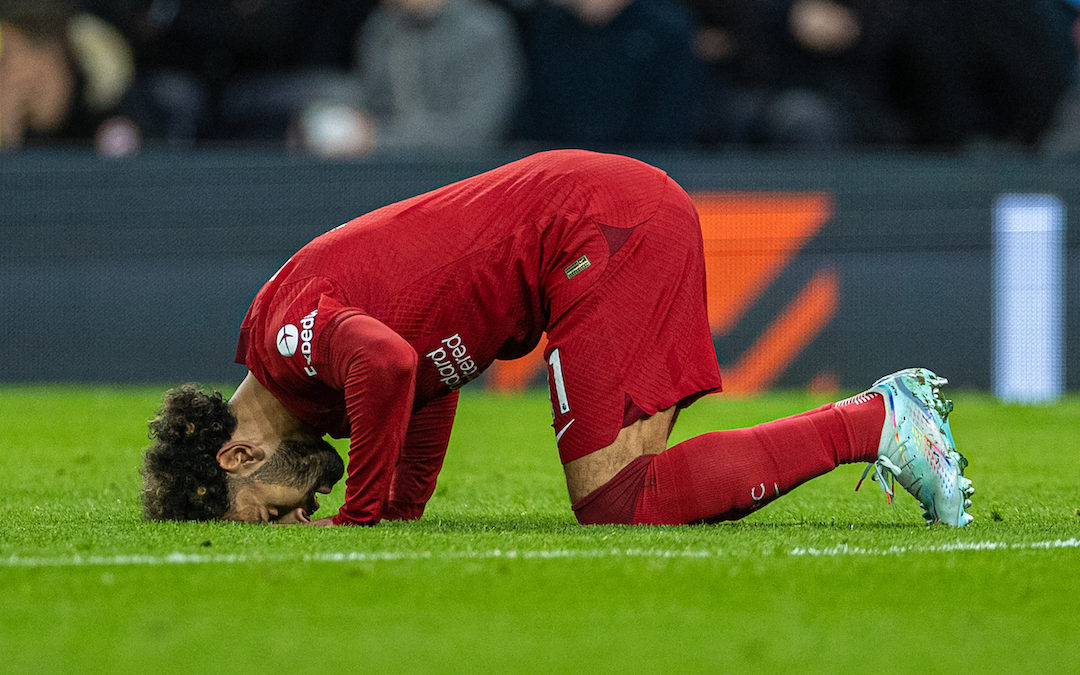 It's like supposing that Darwin Nunez will beat Rushie's record one day. Maybe he will. I'd love to see him do it.
And for all that, he's still dismissed by many. The diving allegations, the selfishness accusations, the ludicrous 'he's not arsed now he's got his new contract' thing. He'll never get the plaudits Harry Kane gets (a fantastic goal yesterday, incidentally, he's a hell of a player), but that could be because he plays for us and not for England. I suppose the English media will always celebrate an English player more.
It's fitting that he's so close to Kenny's numbers now as there are definite similarities. Like Mo, Kenny played off the penalty box striker, doing much of his work around the margins rather than amid the action. And he creates as much as he scores. His work rate is phenomenal. He ran Spurs ragged for periods in that game. Eric Dier must be sick of him.
This has been a weird season. The Manchester City game proved to be a false dawn rather than the ideal win to kickstart the season, but yesterday's gritty performance — still littered with errors, but that's where we are now — might be the start of something. Get to that travesty of a World Cup with another three points on the board and see how we go from there.
Mo won't be at that celebration of corporate bribery. I hope he puts his feet up with a word search and gets himself a rest.
He might be the last top 10 Liverpool goalscorer I ever see. He might also be the only one to challenge Ian Rush's 360 goals if he's still playing for us in his mid-30s. I hope so.
There's that adage about wanting your kids to do better than you. Similarly, I hope Mo eases past the heroes of yesteryear. I hope he knows he's the Kenny for this age.
I hope the rest of the league knows it too.
---
"Nunez has a great game. Yet again he is effervescent…"

"For two players that are so goal orientated, the relationship between Salah and Nunez seems really good…"

🎥 Post Match Pint

1️⃣ Download our app
2️⃣ Enjoy FREE tokens
3️⃣ Watch

📱👉https://t.co/yTcwWTZN7t👈📱 pic.twitter.com/yuRuBFPfMO

— The Anfield Wrap (@TheAnfieldWrap) November 7, 2022
Recent Posts: