The Anfield Wrap's match preview before Liverpool v Napoli in The Reds' final Champions League group stage game at Anfield…
WHAT was supposed to be the start of a perfect Saturday night turned into what felt like a collective scream.
The final whistle marked back-to-back defeats against sides in the relegation zone and an outpour of the same questions we have been asking for weeks: How could a side so utterly dominant last season perform so poorly? Where has the identity gone? Why did Liverpool not just bring in one more midfielder?
For all of the problems the team are facing, the manager was particularly defiant in his pre-match press conference yesterday: "People will judge me now and say I look tired or whatever, I'm not. I am not just here for when the sun is shining."
The sun certainly isn't shining, but it's easy to forget it's not the first time we've had these questions during Klopp's tenure. Yes, there was the caveat of no fans and no Virgil Van Dijk, but still we questioned whether this squad was coming to the end of its cycle and why we hadn't signed another central defender earlier. Then they delivered the highs of last season.
This isn't me trying to dismiss the problems we are facing or the fact that we could have avoided this situation by just signing someone, but it helps to remind yourself that things will come good again. For the moment, though, they have to continue to look internally to get through this tough period.
"We have to fight. I don't want to see backheels, bicycle kicks. We just have to fight, but Napoli will too. We have to give them a knock."
Jurgen Klopp is sick of seeing other teams give us a knock. It's clear this isn't a team playing with an abundance of confidence, and with every poor result it takes another hit.
That's why tonight matters. Granted, in the wider context of the group it is unlikely to make a difference, but getting a result against the in-form side in European football would do no harm.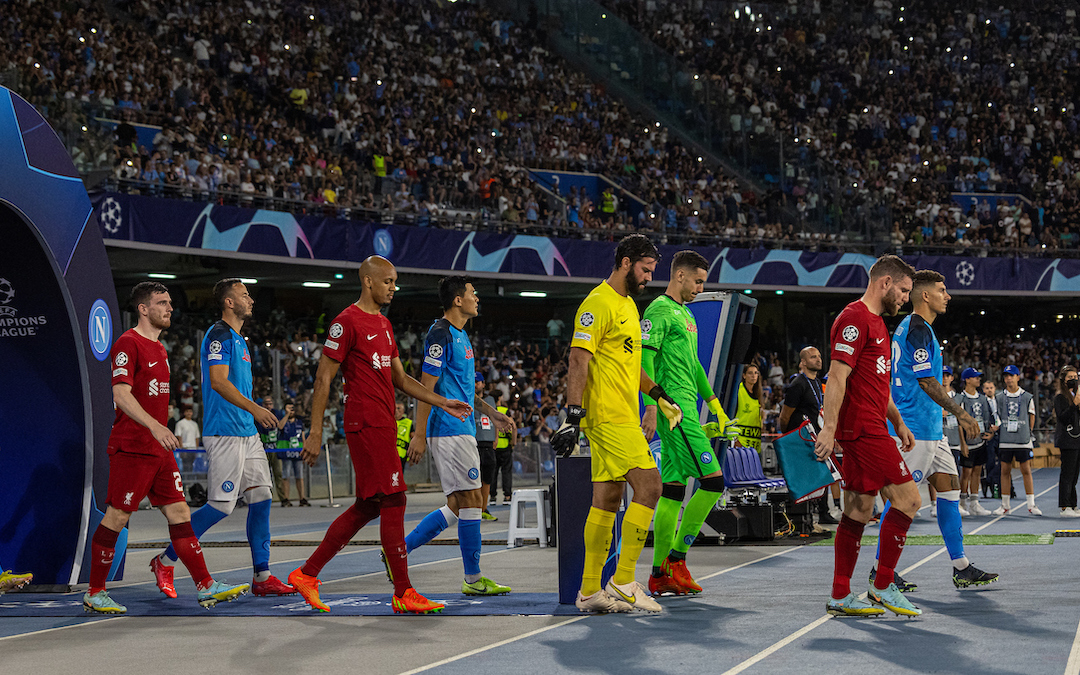 The manager seemed keen to emphasise a return to basics, "nobody is allowed to hide". I'm sure Joe Gomez wanted to after his mistake ended up in conceding yet another early goal, and it's likely he'll get rested tonight as Ibrahima Konate makes his return to the starting lineup. We all know the attacking threat that Napoli pose, so expect Virgil van Dijk to start.
Changes are likely to be made on both flanks, with Kostas Tsimikas allowing Andy Robertson to have a rest and James Milner starting at right back. I'd like to see a cameo from Calvin Ramsay, and expect him to get some minutes ahead of the Carabao Cup game against Derby next week.
There is no denying the midfield has been the problem area. A part of the pitch that used to be workmanlike and functional offered scarce protection on Saturday. Milner noted that consistency comes from a settled lineup, and I wonder if we'll see a return to the 4-3-3 as Klopp aims to go back to what the players know best.
To offer Thiago a break, Klopp may opt to bring Curtis Jones in on the left, with Jordan Henderson playing in the six and Harvey Elliott off the right.
The manager will likely rely on more of the youthful players in the forward line, with Fabio Carvalho starting alongside Darwin Nunez and Mo Salah completing the lineup.
It's anyone's guess who starts, really. Regardless of who is on the pitch, though, myself and the millions of fans watching around the world want to see fight in abundance.
No backheels, no bicycle kicks, just a team showing how good they are at football.
Is that really too much to ask?
Predicted 11: Alisson; Milner, Konate, Van Dijk, Tsimikas; Elliott, Henderson, Jones; Salah, Darwin, Carvalho
---
Recent Posts: