In a relatively routine win for Liverpool over Southampton, Alisson Becker and James Milner both managed to make a lasting impact at Anfield…
I WENT to see Half Man Half Biscuit on Friday.
For the uninitiated, the band put an album out every three to four years, tour rarely and even when they do they tend to swerve the larger arenas. I can't believe their Stowmarket gig is sold out. Gutted.
They've been a musical mainstay for me since the mid-80s when they released their first album 'Back in the DHSS'. Since then, I've seen them wherever and whenever I can, as do hundreds of other balding Scousers of a certain age.
My only problem with Friday's gig was that it only lasted two hours. I counted at least 15 more songs I wanted them to perform. A HMHB gig is my happy place. Never happier than when I'm shouting out the lyrics, particularly if it's to express my surprise at seeing a 1960s off-spin bowler. Trust me, that reference is niche.
It's strange how we use longevity and nostalgia as a kind of comfort blanket. Familiarity gives trust.
I suppose this is why I have no problem with James Milner. Yeah, I know the arguments but I don't care. There are some situations when I'm just glad that he's there and he's got our back.
I love it when he comes on with a few minutes to go. He's there to tell me that, if we're defending a narrow lead, then he's got this and will get it over the line. He'll slow things down, kick a few in the air and then win a scandalous freekick to take time out of the game.
He did both on Saturday within a few seconds. He absolutely webbed some Southampton lad and then won a freekick on the touchline simply by frustrating one of their other players into kicking him back. The dark arts. Lovely to see.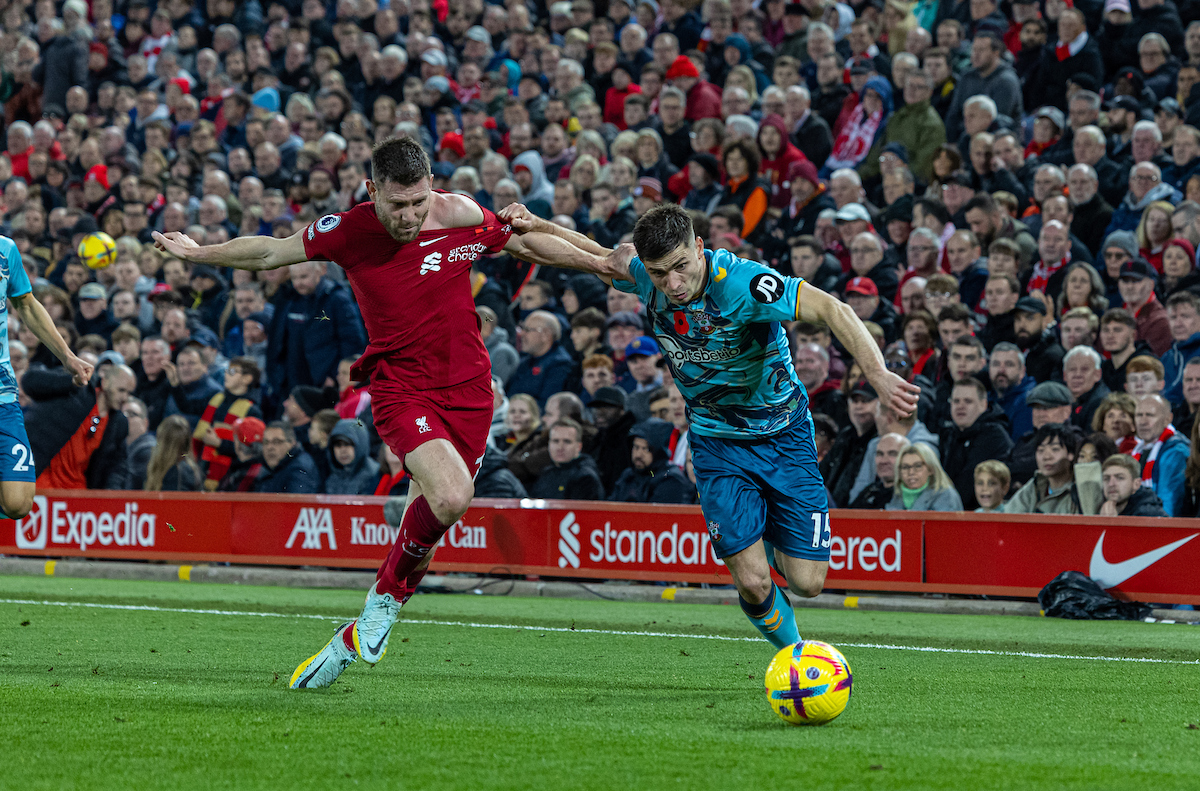 Milner played his 600th Premier League on Saturday. That night a stat came out that said that he's featured in 1.2 per cent of all English top-flight games since the league's formation in 1888. Seriously. Since 1888. I can't abide stats normally but, God, I love that one.
But Millie wasn't the only player celebrating a landmark game. Alisson Becker played his 150 Premier League game for The Reds.
There were times in Mo Salah's first season when I'd be asked who the man of the match was in certain games. It felt like cheating as it was bloody obvious, so come the last few weeks of that campaign, I'd add a caveat of 'apart from Mo, I'd say it was…' just to share them round a bit.
It's the same with the keeper this season. On Saturday, we saw Darwin Nunez score two and the best movement from the front three I've seen in an age. While, in the first half at least, Thiago was playing passes as if in Cheat Mode. But the man who really had the biggest impact was stood between the posts.
You can get to a point with a goalkeeper where you can expect an outcome with, say a one-v-one. I thought Mignolet was alright at them. He was a good shot-stopper, but when it came to commanding his area, he was bloody awful and just stopping stuff is never enough. Pepe was great too but the near post ended up being his Achilles heel. Alisson though…
You know those moments when you see no other outcome than an opposition goal? When you can see that they've got a lad left on his own at the back post, that no one's picking him up and the man on the ball has spotted him? We've had loads of those recently and, while I'd normally just mumble 'too easy, Liverpool' and wait for the inevitable let-off to my left, I just know that there's a tall Brazilian waiting for it.
That second save from Che Adams on Saturday happened about 50 yards away from where I stood. That was one such moment. I gave that up. He didn't. I didn't applaud it. I didn't think to. Instead, I just doubted the evidence of my own eyes and mouthed like an air-drowning goldfish. I've no idea how he not only kept it out, but got it out of harm's way when a lesser goalkeeper would have spilled it.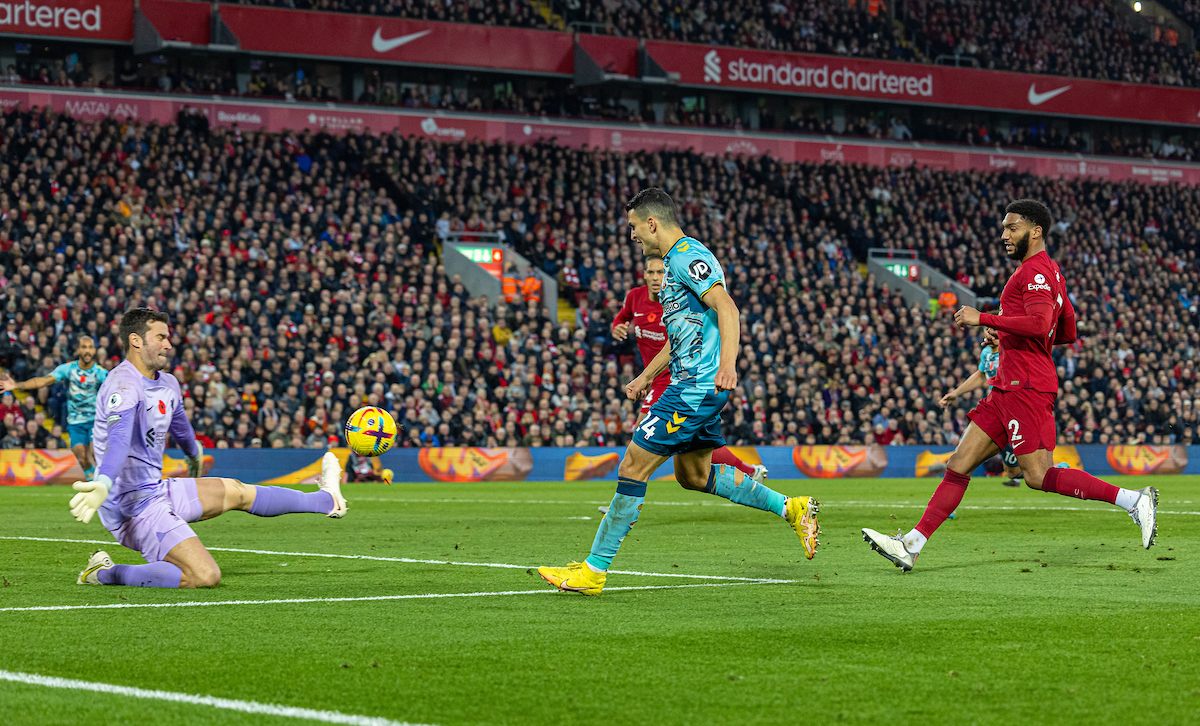 There was some talk about how he might be our greatest ever keeper. Those things are always hard to judge and I'm always going to cite Ray Clemence, but Alisson might just be ahead. He's kept us in so many games this season. He's literally won us points, which is particularly handy in a season where we've been shaky. He even gave us an assist in the Manchester City game.
A goalkeeper mate of mine points out that he's unorthodox, preferring to catch with his hands apart when most coaching manuals teach a 'W' shape position. In other words, he gets his hands around the ball rather than joining them to form a barrier. Maybe that's because he played handball a lot in his youth and that's more of a thing for that. I'm not sure.
He also stays vertical in one-v-ones when many keepers like to dive horizontally at the feet. Again, the manuals recommend cutting down the space, but the Brazilian sits down instead. In any case, it works.
Maybe this is why he's so adept at releasing the won ball quickly and into space. Must be hard when your final position is lying on the floor.
He may be 450 games behind his vice-captain, but he's going to be the bedrock of Liverpool for a good while to come.
Though people will quite rightly point at Mo, Sadio and Virgil as Jurgen's most important signings, you don't mess around with your goalkeeper. Thank God for ours.
Any Stowmarket spares?
---
"It's hard to see how Liverpool would of had many better than him…"

"He's right up there for shot stopping, and I mean he's scored a goal for us…"

🎥The Second Look

1️⃣ Download our app
2️⃣ Get free tokens
3️⃣ Access

📱👉 https://t.co/yTcwWTIbIT 👈📱 pic.twitter.com/TgkrhUfOcO

— The Anfield Wrap (@TheAnfieldWrap) November 14, 2022
Recent Posts: