The last time Liverpool suffered such a slump was back in 2021, so how did they turn it around then and is there anything they can learn now?
"WEARY Liverpool look broken."
A headline from March 2021 or October 2022?
Trust me I'm not trying to start a really awful quiz round, but looking back through news articles from February to April during the behind-closed-door season threw up some stark comparisons to the current situation.
A weary Liverpool did look broken during a 0-1 loss at home to a Fulham team in a relegation battle. The goal came just before half time when Liverpool thought they had cleared a freekick, only for Mo Salah to be dispossessed and moments later Mario Lemina scored.
Heads dropped, the defensive line looked shambolic as players panicked and confidence dropped, and the manager described it as one of his lowest moments. Liverpool once again didn't manage to find a way back into the game. How could this be happening just 12 months after Liverpool sat 25 points clear at the top of the league?
Some 19 months on, because we have the benefit of hindsight and are able to see how we got things back on track, we find it easy to identify what the problems were.
We can point to the fact that players were struggling without fans in stadiums to support them, or more obviously blame the decimated backline as all of the core senior centre-back options were out with injury. Nat Phillips and Rhys Williams formed the heart of our defence, and they were easy to get at.
They weren't the only problems, though. Mo Salah, Sadio Mane and Diogo Jota were all available, and yet Liverpool had not scored a goal in open play in that calendar year. BBC's average rating marked Alisson Becker's performance as 3.62 out of 10. He was the highest rated Liverpool player on that day. The form of key players was off, the team looked fatigued, confidence looked shot and the intensity was missing.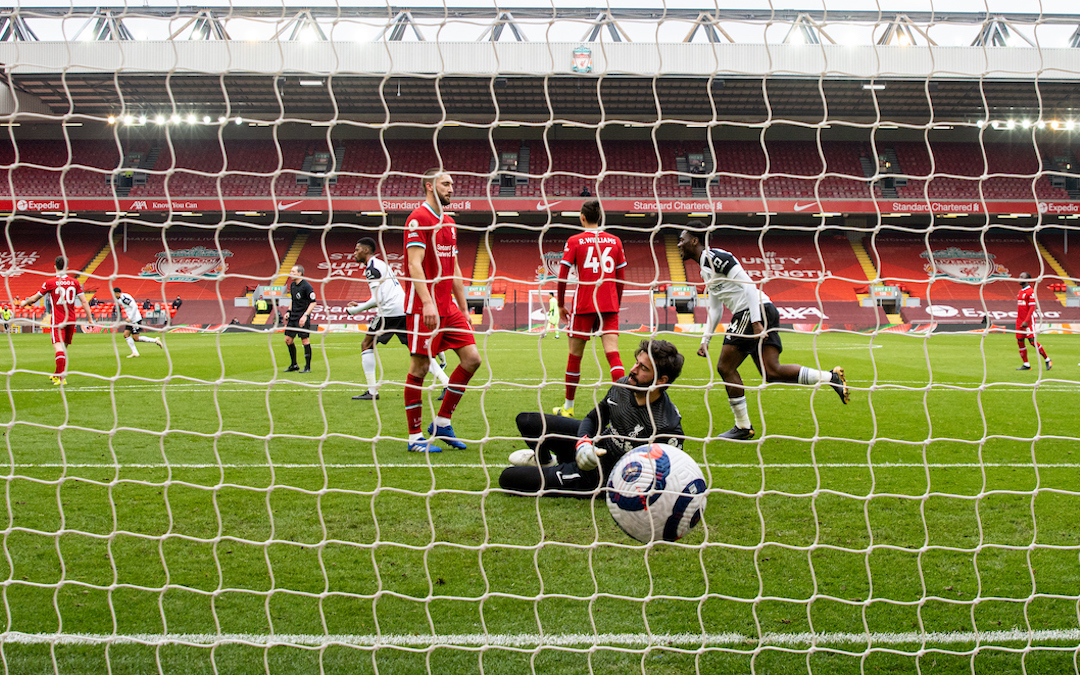 Recording The Second Look yesterday, Grace and I identified many of these problems as contributing factors to our poor performances this season.
Firstly, we are once again checking Twitter with one eye open to see which player is out with an injury today. There's no denying the list is once again starting to mount.
Trent Alexander-Arnold and Joel Matip are confirmed to be on the sideline for two weeks. Andy Robertson should hopefully be back soon, but then comes another blow on that left-hand side as we lose one of this season's bright sparks in Luis Diaz.
We look lost out of possession, scrambling to track back and finding ourselves out of position too often. Sloppiness in possession is also creeping in, giving the ball away cheaply in dangerous areas. Confidence looks low and players look tired, and when each of them has two per cent less to give, the impact on the team as a whole is damaging.
How do you begin to solve such a multitude of problems? Well, let's see if 2021 can provide any answers. Liverpool's loss to Fulham was the last in the Premier League that season. So what came next?
It started with a 2-0 win against RB Leipzig in the Champions League. Fabinho was moved back into the heart of midfield, Salah got himself on the scoresheet, and even a rookie defence looked solid when protected by a solid midfield in front. The focus was on finding themselves positionally in the right areas and building confidence to start scoring again.
Next came Wolves, and a goal from Jota ensured Liverpool secured three points. "It's all about the result. A big fight. We wanted three dirty points, we're completely fine with that as we try to get back on track. We defended really well, that was our main target," said the manager.
As acceptance grew around having many of our best players sidelined, the focus returned to building the basics back up. The midfield protected the defence, and the attackers tracked back faster and pressed higher.
In the next game against Arsenal, we could see first hand how pressing from the front allowed the full backs to do their job properly, and Trent's assist got Liverpool on the scoreboard.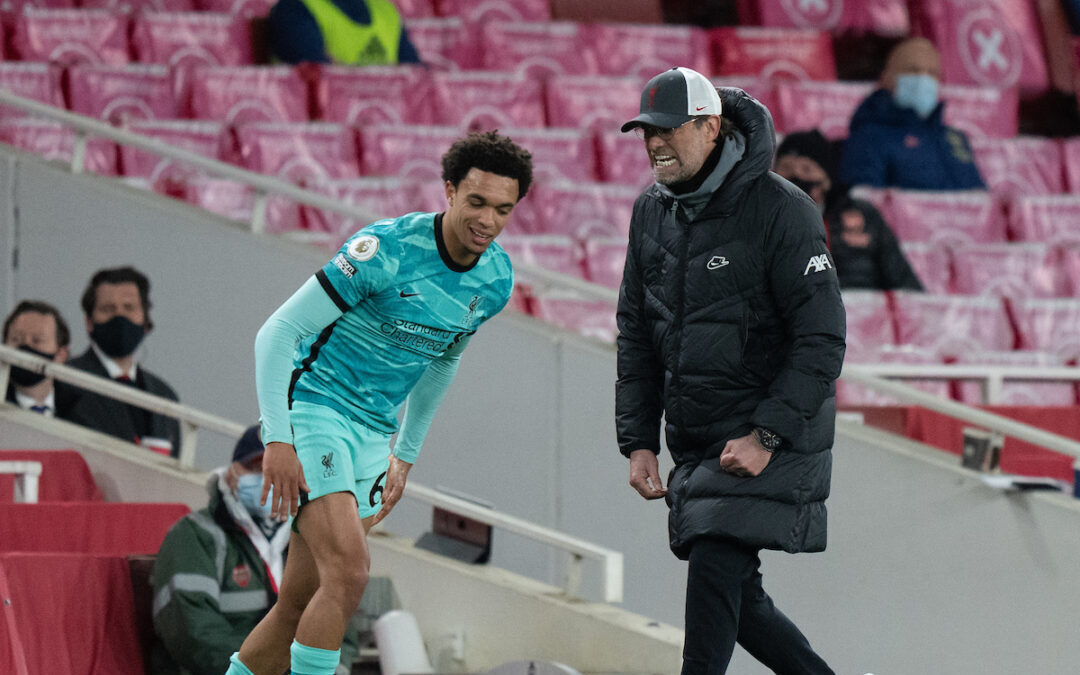 They were in for the fight and believed they could win every game. No shifting the blame, no playing as individuals, but understanding your role in the wider system. From there we found different ways to win, with last-minute winners (Liverpool 2-1 Aston Villa), dominant performances (Mancester United 2-4 Liverpool), and run-of-the-mill results (Liverpool 2-0 Crystal Palace).
Klopp eventually committed to leaving Fabinho in midfield and not dropping him into defence and slowly the individual mistakes started to disappear.
This time around, I'd like to see us committing to the new 4-4-2 formation more often, even in the absence of Diaz. Roberto Firmino showed he can slot into the system, and Fabio Carvalho can be given opportunities.
A sense of panic in individual moments is difficult to iron out through coaching, however the sense of belief should be easy to instil. It starts with a win tomorrow night against Rangers, as it did against Leipzig in 2021, and building from there.
With injuries creeping in and adaptations to the starting lineup necessary, the focus needs to turn to positional awareness. Viewing themselves as one team rather than 11 individuals is imperative, and as such tracking back must start from the front. Each of them must know their role both in and out of possession, particularly paying attention to decision making in key moments.
Working through this transitionary period can only be achieved by playing more games, and my god they've got a lot of those coming up.
There was no simple solution 19 months ago, but incremental changes helped to get things back on track. I have no doubt the same can happen now.
It all starts tomorrow night. Win please, Liverpool. And then do it again and again.
---
"The 4-4-2 shape in a game like that gives you a big problem when you're chasing the game… in the second half our positioning went awry and the energy levels just disappeared."

🗣The Review Show

1️⃣ Download our App
2️⃣ Enjoy FREE tokens
3️⃣ Listen

📱👉https://t.co/yTcwWTIbIT👈 pic.twitter.com/kJ6HOCCdWw

— The Anfield Wrap (@TheAnfieldWrap) October 11, 2022
Recent Posts: