As frustrations at Liverpool reach boiling point, it's important that players being made the scapegoats are supported – now more than ever…
I DON'T like this any more than you do.
I left Anfield raging, saddened and confused. What the hell was that about?
More than anything it was a feeling of a returning sensation. The Reds are a bit shit again. I remember this. It's been a while.
Saturday was 90 minutes of watching Sideshow Bob standing on rakes. We wanted and even expected a response over the last two weeks, but all those empty, footyless days were just the bits in between where Bob glumly walked to the next rake.
So many low points. Two down in 17 minutes. Clearances webbed into the air rather than to a man.
Leandro Trossard has now scored more Anfield goals than Harry Kane.
Thank God for Alisson.
The manager is right to point out that the story is as much about going 3-2 up as going 0-2 down, but this is another game where we've had to go full tilt for a last-minute winner.
It worked against Newcastle and Ajax and there's a spirit about that which is laudable, but more than anything it speaks of a lack of control. It shouldn't come to that. We should be beating Brighton, Palace and Everton. Should be.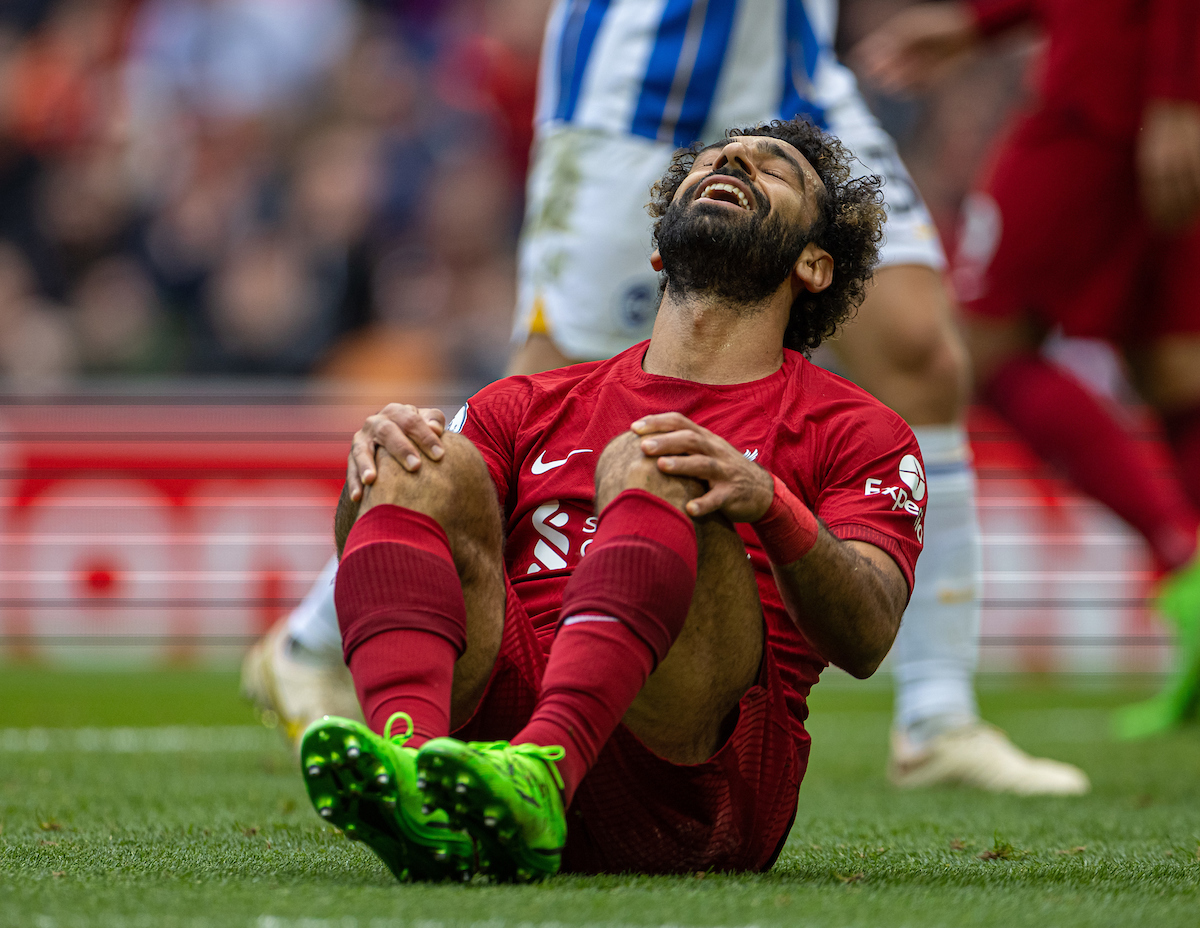 I was furious but there's a point where you have to appreciate that no one wants this, least of all the team and manager. This isn't about a lack of effort as we look great at times. This is just a point where nothing works anymore and we're all a bit lost. Jurgen Klopp even admitted to being baffled by Brighton's formation on Saturday.
Josh Sexton wrote this week about Trent Alexander-Arnold and how he needs support more than brickbats. I'm slowly coming around to that way of thinking.
Anger, though warranted at times, doesn't do much good. Don't get me wrong, I was hardly a vision of serenity on Saturday. I was out of my seat a full 10 seconds before they scored their second as every pass was telegraphed like a storyboard, the outcome obvious and inevitable.
There are times when we want to be closer to the players and staff. There are times when we feel we're being held off a bit. The only way to meet players and engage with them is at pre-season training sessions played thousands of miles away. That disconnect has been evident for years until recently, but there are times when we spectate and there are times when we empathise.
They're not playing like this on purpose. They need our support to get through this. The hurt shouldn't be all on their shoulders. We should be there to take the weight off for a bit. Once I've stopped shouting, anyway.
This is not an instruction to support. Remember when Gerrard turned to the fans and told them to up the noise when he scored our first in Istanbul? Many saw that as the raised flag to turn the game around and loved it. I didn't. I was furious with him. I don't need to be told to get behind the team, thank you. I was here before you were born, son.
So, I'm not saying that you — yes, you! — should do better. Nothing like that. Just that there are times when we spectate and there are times when we help out. It's not fair to have that squad give us every trophy in the game and tell them to sod off when they've forgotten how the ball works.
We could go into the reasons for this malaise — tiredness, recruitment, lack of midfield options — but that's not going to get us anywhere. Klopp mentioned that confidence is like a small flower, it can be crushed at any time so if this season is to be about getting things right again more than winning stuff then that's what we have to do.
The league is a tall order (though you should never say never) and I'd rather we weren't anywhere near that cash cow competition anyway, not when three people have committed suicide since the events of May 28 and no one can prosecute the liars at UEFA, so I'm using this season as a series of individual games rather than a cumulation of points. Acts rather than full plays.
It might do my blood pressure some good.
That's just me though. I'm not going to tell you what to do.
The thing is, these lads aren't Joe Cole's Liverpool. This isn't Neil Ruddock. This is a team which took us to places I never thought I'd see again. Sometimes you have to pay for the rainbow with some beige.
Reducing expectations? Never. 'No runners' and all that. I want Liverpool to come great again and it's clear that this isn't a one-off game where heads go like those mad games against Watford and Villa. This may need a longer fix rather than a plaster over a paper cut. Going behind in almost every game is testament to that.
No, I don't like this any more than you do, but this is the time to wear our colours. Support, like faith, has to be tested at times and, let's face it, we've been here before. Josh's right. Trent needs mates right now. Jurgen needs help, not calls for his head from spoilt phone-in bellends who have already forgotten what it was like before he got here.
I was against his taking the players to The Kop after a home draw with West Brom, but I knew why he did. He wanted the bond between team and fan to be tighter. They've done their bit for us and though no one wants to see Liverpool over-run time and again, we have to work with them rather than against them.
Don't let them walk alone. Never do that.
---
"There wasn't a minute in the game where Liverpool didn't do something stupid, brainless, reckless, or pointless. That's a hard thing to deal with when some of our smartest players are on the pitch."

🎥 The Free Show
Listen👉https://t.co/yqbP8Xk2j4
Watch👉https://t.co/PfKx8o9ZQq pic.twitter.com/yqlajgBEps

— The Anfield Wrap (@TheAnfieldWrap) October 3, 2022
Recent Posts: