Despite being written off for all kinds of reasons before the game, Liverpool laid down a marker against Manchester City…
SUCCOUR can come from the strangest of sources.
This was the fixture no one wanted. Atrocious at Arsenal, moribund in Manchester and with just two wins on the board, the last thing you want is to face the hardest club in Europe.
I've no love for their fans (though my Manchester City mates are sound) and their manager is somewhere between a genius and a pantomime villain, but what a side they are. It's easy to slag them off because they're the main enemy these days and have that word at the start of their club name, but, Jesus, they're easy on the eye.
What a team they are. I wish Foden had been born 35 miles to the west, at the thicker end of the Mersey. He's absolutely unreal, but even he's hardly the main threat now.
And if Liverpool have been inconsistent, feast or famine in terms of performances, then the last thing you want is them running at you and through you.
But it worked for us somehow. It galvanised us. It gave us a statement win. A statement using paper the size of a desert with a pen the size of a tree trunk. Huge, monolithic. It reminded both us and them of who we are and what we can do.
The sniping started early this time. Coins thrown, phone-ins talking about 'Liverpool won their Cup Final' and the usual fuel on the flames designed to fashion a fan rivalry rather than a football one, but these are the two sides by which all others are judged. One side's Holmes to the other's Moriarty.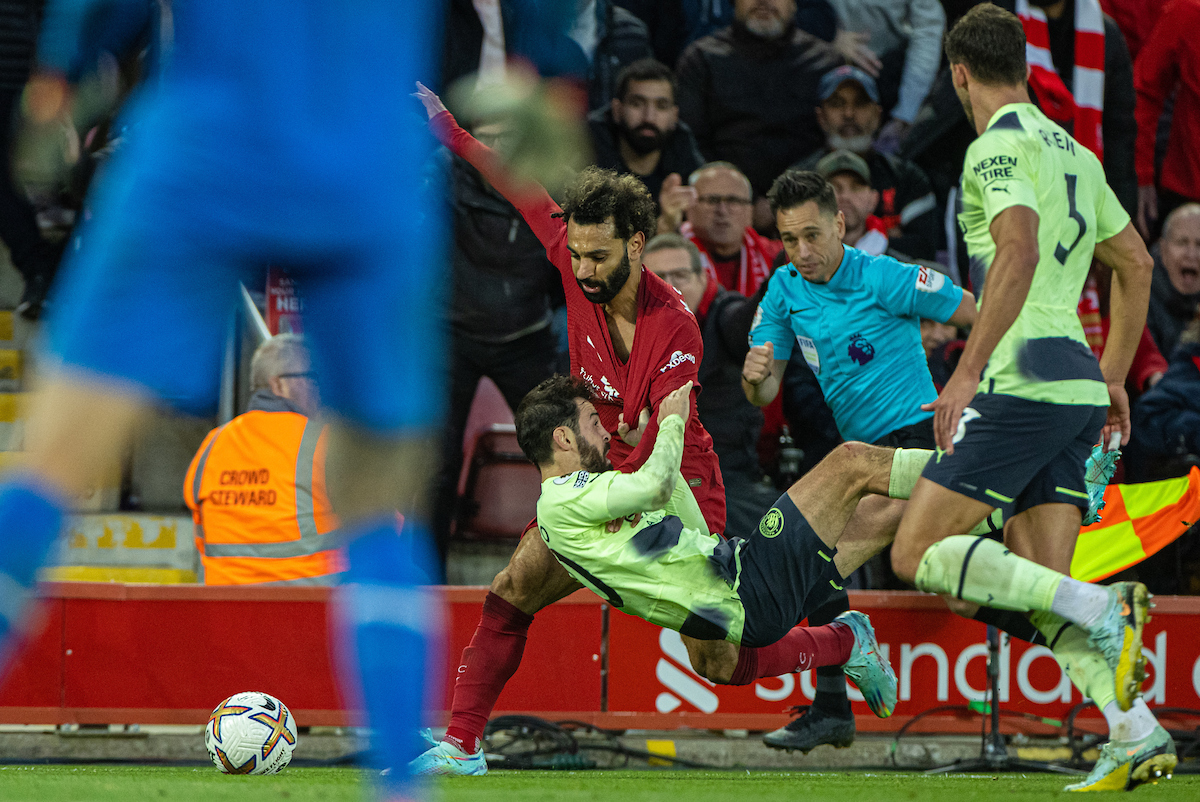 And it looked like we'd gone into this with a head cold. Sure, there's the Bournemouth and Rangers games but we've been off our game for a while. This was Moriarty's chance to finally throw his mortal enemy off a waterfall. Many of us looked at the lineup beforehand and expected us to be bobbing in the water at full time.
James Milner, though. I know all the arguments. He was old when he first came here and now he's got seven years more in his legs. Why put him in the side? What about another full back?
But he was everything we wanted. He stood off when Foden wanted him to commit, he committed when Foden had no options. He used Joe Gomez wisely, he used Harvey Elliott brilliantly. He was the personification of something we haven't seen this season. What a showing that was. If this wasn't the fixture we wanted then he never read the memo.
I could talk about everyone else till I'm hoarse, but Mo Salah should get a mention. Written off time and again and then he knocks in four goals in a game and a bit. It seems it's perfectly OK for players to push him, elbow him and kick his legs out from under him but he keeps getting up and breaking hearts.
He's only seven goals behind Kenny Dalglish now in the all-time charts having played about half of his games. His numbers are ridiculous. Maybe this is the King the City fans were so keen for us to save.
(Seriously, though. How the hell is singing the national anthem supposed to rile us. 'Look at us! We love the monarchy and a lot of you don't! That showed you!' What a burn!)
What this game has done is put a marker down. Fulham, Manchester United, Napoli and Arsenal have gone, and if they cost us too much even at this early stage then fair enough. But this was a day when we stood up to the biggest threat of all and we dug in, and dug in until there was nothing left. This may be a work in progress now, but that was a hell of an appraisal to come through.
It's important to ignore the swarm of bees around it now. Jurgen Klopp's red card and Pep Guardiola's reaction to not having a goal after two fouls are part of the past. It's West Ham that's important now. It's about three more points and hopefully a gradual move up the table.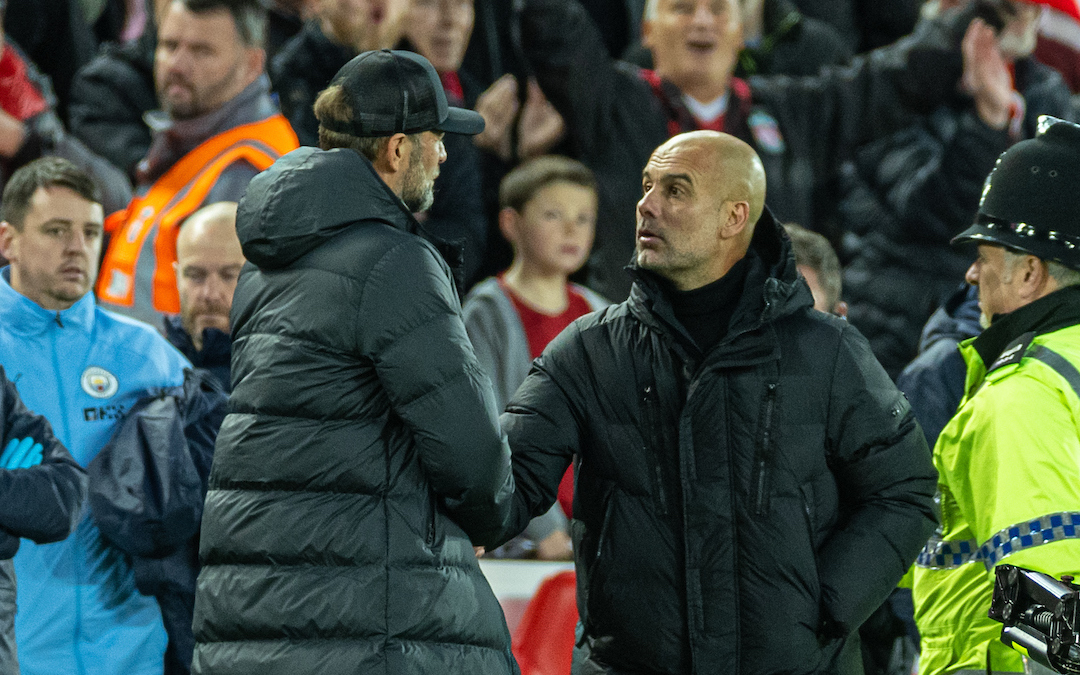 I'll say this, though. My feelings coming out of that ground were a mixture of joy and anger and it was aimed at both sets of fans.
That game was for every one of their twats who sang about Hillsborough. That game was for everyone who talked about Haaland getting into double figures. That game was for everyone who has turned their back on Liverpool because it's gone a bit tricky again.
That game was every Red who sent gobshite GIFs about James Milner, their own captain yesterday. That game was for everyone who made noises about Jurgen moving on. That game was for every club who go into their own City game with only mercy as a tactic. That game was for everyone who loves football.
We stood up. Liverpool stood up. Anfield stood up.
They're a force but so are we. That's been forgotten in recent weeks and with good reason. Yesterday was a reminder to us and the world. I loved that we did that and even if nothing comes of it in the long run, it'll always be remembered that City provided unintentional succour. It was the game we didn't need but the one we overcame.
That was a pleasure. That was an honour.
That was what we needed.
---
"Today was the perfect reset. That's what we've needed… It was everything good about Liverpool Football Club today, and that now is the bar…"

🗣 Post Match Show

1️⃣ Download our app
2️⃣ Enjoy FREE tokens
3️⃣ Listen

📱👉https://t.co/yTcwWTIbIT👈📱 pic.twitter.com/VGRoW90GUj

— The Anfield Wrap (@TheAnfieldWrap) October 17, 2022
Recent Posts: