A deeper look into the eye test and the stats around Liverpool's style and how it has shifted during their start to the season…
NOT the start to the season we were all expecting after the Community Shield win. July 30 feels a long time ago now. 
Now we are six games in, I wanted to explore the areas of concern and expand on some of the topics we have been debating on The Review shows this season.
Played six. Won two. Drawn three. Lost one. Goals for 15. Against six.
Is it all doom and gloom? Are we a team in transition? Have we changed things tactically too much? Are we running as much? Are we as knackered as we look? Are Luis Diaz and Mo Salah too far apart from each other and from kicking it in the goal?
In part to calm my inner chimp, I wanted to do the eyes versus data comparison and take a look at some of the manager's comments to look for clues as to why we are where we are and what the future may hold.
Headline statistics – 2021-22 versus 2022-23
2021-22 season…
| | | | | | | | |
| --- | --- | --- | --- | --- | --- | --- | --- |
| Points per game (avg) | Goals scored per game (avg)` | Shots per game (avg) | Possession % (avg) | Pass accuracy % (avg) | Goals per game conceded (avg) | Shots per game conceded (avg) | Interceptions per game (avg) |
| 2.42 | 2.47 | 19.2 | 63.1 | 84.9 | 0.68 | 7.8 | 9 |
2022-23 season…
| | | | | | | | |
| --- | --- | --- | --- | --- | --- | --- | --- |
| Points per game (avg) | Goals scored per game (avg)` | Shots per game (avg) | Possession % (avg) | Pass accuracy % (avg) | Goals per game conceded (avg) | Shots per game conceded (avg) | Interceptions per game (avg) |
| 1.5 | 2.5 | 19.5 | 68.8 | 83.5 | 1 | 8.8 | 9.3 |
Caveats everywhere, of course. Small sample size, skewed by Bournemouth etc.
Two things that stood out to me were firstly a nine per cent increase in possession and a 50 per cent increase in goals conceded per game. I will come back to this later.
Intensity was our identity but is it still the case in 2022-23?
Intensity, and more specifically "running" has been all the rage this season, particularly after Brentford v Manchester United and the subsequent fallout after Erik ten Hag allegedly made his players run 13.8km the day after the game.
My own position is that everything has to be considered in the context of a) smartness and b) the team's strategy.
Running the greatest distance every game with the most high intensity pressures does not mean it was necessarily smart, for the benefit of the team, or ultimately the key driver for success.
I am, generally, not a great fan of such data (a bit like pass completion rates) without a wider consideration in respect of the application of the data. As an example, I would not want Trent to have a 100 per cent pass completion if it meant that all he did for 90 mins was pass back to Alisson.
Where and when is as important as the data itself.
However, Liverpool have not been quiet about intensity being our identity. There are literally chapters on it in Pep Lijnders book "Intensity".
Liverpool generally have more of the ball than their opponents. Jay Harris looked at the relationship between possession and distance covered in The Athletic…
"Using data provided by Skill Corner, which has been taken from every match in the 2021-22 Premier League season. We can see there is a subtle negative relationship between possession and distance covered. Or, to put it more simply, teams that have the ball more tend to run less."
Despite the above, Liverpool have bucked that trend in the past, outrunning and executing a greater number of high intensity runs than many of their opponents. All this despite also dominating possession.
I ran a comparison through StatsBomb between this season and last season. As you can see below (via the green and purple lines) Liverpool are adopting a) less pressures and b) in less areas, so the drop in pressures is not contained within one specific area such as the final third.
Last year, we were above the league average from the halfway line and then continued to increase above the league average the higher up the pitch you go. While the same is true with this season's lines you can clearly see we are worse off across every 16(ish) yard vertical.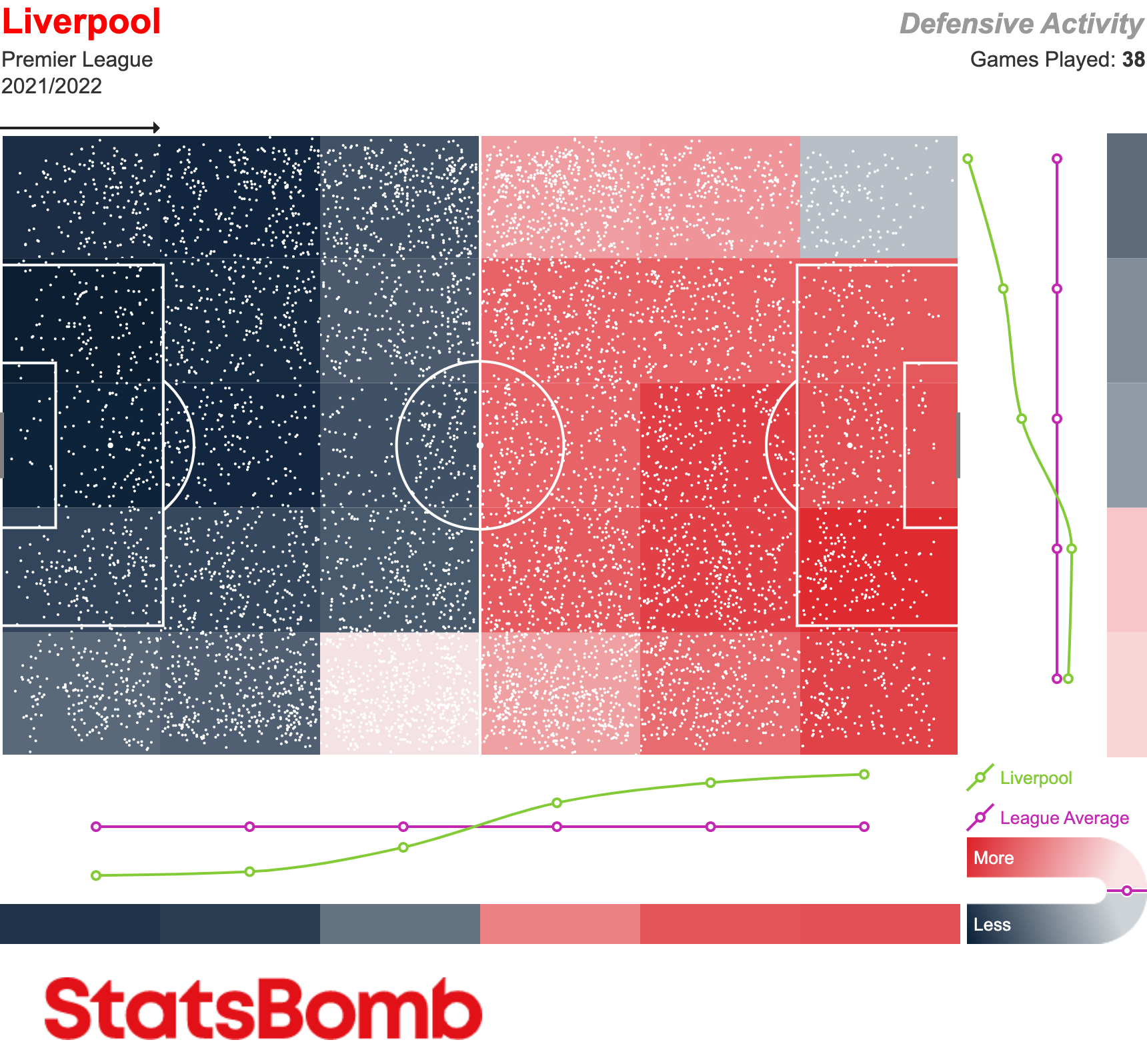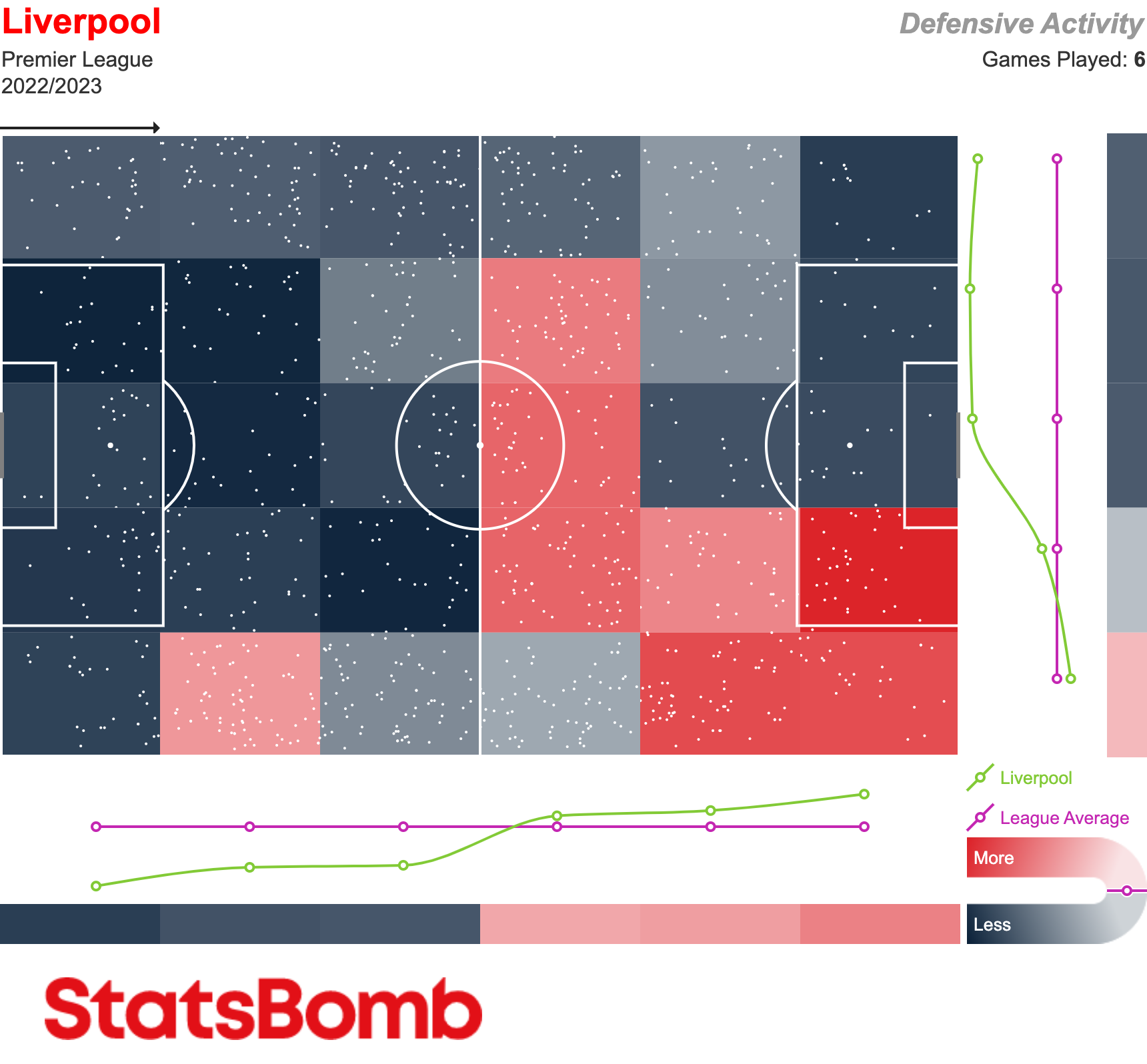 Dan Kennett highlighted this in his comparison with this season's fixtures and the 2021/22 season equivalent results:
#lfc have been out run in every single match this season.
Minimum 1.7k fewer than opponent, max 7k, average 3.4k per match

— Dan Kennett (@DanKennett) September 3, 2022
I now regret to inform you that #LFC have had fewer High Intensity Runs than our opponents in every game this season. Average of 161 per match

— Dan Kennett (@DanKennett) September 4, 2022
Why are Liverpool running less and making less high intensity runs?
With Liverpool's results, points per game, and performances dipping, it is fair to question this. When Liverpool have been successful under Jurgen Klopp, the distances covered and high intensity runs were much greater, so when both dip it appears fair to think the two may be linked.
Pure speculation of course, but let's run through the most obvious possibilities as to why the running metrics are down:
1. Deliberate change in approach by Klopp?
This is possible and you could make a case for it. Intensity of last season, shortened pre-season, this season's schedule, average age of squad perhaps endearing itself to a different approach…
However, Klopp's comments post United and pre-Bournemouth appear to pour scorn on this. Klopp said…
"What can we improve immediately? Effort. Maybe it was at 95 per cent but in the world of football we need 100 per cent, if not a little bit more. We also need passion. Don't wait for the perfect pass… The things we achieved in the past few years was never easy. Nobody should expect it will be easy now."
2. Opposition?
Klopp's brand of football at Dortmund and Liverpool is not a secret. Perhaps with more regularity we see teams setting up with a more direct approach. Go long in our full-back areas targeting whichever full back you feel you may have a height advantage against and/or avoid Virgil van Dijk at all costs.
Long diagonals and hitting the channels is nothing new but are more teams doing this with greater regularity? Newcastle's tactics with Joelinton on Joe Gomez/Trent Alexander-Arnold being a case in point, or Pickford looking for Gray against Kostas Tsimikas.
Perhaps, but I don't think that would result in such a drastic change in the numbers, particularly when compared against last season's equivalent fixtures.
3. Pre-season and summer planning?
The injury list this past eight weeks (including six hamstrings – we suffered five by January 2016 in Klopp's first few months in charge), the running numbers being markedly down, and the general look of the team that is "fit" suggests this summer's plans, whatever they were, have not worked out.
Andy Robertson and Trent seemingly can only do 60 minutes right now, I think Jordan Henderson has been playing while injured prior to his hamstring injury, Virgil and Fabinho look shattered.
Mentally and physically we just don't quite look right on the eyes test. We look leggy in games but seem to finish games really strongly. In every game this season I would argue we have finished by far the better side.
There has been a lot of talk about recruitment but with such a hectic schedule, the need to rotate heavily and regularly, the last thing we needed was the injury list we had and the pressure that then puts on the remaining players.
Conceding too many goals and defending counter attacks
We have arguably the best goalkeeper in the world, best collection of centre backs in the world, a world-class defensive midfielder, and two of the best full backs in the world.
We should be aiming to have the best defensive record in England and potentially across Europe as a result.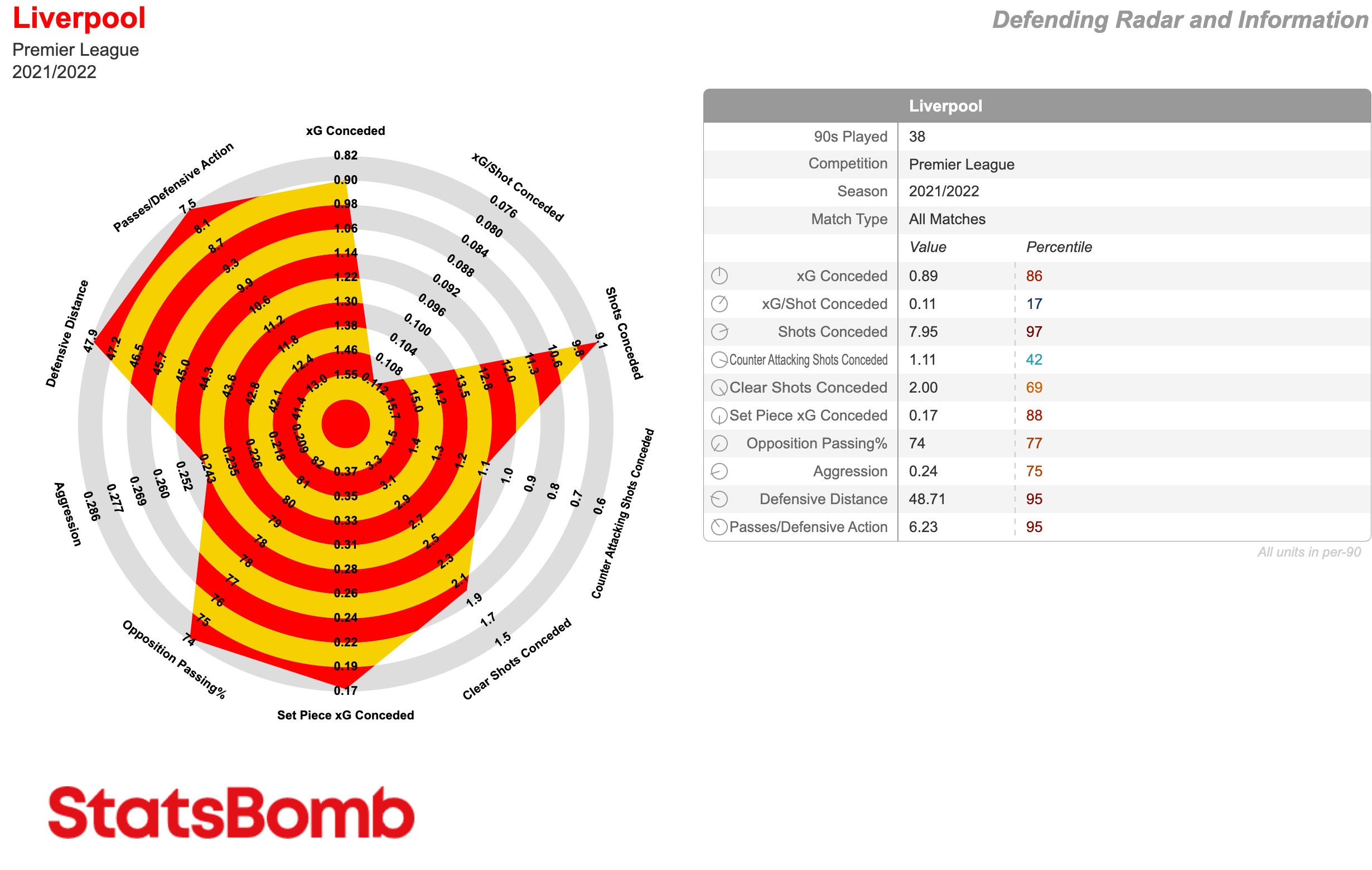 I have been concerned all season about a) how exposed we look when we lose possession and b) the quality of changes and goals we are conceding.
We are conceding too many chances from losing possession of the ball cheaply even in the opposition half (Fulham, Palace, United) and generally too many clear shots – both worse in comparison against the 2021-22 comparison.
Against Everton we conceded three great chances from three of our own corners.
While teams will actively look to defend deep against us and spring on the counter, hit channels, play direct through the lines, etc this was always the case post 2018. It is nothing new and Manchester City face the same challenges.
Why might this be the case?
Less high intensity runs are likely a factor.
Less distance covered is likely a factor.
Poor attacking both in terms of execution/giving the ball away cheaply, but also in terms of shape. Too many gaps preventing an effective counter press.
Attitude and lack of tactical fouling. I would like a mindset of "ball or the player". Too often for my mind we seem passive and quite relaxed about the threat of the counter attack.
Worth noting only Spurs, Brighton, and Wolves are conceding less than a goal a game average this season as at game six.
Tactics – a new approach and shape?
Outside of the club there has been a lot of talk about a new approach.
Why are Diaz and Salah further apart from one another than was the case previously?
Why are Diaz and Salah so far from goal?
Are we moving away from a three-man workmanlike midfield to a double pivot and attacking midfielder?
Are Trent and/or Robertson being set different roles tactically?
Is this a transition to move away from a false nine to a traditional nine integrating not only Darwin Nunez but also Harvey Elliott?
Firstly, the manager seems to suggest there is no real great change in strategy at all. Post-Manchester United Klopp confirmed that Salah's positioning was not on instruction, stating that he was operating too wide in the first half and they made an adjustment at half time.
He has also mentioned having the players wide in the buildup phase, but still making those out-to-in diagonal runs we are so accustomed to seeing from Sadio Mane and Salah over the years.
The buildup to both goals against Newcastle show Salah excelling in the space between centre back and full back. Similarly, he is pretty central second half versus Fulham and versus Crystal Palace.
Post Everton, Klopp was asked outright about Salah's positioning:
"No, it's not more than other seasons or whatever, I'm not sure what you see there. We want to have Mo there in this position, but we want to have Mo, and we always had him, more often in central positions as well.
"Today especially we wanted to use the boys a bit more centrally, but we didn't have a lot of time to train obviously. Actually, we only recovered, we spoke a lot about it, I'm not sure I was clear enough in the first half what we wanted.
"In the moments when we played, when Mo dropped or when Lucho dropped after two or three passes they were completely free in between the lines because Darwin kept the last line back with his pure presence and they like to drop pretty early.
"But we didn't do that often enough, you are right. I don't think in the season he is too often wide, maybe today in a few moments yes. But he could have scored again in the last minute pretty much."
Secondly, I wanted to check other data points, particularly around average positions to see if there was any evidence to confirm whether we are dramatically changing how we play.
2021-22 average positions…
Below is the average position graphic for Liverpool during the 2021-22 season. (Mane's change from left forward to central forward skews things somewhat.)
Salah is the furthest player forward.
Salah is wider than the 18-yard line.
We have what looks close to a double pivot with a more attacking right-sided midfielder.
We are close to a 2-5-3 with five almost across the halfway line.
The central forward is withdrawn on the tip of the opposition centre circle.
Both full backs are just wider than the width of the 18-yard line.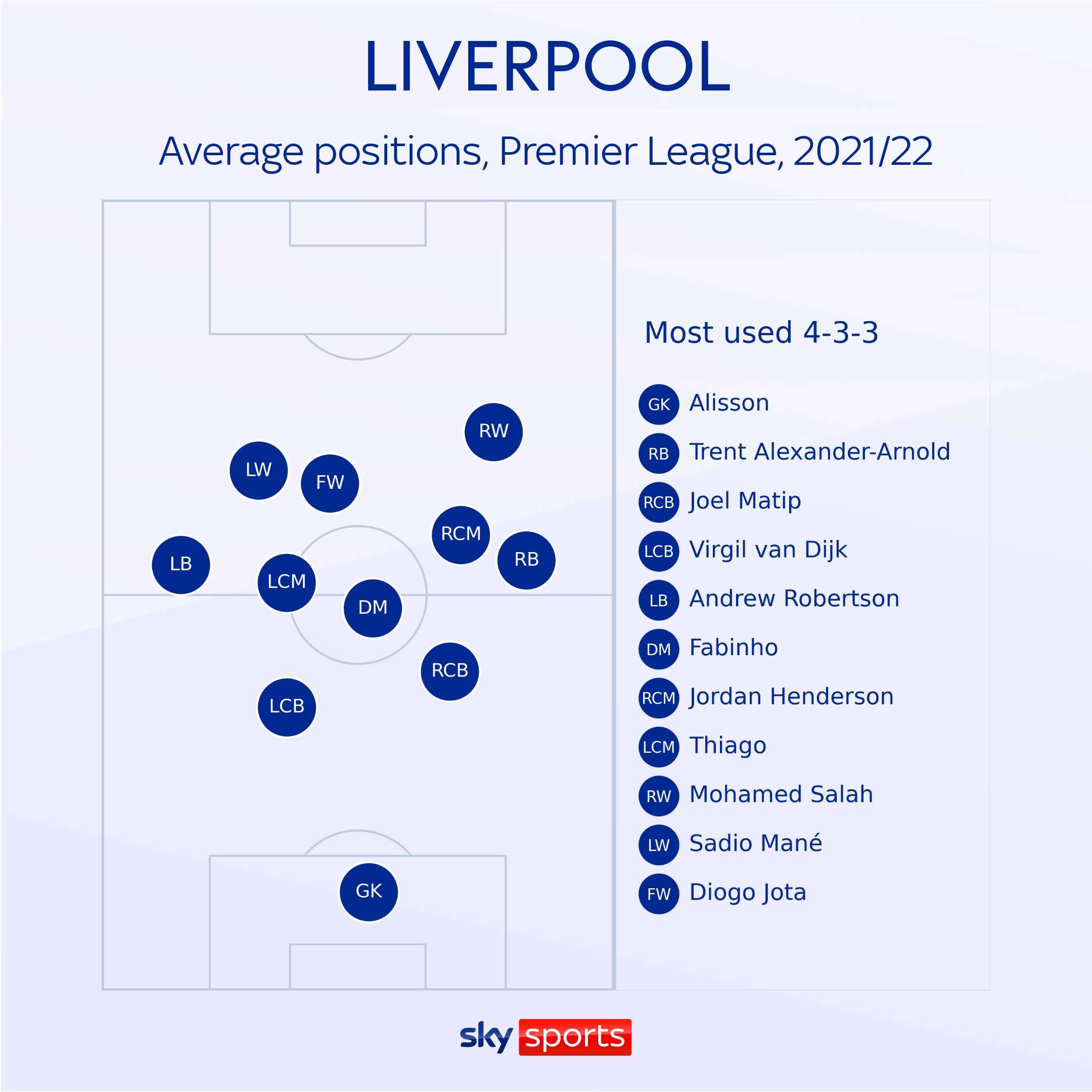 2022-23 average positions…
How do the average position charts for Everton, Newcastle, and Manchester United compare?
Salah is the furthest player forward (as in the 2021-22 graphic).
Salah is in the same positions relating to the 18-yard line except for Everton (as in the 2021-22 graphic).
Against Fulham we look very close to the 2-5-3 and 2021-22 graphic referenced above.
Against Newcastle it is very similar to 2021-22 save for Robertson being a lot higher and Elliott being a lot higher in the right-sided central midfield role. You can clearly see the same double pivot (Fabinho and Henderson) with a more attacking position for Elliott at right-sided central midfield.
Against Everton, again it looks close to the 2021-22 graphic with a few slight differences. It is close to a 2-5-3 with double pivot. Tsimikas being higher than the 2021-22 average positions.
The notable difference is with Nunez adopting a much higher starting position than Jota, Mane, or Bobby both last season and Firmino this season.
Both full backs are just wider than the width of the 18-yard line.
Save for Nunez the average positions are broadly similar. Elliot is higher in the right-sided central midfield role than Henderson would be (to be expected, of course) and our left backs have been a bit higher this season but otherwise they are strikingly similar.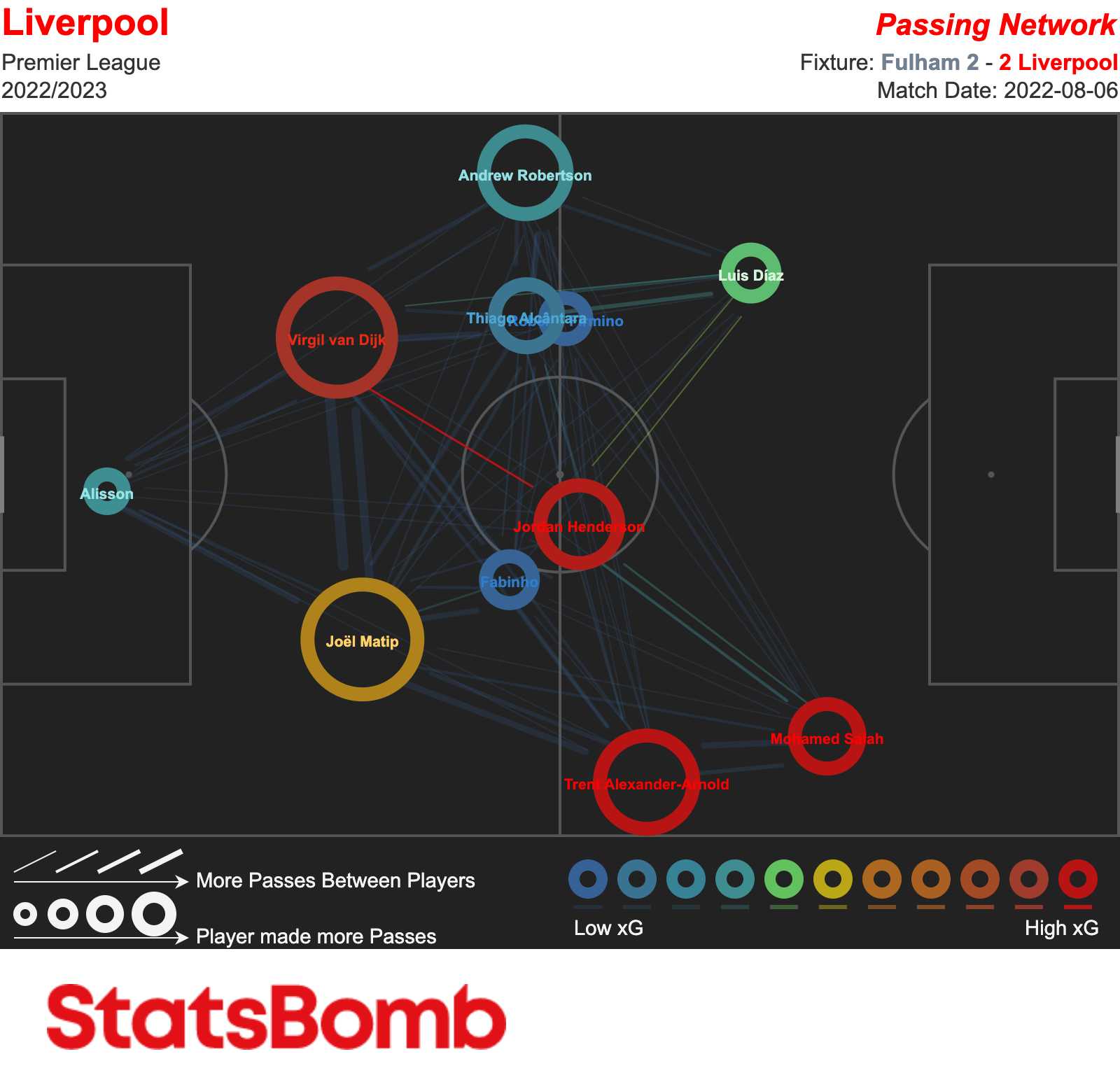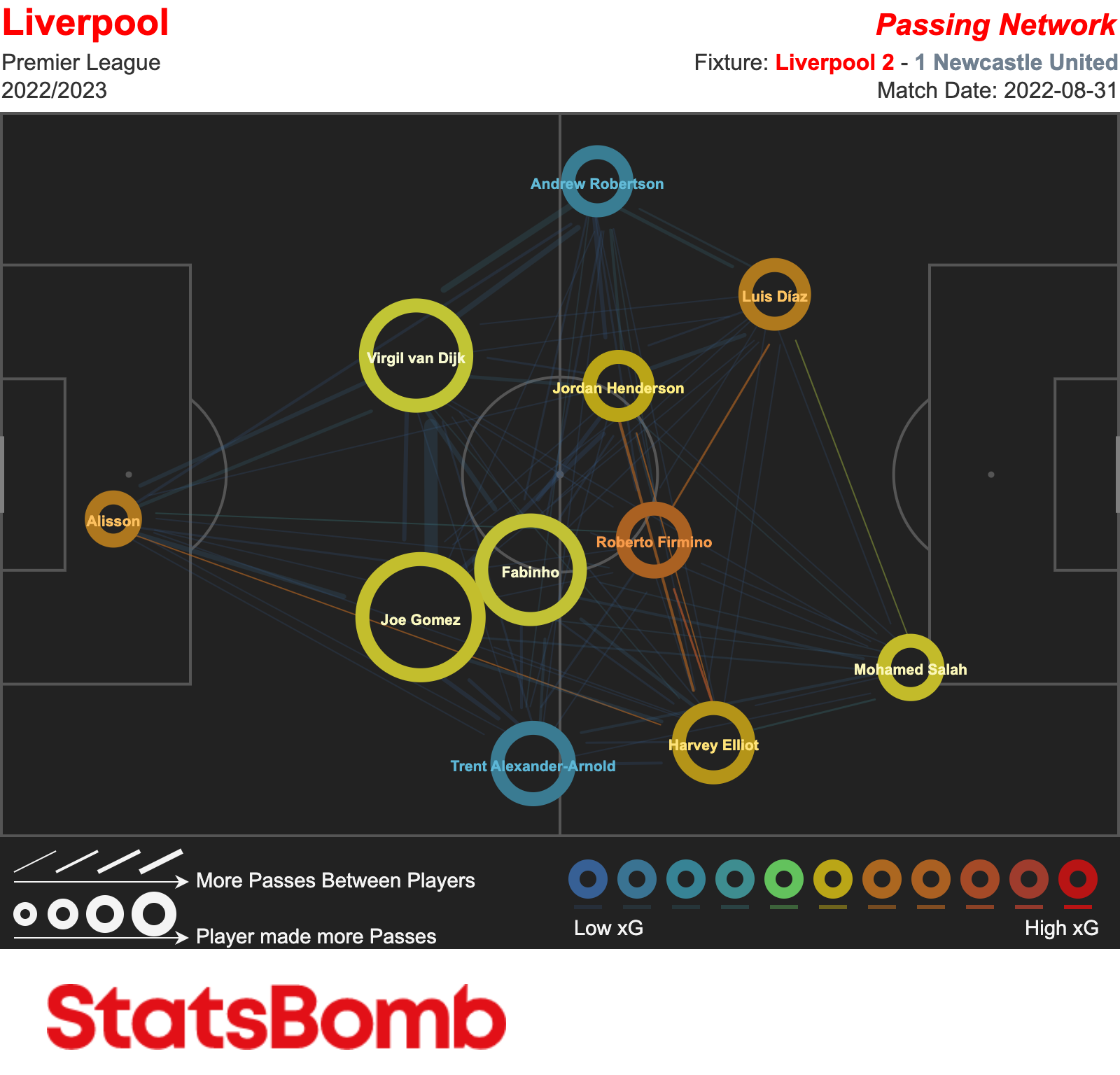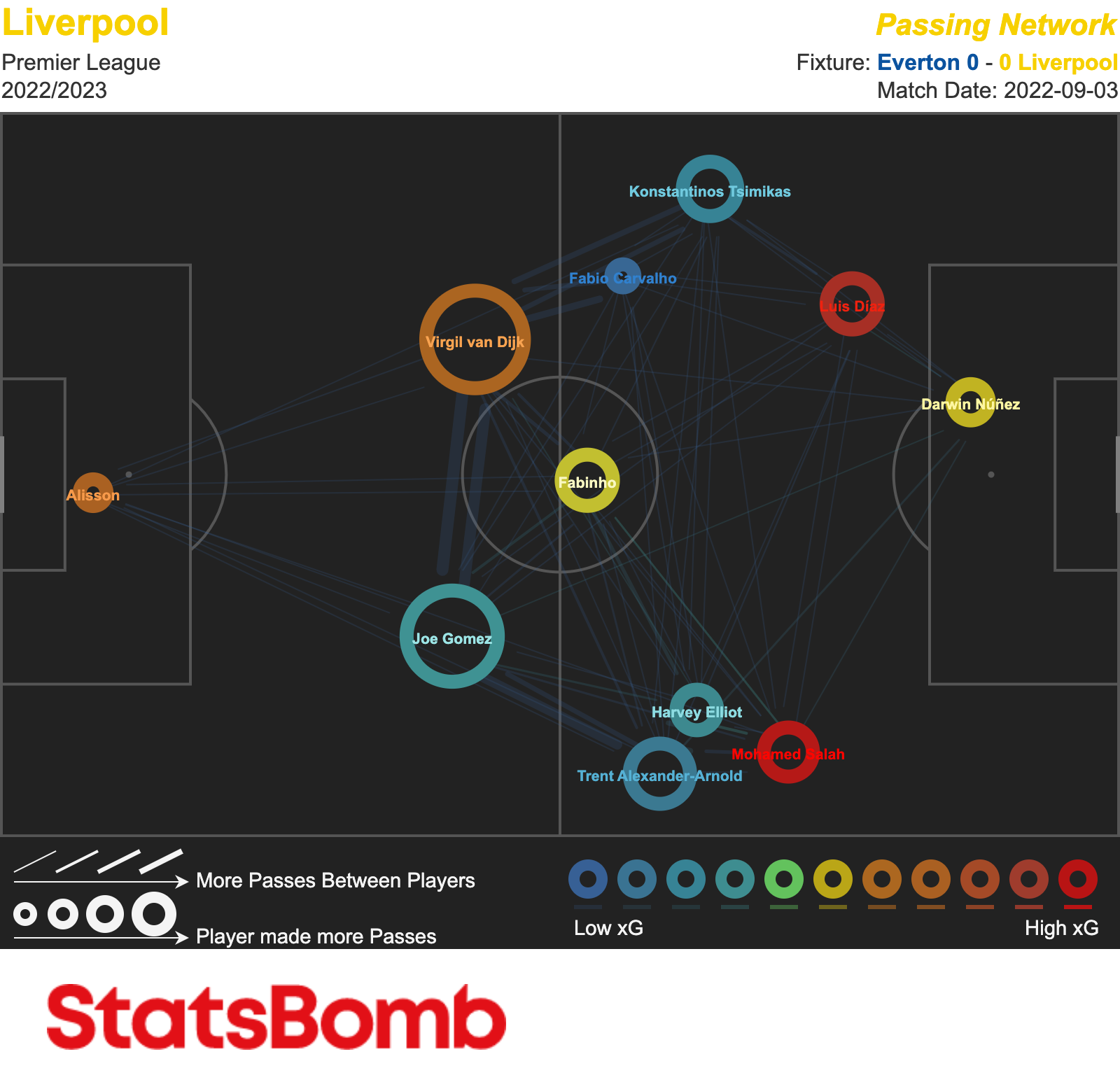 Salah – Why are we not seeing as many in box touches and goals?
While the average positions comparison reflects no significant changes in approach, at least positionally, we have seen less touches in the opposition box for Salah and less goals when compared to 2021-22.
Previous seasons…
Previously Salah has surpassed 240+ touches in the opposition box through a season and amassed more than 20 in one game. As an example, prior to AFCON last season, Salah was averaging 3.90 shots per game and this season he is averaging 2.83 shots per game.
So why this season, if positionally there seems no difference, and the manager is saying (publicly at least) that nothing has changed are we seeing reduced output in these areas?
Firstly, the 2021-22 season for Salah was very strange. It is a story of pre-AFCON and post-AFCON…
Goals per game pre-AFCON 0.88.
Goals per game post-AFCON 0.33.
This season…
Clearly, we are seeing a better version of Salah this season than post AFCON. He should score at least one against Bournemouth (if not two) and hits the woodwork against Everton in the final seconds. He could easily have four or five goals from six starts this season.
However, the eyes and feel of the games suggest we are not seeing enough of Salah, where we want him, often enough.
I think there are a few factors as to why this may be the case:
Our eyes may be deceiving us a little due to the scoreboard pressure in every game so far. We have been chasing games from kick off as 0-0 is no good to us. After going 1-0 down in so many games the pressure grows so it is only human nature to focus more attention on our best player and how he may get us back into the game. Thus, growing more frustrated when we don't see him having shots as regularly or in the areas, we want him to be shooting often enough.
Salah may not quite be in rhythm with the timing of his movement. Klopp's comments suggest nothing has really changed in terms of what he wants from Mo. Is Salah going where he believes the space is? Is he trying to help create room for others?
Poor attacking. Salah has been in acres of space in a few games now and we have struggled to get the ball to him. I do not think Virgil's distribution to him has been as incredible as it has been previously (a very high bar, to be fair), Trent has not been in peak form, and Elliott is taking up some of the space usually left available by Henderson in the right-sided midfield role.
Poor counter attacking/pressing. You see against Newcastle with the equaliser how it should look. A creative player receives the ball between the lines and feeds Salah between centre back and full back. Liverpool winning the ball back through counter pressing and springing from there with fast, direct attacks has released Salah, and Mane, in between opposition centre back and full back regularly.
We have had nearly 10 per cent more possession this season compared to last, and I feel teams have been in a lower block for longer periods restricting the space for Salah to run into.
Summary
I do not think we have changed things tactically anywhere near as much as I initially thought, and many are suggesting. There will be clear differences when, say, Elliott plays compared to Henderson or Nunez plays compared to Firmino. Generally, the same 2-5-3 type shape with a double pivot and Salah very high slightly to the right as seen in 2021-22 seems to be the plan for 2022-23.
We are seeing a significant decrease in running and high intensity running, in my opinion a key cause of:
Conceding too many goals and big chances when we concede possession.
Reducing the effectiveness of our counter pressing.
Reducing the effectiveness of our counter attacks.
It is chicken and the egg of course, but perhaps the reduced intensity has led to us passing the ball slower and being less direct. Not necessarily by design. Thus, leading to the nine per cent increase in possession.
It doesn't matter how much of the ball you have it is, of course, how effective you are with it and this Liverpool team seemed more dangerous and effective with less of the ball than we currently are.
There is of course tons of mitigation. The manager has been firefighting due to the injury list and has had to pick a team based on who has two legs and can run. The inability to rotate centre backs, midfielders, and forwards as a result has knock-on consequences.
With the games missed through suspension, combined with the lack of training time, this has a knock-on effect of how quickly we can integrate Nunez.
To be sat here only five points behind Manchester City with all of the above going on is a big relief.
Everton and Manchester United are games that I put in a completely separate box. I do not think you can analyse the state of Liverpool and judge our prospects by the performances and outcomes in those games.
In 2018-19 and 2019-20, we drew both games at both grounds scoring one scrappy Lallana equaliser in the process. We very nearly drew both games this season despite our physio room looking like a scene from Casualty.
On another day we beat Fulham and Palace late on and we are sat here with 13 points from 18 very much glass half full. Gomez and Elliott are purring, the fab five are back to bang in the goals, and we are not far away from it all clicking.
There is plenty to be positive about looking ahead to the next 10 league games, with six at home, players returning, and lessons to be learned.
We need to build on the clean sheet against Everton and start putting a string of them together. We need to get back to being the worst team in Europe to come up against.
There is no time to waste now in showing we have learned the lessons from these six games, starting at home to Wolves on Saturday.
---
"One thing Liverpool have lacked this season is control… There's moments in the game where we misjudged the situation consistently, and in the derby you aren't able to get away with that…"

🗣 Free Podcast

Listen 👉 https://t.co/ql4U5ZW0Za
Watch 👉 https://t.co/e0tLjCXhNL pic.twitter.com/mUFyZv2Ij1

— The Anfield Wrap (@TheAnfieldWrap) September 5, 2022
Recent Posts: