A defeat like Liverpool's against Napoli should precede changes, but are Jurgen Klopp and co equipped for an uncertain future?
FOR many, Tom Baker was the best Dr Who.
That'll probably mean nothing to many of you, but trust me on this, Tom was the business. For seven years he fought off any number of monsters and villains with his trademark grin and access to jelly babies. He's Scouse too, though I didn't know it at the time.
His reign ended in 1981 when his incarnation of the Time Lord fell to the ground from a massive radio telescope thing after a barney with The Master. As he lay on the ground, he looked up at his mates and said: 'It's the end, but the moment has been prepared for'. It's one of my favourite lines from the telly.
It's funny how cheesy TV can stick with you.
'It's the end, but the moment has been prepared for.'
I had similar thoughts last week when The Reds went four down in Naples, though for slightly different reasons. While Tom was waiting to slowly turn into Peter Davison, The Reds were gamely trying to find out what to do next. I was left asking if anything had been prepared.
Alright, maybe 'the end' is a bit pessimistic, but even the hardiest Red wouldn't see much to cheer about after that game.
Jurgen Klopp, in particular, looked bereft, though the honesty of his interview gave us a little hope. There's nothing worse than a manager telling us that the plan nearly worked when we've all sat through the same tripe. We have eyes.
If he had told us that we were a bit unlucky and that four goals in 47 minutes flattered the Neapolitans then alarm bells would be ringing all over the place. Luckily, he gave us credit by not pretending otherwise. The Reds were garbage. More than that, The Reds were garbage with no or little plan on how to stop being garbage.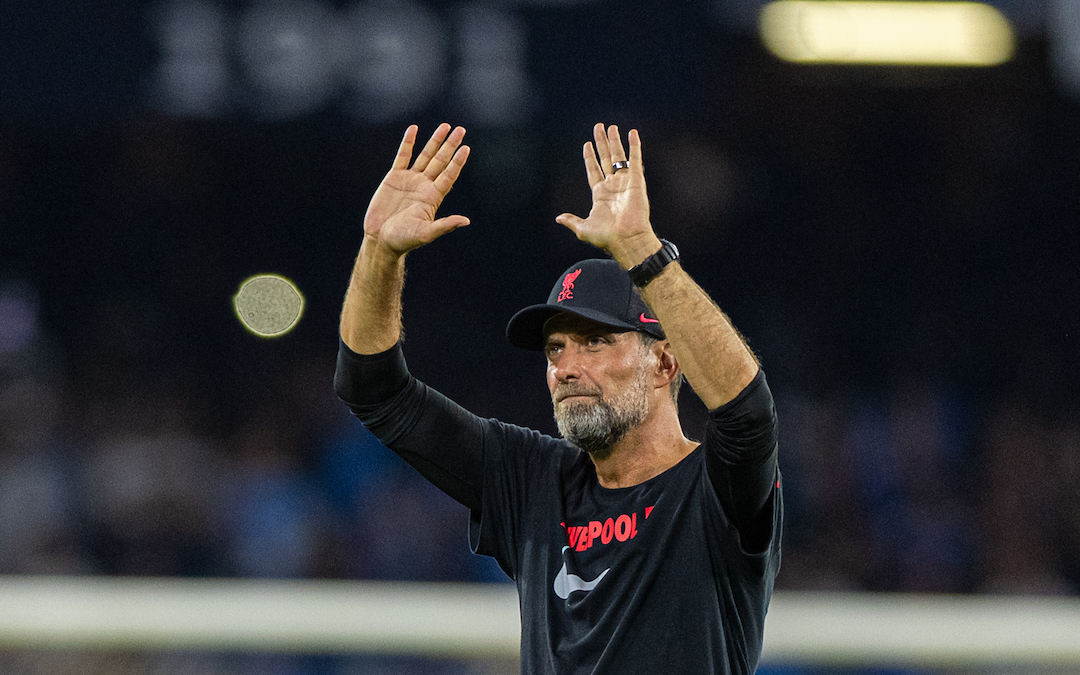 I don't like picking on individual players, not when they've all stank the ground out, but I'll just say this. If I see a Liverpool player lose his man, I want to see him do everything he can to get back into position and have another go. Sulkily jogging behind them because he's lost out is an appalling thing to do and he's done it three times this season.
I love the lad and hope it's just a loss of form, but I also hope there was a huge wake-up call waiting for him in the dressing room. You don't get to do that here.
Ah, maybe he's knackered. They all are. Andy Robertson's barely finished 90 minutes all season and the others look like they're running with someone else's legs. Either way, the back four was exposed time and again by a creaking midfield and the front three played like they've never heard of each other. Three lads playing their own game. Not good.
It was the other end of the Klopp ethos. There was no press and no time for counter-press. The movement was non-existent and the players' morale looked shot. The end? Not sure, but that's the first time we've been roundly trounced in five years. Liverpool looked old.
There's history here. In December 1990, Kenny Dalglish's champions went to Highbury to play Arsenal in a top of the table encounter having won 12 of their opening 14 games. The Gunners had just been fined two points for brawling with United players at Old Trafford and then been demolished in the League Cup at Highbury by the same opponents. No problem for The Reds then.
Liverpool got battered 3-0. Absolutely thrashed, but the scoreline told only a part of the story. Arsenal were on the up and had out-thought and out-run a tired, myopic Liverpool.
Kenny suspected this was going to be an unhappy day and fielded six defenders to counteract the unusually high position of the Arsenal full backs, but it didn't and it was clear that Kenny's time was coming to an end, though obviously there were many other factors in play there.
Tuesday looked similar. The Reds couldn't live with the speed and verve of the Italian attack and suddenly appeared very old.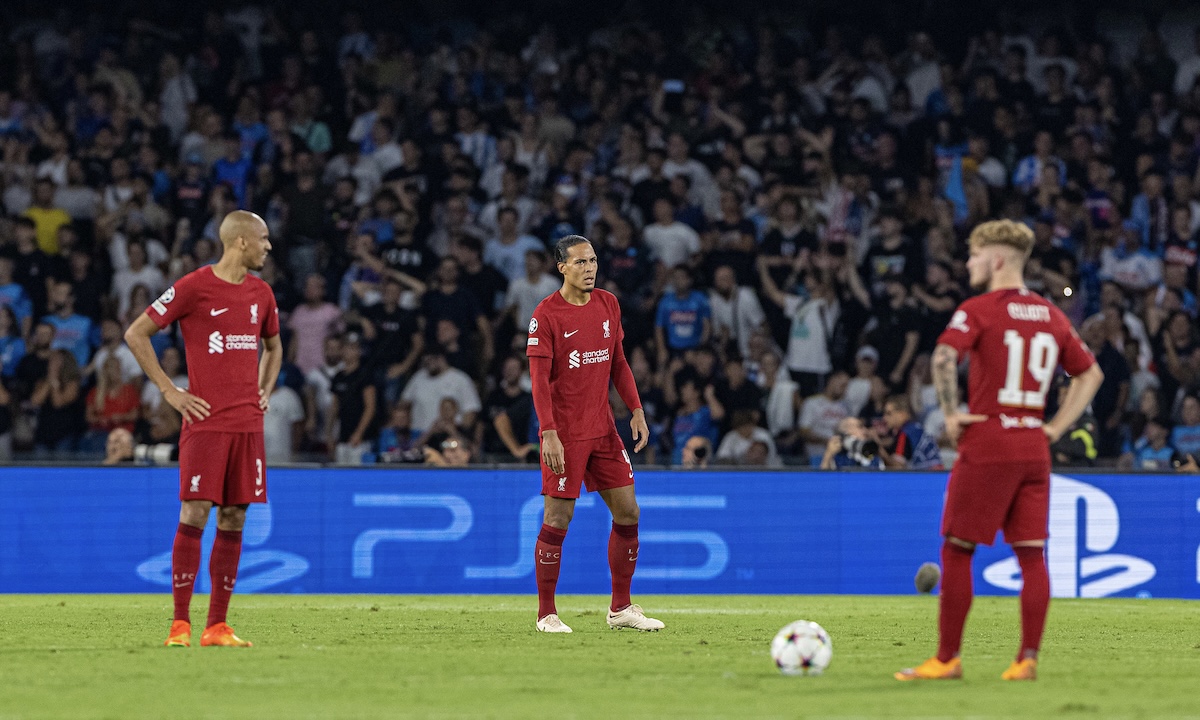 You can look at the transfer policy and the injuries and the midfield etc, but the worrying thing was the lack of heart. A one-off 9-0 is all well and good, but we've not looked confident at all this season.
But, if there's one manager who has prepared for the moment it's Jurgen Klopp. I'd like to think he's noticed the ageing squad and wonders if 4-3-3 is coming to an end and has plans for newer formations and faces.
Maybe this will be the start of Jurgen's second great side. Maybe Napoli will be the same line in the sand for Jurgen as Watford was for Shankly in 1970 and the 1987 season was for Kenny. Both managers bravely revamped their first teams and grew stronger for it.
The best managers are able to tear up a side and replace it with a better one. Both Shankly and Paisley — still the benchmark for any managerial great — have both done that before and while most Reds would disown their families before admitting it, the same trait raises Ferguson above the common manager. It's not easy.
Some might say he's already started. Look at Darwin Nunez. For years he's had Roberto Firmino, the least likely number nine playing number nine, and now he's replaced him with an archetypal penalty spot striker. Roberto likes the ball to his feet; Darwin likes it in front of him. A different player for a different age, maybe?
It's difficult as those lads weren't up against clubs with bottomless pockets as we are today.
There might be some changes coming in soon. Maybe more Diogo Jota than Firmino, maybe a rest at right back with Joe Gomez moving over there. This needs a reaction, though. A one-off defeat is one thing, but there's something not quite right and some are already writing off the season. We should never do that.
Time will tell. It always does. I hope we're prepared.
---
"The players will be judged against the very very high standards they've set."

They've amassed serious points totals over a number of seasons…they're judged against that. They need to improve quickly."

🗣 Listen 👉https://t.co/gRKRJ1n7r5
🎥 Watch 👉https://t.co/FaAotQP9DG pic.twitter.com/RsDsv06NSA

— The Anfield Wrap (@TheAnfieldWrap) September 12, 2022
Recent Posts: