As Manchester United v Liverpool meet again with contrasting fortunes, when was the rivalry last competitive enough to be considered 'proper'?
THE word heavyweight was used a lot in Jurgen Klopp's press conference this morning.
It wasn't to describe a potential 12-round bout between the Liverpool boss and Gabby Agbonlahor. Nor was it a nod to The Reds' growing injury list.
It was Manchester United versus Liverpool – Sky's showpiece which is billed as the money shot of Premier League viewing.
Let's line all the subheadings up now: the most hated rivalry in the country. The two most successful teams in England. The most watched game in the Premier League.
We can say with a degree of certainty the last line remains true. As for the other two? They remain intrinsically linked but increasingly debatable.
Whenever opinion about this rivalry wages, supporters adamant it's the biggest are often those advocating the most hate towards the other.
There is a need for validation in channelling such aggression and dislike, after all. Like many others my age, I remain in a conscious state of tempered emotion toward this fixture.
Anyone who lived through the 1995-2010 domination of United may, like me, incur a slight case of Stockholm syndrome resulting from what they achieved and how they did it.
I understand that's easier if you don't have to live around them and probably explains why I'd rather see them win a game than Everton win a corner.
Perhaps this colours the narrative I'm pushing that this may not be the crowning jewel in the English football calendar. Part of the reason why is we've never got to see these two clubs compete for the major honours for any amount of time since 1992.
This has been a rivalry based on trophy counts but mostly just spoiling each other's fun. The cities are very different, the people can be slightly similar but often polar opposite and the culture indeterminable.
When United all but lost the league at Anfield in '92, the Liverpool crowd were jubilant and crowing in the knowledge Leeds United were on course to win the title.
Many United fans faced their worst fears that day, but many of them knew they were passing Liverpool on the stairs. Some 25 years later, as they sing about a Chelsea striker winning the league for Manchester City and continually adore their closest rivals for stopping us, Liverpool climbed back to the ascendancy United were descending from.
Ultimately, it becomes about the brag, about "where's your European Cups?" and "20 times, 20 times I say". Like much of football, it's more about insecurity and validation and less about what makes a rivalry work to the point in which it's functional and, in its own way, healthy.
Liverpool and City has been the biggest rivalry our club has had in 30 years, the same could be said about United and Arsenal. Why? Because it was built on foundations of present success and competition.
Both rivalries have been felt more in the dressing room than in the stands. They create pulsating football matches which are breathless to consume and they often signify the benchmark for elite performance on a domestic and European scale.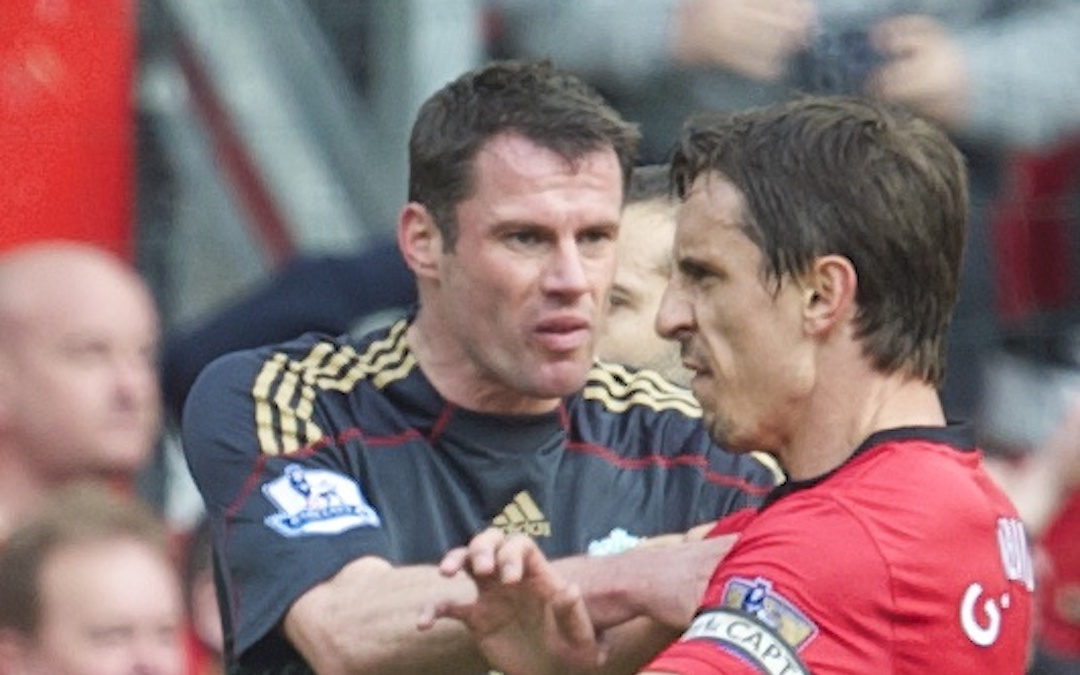 What Liverpool and City have created should be respected more by themselves. It's understandable that it isn't when so much is currently at stake. One day they might look across the ring and know they've put on an absolute feast of an encounter which went the whole way.
There'll be no shortage of anticipation for Monday night's game at Old Trafford and rightly so. It'll be viewed across the world as a game both sides can ignite their season with a win.
But it has come to resemble something of an "El Clasico" feel. A bit of lip service in a creaking cauldron which looks tired. A game which would have been a Super League lover's dream. A valentine's day cliche.
Perhaps the saddest indictment about Monday is the thing I'm dreading most is more Hillsborough chants that Liverpool's end will inevitably find a way to rise above.
Whatever the full-time outcome, this game isn't and has never been a Premier League pacesetter. It's merely now an undercard to a true heavyweight bill Liverpool remain part of.
It might be the one both need to win for their own reasons. It might be the one you least want to lose, but it's also one which decides nothing in its own context.
Maybe, in our lifetime, it never will.
---
🗣Manchester United v Liverpool: Pre-Match Warmup | #NewPodcast | #LFC@Ian1892T hosts @Andrew_Heaton, @PhilBlundell and @mccannandy1978, while @Knox_Harrington speaks to Man Utd fan @Tezskii…

1️⃣ Download our App
2️⃣ Enjoy FREE tokens
3️⃣ Listen

📱👉https://t.co/yTcwWTIbIT👈📱 pic.twitter.com/WEPMP3pL0B

— The Anfield Wrap (@TheAnfieldWrap) August 19, 2022
Recent Posts: