Letters To The Editor addresses your burning questions and comments pertaining to Liverpool, including why The Reds won't loan a midfielder…
HERE are your burning questions and comments in the week after Liverpool dropped points at Fulham…
Dave Lee: Our players complained of the slow, waterlogged pitch, whereas I was dumbfounded by the lack of cohesion between them. We had 66.9 per cent possession (normal), passing completion was 77 per cent (lower than our average?), and won 13 aerials to Fulham's 23 (bad).
It looked as though they shied away from the challenges, as Fulham probed the types of borderline fouls the referee would give for elbows, knees and stamps: their upper limits set after the first yellow card.
Always tough first game away at the Championship winners, perhaps our recent squad injuries placed a pre-match precedence.
Editor: Sometimes you come up against a team that creates a perfect storm for you to battle against, and that's what Fulham did on Saturday. They played every marginal gain they could get to a tee with the pitch, the referee and more.
The biggest problem for me (and I'd suggest for the manager too, given his post-match comments), was that Liverpool allowed themselves to be dragged down to their level by being too polite in an attacking sense until Darwin came on and allowing Fulham's attempts to cause chaos to do just that — why, Virgil?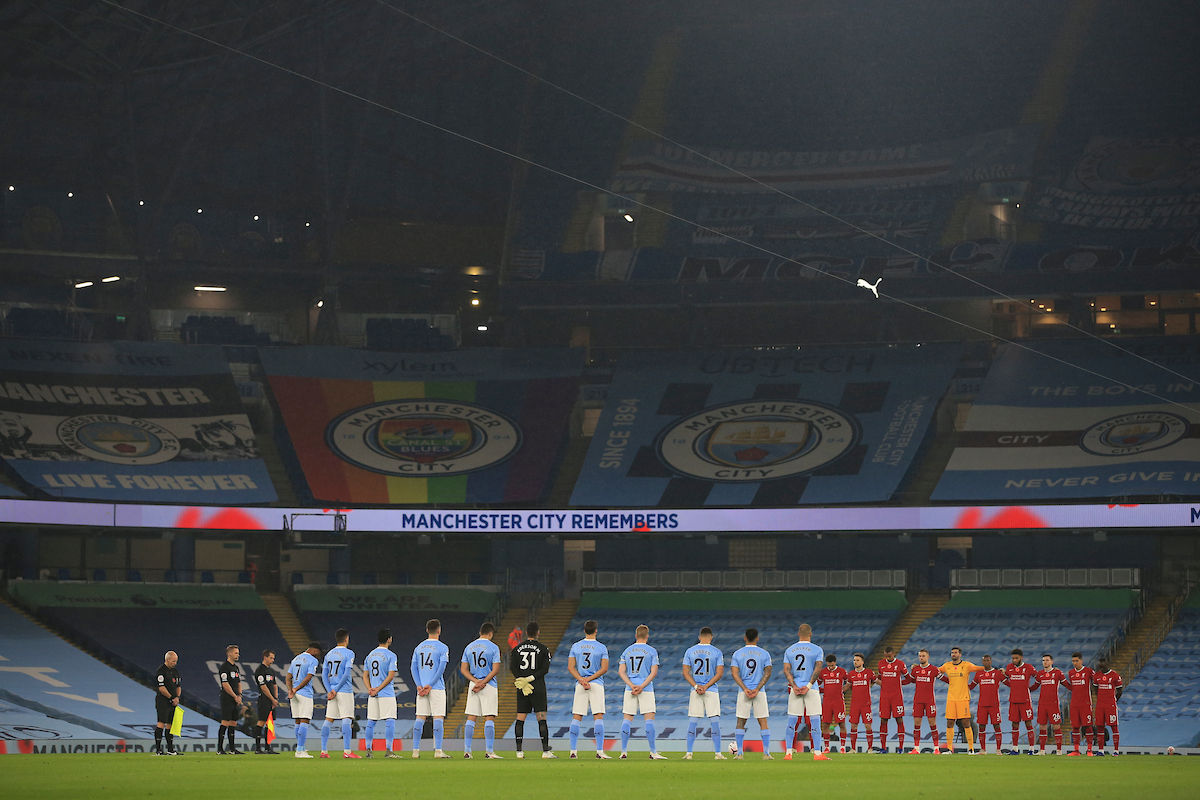 Greg Ahern: How should Jurgen Klopp manage a potential midfield injury crisis the likes of which we haven't seen since the 'Great Center-Back Injury Crisis of 2020-21'?
In 2020, top-of-the-table Liverpool went to the Etihad without van Dijk, Fabinho, or Thiago and played 4-2-4: Salah, Mane, Firmino, and Jota with Henderson and Wijnaldum in midfield.
In 116 matches from Leeds (H) in 2020 to Fulham (A) in 2022, Liverpool's starting 11 featured four attackers only three times. Why did Klopp play 4-2-4 in the most difficult fixture of 2020-21 but only one time since and zero times since he's had five recognised attackers?
Editor: I think part of the reason he felt confident about playing that 4-2-4 against City was because of the roles both Henderson and Wijnaldum could play, as effectively both sixes and eights. I don't know if there's a player in the squad now, bar Henderson, he'd trust to fill both those roles and I think we'd lose too much defensively and in the counter press to try this with Diaz and Darwin.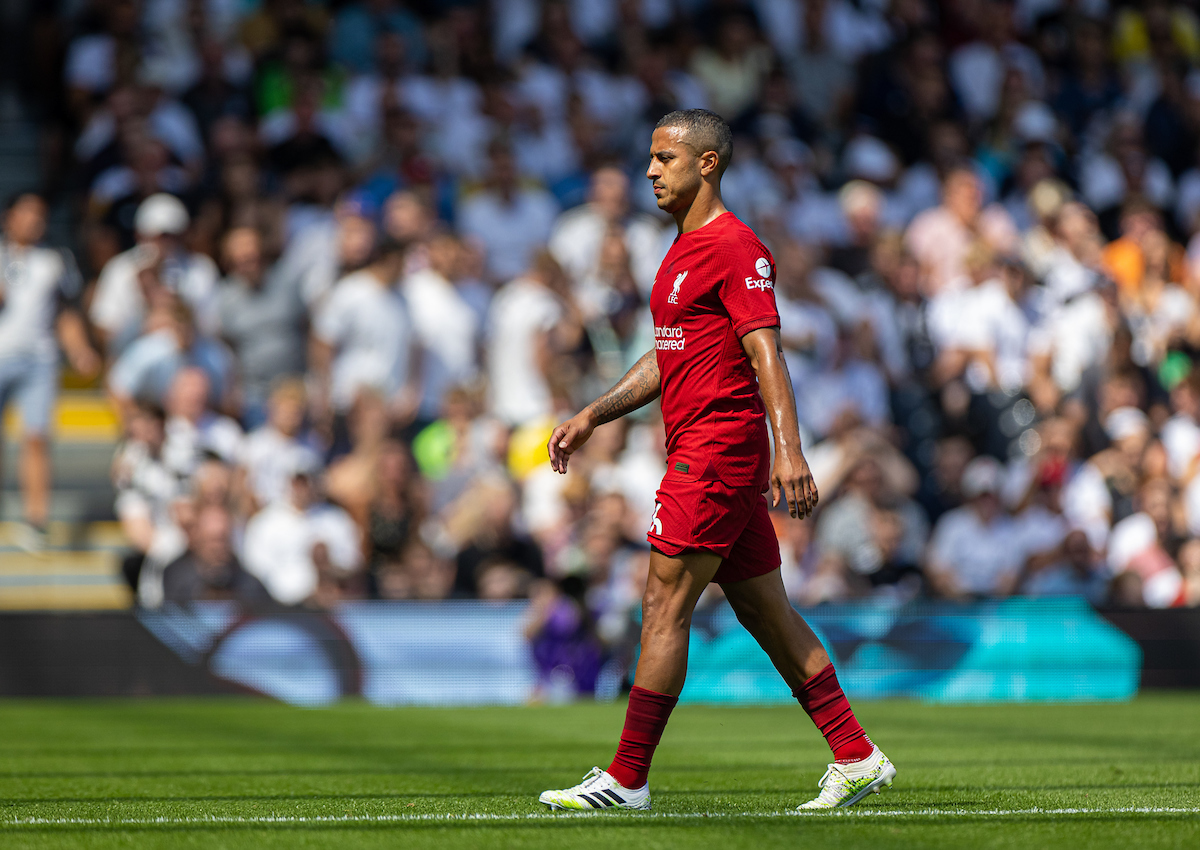 Ian Reay: We were wondering why, despite many loan deals taking place, Liverpool don't consider a loan move to deal with the midfield injuries.
Editor: Well this is dependent on both the right player being available for a loan move and the club being confident that it's a better solution than what they have. I think if you were to hand Klopp a list of the midfielders currently available for loan and ask him whether any are better solutions than what they have, he'd say no on the basis that — even if said player was higher quality — they'd need time to settle and by the time they did we'd probably have our better lads back fit anyway. Plus, it could pose further headaches for him about squad harmony.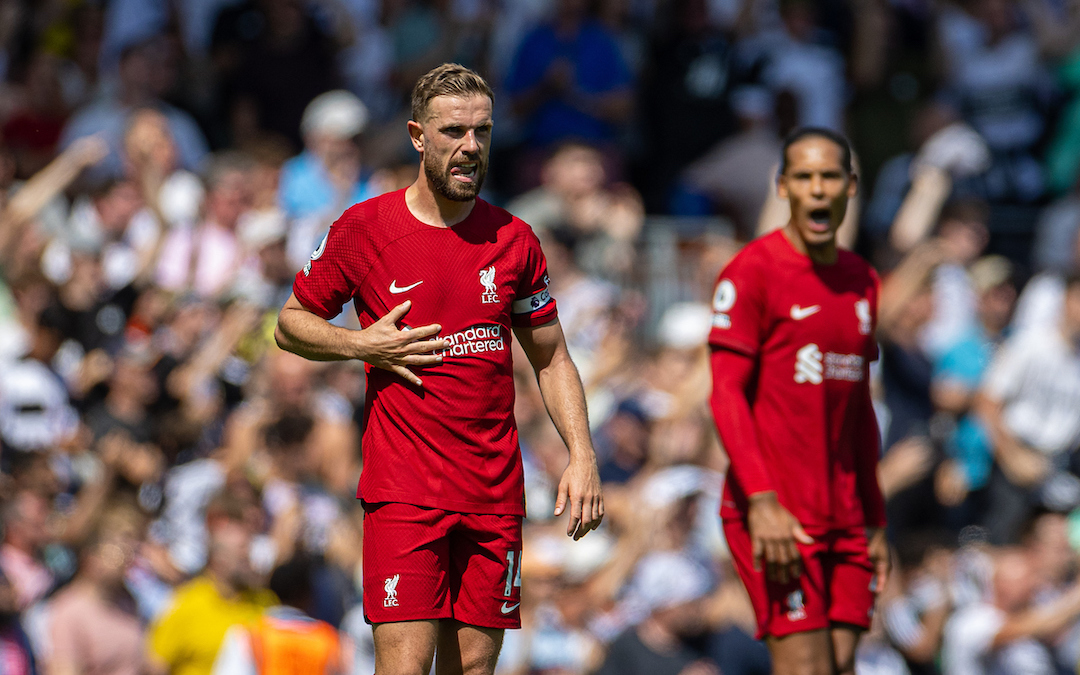 Peter Roche: Fulham on Saturday became a very uncertain midfield, as they surprised us. It became difficult to say who was not doing his job. Was Bobby or Thiago number 10? Hendo or Fab, who was six? We don't always miss Gini to plug gaps but he did just that so often, by running everywhere. Naby has been making a good fist of doing it, and Millie was sent on to do it.
Pep and Jurgen can play with midfield shapes till the cows come home, but if I was still coaching I'd stick to old numbers in training to make the midfielder know where and when they should be.
Editor: This is a dead interesting conversation, in that it feels like we're trying to make sense of the uncertainty Klopp is trying to bring on the opposition. His entire team is full of axes or triangles, in that sometimes both Henderson and Fabinho might need to play as double sixes, Thiago and Firmino as double 10s, and sometimes you just want lads who are willing to graft and help push the opposition back like Milner and Naby.
Klopp has spoken loads about staying unpredictable, and giving everybody multiple roles to switch between is still the best way to do that.
---
"It doesn't sit right with me that Liverpool maybe putting all their eggs in one basket for a 19 year old Jude Bellingham to sort out all of our underline niggles in our midfield…"

🗣 TAW Podcast

Watch👉https://t.co/XnQUQCe1nB
Listen 👉https://t.co/G2sFjaI0Ro pic.twitter.com/bT906qVc7K

— The Anfield Wrap (@TheAnfieldWrap) August 9, 2022
Recent Posts: