After more criticism of Jordan Henderson despite a 9-0 win, is it possible to try and understand the difference in Liverpool's support?
THIS isn't going to be easy to write.
It's going to get ripped and it will be used as a buttress to hold up accusations of agenda and protective bias, but there's a time when you have to accept that that huge animal taking a dump next to you is an elephant in the room.
There are some people I just can't understand. As a neurodivergent man who often struggles to comprehend certain human actions, that's to be expected, but there are Liverpool fans — people who share my love, ambition and ultimate aims as the men in Red — who utterly perplex and sadden me.
I've tried to walk around that of late, but it's really starting to make me question both mine and their sanity.
Though there isn't, or at least shouldn't be, any idea of fan hierarchy, it would be impossible for us all to give the same time and experience to following The Reds. A kind of inter-support rivalry was thrown up years ago. There's long been a schism on and off the terraces.
Back in the 2000s there was the usual Scousers v Out of Towners (known as OOTs in the LFC forum wars) baiting followed by UK Reds v non-UK Reds thanks to the advent of social media. It's part of a natural human condition to paint yourself as the most zealous or holier-than-thou when fandom is involved, so I suppose it can't be helped.
For the record, I'm more or less in both of the first category, being from Liverpool but not having not lived there since the late 1980s when I went to university. That will cause a few to sniff disdainfully, as I never went back after my three years away. I can live with that.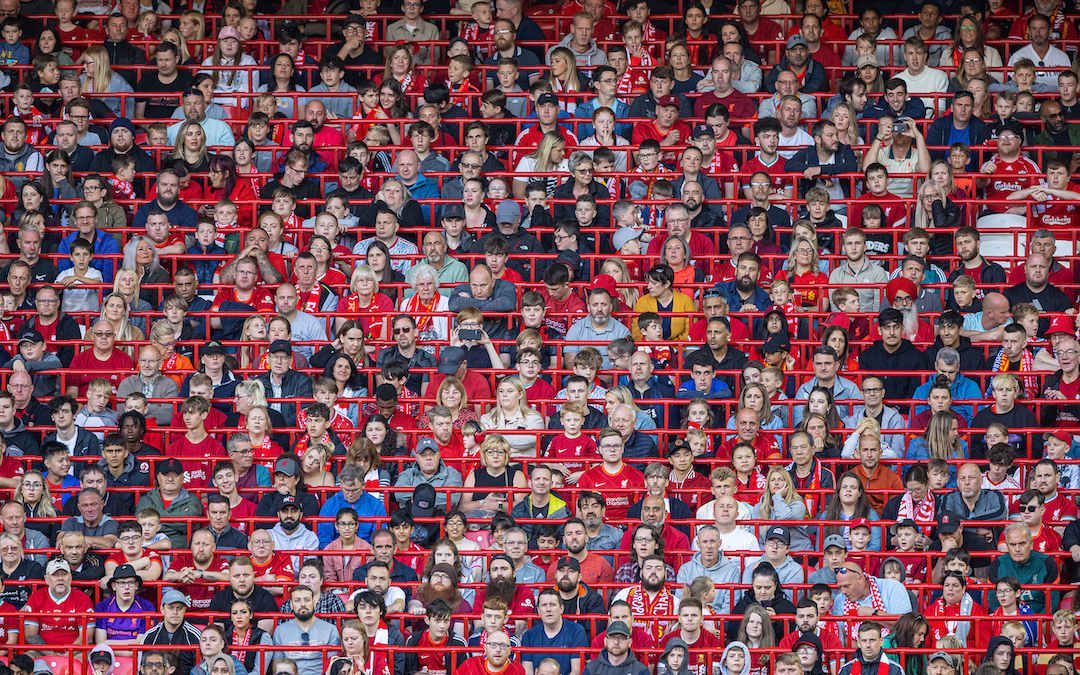 I can also live with fans from overseas, though I've been accused of not valuing overseas Reds. I literally wrote the book on foreign Liverpool support in 2015 in a tome called 'We're Everywhere, Us', which I am sure still sits pride of place in your favourite bookcase.
Not everyone is from Liverpool, not everyone is from this 'septic isle' as Del Boy put it, but that's OK. If your day is made or ruined by The Reds, if your waking thought is about the next game and if you find yourself frozen to a reverie considering team lineups when others are talking to you about apparently more important stuff, then you're fine by me.
And I've made my peace with the stats lads, too. It's not for me — I prefer watching the game to counting it — but I understand that metrics give insight for those interested in a deeper dive into performance. I just prefer the art of the game and fan culture aspects. Still, each to their own. Your life isn't mine and mine isn't yours.
But there are people I'll never understand. And I'm not sure I'd want to.
Supporting the player over the club. That seems weird to me, as does holding a full-blooded hatred of lads who wear their shirt. I don't mean a dislike. I mean actual disgust.
This is not to say that we don't have our favourites and those whose name we frown at. I'm no different.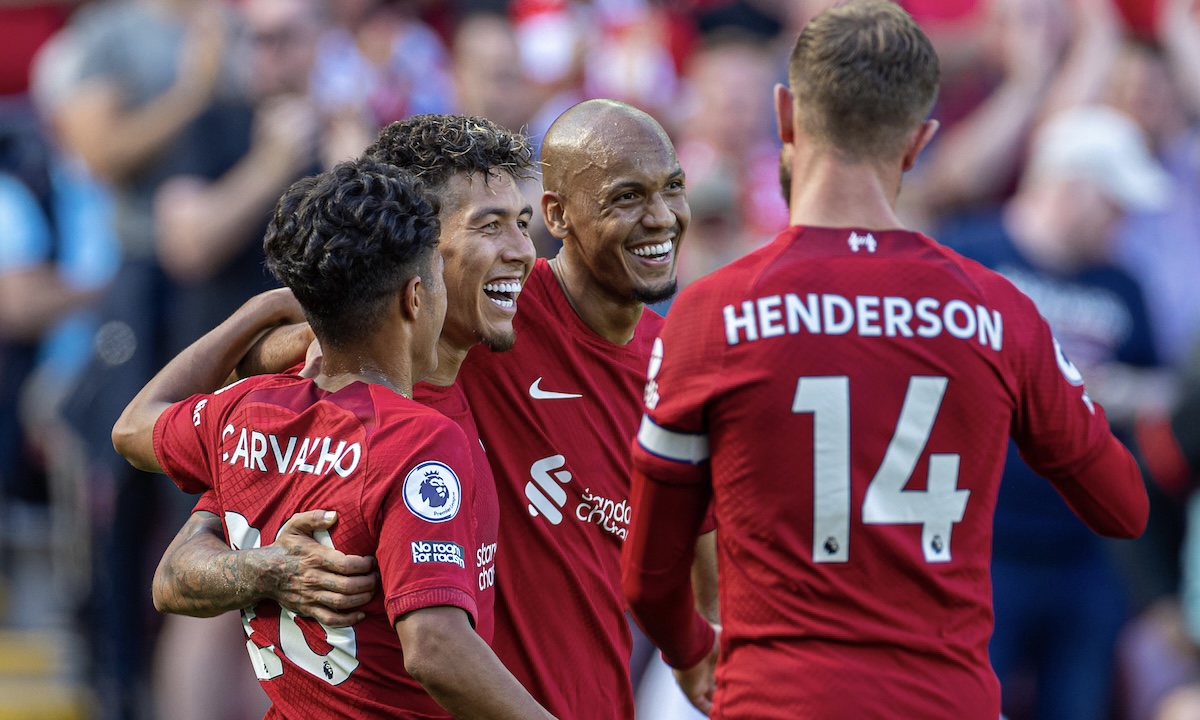 I adored Craig Johnston. Even by his own admission 'Skippy' wasn't the most gifted of players but I took to him immediately. Conversely, despite his cross in the European Cup final and his goal against Manchester United, I could never get on with John Arne Riise. He infuriated me. For balance I can say that, following a piece I wrote about him a few years ago, he has a similar view about me.
But the Jordan Henderson thing? Jesus, the whole Jordan Henderson thing.
Jordan Henderson is the most successful Liverpool captain since Graeme Souness. Whether you think he should be a starter in the current side is another matter, but the zealotry around him is frankly bizarre.
On Saturday, Henderson chipped a ball into the path of Luis Diaz. Diaz thought he was offside and let the ball roll harmlessly to the keeper, before turning to his captain and giving him the 'nice idea, sorry' thumbs up. A few hours later that brief passage of play developed into another example of a terrible ball in yet another terrible performance and the anger rose accordingly. 'Hooferson.'
Liverpool won the game 9-0.
Full disclosure again. I like Jordan Henderson a lot and am often bewildered when people slate him so aggressively. He's not a number 10 and, as Ben Johnson said on here a while back in his match ratings, people who don't see him clearly haven't played in a team.
You need a worker and sometimes you have to play side to side or back rather than finding a wonderball through the middle. You need a tempo-setter – something Jordan Henderson is very, very good at.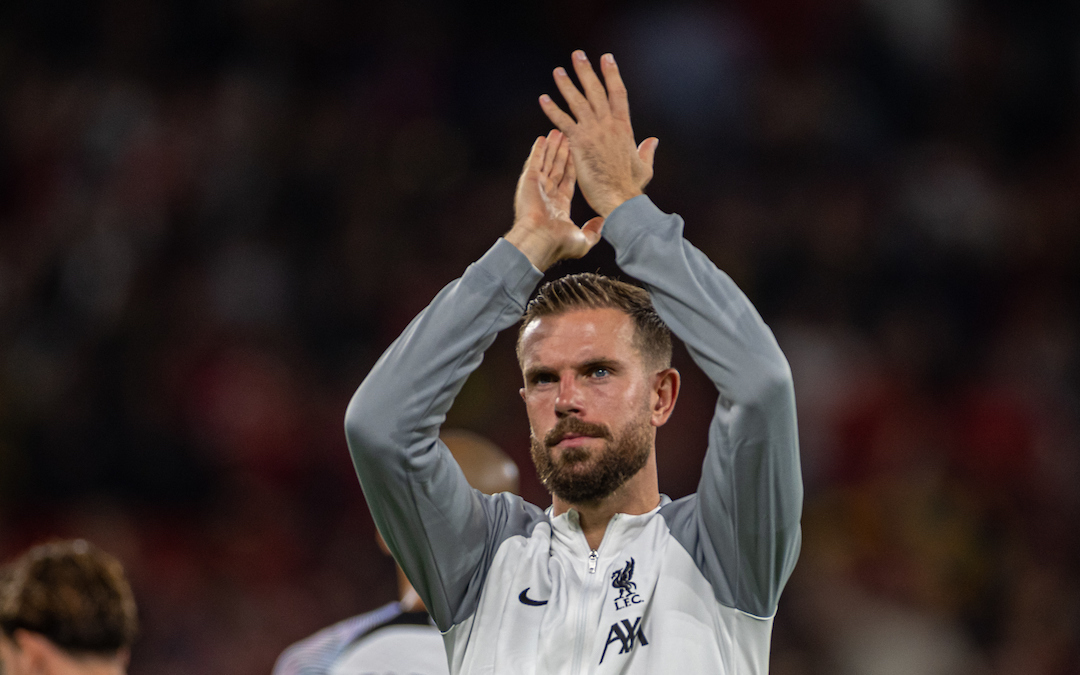 He's also had bad games. I'm happy to concede that. They all have. They all will.
What's more though, he's your captain. Your favourite manager of all time has picked him as your captain from day one and trusts him time and again to be the captain of the very thing you support. If you think his skill and output is waning then fair enough, but the abuse is as stupid as it is crass.
One Twitter attention-seeking anus even went so far as to sniffing at his message of support for Olivia Pratt-Korbel's family, claiming that he did it so we'd have to play him more now. I'm very glad that I'll never meet that twat and though it is not in my gift to decide who should and shouldn't support this club, I'd deem it a personal favour if he left us alone and got into golf or something.
And then there's the transfer lads.
Transfers are part of the game, but only a part of it. We have our own transfer show at The Anfield Wrap after all, but there are some whose interest seems to end there and then. I don't understand the attitude. It seems that it's not what they do when they come here but how much they cost and how much more we can spend than anyone else. That's totally lost on me.
That extends to the owners.
I can understand the distrust of the owners and even claims that they're doing a lot better out of LFC than we are of them, but if there's one club who have seen how scattergun buying doesn't work it's us.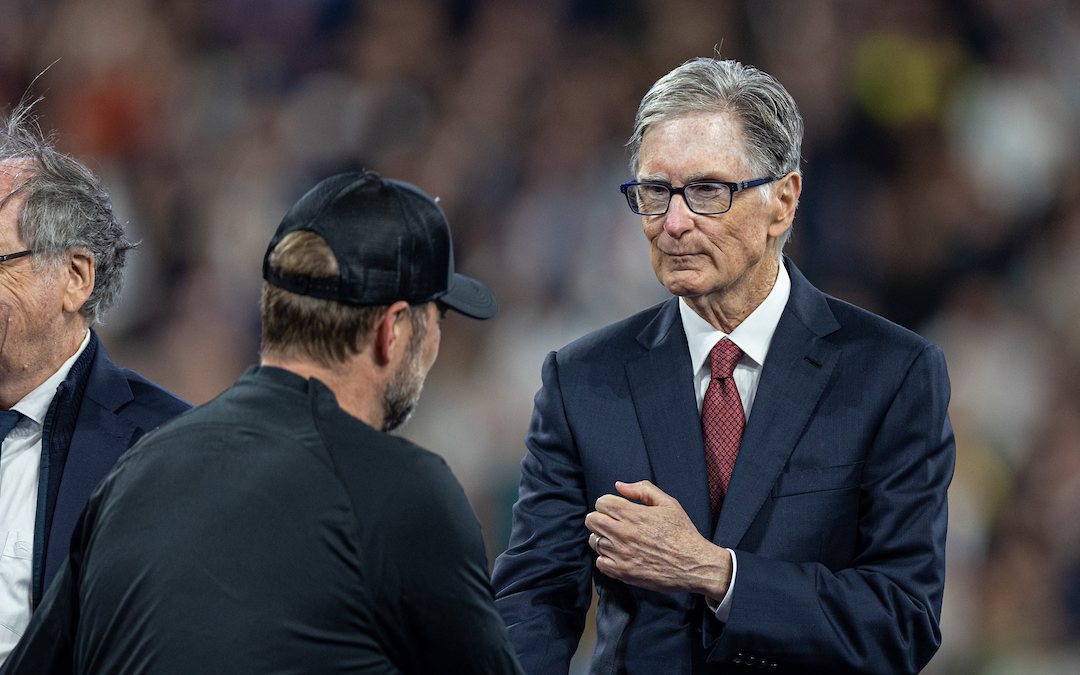 We should be buying players and, yes, it's frustrating when we're looking light for cover, but the right sort of player doesn't turn up every couple of weeks. Jurgen Klopp likes to wait. He waited for Virgil van Dijk when we were desperate for a centre back. He didn't throw the equivalent of a bank safe on Ben White.
But the call is always one of crisis. We need to buy people NOW. We need to throw money at people with all speed.
There's a club down the road who are doing just that. Man Utd have spent £155m on two players in the last week. They're also dishing out a half a million quid a week to a 37-year-old who doesn't want to play for them anymore, so if extravagant displays of lashing cash is your thing then there's a home there.
Jamie Carragher and Gary Neville recently assessed the 33 major signings by United since 2013 and concluded that only two have truly worked. That's two, Ibrahimovic and Fernandes, for a billion quid. A dream to some as long as there are more signings to come to replace the duff ones.
I want signings too, but I want them to benefit the club rather than a wealth measuring index.
How about we just get on with supporting Liverpool and everything within it? If the squad isn't up to scratch just yet or your mate isn't playing then that's football. All that matters is the badge. All that matters are the trophies and we have a man in place who is better equipped than anyone to link one to the other.
That won't happen, though. We all want different things. I'm just incapable of understanding some of them.
---
"Three summers ago, talk around Liverpool needing to rebuild their midfield was beginning to gain some momentum…"

🗣The Gutter

1️⃣ Download our app
2️⃣ Enjoy FREE tokens
3️⃣ Listen

📱👉https://t.co/dmrnfAPKPY👈📱 pic.twitter.com/M6awKdd7c9

— The Anfield Wrap (@TheAnfieldWrap) August 30, 2022
Recent Posts: