Analysing the key features of Jurgen Klopp's 4-3-3 and what the future of formations could look like at Liverpool…
IN February 2013, I sat in a circle in a room with six other men, strangers at the time, and waited patiently for them to talk about football.
A few minutes in and I was asked a question by a clearly hungover host. It was the first I'd ever been asked on a podcast. It was about Daniel Sturridge and Luis Suarez.
I coughed nervously and said that I thought most strikers preferred playing in tandem as a two, rather than with one of them withdrawn behind the other. I reasoned that they're aware of each other's room and need to attack space. Their play is instinctive at that point rather than coached, so it's easier to play to a rhythm than to an instruction manual.
I was on safe ground there. The day before Liverpool had just battered Swansea City 5-0 and both Suarez and Sturridge had scored. To my delight and relief, Rob Gutmann nodded emphatically and gave me a silent thumbs up. He knew I was nervous and approved of me playing a straight bat to the opening delivery.
Behind Suarez and Sturridge that day were Lucas Leiva, Steven Gerrard, Stewart Downing and Philippe Coutinho. Presumably, Lucas sat with Stevie and Downing playing wide while Coutinho sat at the tip of the diamond behind the front two. The latter Brazilian scored his first goal for the club. More of a diamond then, that day.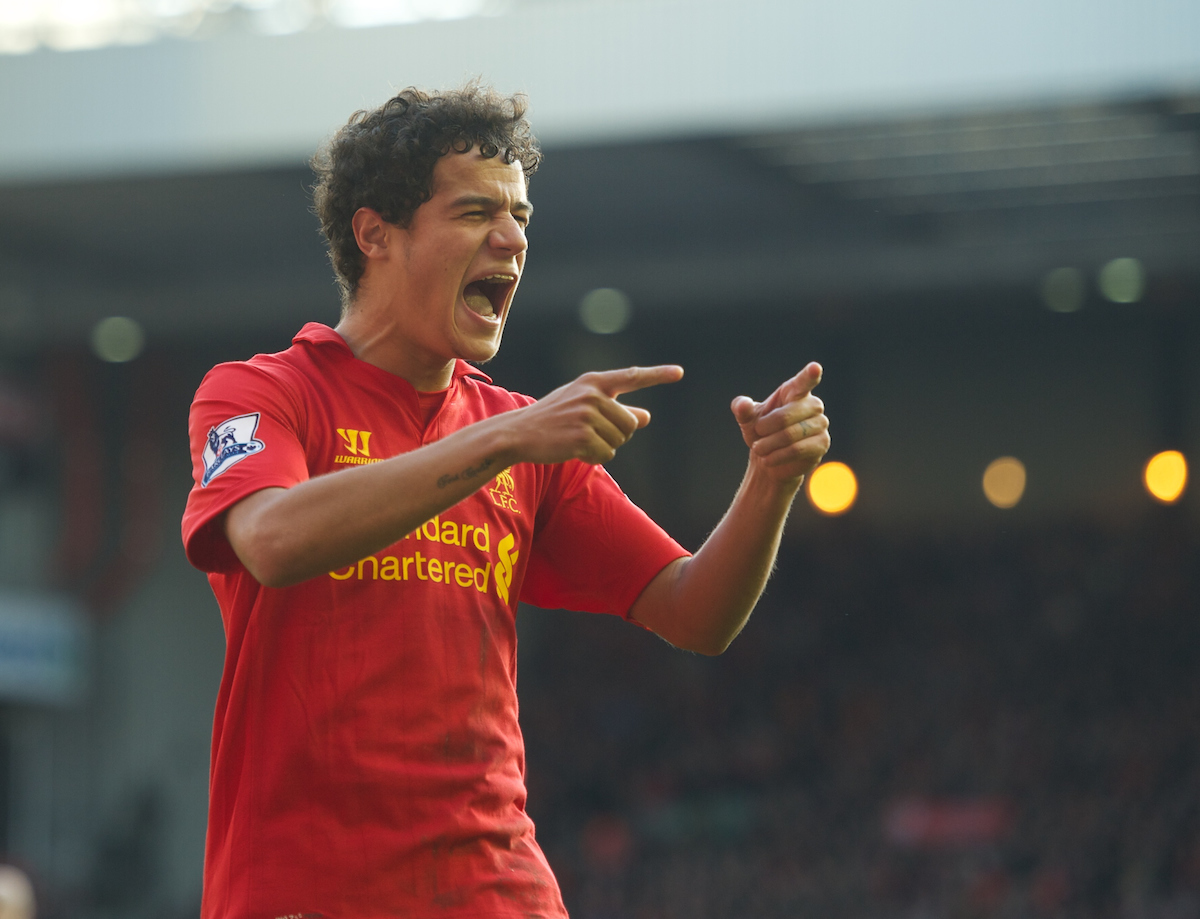 Formations are seldom rigid so it's more a case of a nominal shape rather than a standard one. When I was briefly a match reporter in London, I was tasked with noting the players and formation at the end of the column. Half the time I could only really be sure by taking a note of the shape when there was a goal kick when most players reverted to their factory settings.
For the past few seasons, Jurgen Klopp has built his play around a 4-3-3 system with only the personnel of the middle three changing regularly and maybe Virgil van Dijk's companion. It would be disingenuous to suggest that this is a concrete formation though, as Roberto Firmino breaks the mould the deeper he drops.
Furthermore, you can't really give it any nomenclature when you consider how often Joel Matip marches up the pitch whenever the fancy takes him or when Trent Alexander-Arnold stays so high or, for a part of last season, so central.
Only a few weeks ago, Mo Salah referenced his position on the right of a front three and congratulated himself on a goal tally which would reflect on a standard number nine rather than a winger. That's if you can call him a winger as he seldom touches the touchline. These positions are fluid.
As with pretty much every element of the game, these things come in waves. One minute a lineup will be favoured by most managers, the next it will be dropped when they see how another works for their rivals. Rafa Benitez loved a 4-2-3-1 or a split striker formation with Gerrard behind Fernando Torres. Mind you, he also had those players in his arsenal which helped a bit too.
According to the Premier League, in the 2020-21 season only Liverpool, Manchester United and Burnley chose pretty much the same starting formation while others chopped and changed.
Ancelotti's Everton rarely kept the same shape two games running, which clearly shows a manager trying everything to get a winning formula. Southampton were the only team to play all 38 League games in the same shape (4-4-2). Manager Ralph Hasenhuttl refused to budge even when the Saints' form nosedived in the second half of that season.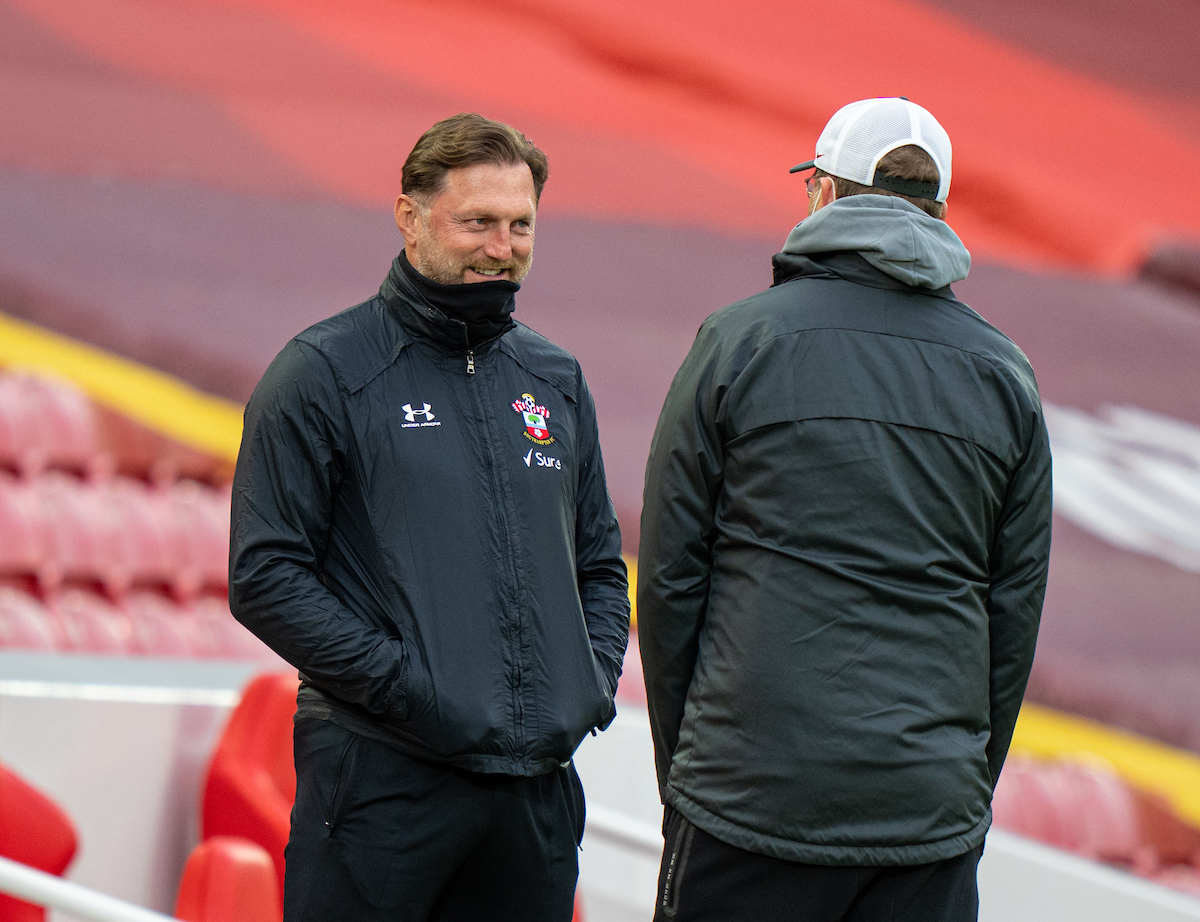 If these things change all the time, what is next for Liverpool and when will Jurgen look at something else? He doesn't have to, of course, as things are going pretty well as they are, but it's nice to look into the future.
A lot of this relies on Roberto Firmino and the changes of the front three. There's no Sadio Mane now, but you'd expect Luis Diaz to take care of the left-hand side of the three. Darwin Nunez will most likely take the central role with Diogo Jota filling in whenever he's needed, but neither Jota nor Nunez of those players, gifted though they are, do what Firmino does.
Part number nine, part number 10, the Brazilian is the glue that holds the forward line and attacking midfield together, but his appearances might be restricted now given the options open to the manager.
Will Jurgen change? I suppose injuries and tiredness will be the biggest determining factor, particularly as there's an abomination of a World Cup to consider in the winter. There are players' strengths to consider too. One thing Jurgen has done so successfully is play his lads in a formation which brings out their natural game. Mo's close control, Trent's ambition etc.
With new players and the loss of others, there might be a new system to play to the best of their abilities. If Nunez is more of a classic number nine, we may need to change things around to suit his game. He cost us too much to leave him out.
It's unlikely that Jurgen will go too jazz hands on it — we won't be seeing a Bielsa 3-3-3-1 any time soon — but this might be the last time we see 4-3-3 as the dominant setup.
Just a thought.
---
"Slowly but surely we're getting sharper and we'll keep ramping it up."

"Núñez is adapting quickly and we brought in Luis in January."

🎙Robertson on Post Match Podcast

1️⃣ Download our app
2️⃣ Enjoy FREE tokens
3️⃣ Listen

📱👉https://t.co/yTcwWTZN7t👈📱 pic.twitter.com/taoXIvdeXD

— The Anfield Wrap (@TheAnfieldWrap) July 15, 2022
Recent Posts: