It wouldn't be the first time Liverpool have brought a big player back to Anfield, but would a Gini Wijnaldum return be worthwhile?
"WHAT is past is past. Never go back.
"Not for excuses. Not for justification, not for happiness. You are what you are, the world is what it is."
Mario Puzo, that. Not him, of course, but from his book The Last Don. Mario wasn't keen on his own advice if his three Godfather screenplays are anything to go by, but it's an interesting perspective.
Sure, the past is the past, but sometimes it's a nice thing to go back.
There's been talk about looking into the past to solve our midfield conundrum. With Jordan Henderson and James Milner getting older, it's asking a lot for Harvey Elliott and Curtis Jones to mastermind a four trophy haul next May alongside Fabinho. Alex Oxlade-Chamberlain looks like he's off and Naby Keita's injury record hardly inspires, so we need new blood there and fast.
Should the club re-recruit Gini Wijnaldum?
I suppose your first reaction is usually the most honest and I quite like the idea. Only in the short term, sure, but sometimes that's OK too, particularly if the right people aren't available just yet.
What this isn't is a unique set of circumstances. We've been here before and more than once. Thoughts might fly to Robbie Fowler's return in early 2006 — a special present to us all from Rafa — but there was a previous transfer years before that which sent an absolute shockwaves through me. Let's go back.
It's August 18, 1988, and it's a day that will ultimately shape the rest of my life. If things go well that day, I'm off on an exciting adventure. If it doesn't, I'm stuck at home with no mates.
I'm 19 at this point and have never left Liverpool for anything other than the odd camping holiday (big up the Anglesey 1985 massive!) and overnight stay. There's an envelope in a college office and it's about to tell me if I'm going to move away to another city. My destiny is contained in it. I must have felt like the Liverpool squad when Brendan Rodgers was waving around his envelopes.
A-Level results day may well have been the most petrifying day in my life. It was like being hung in a Davina McCall reveal second for about three months. It was like lying on the ground in a gladiatorial arena with a trident at your throat and hoping that Caesar's in a good mood. Everything was on that day. Four years at Glasgow University or sat at home waiting for my mates to come back at half term.
I was at a now-defunct college in West Derby then and got the bus there to meet fate for a fight in the car park that morning. I bumped into a mate from my primary school on the bus. Poor Michael couldn't get a word in edgeways as I talked him through my fears. He could have been having a Henry Hill/final act of Goodfellas day of his own for all I know, but he only got as far as hello and goodbye as I rattled on.
In the end, I did OK. One B and two Ds. Not enough for Glasgow but I'd get in somewhere. I like definites, so wasn't overly pleased that things were up in the air, but I could go to the pub with something like a sense of contentment. My mates did OK too, although most were in the same boat as me. Ah well. Not exactly a life-changing victory, but not quite relegation either.
The rest of the day was passed in West Derby and then town. I got home late and stuck Ceefax on – a text-only news service which served the BBC. No mobiles and ITKs back then. Instead, we had to rely on The Echo, word of mouth or the next day's papers for transfer news. Ceefax Page 302 was the most used page in most houses by people like me.
We weren't expecting much. We'd stormed the league and very nearly won the FA Cup three months earlier too, so there weren't going to be many additions to the Barnes, Beardsley and Aldridge side. I had a quick look anyway. I can still remember the lime green font at the top of the page bearing out the incredible news.
"RUSH RE-SIGNS FOR LIVERPOOL."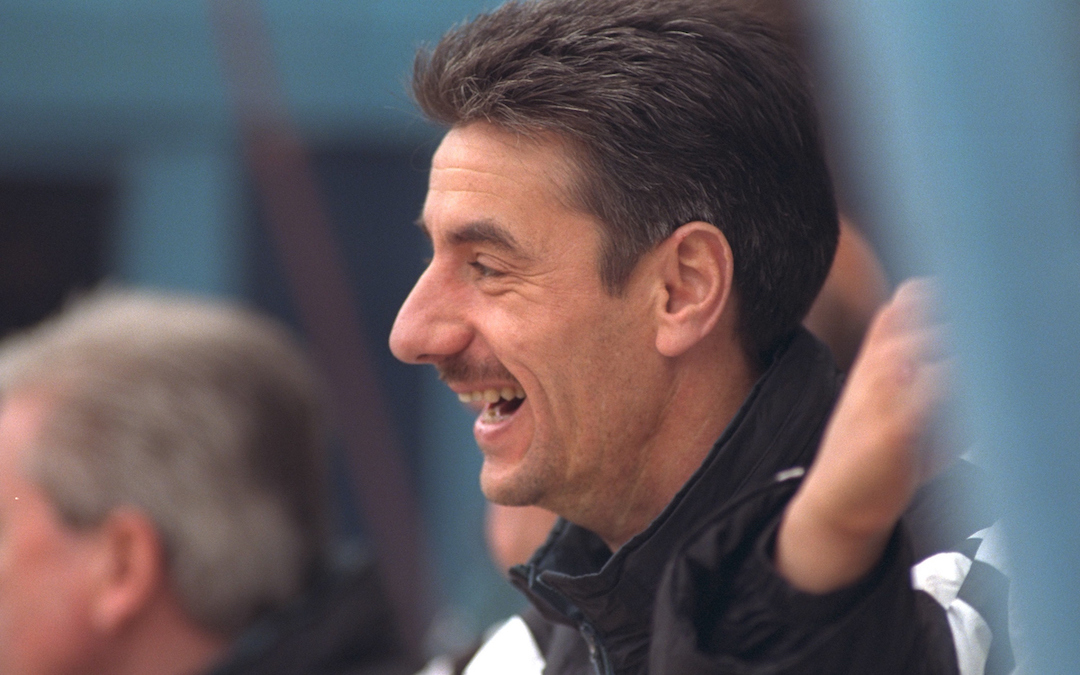 It was like a fever dream. I was full to bursting point (about four pints in those days) of cheap continental lager at that point and wondered briefly if it might have contained some hallucinogenic properties.
It was too glorious to take in. The best striker in Europe coming back to join one of our greatest ever sides? Ian Rush back at Anfield? On the day I've got the grades to leave Liverp… Ah, shit!
I was there when he left a season earlier. Watford at the last home game of the season on the sweatiest Kop I've ever been in. It was baking. He came out as captain and paused as he came up the steps onto the pitch when he realised that his teammates were going to let him go out on his own and he wasn't having any of that.
Everton sealed the title that day (you may have to read that bit again) as our 1986-87 season was massively disappointing, but no one in the ground sighed when that news came through. It was all about Rushie.
And he scored too. Obviously. Kop end, 1-0, eight minutes from time. Trademark finish. Now he was coming back. He had unfinished business — another 90 goals to add to his already ludicrous total.
Look, I know Gini Wijnaldum isn't Ian Rush, but it makes sense in the short term. If we need a Gini-type player for the midfield then why not bring in the actual Gini? That way he gets a proper farewell at the end of his loan spell and the club can wait for, I don't know, Jude Bellingham or whoever.
Much is made of Klopp searching for the right kind of player rather than just a talented one. He wants someone who understands his system and ethics and who better than a lad who's improved both us and himself here already? Maybe there's something in this.
I wonder if Bayern can loan us Sadio?
---
Recent Posts: